These tasty maple nut scones are beyond yummy!
I adore scones as I have stated more than once on this blog o' mine. My favorite sweetener is maple syrup and combined with this delicious dough, it is heavenly!
FLASHBACK
I wasn't fond of nuts in baked goods when I was a wee girl. Don't get me wrong, I wouldn't refuse baked goods that had nuts, but when I made cookies and such myself, I wouldn't include them. Then I grew up but it was still years before I ventured to put nuts into my recipes.
What the heck changed? I know that tastes change over the years. To really prove that point, I am drinking martinis now. Well, not now because it is morning as I write this, but now as in this time of life. I never thought that I would drink such a thing. But, there you go!
Let me get back to nuts. I have such nice memories of cracking open nuts on Thanksgiving day. I especially liked cracking open walnuts because of how big they were and I used to make a game out of trying to keep the meat of each nut whole.
I still don't put nuts into all my baked goods, but I'm finding them creeping in more and more.
Here's another scone recipe: Chocolate chip scones
On to the Tasty Maple Nut Scones
I preheat the oven to 400 degrees Fahrenheit.
I put the maple syrup in the foreground because as far as I'm concerned, it is the star of the show! But I won't be using it right away.
I also gather my sprouted spelt flour, sugar, baking powder and salt and place them in the large mixing bowl.
Time to get out the butter, heavy cream and chopped walnuts.
Cut the Butter in the Flour
I measure 7 tablespoons of butter and use my dough blender to cut the butter into the dry ingredients. The butter should end up being in pea size pieces.
Time to add the wet ingredients, so in goes the maple syrup, heavy cream and the not so wet ingredient, the chopped walnuts. I use my spatula to mix it all together until just mixed. Don't over mix!
Form the dough
I get out my marble pastry stone and lightly flour it. I divide the dough in half and shape each in a long rectangle.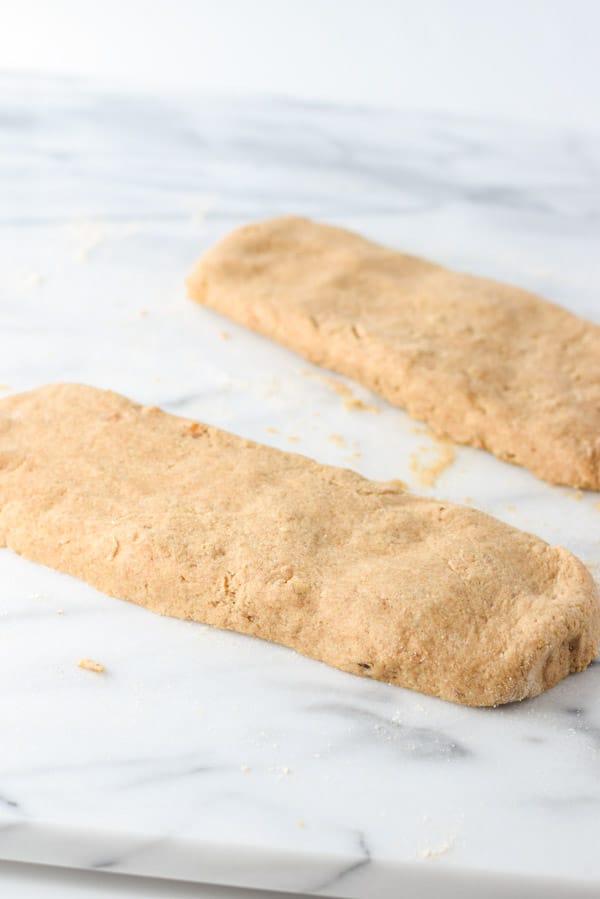 Cutty, cutty, let's do some cutty!
I cut them into triangles.
I grab my jelly roll pan (and one of these days I will blog about a jelly roll), and line it with parchment paper.
I squeal with delight as soon as I start lining the pan with these scones.
Time to put the pan in the oven. I bake them for 12 minutes. As we know every oven is different, so I'd say to check them at 12 minutes. When we lived in a different house with a different oven, they took 15 minutes.
Glaze time
I gather the ingredients for the glaze: confectioner's sugar, butter and maple syrup.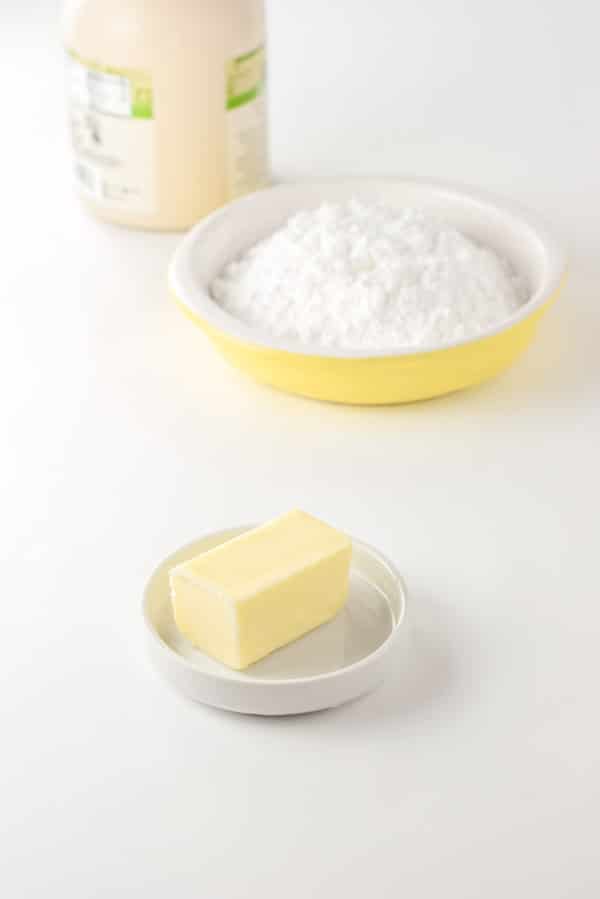 I place the maple syrup and butter in a pan and heat it up so the butter melts. I take it off the heat and whisk some confectioner's sugar into it until it is creamy.
I pour the glaze over the scones; use as much or as little as you want! I sprinkle some chopped walnuts over the glaze.
Time to eat them. Do you hear me? It's time to eat, so I plate one.
I take the scones off the parchment paper and put them on a plate because I don't live in a barn, do I?
That doesn't make sense, does it? I get crazy when I think of eating scones.
Now, I bite into one.
So delicious! Look at the dollop of glaze on the left! I pop it into my mouth because I belong to the clean plate club. I'm a proud member!
I hope you enjoyed this recipe!
Please feel free to Yum the recipe to Yummly, Pin the photo to Pinterest and leave me a comment as I'd love to hear from you.
And as always, may all your dishes be delish!
Tasty Maple Nut Scones
There is nothing like a delicious scone in the morning! Especially these wonderful maple nut scones!
Keyword:
maple nut scones, maple recipes, scones
Ingredients
Scones
2

cups

spelt flour

1/4

cup

sugar

2

tablespoons

maple syrup

2

teaspoons

baking powder

1/8

teaspoon

salt

7

tablespoons

cold butter

1/2

cup

heavy cream

1/2

cup

chopped walnuts
Glaze
1/4

cup

maple syrup

1/4

cup

butter

1 1/2

cups

confectioner's sugar
Instructions
Scones
Preheat oven to 400 F

Add flour, sugar, baking powder and salt in a large mixing bowl

Cut in the butter with a dough cutter or a couple knives

Add cream, maple syrup and walnuts and mix with a spatula until it is just combined. Do not over mix the dough

Flour your working surface (I used a marble pastry board) and divide the dough into two pieces. I shape them into two rectangles

Cut each piece into triangles

Place the scones on a parchment paper lined jelly roll pan, leaving space between each scone

Place pan in oven and bake for 12 - 15 minutes. They should be lightly browned
Glaze
Place the butter and maple syrup into a small saucepan and heat until the butter is melted. Whisk the confectioner's sugar in it until creamy

Pour glaze over scones

Plate a scone

Eat a scone

Plate another scone

Eat another scone

Yearn for another scone, but refrain

Smile

Enjoy
Recipe Notes
I cut them a little on the large size, cut them to whatever size you like.
Nutrition Facts
Tasty Maple Nut Scones
Amount Per Serving (1 scone)
Calories 371
Calories from Fat 171
% Daily Value*
Fat 19g29%
Cholesterol 45mg15%
Sodium 133mg6%
Potassium 129mg4%
Carbohydrates 45g15%
Protein 4g8%
Vitamin A 510IU10%
Calcium 59mg6%
Iron 1.3mg7%
* Percent Daily Values are based on a 2000 calorie diet.