This truly is a delicious ricotta gnocchi recipe. It contains only four ingredients, and that includes salt. It is a quick and easy meal I serve regularly with various sauces or just plain old garlic and oil. Yum. Gnocchi also freezes really well, so you can make a big batch and freeze some of them for future meals.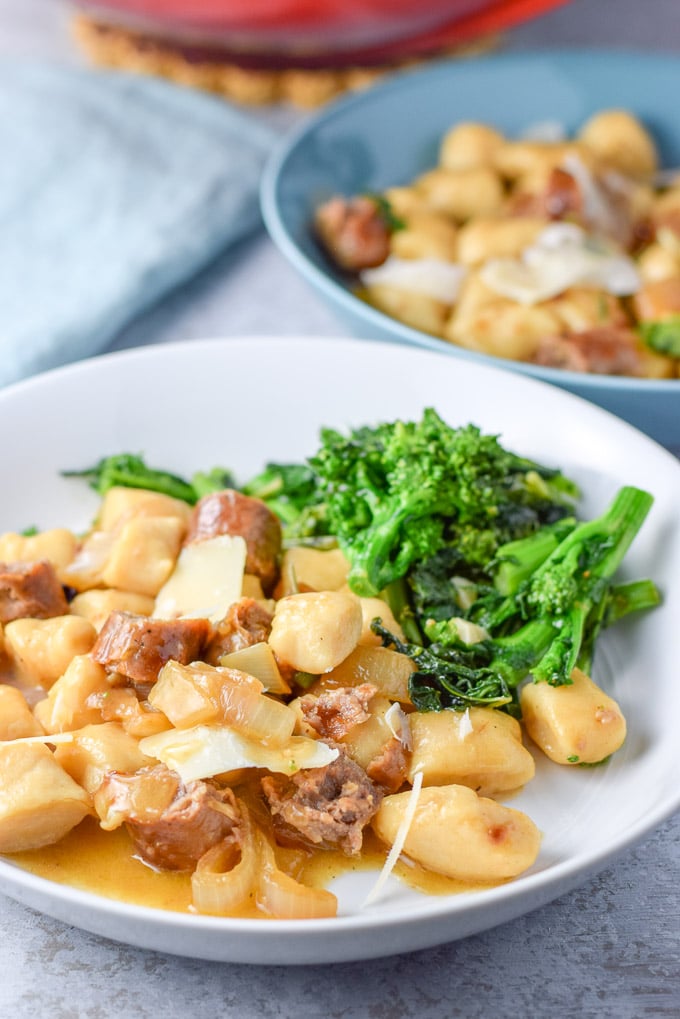 Below are the two questions I'm asked the most often about ricotta gnocchi.
Can I roll out the gnocchi before I'm ready to cook them?
You sure can! I usually make mine a few hours before I'm going to cook them. After I cut the gnocchi, I place them on a jelly roll pan and stick it in the fridge, covered with a clean kitchen towel. Easy peasy.
Can I freeze gnocchi?
You can indeed! I used to freeze freshly rolled and cut ricotta gnocchi all the time. I'd use 2 pounds of ricotta cheese to make them, then I'd freeze half of the pillows of happiness in a gallon freezer bag. Say you have unexpected guests for dinner; it's so easy to reach in the freezer and pull out the bag. You can have the meal on the table within minutes! And they taste just as fresh as if you'd just rolled them.
These days, I usually use 1 pound of ricotta cheese for my dough. But if I'm cooking for company, I'll double the batch and freeze whatever gnocchi I don't cook.
I have perfected this ricotta gnocchi recipe over the years. My first memory of having gnocchi is when Christopher and I were first married and living in California. I ordered these delicious, squishy cuties in a nice cream sauce and I was in seventh heaven. I love all kinds of gnocchi, but I prefer the ones made with ricotta over the ones made with potatoes.
Helpful tips
When you cut the gnocchi into squares, don't stress if they aren't uniform in size
Some people roll their gnocchi and/or flip them over with their thumb, but it's not necessary. It's a cosmetic preference. I say why do extra work when you don't need to?
Don't overcook your gnocchi; as soon as they float to the top of the water, fish them out
You can roll and cut your gnocchi ahead of time. I place them in the fridge until I'm ready to cook them
Raw gnocchi freezes well and can be put in directly into boiling water
This post may contain affiliate links, which means I get a small commission, at no additional cost to you, if you click the link and buy something. You can read my disclosure here.
How to make ricotta gnocchi
Pre-step
Put salted water on to boil.
Step one
Gather the ingredients – ricotta cheese, parmesan cheese, salt and all purpose flour. (1)
Step two
Get a big bowl and dump the ricotta in it. Add flour, parmesan cheese and salt. (2)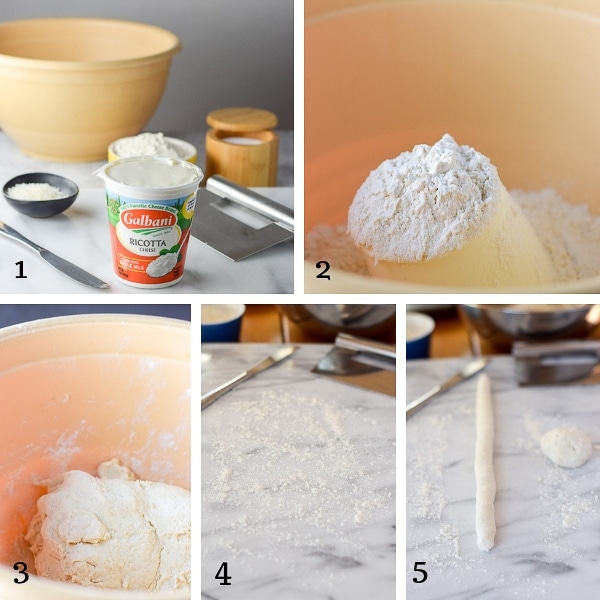 Step three
You can either use a spatula to mix the gnocchi dough or your hands, as I do. I like to feel the texture. You want your dough to be slightly sticky as it will absorb some of the flour you have to put on your work surface to roll it out. (3)
Step four
Sprinkle flour on pastry board. (4)
Step five
Take a ball of dough with your hands and roll it into a snake. You can see the size ball I use and the snake in the photo above. (5)
Step six
Use a butter knife and cut the snake of gnocchi into little squares. (1-below)
Step seven
As you cut the gnocchi, place them on a medium jelly roll pan. You can either cook them now or place the pan in the fridge to cook them later (read tips above). (2-below)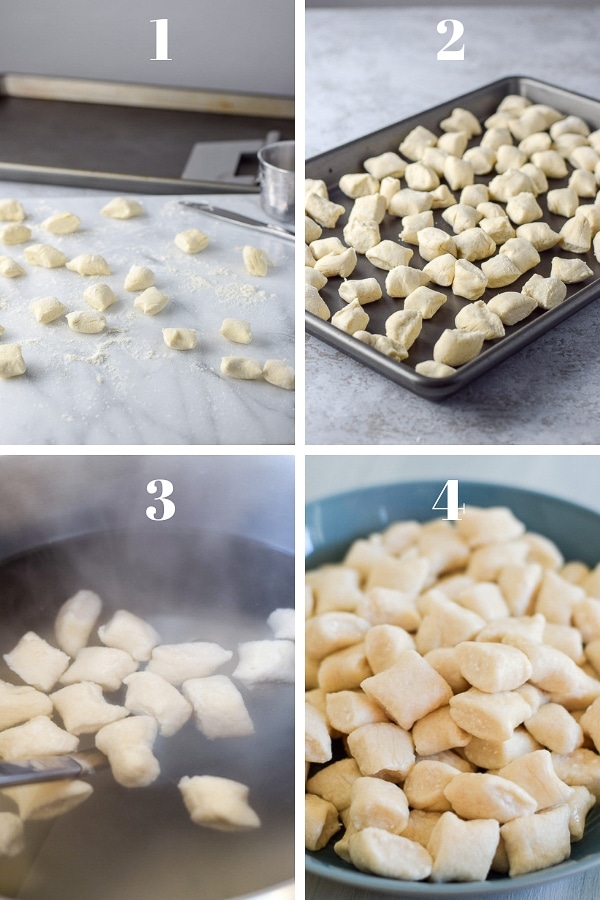 Step eight
If the water is boiling, add the gnocchi three at a time into the water until all the gnocchi is in the water at the same time. Once the gnocchi floats (it takes around 5 minutes), take a skimmer
 to fish the ricotta gnocchi out of the water. (3-above)
Step nine
Place them into a serving dish. (4-above)
Little pillows of happiness
Aren't they cute? Makes me want to pop a few in my mouth right now. They are squishy little pillows of happiness. Hey, that's what I should call them from now on!
Me: "Christopher, do you want squishy little pillows of happiness for dinner?"
Him: "Huh?"
All done and ready for some topping like red gravy, oil and garlic or just plain butter. When I first published this recipe, I put vodka pasta sauce on my gnocchi. Yum.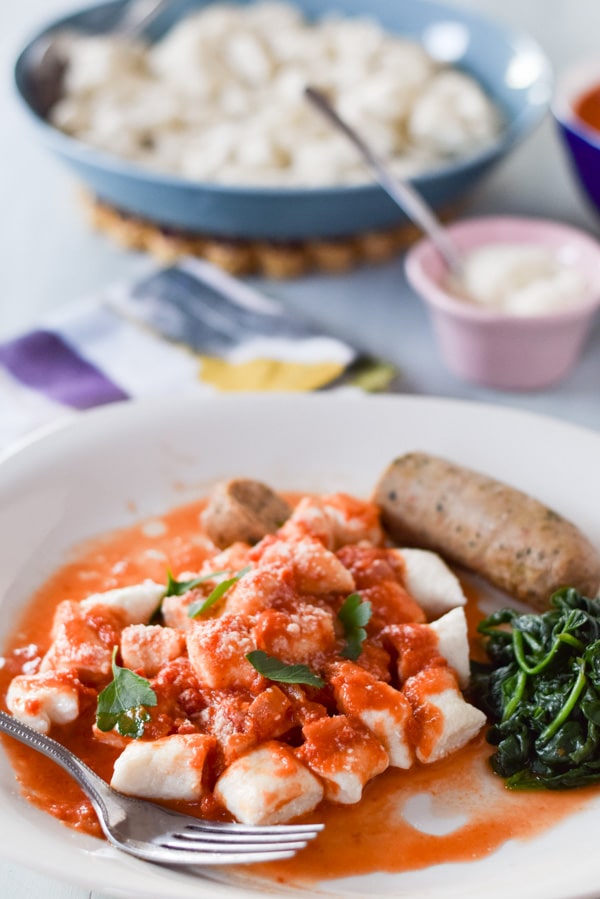 But for this updated version, I prepared my gnocchi with sauce recipe.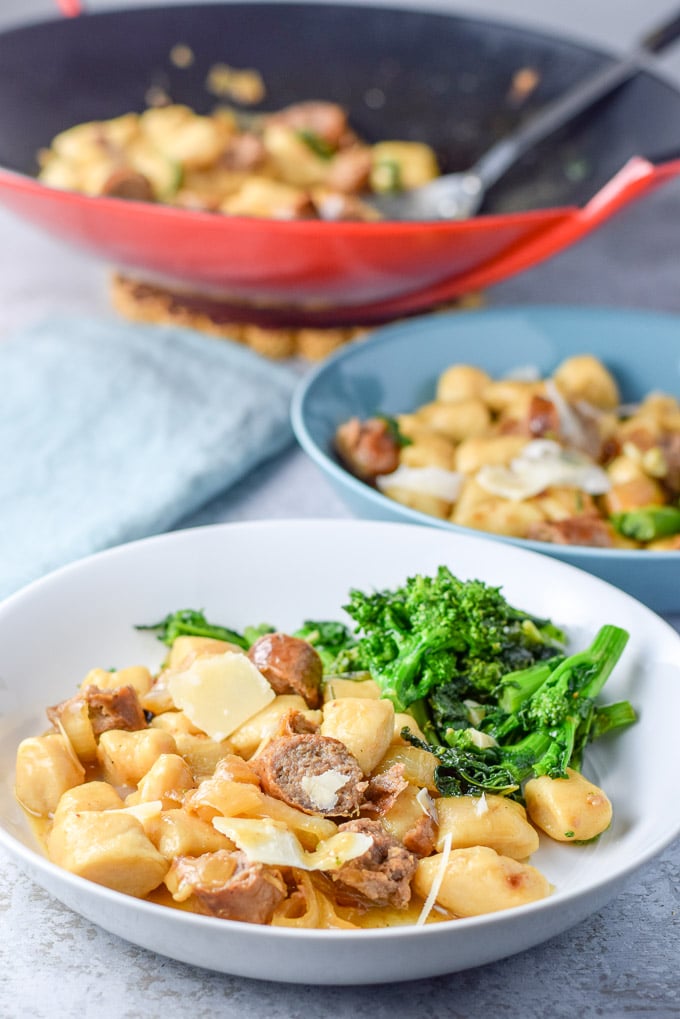 Other popular pasta recipes
I hope you enjoyed this ricotta gnocchi recipe!
Please leave me a comment. How do you like to eat your gnocchi, and do you prefer ricotta or potato gnocchi?
And as always, may all your dishes be delish!
If you've tried this ricotta gnocchi or any other recipe on the blog, I'd love the hear what you thought about it in the comments below. I love hearing from you! You can also FOLLOW ME on FACEBOOK, TWITTER, INSTAGRAM and PINTEREST to see more of my delicious food and delightful cocktails!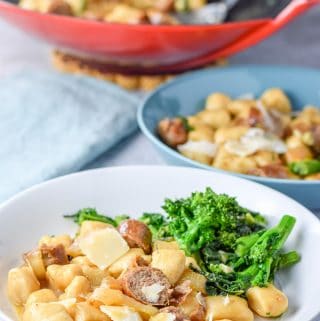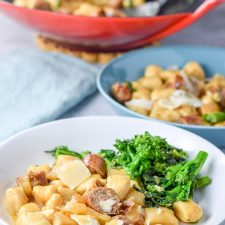 How to Make Ricotta Gnocchi
This easy 4 ingredient ricotta gnocchi recipe is a people pleaser! Gnocchi anyone?
Print
Pin
Rate
Ingredients
1

pound

ricotta cheese

I used full fat

1

cup

all purpose flour

and more for sprinkling on the board

2

tablespoons

parmesan cheese

1/4

teaspoon

salt
Instructions
Fill a medium stockpot half way with water, salt it and boil on high heat

In a large bowl, combine ricotta cheese, flour, parmesan cheese and salt

With either a spoon or your hands, mix ingredients well. Dough should be a little sticky and not dry.

Sprinkle flour on a pastry board or counter. Be sure to add enough so you can roll the gnocchi dough into snakes without trouble.

Break off a small ball of dough and roll the ball into snake and, using a knife, cut snake into 1 inch pieces

Repeat until all dough is used up

Place cut gnocchi on jelly roll pan to freeze or refrigerate until you are ready to cook them

Put gnocchi in three at a time until all the gnocchi are in the boiling water together and stir once

Stand there and fish gnocchi out as they float to top of the water (3 - 5 minutes)

Place cooked gnocchi in bowl

Serve right away with a sauce or butter or olive oil

Enjoy the squishy little pillows of happiness
Notes
Helpful tips

When you cut the gnocchi into squares, don't stress if they aren't uniform in size
Some people roll their gnocchi and flip them with their thumb, but it is not needed. It's a cosmetic preference. I say why do extra work when you don't need to?
Don't over cook your gnocchi, as soon as they float to the top of the water, fish them out
You can roll and cut your gnocchi dough ahead of time. I place them in the fridge until I'm ready to cook them
Raw gnocchi freezes well and can be put in directly in boiling water
Nutrition
Serving:
20
gnocchi
|
Calories:
254
kcal