This gnocchi with sauce recipe is perfect!  Delicious little pillows of happiness mixed with sausage, butter and sage sauce which gives it such a heavenly taste!!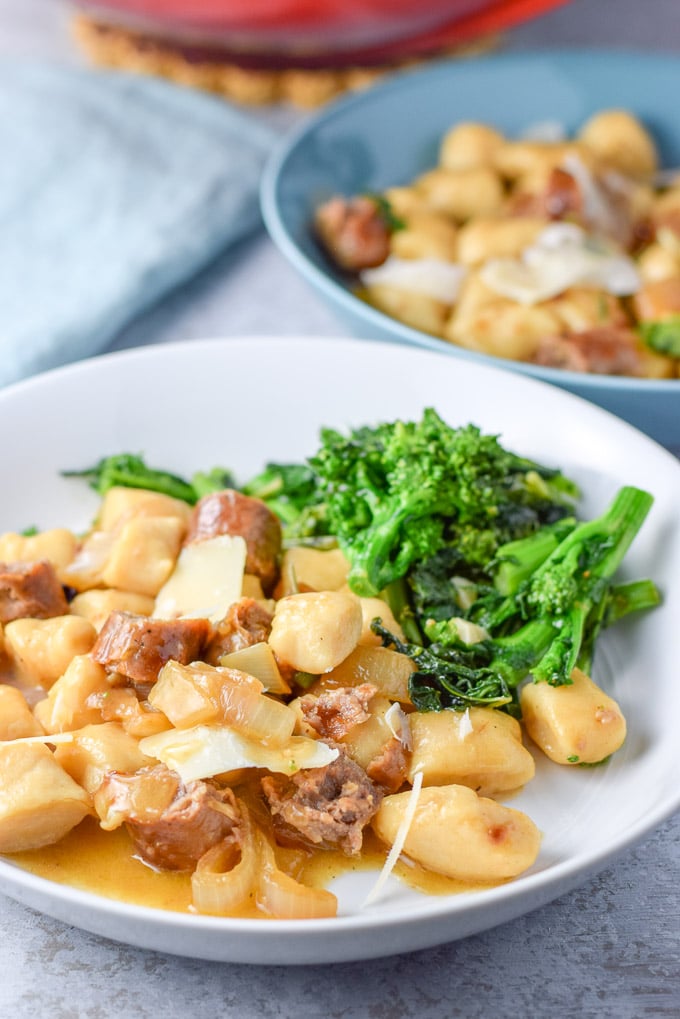 This post contains affiliate links, which means I get a small commission if you click the link and buy something. You can read my disclosure here.
After reposting my how to make gnocchi post last Monday, I planned on posting this delicious gnocchi in sauce recipe a few weeks from that post, but I got a bunch of requests from my readers for the recipe so here it is dear peeps.
Gnocchi with Sauce In my Tummy
Imagine sticking your fork in a few of these pillows of happiness (aka, gnocchi), twirling them around in the wine, butter and sage sauce and bringing the fork up to your face to place the gnocchi lovingly in your mouth!
You bite down on these soft little pillows and squeal in delight because that's how delicious they are.
This recipe has so many things going for it!
First off, it features homemade gnocchi.
These are so easy to make that if you haven't made them before, you will be pleasantly surprised at how quickly you can get dinner on the table.  You'll find my gnocchi recipe here.
Secondly: sausages!
And thirdly, the wine, butter and sage sauce is simply so delicious that you will want to make it all the time.  Ask me how I know!  It's my go-to sauce and it's gloriously delicious.  Sometimes, I make it just so I can dip crusty bread in it and you can, too.
On to the Gnocchi with Sauce, Sausage, Wine and Butter Recipe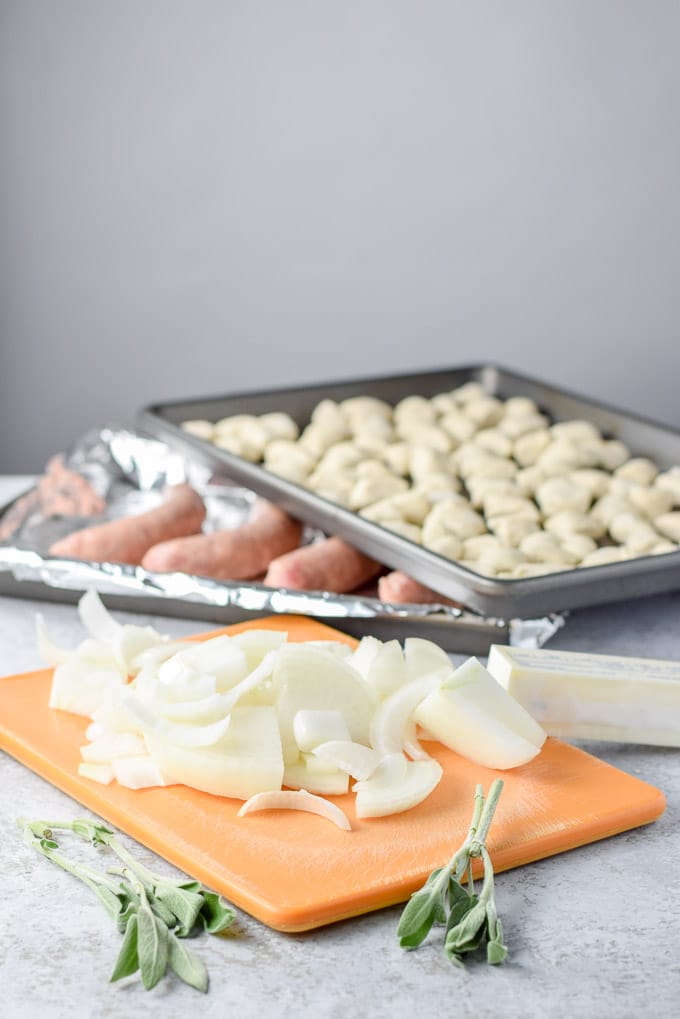 I preheat my oven to 350 degrees Fahrenheit.  I also line a small jelly roll pan and place the sausages on the pan.  Once the oven has heated up, I bake the sausages for 25 minutes.
As the sausages are cooking, I cut an onion in slices and gather the sage and butter.  I also put some salted water on to boil to cook the gnocchi.
I heat up my beloved wok and add 1 tablespoon olive oil.  Once the oil has heated, I add the onion and sauté it for 8 minutes.  I add 2 teaspoons of garlic paste and sauté for another minute.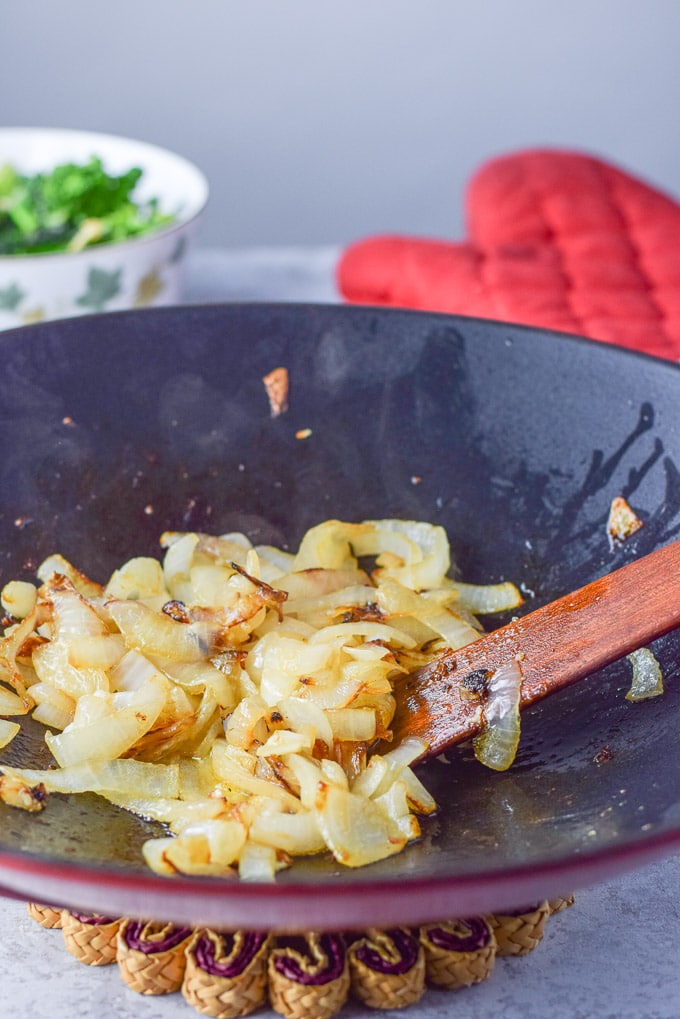 I add 1/2 stick of butter, 1/2 cup chicken broth, 1/4 cup of white wine and 10 fresh sage leaves.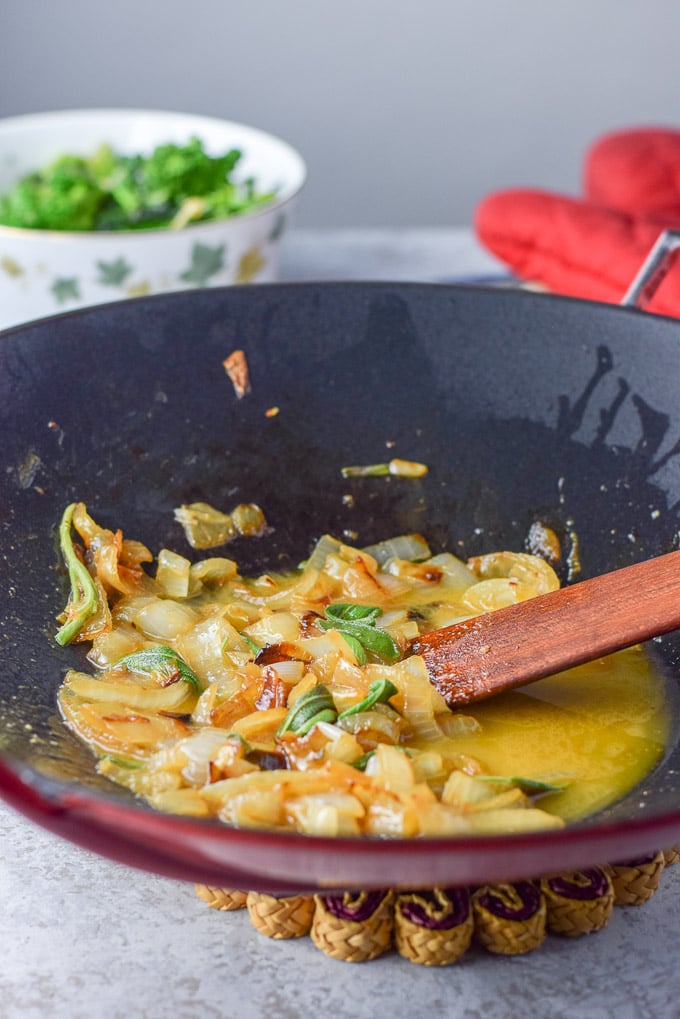 By now, the sausage is done, so I take it out of the oven.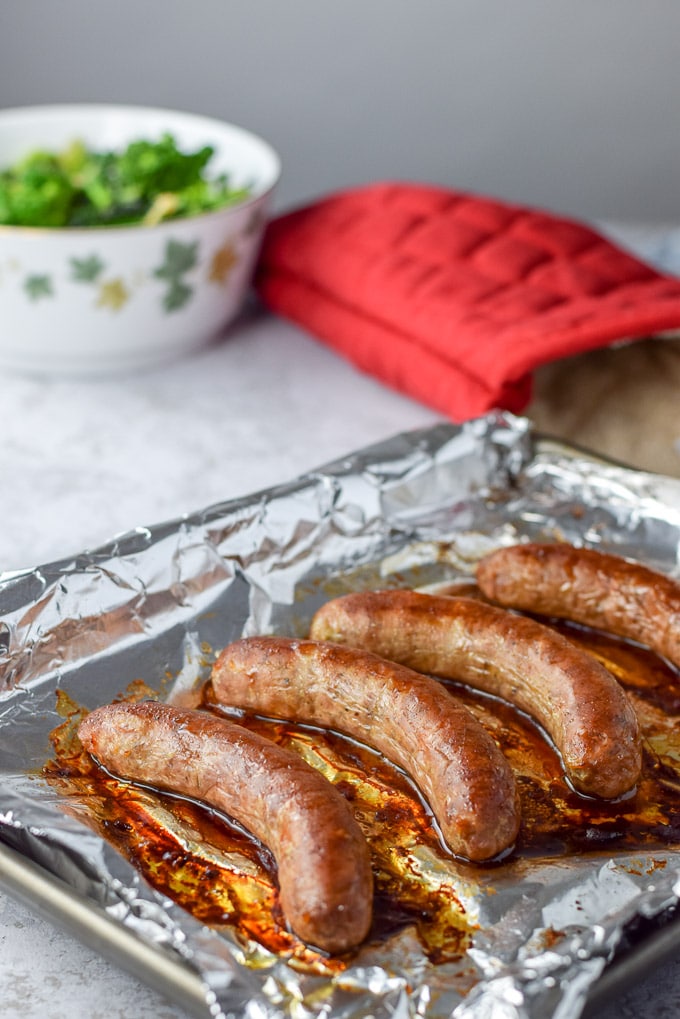 I cut the sausage in slices and set aside.
By now, the water is boiling so I add the gnocchi to the water, stir it and wait for the gnocchi to float to the top of the water.  It takes about 5 minutes.  As the gnocchi floats, I fish the pillows of happiness out and place them in the wok.  I also place the sausage in with the gnocchi.
Gnocchi with Sauce is Ready
I stir the mixture around until all the gnocchi are coated with the wine, butter and sage sauce.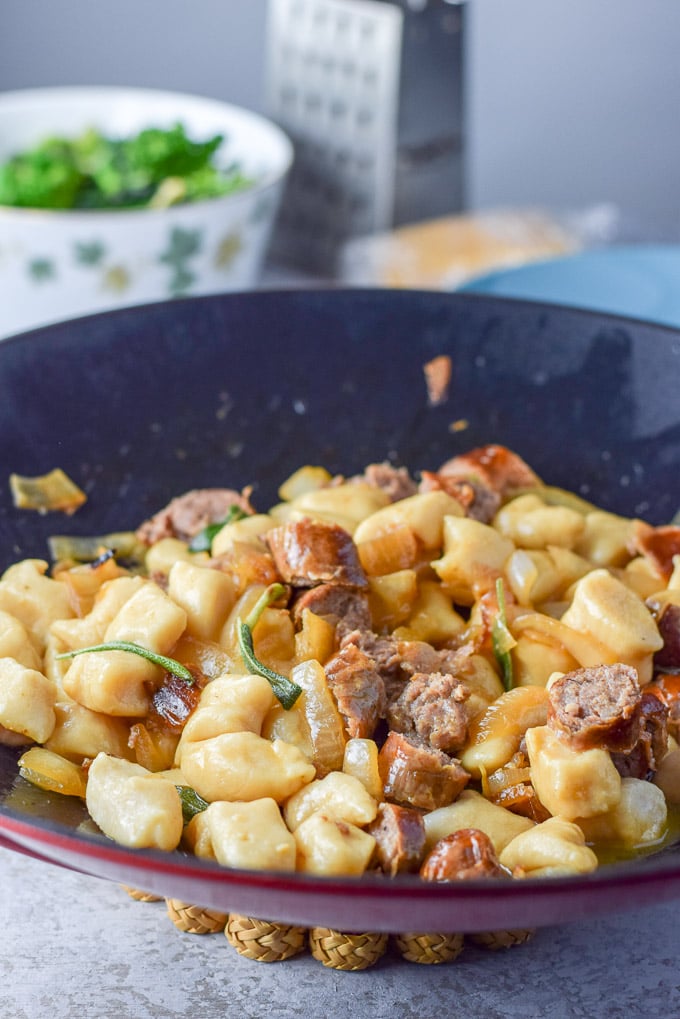 Mmmmmmm!  Time to plate the gnocchi with sauce for Christopher and me.  I shave some Parmesan cheese on top of the gnocchi.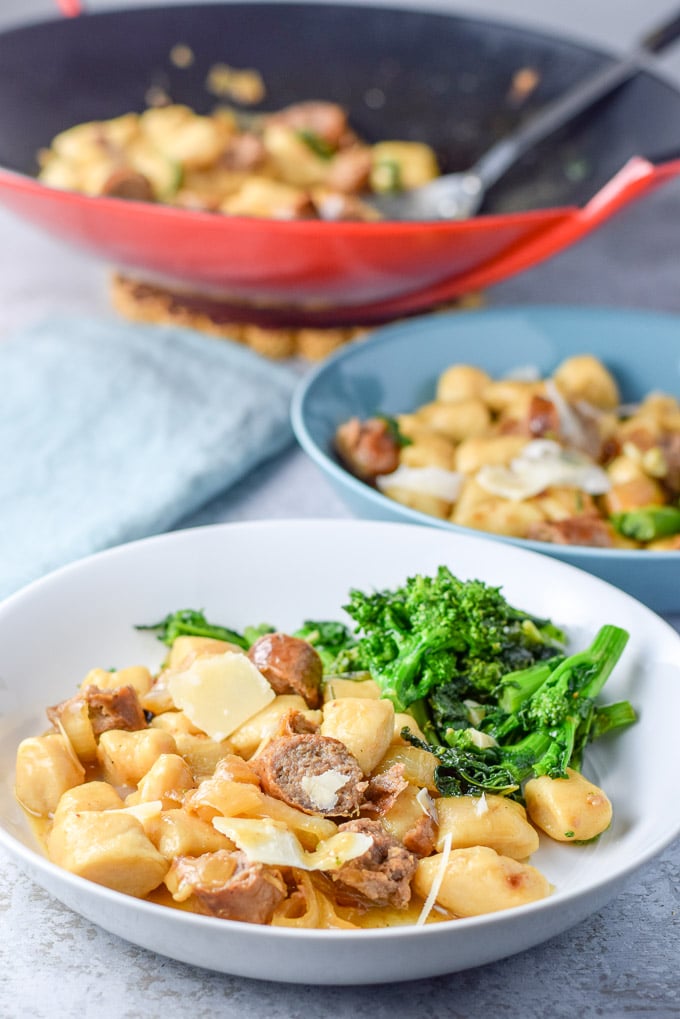 And then I serve it.  Christopher cries with happiness.  I sob alongside him.
I hope you enjoyed this recipe!
Please feel free to leave me a comment telling me what your favorite gnocchi dish is. You can also Pin any photo to Pinterest and Yum the recipe to Yummly.  Thank you ever so much!
And as always, may all your dishes be delish!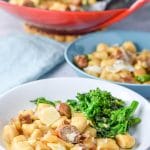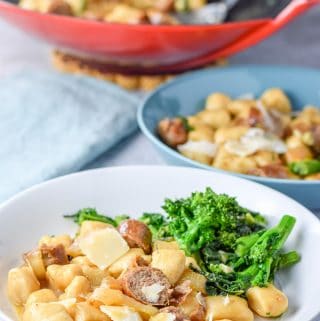 Gnocchi with Sauce | Sausage, Wine, Butter and Sage
These little pillows of happiness are drenched in a delicious wine, butter and sage sauce!
Keyword:
gnocchi with sauce
Ingredients
4

sweet Italian sausages

1

tablespoon

olive oil

1

large onion

cut in slices

1/2

teaspoon

salt

2

teaspoons

garlic paste

or two garlic cloves, crushed

1/2

stick butter

1/2

cup

chicken broth

1/4

cup

white wine

dry

10

fresh sage leaves

1

pound

gnocchi

homemade or store bought

salt for water
Instructions
Make it
Preheat oven to 350 F

Line jelly roll pan with foil and place sausages on it

Bake for 25 minutes, when done cut sausages in slices
As Sausage Bakes
Put water on to boil and salt it

Heat a large sauté pan or wok on medium

Add oil

Add onion, salt and sauté for 8 minutes

Add garlic and sauté for 1 minute

Add butter, wine, chicken broth and sage leaves, stir until combined and turn off heat
Time for Gnocchi
Add gnocchi to water and stir

Once the start to float to the top of the water, fish them out and place in the wok

Stir until combined

Plate with a veggie

Eat

Smile

Enjoy
Recipe Notes
Start the sausages first and while they are cooking you can prepare the rest of the meal.
Nutrition Facts
Gnocchi with Sauce | Sausage, Wine, Butter and Sage
Amount Per Serving (1 .5 cups)
Calories 376
* Percent Daily Values are based on a 2000 calorie diet.