This simple artichoke angel hair carbonara recipe is simply the best. I love the artichoke pasta and makes it fun to eat!
I love this simple artichoke angel hair pasta carbonara meal.  LOVE.  Which, is funny if you knew me as I don't usually like long noodle pasta.  Since I was a young girl, I've preferred pastas like penne and ziti.
Until I bought this pasta for Christopher.
Now, before I get into the pasta, have you looked at the photo and thought, 'Hey, where are the artichokes?  I don't see artichokes.'
You are right.  The only artichoke you see in that photo is in the pasta.  The brand of pasta is DeBoles and this particular pasta is made from a combination of organic durum semolina flour AND organic Jerusalem artichoke flour.
We have been buying this angelhair pasta for over 20 years; since way back when we lived in California.
When I first started to make this, I wasn't going to eat any because, as I said, I didn't like long noodle pasta.  It's not the taste of the pasta I don't like.  It's the texture.  Or maybe it doesn't feel like it's substantial enough to me.
Not like penne.  Now with penne, you KNOW you are eating pasta.
*Thumps chest with fists*
And although initially I tried the angelhair, I stuck to my guns and basically just made it for Christopher.  The years rolled by.  And the only time I would eat some was when I had to test a few strands as I cooked it.
Then, a year ago, I was watching Christopher shovel forkfuls in his mouth and I thought, 'Hmm, that looks good.'  So I had a few forkfuls myself.  Not bad.
The next time I made it, I had a plate full.
The rest is history.
Totally off topic: Christopher has many talents, but the one I'm going to talk about is his ability to make the food on his plate look better than the food on yours.  And when he makes a sandwich, it looks way better than yours.  My niece Robyn has asked Christopher to make her a sandwich more than once since he makes it look so good.
Do you know anyone with that talent?
One of my nephews, Bryan, also has that talent.  Granted, it's a passive talent, but still, a talent.
Other pasta dishes:
On to the Simple Artichoke Angelhair Carbonara Recipe
I do a few things at the same time.  Well, not literally.  Let's say, I do a few things concurrently. I chop the onion and get out the pancetta.  I also fill a stockpot half way with water and put it on to boil.
I also boil some water in a small pan and cook a cup of frozen peas.
Next I take out my cast iron sauté pan and turn the heat to medium.  I add a few tablespoons of olive oil.  In go the onions.  I sauté them for 5 minutes before I add the pancetta.  I sauté it for 9 minutes before I add 2 cloves of minced garlic.  I sauté it all for another minute.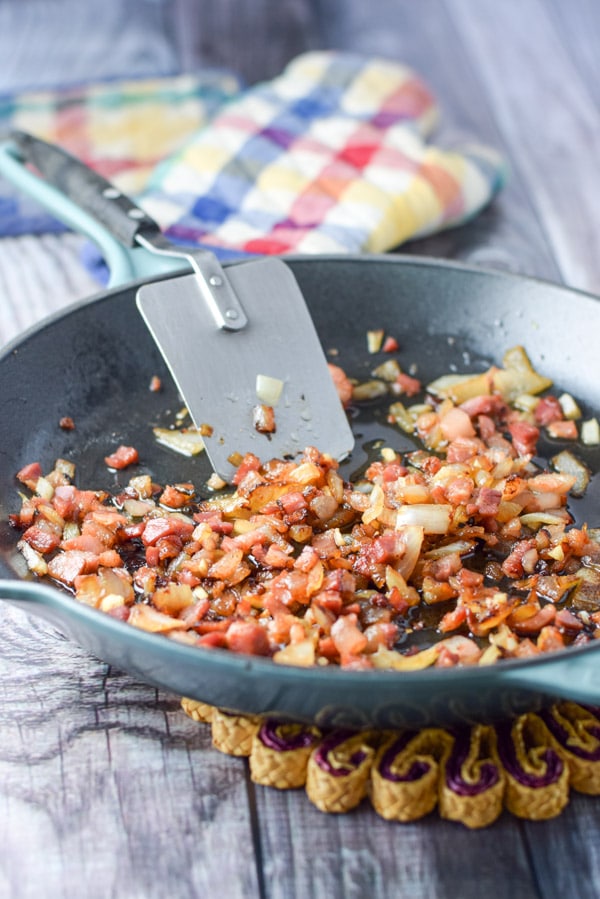 By now, the water is boiling and I put the whole pound of pasta in.  This pasta cooks fast!  It's pretty much done between 5 – 7 minutes.
I crack open two eggs, get some parmesan cheese, place them into a medium mixing bowl and whisk them together.
The pasta is done so I take out my large metal mixing bowl and put hot tap water in it just to get the chill off it.
I drain the pasta and quickly put it into the heated bowl.  Next, I put the egg mixture on top of the pasta and mix it around.  You have to be quick with mixing it, because you want to cook the egg with the heat of the pasta but you don't want the egg to scramble.
Yay.  Now I place the pancetta mixture and peas in with the pasta and mix it all together.  I place it all in a serving bowl.
Doesn't that look delicious?
All that is left is to EAT!  So I plate the pasta.
Now to take a forkful.
And we eat it all up.
I hope you enjoyed this recipe.  Christopher and I really enjoyed eating the carbonara fresh and as leftovers.
Please feel free to leave me a comment, Pin any photo to Pinterest and Yum the recipe to Yummly.
And as always, may all your dishes be delish!
Angel hair Pasta Carbonara
This simple carbonara recipe is so delicious and can be ready in less than 30 minutes!
Keyword:
angelhair carbonara, carbonara recipe
Ingredients
3

tablespoons

olive oil

1

onion

medium, chopped

6

ounces

pancetta

1

clove

garlic

minced

1

cup

frozen peas

cooked

1

pound

DeBoles artichoke angelhair pasta -

or pasta of choice

Salt for pasta water

2

eggs

1/2

cup

grated parmesan cheese
Instructions
Fill medium sized stockpot 1/2 way with water, salt it and set to boil

Cook one cup of frozen peas, set aside

Heat a sauté pan on medium heat and add olive oil and onion. Sauté for 5 minutes

Add pancetta and sauté for 9 minutes before adding garlic and cook for a minute

Once the water is boiled, add pasta and cook for 5 - 7 minutes.

As the pasta is cooking, crack two eggs into a mixing bowl and add parmesan. Whisk until combined

Put hot tap water in a large mixing bowl to take the chill off of it

Drain cooked pasta, place in the empty heated bowl and add the egg mixture and immediately mix the egg with the pasta

Add the pancetta/onion mixture and mix it with the pasta

Place in a serving bowl

Plate the carbonara

Get your fork and twirl some pasta on it

Eat

Smile

Enjoy
Nutrition Facts
Angel hair Pasta Carbonara
Amount Per Serving (1.5 cups)
Calories 545
Calories from Fat 207
% Daily Value*
Total Fat 23g 35%
Cholesterol 80mg 27%
Sodium 342mg 14%
Potassium 341mg 10%
Total Carbohydrates 62g 21%
Protein 20g 40%
* Percent Daily Values are based on a 2000 calorie diet.