This is such a comforting scalloped potato casserole recipe. I've been eating this delicious casserole since, well, forever.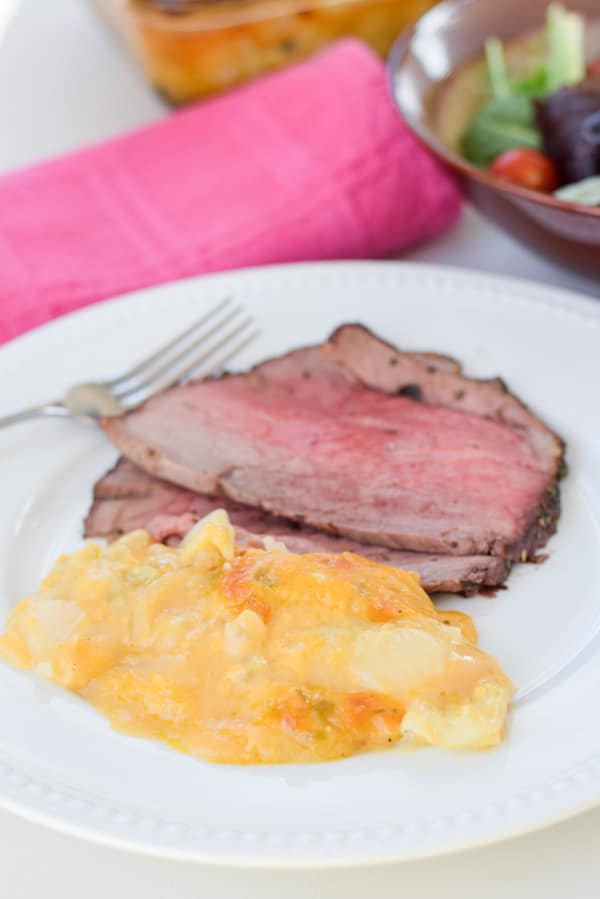 Why is this scalloped potato casserole recipe so comforting? Well, since I've been eating it forever, it evokes fond memories of holidays, Sunday dinners, company and visits with relatives.
I can't remember if we had this delish casserole on just a normal, non-holiday day.
And I say, "Enough!! Enough of just having scalloped potatoes at events. They must be served regularly. Regularly, I say! Now, run out and get the ingredients for this delish dish and help do your part to make this a reality!!!"
This post may contain affiliate links, which means I get a small commission, at no additional cost to you, if you click the link and buy something. You can read my disclosure here.
How to make scalloped potato casserole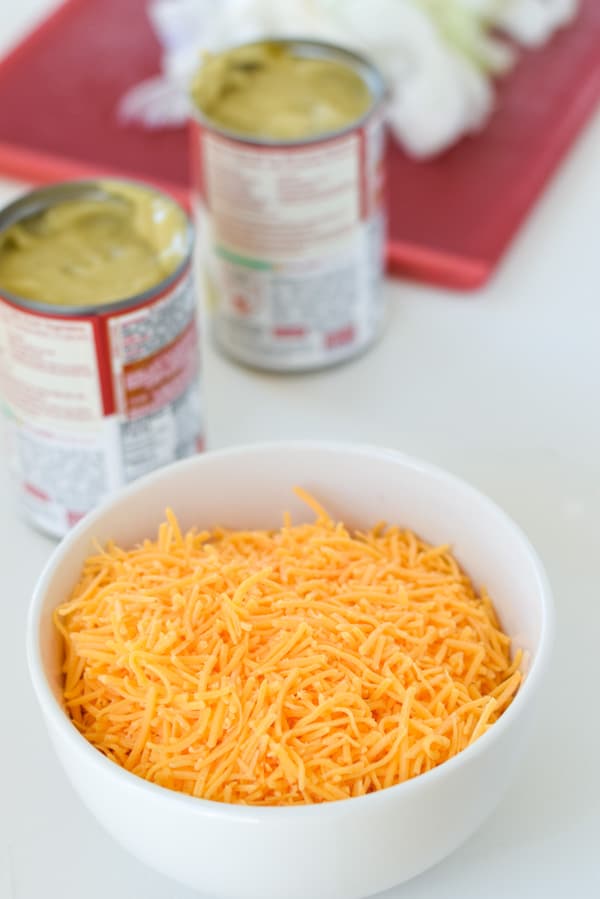 Ingredients
There are only 4 ingredients. Yay!
Some shredded sharp cheddar cheese, sliced onions, cream of celery soup and the star of the show……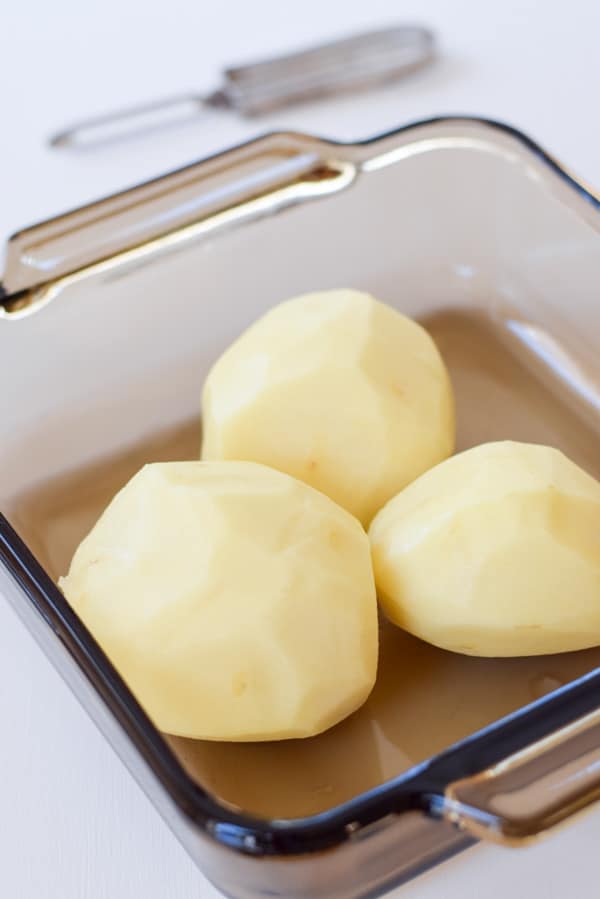 The potatoes. I peeled 3 potatoes but I only used two of them.
Yay for potatoes!
A little digression
One of my favorite things to eat when I was a little girl was mashed potatoes. Whenever I thought of them, I would see a bowl of fluffy whiteness in a blinding spotlight and hear trumpets blaring in the background!
At dinner, I would have more potatoes on my plate than anything else. I loved them. I still really like them, but I don't eat them as much anymore. Just at holidays. Maybe it's because I would eat them like I did when I was a kid and now, I not only like a more balanced meal but I like my waistline.  😉
Here's another mashed potato story, but it's not related to eating them. The girls of the family, (there were four of us), would have our after-dinner chores. Two of us would do the dishes and the other two would clear, put the food away and sweep the floor.
Well, this particular story has my sister Robyn washing the dishes, and little ole me drying. For a joke, Robyn put the dirty mashed potato pan directly in the drying rack and I, who was not paying attention, picked the pan up and swiped the inside with my dishtowel. Needless to say, the dishtowel was covered with potatoes. Did I eat some of the potatoes off of the towel? You will never know, because I'm not telling.  🙂
Okay! OKAY! I did!
Back to the scalloped potato casserole
I preheat the oven to 350 degrees Fahrenheit.
I cut the onion in half and slice both halves thinly. I put the slices in a big mixing bowl along with the cream of celery soup and the shredded cheddar. I take a rubber spatula and mix it all up.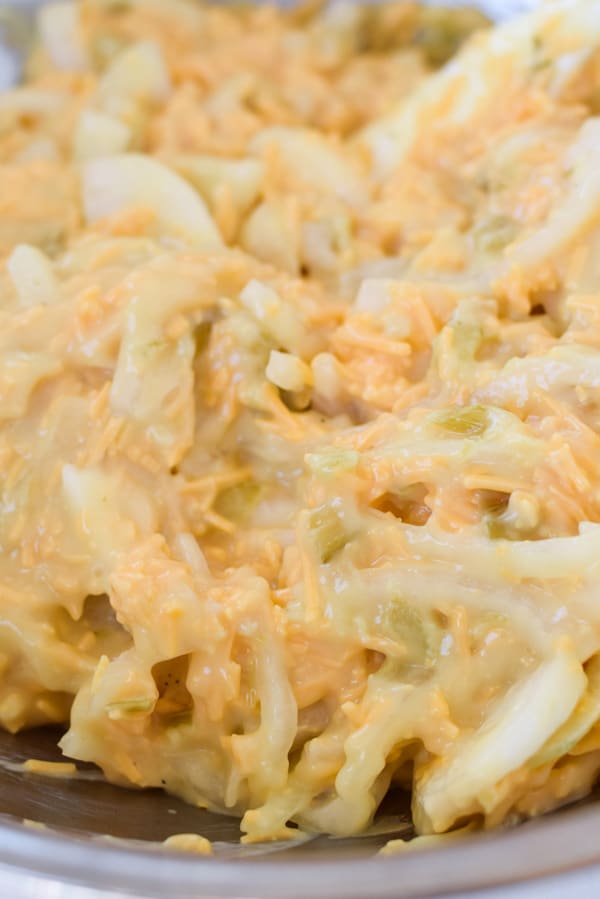 Time to slice the potatoes.
I want them to be thinly sliced so I use my handy dandy food processor. This glorious machine has an exact slicing system that allows me to slice things super thin. That's what I did this time. It seems every time I make these potatoes, I vary the thickness of the slices and I can't say which thickness I like best: Super thin, sort of thin, a little thicker or thick.
I think I need more research. Yes. That's it. I need more scalloped potatoes just so I can make a decision. It's the only way!
I layer the bottom of a 8 x 8 baking dish with the sliced potatoes. Notice that I don't layer the potatoes as thickly for this layer.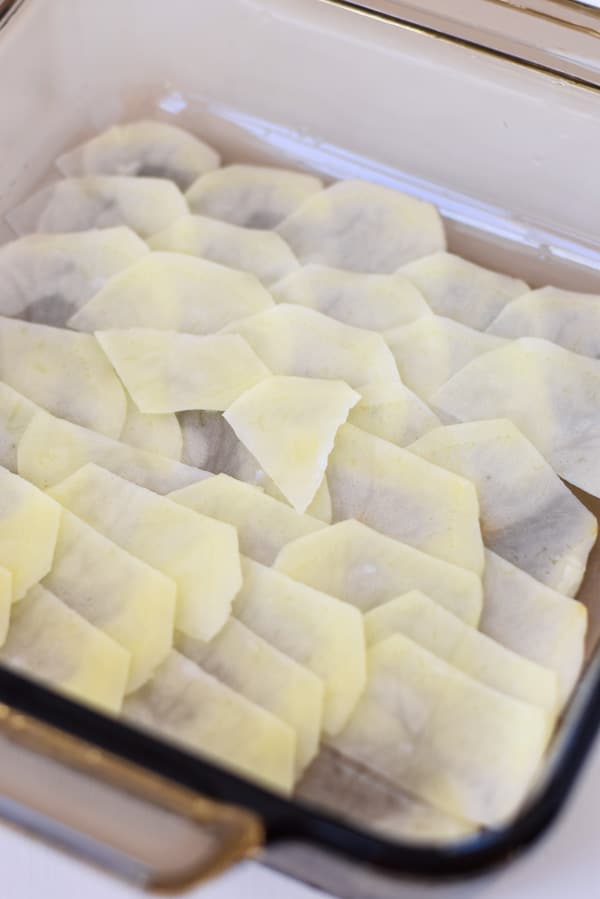 I then dollop and spread some of the onion mixture on top of those potatoes.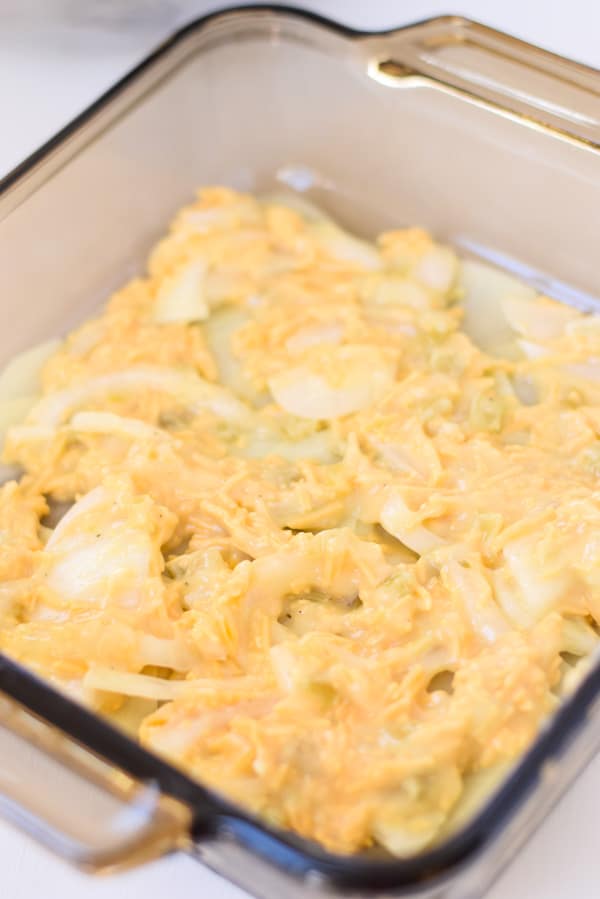 First layer done. Yay. As you can see, I don't spare the onion mixture.
Next, I put a thicker layer of potatoes on top.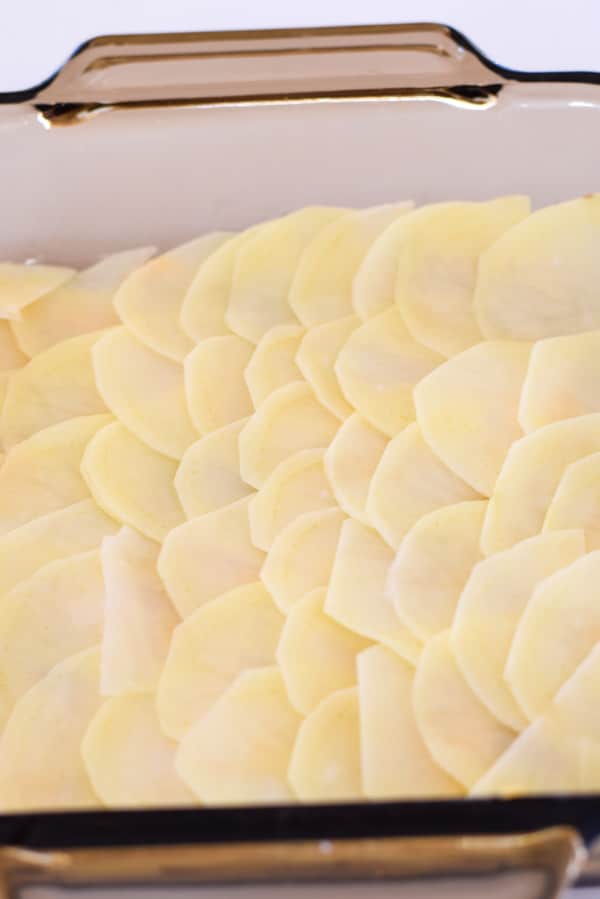 I continue alternating the onion mixture with the potatoes, ending with the onion mixture. I put 4 layers in this casserole until I reached the top.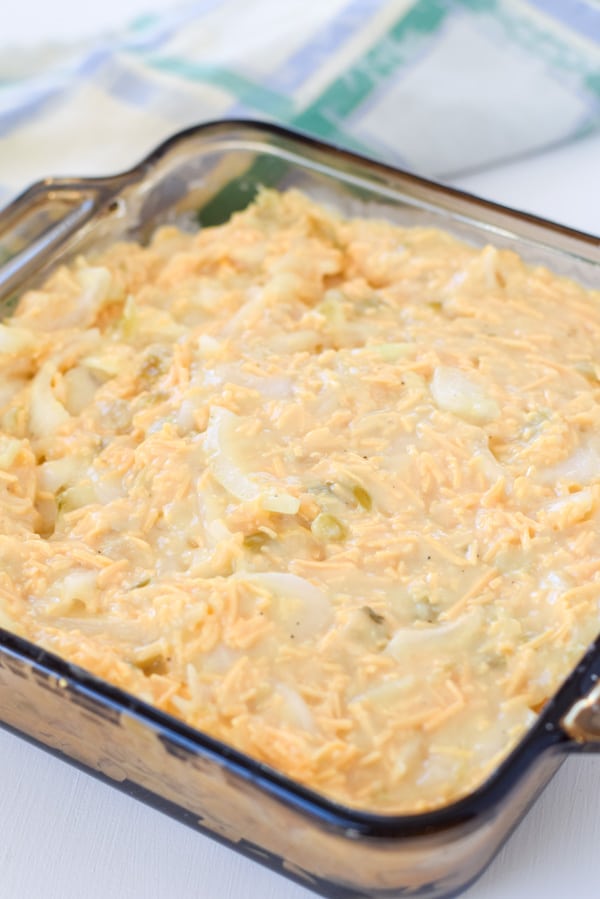 I cover the dish with foil and it's time to pop these potatoes in the oven.
After the casserole has been baking for a 1/2 hour, I uncover it and continue to bake them for another 1/2 hour. They will be bubbly and golden brown.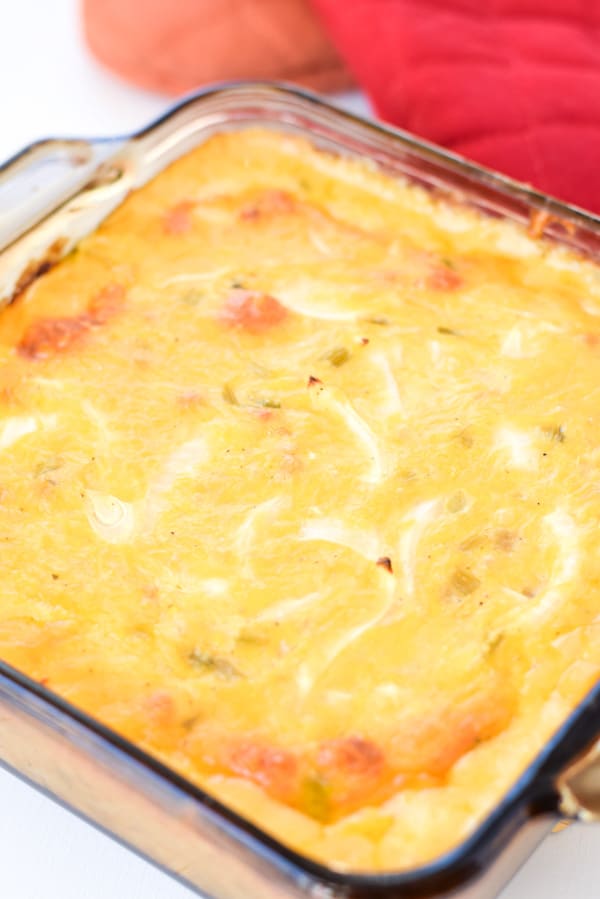 For best results, I let this casserole rest 20 to 30 minutes before cutting into it and serving.
Time to plate and eat this delish dish tout de suite.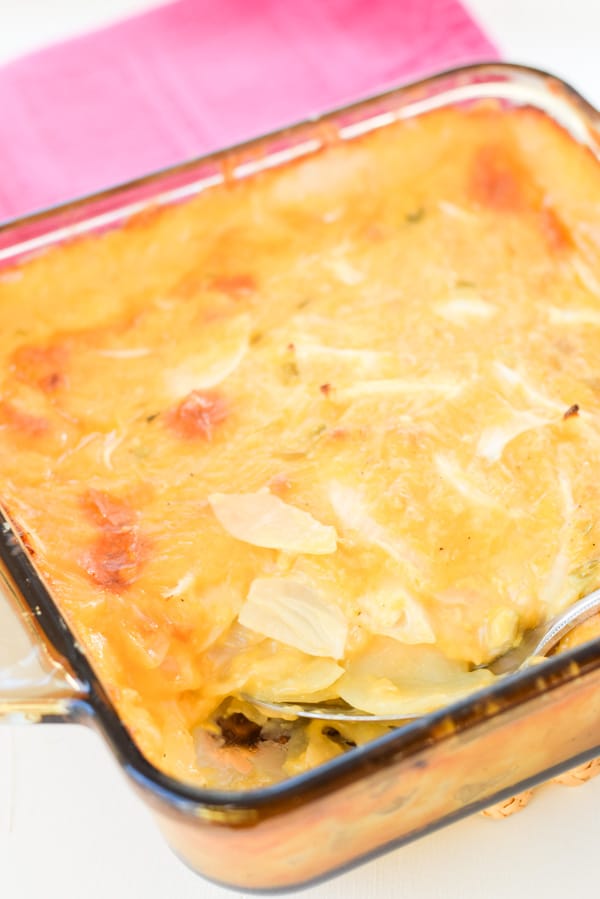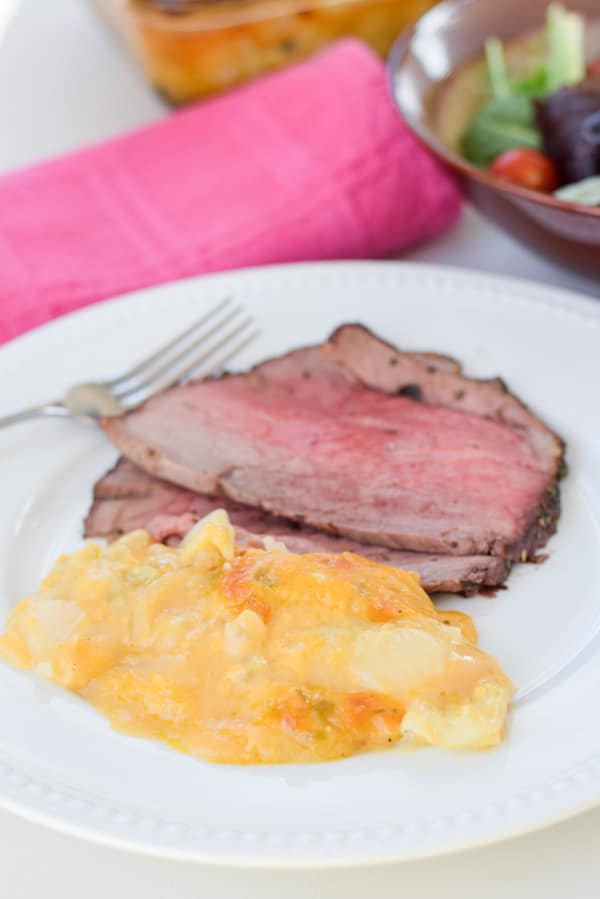 Doesn't that look good? It does to me! I've paired it with roast beef. YUM!
I hope you enjoyed this recipe. Feel free to Pin any photo to Pinterest or Yum the recipe to Yummly. And if you are so inclined, please leave me a comment to tell me what you think.
And as always, may all your dishes be delish!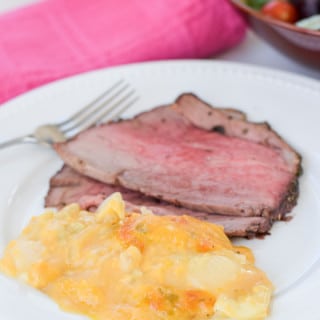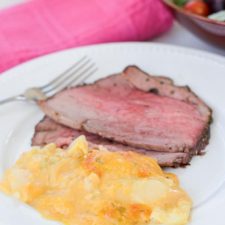 Scalloped Potato Casserole
This comforting scalloped potato casserole is easy to make and is really delicious!
Print
Pin
Rate
Ingredients
2

potatoes

large, sliced thinly

1

onion

medium, sliced thinly

2

cans

cream of celery soup

6

ounces

shredded cheddar cheese
Instructions
Preheat the oven to 350 F

In a large bowl, place sliced onions, soup and cheddar cheese

Mix it up until it all is incorporated

In an 8 x 8 baking dish, layer some potatoes on the bottom, make sure they are overlapping

Liberally spread a layer of onion mixture on top of the potatoes

Layer more potatoes on top of the onion mixture

Continue layering the onion mixture and potatoes, ending with the onion mixture

Cover the dish with foil and place it in the oven

Bake for 1/2 hour

Remove foil

Continue baking for another 1/2 hour until it is golden brown and bubbling

Remove from oven and let rest for 20 – 30 minutes before serving

Place on a plate with a main dish

Smile

Eat

Grab seconds

Enjoy
Nutrition
Serving:
1
serving
|
Calories:
157
kcal
|
Carbohydrates:
12
g
|
Protein:
6
g
|
Fat:
9
g
|
Saturated Fat:
4
g
|
Cholesterol:
27
mg
|
Sodium:
472
mg
|
Potassium:
298
mg
|
Fiber:
1
g
|
Sugar:
1
g
|
Vitamin A:
380
IU
|
Vitamin C:
6.4
mg
|
Calcium:
175
mg
|
Iron:
2
mg