I love eating quesadillas!  And these mushroom and spinach quesadillas are soooooo good. You can either eat them as an appetizer or as a meal. How great is that?
Recent Find
I want to talk about my thrift store find. It's a red cast iron enamel coated wok.
So, there I was minding my own business, when I had this idea that I would find something worth finding at the local thrift store.  Do you ever follow your instincts and realize you are brilliant?
Brilliant?!  You are a freaking genius!
I have that niggling thought about the local thrift store.
I have some time.
I decide I will follow the hunch.  Just to see what they have.
I go to the thrift store.  I look around and feel empty amid the clutter of second-hand merchandise.
I think, "Why am I here?"
My body seems to know because it makes a beeline for the kitchen stuff, where I soon see this wok lurking on the bottom shelf, at a distance from the other pans.
Almost as though it is hiding from other patrons that aren't me.
I look and I think, "No, it cannot be."
I lift it up.  I look at the handle.  Sure enough.  I am holding a Le Creuset wok just like the one I have at home. Well, the color is different and this one is coverless.  But otherwise? Identical.
Le Creuset!  In a thrift store!
I turn the wok over to see what the price is and my eyes bug out of my head.
$7.99
One of these woks new, goes for close to $300.00. I think when I bought mine, it was $240.00.
The only thing wrong with this one is that it doesn't come with the lid.
Mind you, you can get a replacement lid for . . . drum roll please . . . around $20.
I think the thrift store staff couldn't have known what they had. If they had known, I wouldn't have gotten it for seven dollars and ninety nine cents.
No way, José.
I look furtively around, clutch the wok to my chest so no one can snatch it from me and scramble to the cash register.
After I run to my car, I call Christopher and have to leave a giggling, silly message about my find.  He calls me back and says, "What?"
So I tell him the story.  He fist pumps me through the phone.  I can't see it, but I know he does.
When Christopher gets home, I have to pose with it so he can take a photo.  This is what I normally look like when I've just purchased a Le Creuset wok for $7.99.  This was taken with my iPhone, in my kitchen.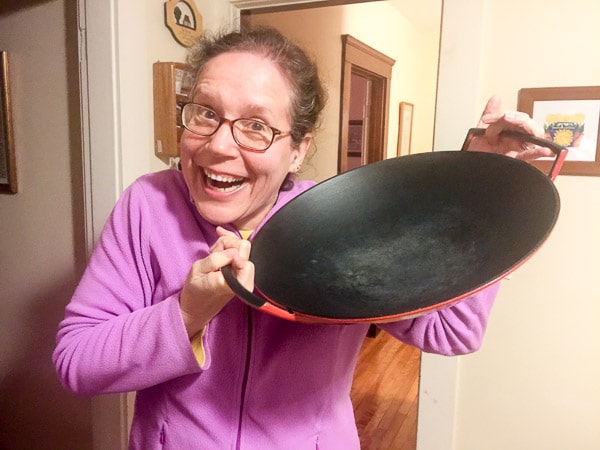 Yes, it needed seasoning but oh my word, the thing weighs around seven pounds and it is a work horse.
Why am I telling you this?
Because, when I make something that doesn't need a cover, I use this wok.  If it needs a cover, I use my yellow one.
I think you should know that.  And I think you should know I paid $7.99 for a Le Creuset wok.
Dreams do come true!
Other quesadillas recipes on Dishes Delish:
How to make the Mushroom and Spinach Quesadillas
Some of the ingredients for the mushroom and spinach quesadillas.
Look at the bowl the spinach is in.  Another wonderful thrift store find.  Isn't it totes adorbs? Look at the way the spinach in the front is hugging the bowl.  It likes it too.
Time to break out the wok.  Let's put it on the stove and heat it up on medium.  I add 2 tablespoons of olive oil and once it's heated, I add the mushrooms and sauté them for 5 minutes.
I add the spinach and continue sautéing the whole thing for 3 more minutes.
Sautéed yumminess.  Don't you agree?
Build that Mushroom and Spinach Quesadilla, baby!
Here is my secret to quesadillas.  Don't just use shredded Mexican cheese, use something creamy like muenster.  That's the secret.
I drooled as I looked at these slices of cheese.  Holy moly.
I put my sauté pan on the stove and heat it on medium.  I dribble the smallest amount of olive oil in it and swirl it around.
I place a flour tortilla in the pan, tear a piece of muenster in two and lovingly lay the halves on the tortilla.
I sprinkle some shredded Mexican cheese on top and cover the pan to help the cheeses melt.
I stand there and keep peeking to see if it's melted.
Next I spoon on some mushroom spinach mixture and fold the tortilla in half.
Ready to plate
Let's see it on a plate.  Shall we?
I added a bunch of addons, like chips, salsa, refried beans, sour cream and guacamole.
Look at that fat little quesadilla.  Doesn't it look so yummy?
Let's cut it in half.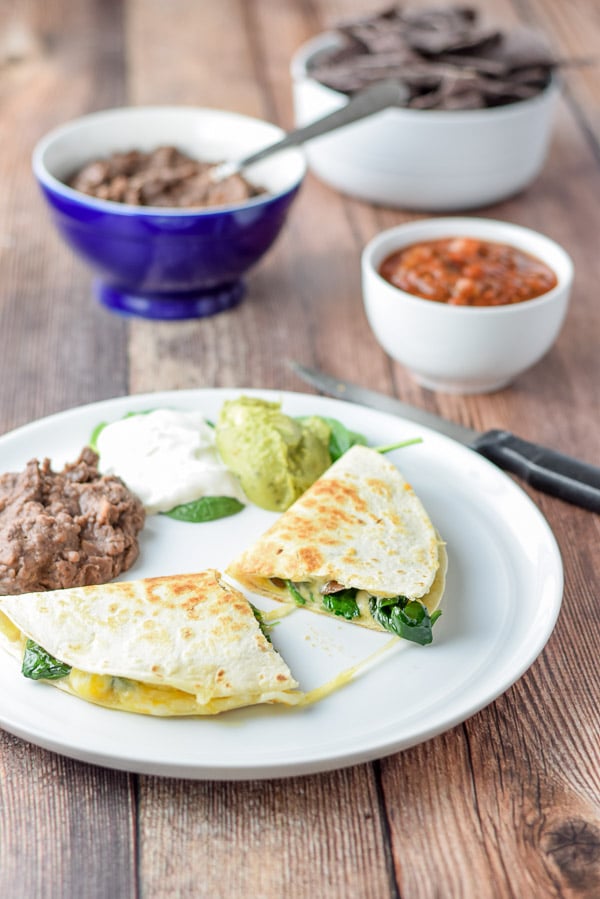 Bite please.  Christopher, lift it to my mouth, would you?
The tears that run down my cheeks are because, um……., a fleck of beans got in my eyes.
I'm so happy.
I hope you enjoyed this recipe.
I enjoyed eating it.  Christopher was super happy and did his happy dance.  I must show you sometime.
See how it goes?
And as always, may all your dishes be delish.
If you've tried this mushroom and spinach quesadillas or any other recipe on the blog, I'd love the hear what you thought about it in the comments below.  I love hearing from you!  You can also FOLLOW ME on FACEBOOK, TWITTER, INSTAGRAM and PINTEREST  to see more of my delicious food and delightful cocktails!
Mushroom and Spinach Quesadillas
These quesadillas are one of my staple foods. So good slathered in sour cream, guac and refried beans!
Print
Pin
Rate
Ingredients
2

tablespoons

butter

10

ounce

portobello mushrooms

sliced baby bellas

3

cups

spinach

around 5 ounces

10

flour tortillas

1

cup

Shredded Mexican cheese

5

slices

Muenster cheese

torn in half
Addons
Tortilla chips

Refried beans

Sour cream

Guacamole

Salsa
Instructions
Heat sauté pan on medium

Add butter

Add mushrooms and sauté for 5 minutes

Add spinach, sauté for 3 minutes

Heat another sauté pan

Add a little olive oil, swirl to coat

Place flour tortilla and place Muenster halves on along with some Mexican cheese

Cover and let cheese melt

Add mushroom and spinach sauté, fold flour tortilla

Plate with some refried beans, sour cream and guac

Cut quesadilla in half

Dip in sour cream and quac

Add beans

Bite

Sigh

Smile

Enjoy
Notes
Nutrition and calorie count is for the quesadillas but not the addons.
These quesadillas are so good! Try them, you'll see!
Nutrition
Serving:
1
quesadilla
|
Calories:
210
kcal
|
Carbohydrates:
17
g
|
Protein:
9
g
|
Fat:
11
g
|
Saturated Fat:
6
g
|
Cholesterol:
30
mg
|
Sodium:
401
mg
|
Potassium:
227
mg
|
Fiber:
1
g
|
Sugar:
2
g
|
Vitamin A:
1130
IU
|
Vitamin C:
2.6
mg
|
Calcium:
215
mg
|
Iron:
1.5
mg