This smooth enchilada sauce recipe is delicious and super easy to make!  I love how silky and flavorful it is, especially dolloped on meat enchiladas!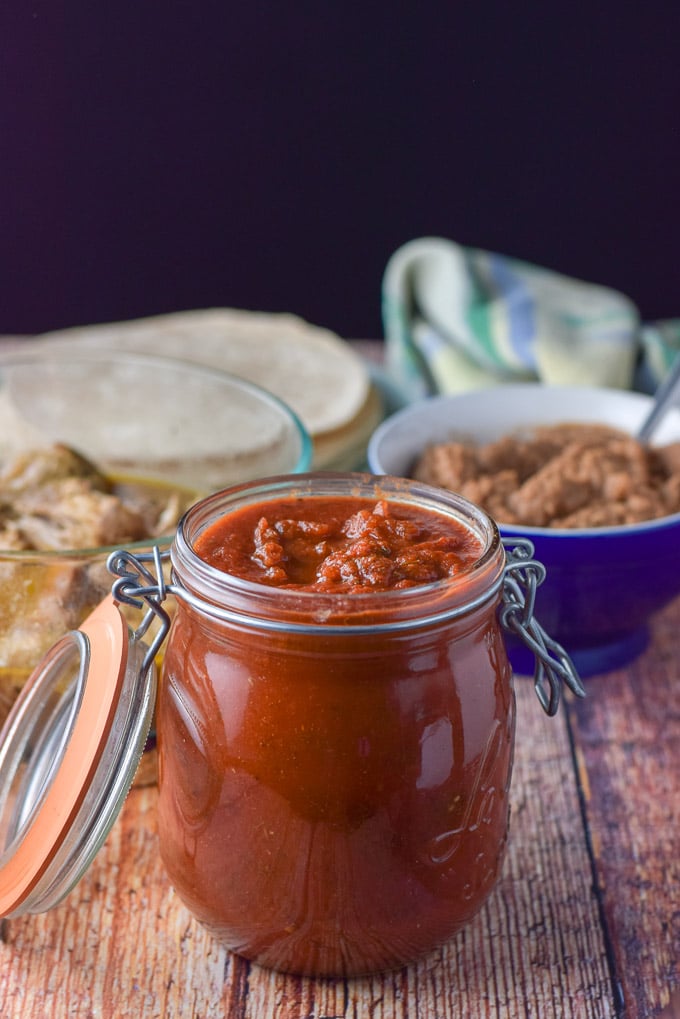 This is one of the food items I ALWAYS have in the house.  For reals!
Christopher has a delicious rice mixture for his lunch a few days a week.  Here's how we make his lunch.  I say we, because I make it most days to take the burden off him.  And because I'm a nice wife.
Mostly.
I sauté some grass-fed beef with a little salt, cumin and oregano.
We put a few spoons of beef on the bottom of a 2 cup jar.  Next, comes some brown rice. then this delicious enchilada sauce, or the chunky version.  Then on top of that, I put some sautéed veggies, usually zucchini, then some black beans on top.  Ta-da!
Christopher loves it!
Back to this smooth Enchilada Sauce
One of the things that I love about this sauce is that it's easy!!  I used to make enchilada sauce with oil and flour to thicken it. I still do with one of the most popular posts on Dishes Delish:  sour cream enchilada sauce.  But, I stopped thickening my red enchilada sauce because it really didn't need it.
It's naturally thick.  It's especially thick because I use crushed tomatoes in this recipe.
SO, since it's so easy, let's get to it!
On to the Smooth Enchilada Sauce Recipe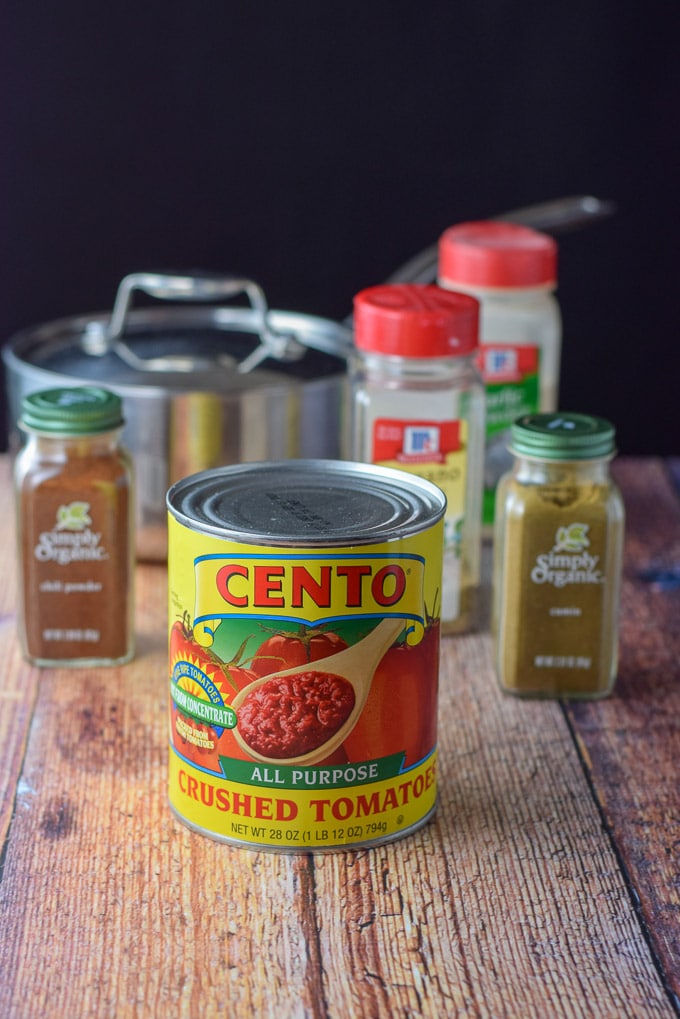 We have crushed tomatoes, cumin, chili powder, garlic powder, salt and oregano.
I get my sauce pan and dump the crushed tomatoes in there.  I measure out 1 1/2 teaspoons of chili powder, 2 teaspoons cumin, 2 teaspoons dried oregano, 1 1/2 teaspoon garlic powder and 1/4 teaspoon salt.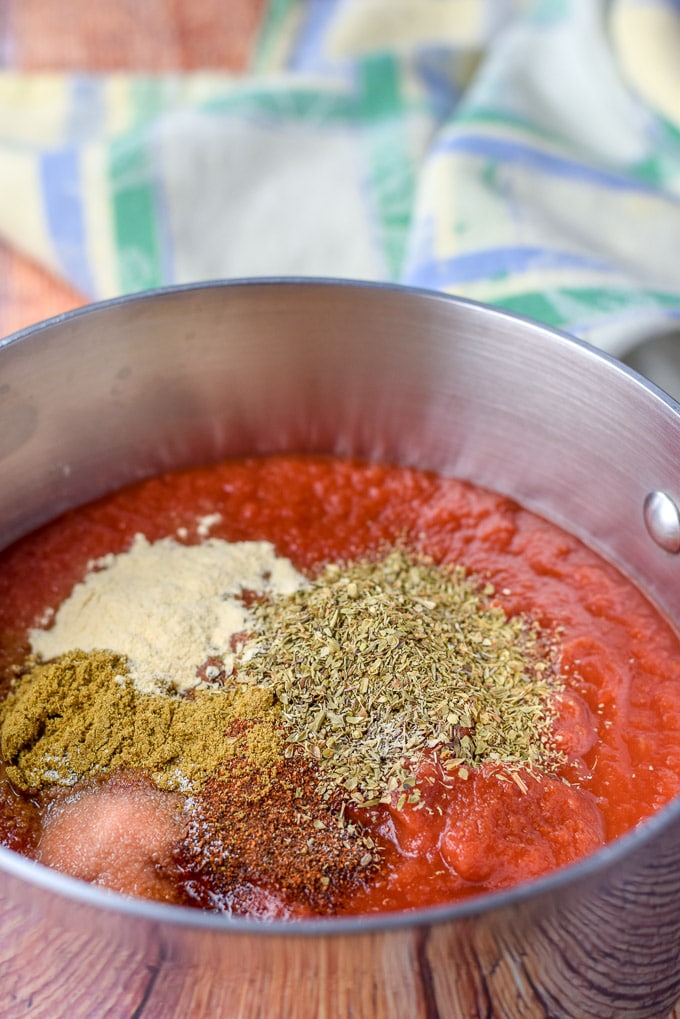 I turn the heat under the pan on medium and stir the ingredients until they're combined.  I bring the mixture to a slight boil and lower the heat to a simmer and let it cook for 15 minutes.
That's it.   Then the delicious smooth enchilada sauce is done.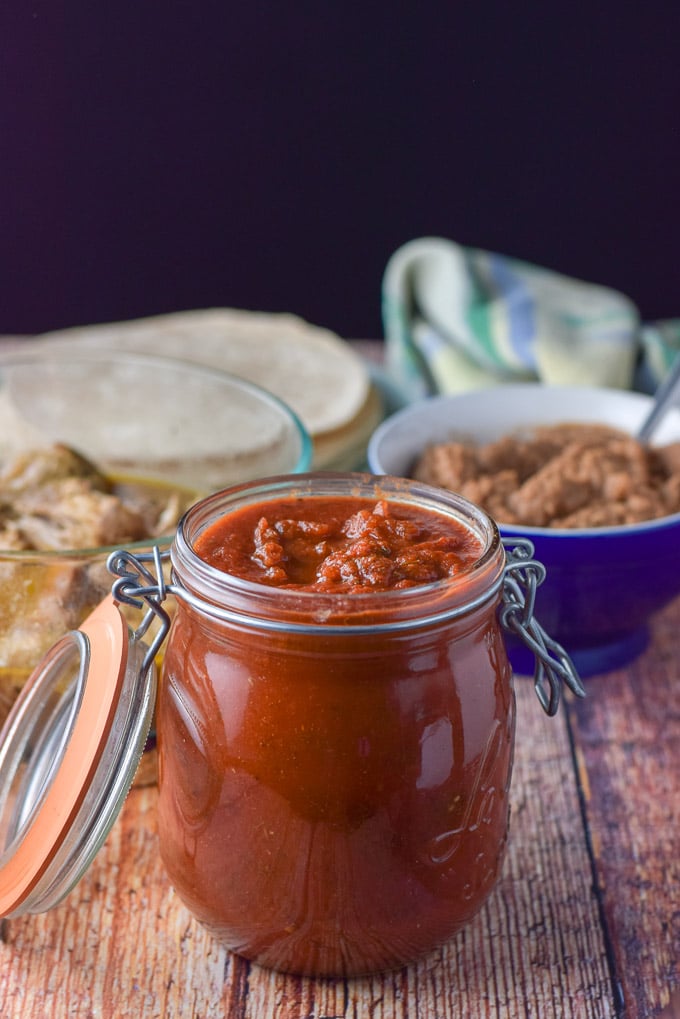 Let's look at it from the vertical view!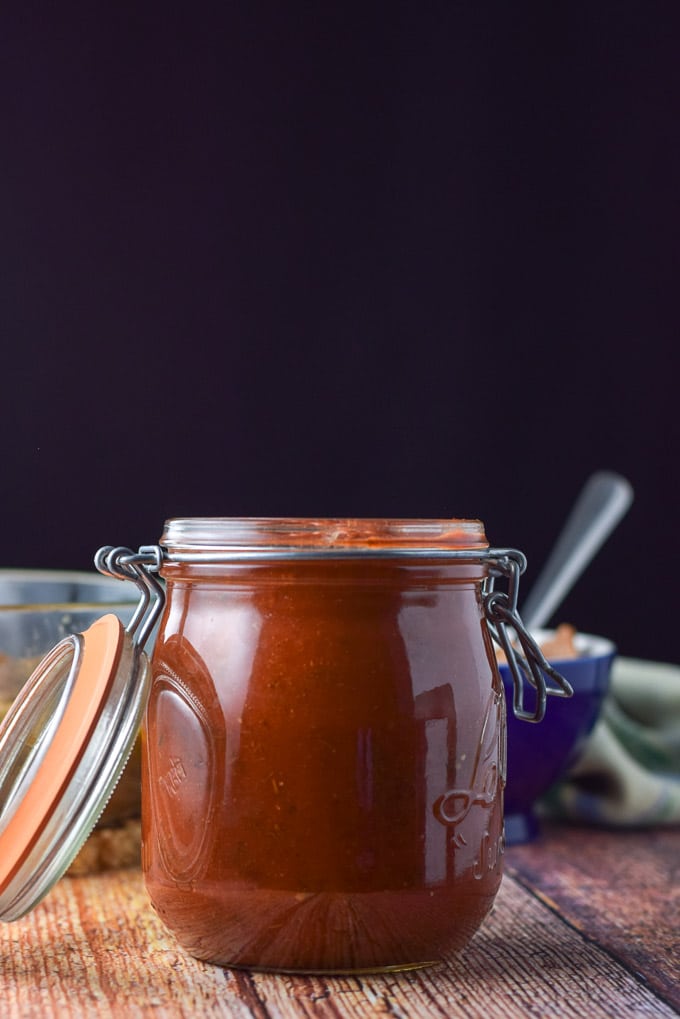 One of the first things I did with this smooth enchilada sauce was to spread it all over a batch of pulled pork enchiladas that I'll be blogging about soon.  I can't wait until you read that post.  I love pulled pork enchiladas!
I also dolloped some of my famous sour cream sauce over them!  Here's a preview of those pulled pork enchiladas.
Other popular sauce recipes on Dishes Delish:
I hope you enjoyed this smooth enchilada sauce recipe!
What is your favorite enchiladas to eat?  And do you prefer corn tortillas or flour?  I love flour!  Also, do you like chunky or smooth enchilada sauce?  Leave me a comment to let me know what you like and to satisfy my professional curiosity.
And as always, and as always, may all your dishes be delish!
If you've tried this smooth enchilada sauce or any other recipe on the blog, I'd love the hear what you thought about it in the comments below.  I love hearing from you!  You can also FOLLOW ME on FACEBOOK, TWITTER, INSTAGRAM and PINTEREST to see more of my delicious food and delightful cocktails!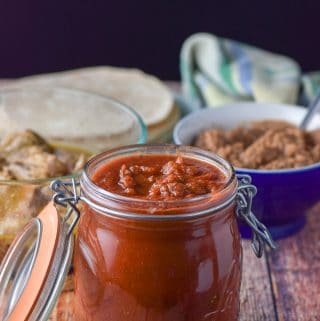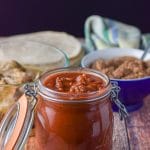 Smooth Enchilada Sauce | Gluten Free
This enchilada sauce is smooth and silky and DELISH!
Keyword:
smooth enchilada sauce
Ingredients
1, 28

ounce

can of crushed tomatoes

1 1/2

teaspoons

chili powder

or more (hubby doesn't like spicy foods)

2

teaspoons

cumin powder

2

teaspoons

dried oregano

1.5

teaspoon

garlic powder

1/4

teaspoon

salt
Instructions
Make It
In a medium sauce pan, add tomatoes, chili powder, cumin, oregano, garlic powder and salt

Stir together and turn the heat on medium

Bring to a boil and lower to a simmer and cook for 15 minutes

Dollop on some enchiladas

Eat

Smile

Enjoy
Recipe Notes
Hubby puts this on a lot of things!  Especially rice!
Nutrition Facts
Smooth Enchilada Sauce | Gluten Free
Amount Per Serving (2 tablespoons)
Calories 11
% Daily Value*
Sodium 61mg3%
Potassium 94mg3%
Carbohydrates 2g1%
Vitamin A 100IU2%
Vitamin C 2.7mg3%
Calcium 14mg1%
Iron 0.6mg3%
* Percent Daily Values are based on a 2000 calorie diet.