This is a simple roasted acorn squash recipe! It's sweet and delicious and it can be served as a great side dish or as a topping for your salad!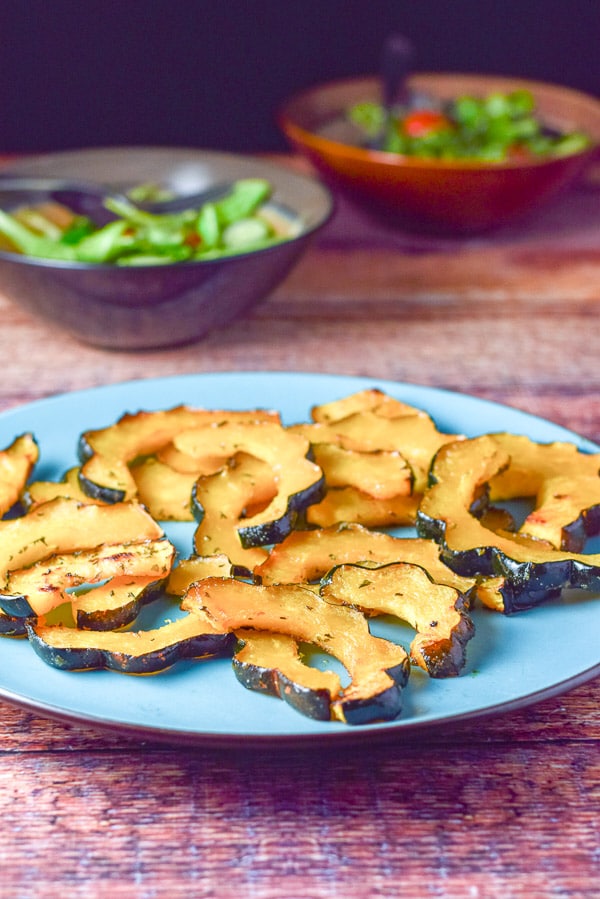 Can you eat the skin of an acorn squash?
Yes! I actually love the skin roasted like this. I was at a function recently where we were served roasted acorn squash in different sized wedges. The people around me weren't eating their skins. I had a hard decision to make: do I follow the hordes and not eat the delicious skin or do I boldly show people that they are okay to eat?
I ate them.
A few people said to me, "They're okay to eat?" And of course I replied, "You bet your sweet bippy." They, in turn, ate the skin and said, "Oh, it's good."
I love schooling people.  😉
A squash memory
When I was growing up, we used to have roasted acorn squash. My mom cut the squash in half, scooped out the seeds, put the two halves in a pan, face up, with some honey and butter in the hollowed-out centers.
Talk about glorious!
Funnily enough, I can't remember what Mom used to serve with it; whether meat or starch, I just don't know. I'm sure we didn't have only a veggie for dinner, though. My folks loved their vittles.
I remember taking my spoon and scraping the squash out of its shell until I hit the skin. By the time I was done with my half, the skin was practically see-through. I didn't eat the skin back then because my folks didn't. But if I could go back, I would eat it now.
I used to love to eat that dish! I made it for Christopher a bunch of times when we were first married. But then it fell off the radar.
Why? Who knows! But I think it might have had something to do with feeling guilty about all the honey and butter I used to put in the acorn squash halves.
Today, this roasted acorn squash recipe is my preferred recipe for acorn squash. It's easier, faster and I feel it's healthier than the old way.
Christopher loves it this way, too!
This post may contain affiliate links, which means I get a small commission, at no additional cost to you, if you click the link and buy something. You can read my disclosure here.
How to make roasted acorn squash
Pre-Step
Gather the ingredients – acorn squash, olive oil, garlic powder, onion powder, maple syrup, basil, parsley and salt.
Preheat the oven to 400 degrees Fahrenheit and line a jelly roll pan with parchment paper.
Step one
Slice the acorn squash in half, scoop the seeds out and proceed to slice the squash into thinnish rings. I cut the rings in half.
Step two
Get a large stainless steel mixing bowl and dump the sliced acorn squash into it. Add olive oil, garlic powder, onion powder, basil, parsley and some salt.
Step three
Mix them all together with a spatula and arrange the squash on the jelly roll pan. Take maple syrup and dribble it over the squash.
Step four
Put the pan of squash in the oven and bake it for 15 minutes. Flip the squash over and continue baking it for 15 more minutes.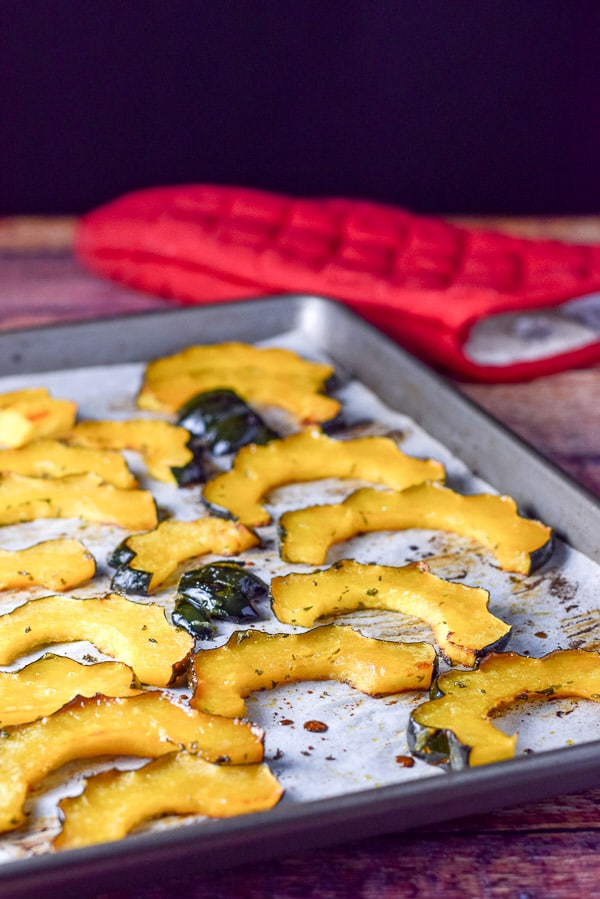 Nice and tender!!
I transfer the roasted acorn squash to my blue platter and make two salads. Christopher and I are going to have roasted acorn squash on salad for dinner!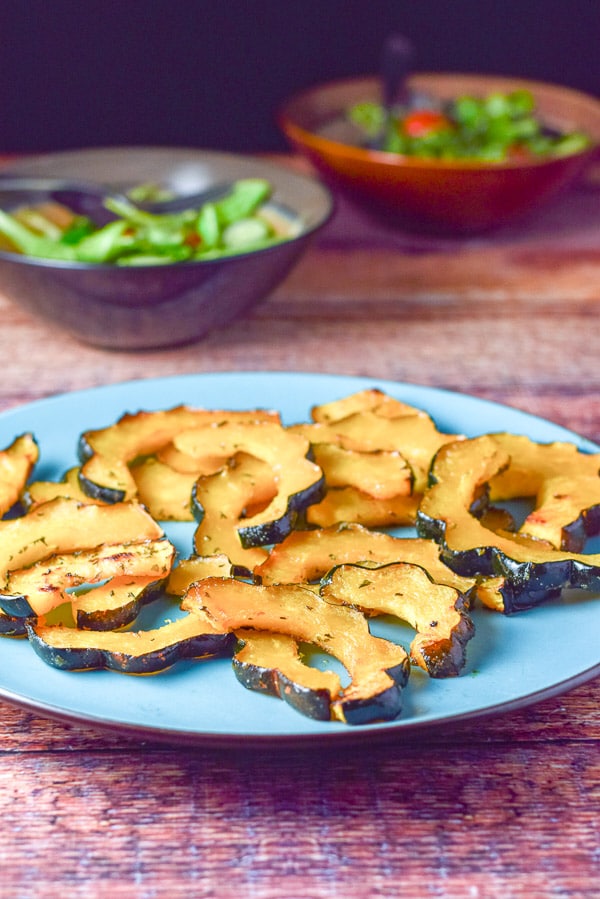 Let's look at the squash on a salad.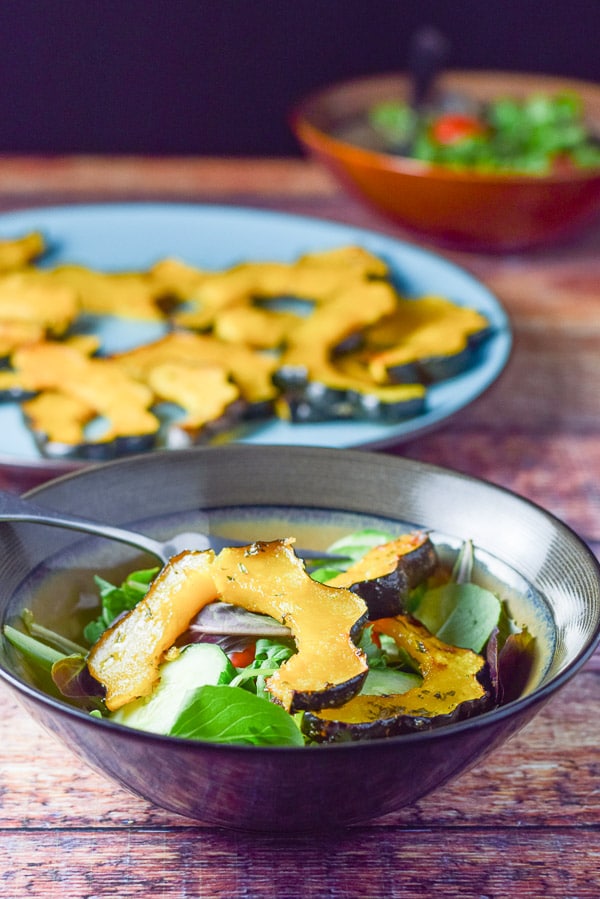 Yum, Yum!! I'm here to tell you that this roasted acorn squash is super delicious and easy to make.
Other popular vegetable dishes
Please feel free to leave me a comment. How do you like to eat acorn squash? I'd love to know. You can also Pin any photo to Pinterest and Yum the recipe to Yummly.
And as always, may all your dishes be delish.
If you've tried this roasted acorn squash or any other recipe on the blog, I'd love the hear what you thought about it in the comments below. I love hearing from you! You can also FOLLOW ME on FACEBOOK, TWITTER, INSTAGRAM and PINTEREST to see more of my delicious food and delightful cocktails!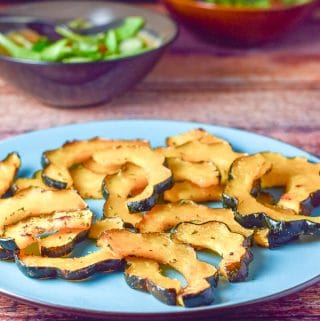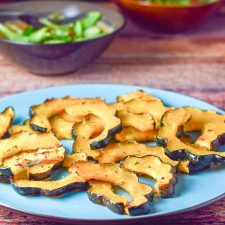 Simple Roasted Acorn Squash
This roasted acorn squash is lightly sweet and oh so delicious!
Print
Pin
Rate
Ingredients
1

acorn squash

cut in half horizontally through the stem, seeds removed and then cut in further slices

2

tablespoons

olive oil

1

teaspoon

garlic powder

1

teaspoon

onion powder

1

teaspoon

dried basil

1

teaspoon

dried parsley

1/4

teaspoon

salt

2

tbsp

Maple syrup

for dribbling
Instructions
Make it!
Preheat oven 400 F and line a large jelly roll pan with parchment paper

In a large mixing bowl, add the acorn squash, olive oil, basil, parsley, garlic powder, onion powder and salt

Take a spatula and mix the ingredients with the squash so it is covered

Lay the acorn squash on the pan so they aren't touching

Dribble maple syrup across the squash, use whatever amount you enjoy, I used about 1 tablespoon

Bake for 15 minutes, flip squash and bake for 15 more minutes

Serve with a main dish or on a salad

Eat

Smile

Enjoy
Nutrition
Serving:
4
slices
|
Calories:
547
kcal
|
Carbohydrates:
76
g
|
Protein:
4
g
|
Fat:
28
g
|
Saturated Fat:
3
g
|
Sodium:
602
mg
|
Potassium:
1621
mg
|
Fiber:
7
g
|
Sugar:
24
g
|
Vitamin A:
1580
IU
|
Vitamin C:
47.4
mg
|
Calcium:
208
mg
|
Iron:
3.9
mg