Buttery Carrots | Velvety Side Dish
This sautéed buttery carrots recipe is so good. They are like magic. Why? Because I make them and they disappear. They are as advertised, sweet, velvety and the perfect side dish.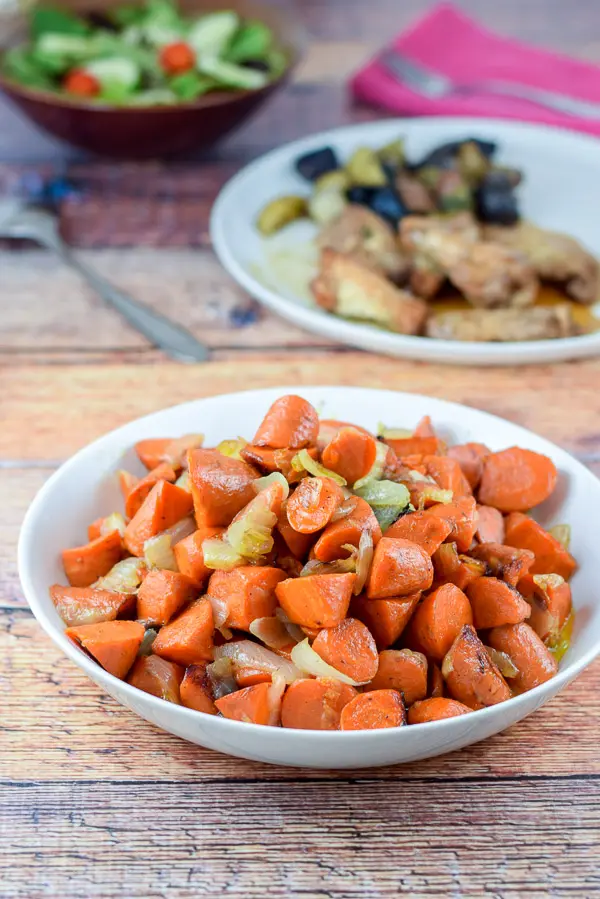 This side dish is absolutely one of my favorite vegetables. This sweet buttery carrots recipe is comfort food for me. My grandmother used to make it, although she used to bake it. My mom made it. My sisters make it. And I make it. It's a family affair.
Everyone who has tasted it, loves it. Even picky children. Making it a tried and true people pleaser.
What makes this different from other carrot dishes, you ask? Other than not using any sweetener other than the natural sweetness of carrots. I believe it's the way you cut the carrots. Um-hmm, you heard it here first. You cut them in a diagonal – making little cute triangles out of them. Other than this dish, I've never seen carrots cut this way. Every time I make these sauteed carrots, I have always cut them this way and they always seem to taste the same.
Always. It doesn't matter how much garlic or onions you use. I believe it's the carrots that make the difference or at least the sameness. Hehe.
This post may contain affiliate links, which means I get a small commission, at no additional cost to you, if you click the link and buy something. You can read my disclosure here.
How to make buttery carrots
I mentioned that my grandmother used to bake them. I baked them for a while too but it takes too long and I want my carrots when I want them. Know what I mean? I actually think I'm the only one in my family that doesn't bake them now. I'm such a trail blazer!!
When you bake them it takes between 1 to 1 1/2 hours with the oven set at 350 degrees. Sautéing them in a cast iron skillet or wok takes 40 – 45 minutes, depending on the carrots, etc. No brainer in my book. Though, truth be told, baking them is a little less labor intensive because you don't have to flip them every once in a while.
It's all in the cutting
Notice the diagonal cut and the cutie pie little triangles. 🙂
One of the other things I love about sautéing them is that the olive oil and butter make the sauteed carrots dish so velvety.
I love to take bread and dip it in the oil and butter.
And as an added extra bonus, the onions have a chance to caramelize which also makes the dish even sweeter, if that's possible. I'm drooling just thinking about them.
Once the carrots are cooking for 1/2 hour, you get to put in the lovely fragrant garlic. You don't have to worry about the garlic cooking too much by browning and getting all bitter. The juices of the vegetables, along with the oil and butter keep the garlic succulent and super tasty.
Look at the pile of garlic! I photographed it plopped on the top, but I mix it all up and sauté for another 10 to 15 minutes.
These sauteed buttery carrots are one of those side dishes that I could eat all the time without getting tired of them. And not to forget the vitamin A you get when you consume these babies. Mmmmmm. Good eyesight for everyone! 🙂
Since I mentioned the baked method, I'll give some directions: The amounts of all the ingredients are the same. You just put it all in a covered casserole dish. Bake in a 350 degree oven for 45 minutes. Take out, stir, add the garlic and bake for an additional 45 minutes. Voila!
Updated photo: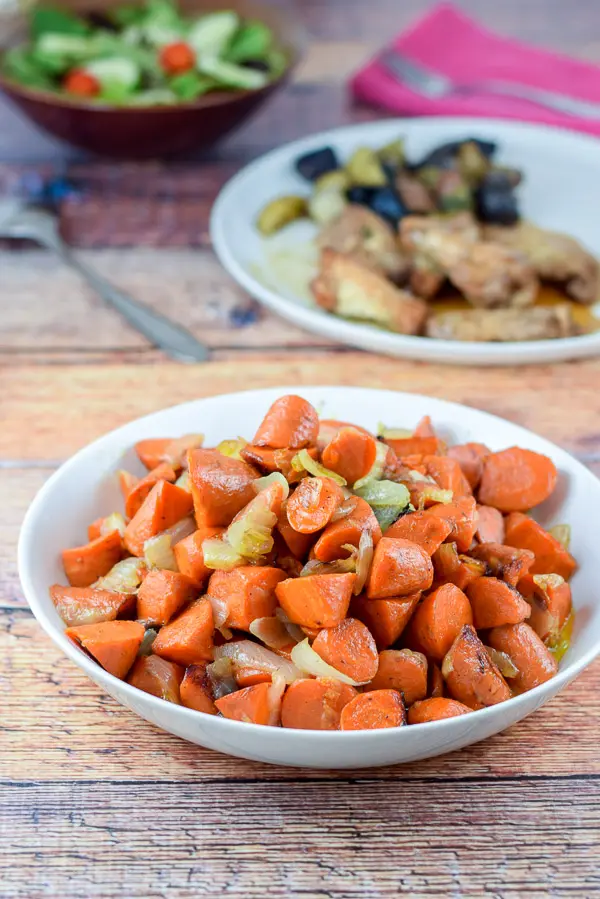 Old photo:
I hope you enjoy this sauteed buttery carrots recipe as much as my family and friends do!
Please feel free to leave me a comment, Pin any photo to Pinterest and Yum the recipe to Yummly.
And as always, may all your dishes be delish!
Sweet Buttery Carrots
Delicious sautéed Carrots with onions and garlic in oil and butter! A delightful side dish to any menu!
Print
Pin
Rate
Ingredients
2

pounds

carrots

washed and cut in triangles, (See pictures)

1

onion

large, chopped in medium chunks

4

cloves

garlic

minced

3

tablespoons

olive oil

or to taste, it shouldn't be swimming in it.

1/4

cup

butter

1

teaspoon

salt

or to taste

1/4

teaspoon

pepper

or to taste
Instructions
Wash carrots and cut them in diagonal triangles

Peel onion, chop in medium chunks

Heat a large cast iron pan or wok on medium heat

Add olive oil

Add the onions and carrots

Flip a few times to coat the veggies

Cover and let cook for a good 5 minutes before flipping them

Add butter

Keep covered through out the cooking process

Saute for 25 minutes, stirring occasionally, add garlic

Saute for 10 to 15 additional minutes, stirring occasionally.

Check the carrots to see if cooked through. You should be able to easily put a fork into them.

Take off heat and serve.

Enjoy
Nutrition
Serving:
1
cup
|
Calories:
303
kcal
|
Carbohydrates:
25
g
|
Protein:
2
g
|
Fat:
22
g
|
Saturated Fat:
8
g
|
Cholesterol:
30
mg
|
Sodium:
841
mg
|
Potassium:
777
mg
|
Fiber:
6
g
|
Sugar:
11
g
|
Vitamin A:
38245
IU
|
Vitamin C:
16.3
mg
|
Calcium:
90
mg
|
Iron:
0.8
mg
Get new recipes in your inbox!
Click here! to sign up for our newsletter
From lighting up stages with her BA in theater to crafting delightful dishes and cocktails, Elaine Benoit's journey is a testament to passion's transformative power. As the CEO of Dishes Delish, she offers a blend of healthy, comforting recipes and exquisitely crafted cocktails. Beyond the kitchen, Elaine voiced her culinary adventures on her podcast, "Dishing," and co-owns Food Blogger Help, extending her expertise to guide budding food bloggers to success. Whether it's for a heartwarming dish or insights into food blogging, Elaine's diverse experiences make her a beacon in the culinary digital landscape.