This easy turkey salad recipe is delicious and what makes it easy is you use rotisserie turkey. It will make you want to make it every week for your lunch!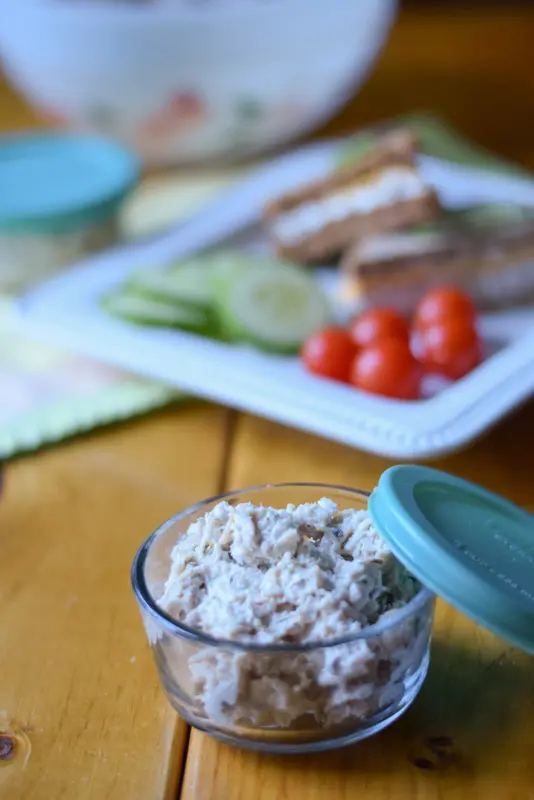 Yum! Yes, yum! That's what I hear when I bring this tasty turkey salad to potlucks or to relatives' houses when we visit. And the funny thing is, it's soooo easy to make. I mean, you buy a rotisserie turkey breast from the grocery store, bring it home, take it off the bone, cut it up, add a few ingredients and they act as though I slaved over an oven and roasted it myself.
Nope! I've only made a roasted turkey once in my life and that was many years ago, pretty early in our marriage. Christopher won a turkey from work and I took the nice-sized bird, did everything I thought I was supposed to do with it and roasted it. I remember thinking that I was so grown up, roasting my own turkey.
Wrong. Well, right, I was grown up but apparently not enough to roast a turkey. I remember eating it or at least attempting to and thinking, "Ewww, not like my mom's." I won't go into details but let's just say I used way too much butter. In my defense, my mom always cooked our turkeys and my job was to wrangle for the dark meat. Besides, Christopher and I were becoming vegetarians, though at the time of the failed turkey, we were still eating poultry and fish. But I hardly ever cooked meat. We're no longer vegetarians but still I haven't attempted a turkey again; hence, the store-bought rotisserie. It's actually quite good. We've never had it as a meal, I've only made turkey salad with it.
Christopher usually separates the flesh from the bones. He's really good at that. If I happen to be the one who does it, I'm not as particular. He wears disposable gloves from the hardware store and dives right in.
Everyone asks me what I put in it and it's almost embarrassing because as I said before, it's not much more than a few ingredients.  Of course, I nod knowingly and say, "It's a secret."  Actually no, I don't say that.  I always tell them what I goes into the turkey salad.
I'll put the recipe in the form below but I'll tell you right now, it's basically cut up turkey – you could also use rotisserie chicken but it's more work for the same yield – a little salt and pepper, mayonnaise, tarragon and parsley.  The end.
See? Easy-peasy. Sometimes we will make a sweet tasty turkey salad by leaving out the tarragon and putting in chopped dried cranberries and/or raisins and chopped cashews or some other nut. And if I'm feeling really adventurous, I put in some celery, though if I do that, I make sure the salad is eaten in a day or two as it gets a little watery.
Christopher will take turkey sandwiches to work, but I take it in a little container. In fact, the one in the first and last picture. I forgo the bread and eat it right out of the bowl. I also pack some cheese and some nice cut up cucumbers and tomatoes for a well rounded lunchie. I find that turkey salad soaks up the mayonnaise like a sponge, so I will add some to my container to perk it up. 🙂
If you make this easy turkey salad, I hope you enjoy it as much as our friends and family.
May all your dishes be delish!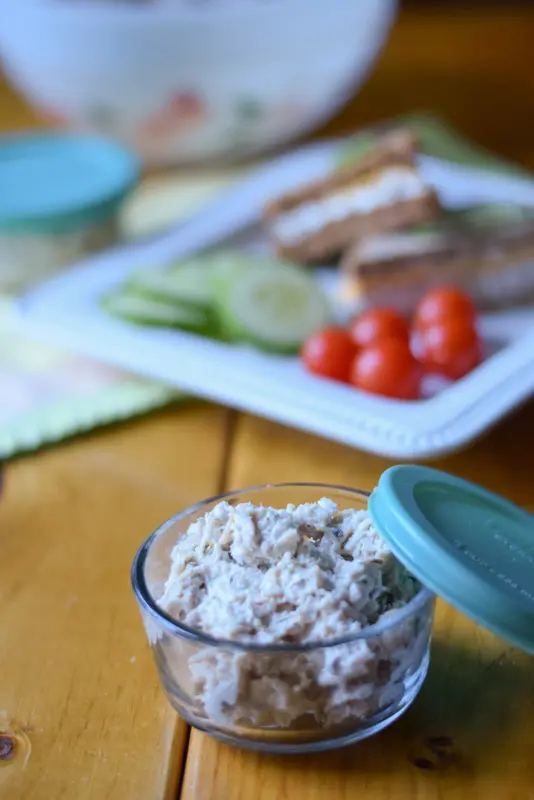 Easy Turkey Salad
A mouth watering, simple turkey salad recipe.
Print
Pin
Rate
Ingredients
1

rotisserie Turkey breast from grocery store

around 4 cups cut up into cubes

2

tablespoons

of dried tarragon

1 1/2

tablespoons

of dried parsley

1

cup

of mayonnaise or to taste

1/4

teaspoon

salt or to taste

1/8

teaspoon

pepper or to taste
Instructions
Pull the turkey off the bone

Remove skin and anything you wouldn't want to put in your mouth

Chop turkey into cubes (we cut it on the small side)

Place turkey in a large enough bowl to mix

Add mayo, tarragon, parsley, salt and pepper

Mix all the above together

Enjoy!
Nutrition
Serving:
1
cup
|
Calories:
339
kcal
Get new recipes in your inbox!
Click here! to sign up for our newsletter