This chocolate mint cookies recipe is so fudgy, rich and delicious that you are going to wonder where it has been all your life!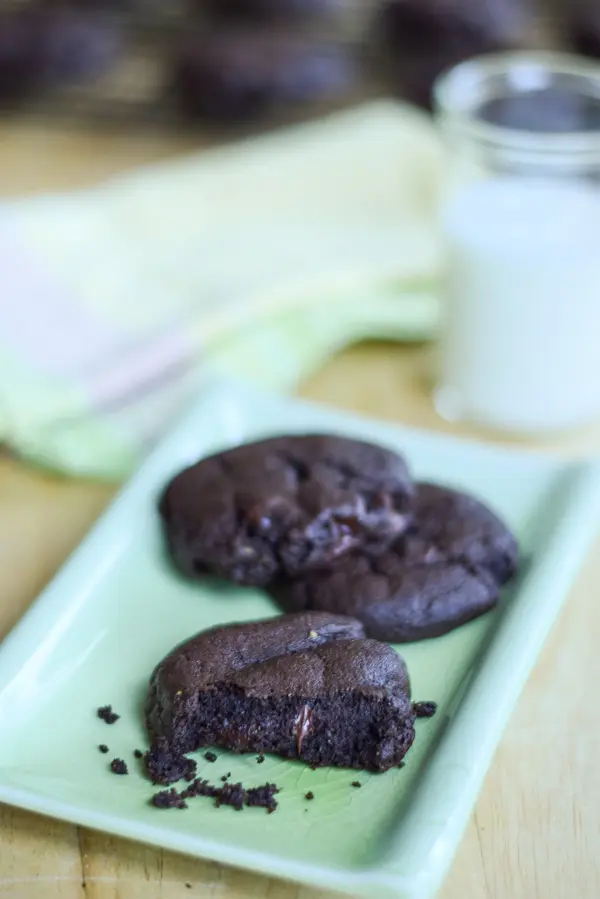 Chocolate mint cookies. Super chocolate, chocolate chip, mint cookies. These cookies are very chocolatey so they are not for the faint of heart. These are dense little gems!
I got the idea while I was walking through Trader Joe's. I buy their yummy dark chocolate-covered mints. They are really good; sort of like Junior Mints but creamier, bigger, and well, yummier. So, I was thinking – wouldn't these be super yummy in a cookie? And not just in a regular cookie, BUT a chocolate cookie.
BING! A light bulb went on over my head, nearly blinding all the other shoppers in my vicinity.
I switched off the bulb, blinked the tears out of my eyes and put the chocolate mints in my basket. I also threw in an avocado. Did you know that you can reduce the 'bad' fat in baked goods by replacing half the butter with an avocado?
Well, you can and I did.
This post may contain affiliate links, which means I get a small commission, at no additional cost to you, if you click the link and buy something. You can read my disclosure here.
How to make chocolate mint cookies
Time for me to gather the ingredients. I take out a stick of butter well in advance to give it time to soften. I cut the stick in half and slice half of it in chunks to quicken the softening process. (The other half I'm going to melt later anyway, so I don't bother cutting it up.) I then take the avocado, slice it in half, remove the pit, scoop all that green goodness into a little bowl and mash it up. I then measure out the sugars and set them aside.
I almost never use just white sugar, I always supplement it with brown sugar and eventually, I'll probably just use maple syrup or honey as the sweetener for baking. But baby steps, right?
Here is the mashed avocado.
Into my stand mixer I put the butter and the sugar and mix until creamy. Then I add the eggs, vanilla and coffee and mix it until it's even creamier. I use decaf coffee because I can't tolerate caffeine. I love the way coffee intensifies the chocolate flavors.
Time to stir in the mashed avocado.
Next I gather the flour (I use spelt), cocoa powder, salt, baking powder and baking soda and sift them all together. I put the mixture aside for now.
Time to get ready to chop up the baking chocolate. I use a 4 ounce bar of chocolate, along with 4 ounces of 60% cocoa chocolate chips. The mixture of the baking chocolate and the semi sweetness of the chocolate chips meld so well.
Chop that Chocolate
Chopping it up just helps the melting process. If you have a double boiler, you can use that to melt the chocolate. I do not have one, so I use what I have, which is a saucepan and a glass bowl. After I heat the water, I put the chopped chocolate bar, the chocolate chips and the other half stick of butter in the glass bowl. I place the bowl over the saucepan and stir the ingredients with a rubber spatula until melted.
Once they're melted, I pour them into the avocado mixture. Stir it together and it will look like the photo below.
See that green goodness against the side of the bowl. It didn't stay there long, I scooped it out with my finger and in it went to my mouth. Mmmmm. Of course, it was quite a feat to get just the avocado, because I don't really like eating raw dough. But I did managed to get just the avocado! Yay for me! It is amazing what persistence will allow you to do. 🙂
Next, it's time to gradually add the flour mixture and stir the batter all together. It is a little hard to stir. Then it's chocolate chip time. I add the chips and stir until they're mixed evenly throughout the batter.
You could roll the dough in balls at this time but I prefer to put it in the refrigerator for an hour to make it easier to work with. It's not so messy, which is a good thing in my book.
Fast forward an hour. It's time preheat the oven to 350 Fahrenheit and to roll the cookies into a ball. I open the package of chocolate mints and start rolling. Once I get a nice ball of dough rolled, I make an indentation with my thumb and I push the mint in the dough. I then take the sides of the dough and cover up the mint so you can't see it. The more coverage over the mint, the better the chances it doesn't leak out when you bake the cookies.
Place it on the cookie sheet 4 across by 4 rows. They don't spread out so you probably could put more on a sheet, but I don't.
The photo below is before I cover the mint with the dough. I use a good amount of dough for the ball, about the size of a golf ball.
And into the oven it goes! Bake it for 10 minutes. Below is a photo of the cookies just as they came out of the oven.
I let the cookies cool for 5 minutes before taking them off the cookie sheet.
Now, all that is left is to take a big ol' honking bite out of one of these cookies. Or two. Or . . . . . 🙂
I hope you enjoy this recipe!
And as always, may all your dishes be delish!
Chocolate Mint Cookies
Sink your teeth into this chocolatey mint cookie! You can enjoy it with a beverage of your choice!
Print
Pin
Rate
Ingredients
1

stick of butter divided

1

avocado

1/2

cup

white sugar

1/2

cup

brown sugar

2

eggs

1

teaspoon

vanilla

3

tablespoons

of coffee

8

ounces

of baking chocolate

I used a 4 ounce bar and 4 ounces of chocolate chips

2

cups

of flour

1/4

cup

cocoa powder

1

teaspoon

baking powder

1

teaspoon

baking soda

1/2

teaspoon

salt

Trader Joe's chocolate covered mints

1/2

cup

semi- sweet chocolate chips
Instructions
Take out 1 stick of butter to soften

Cut and pit the avocado

Mash avocado

Put butter and sugars in

mixer

Mix until creamy

Add eggs, vanilla and coffee and mix until combined

Add avocado and stir it in

Sift flour, cocoa, baking powder, baking soda and salt together

In a double boiler, melt the chocolate along with the rest of the butter

Pour it in with the avocado mixture

Mix until combined

Add flour mixture and stir

Add chocolate chips and stir until combined

Place in refrigerator for an hour

Preheat oven to 350 degrees F

Take out and roll the dough into a ball

With your thumb, make a depression and stick a mint in the dough

Cover the mint with the sides of the dough already in your hand

Place on cookie sheet and push down on dough ball with palm of hand

Bake for 10 minutes or until done

Let it cool on cookie sheet for 5 minutes

Take a big bite

Enjoy
Nutrition
Get new recipes in your inbox!
Click here! to sign up for our newsletter
From lighting up stages with her BA in theater to crafting delightful dishes and cocktails, Elaine Benoit's journey is a testament to passion's transformative power. As the CEO of Dishes Delish, she offers a blend of healthy, comforting recipes and exquisitely crafted cocktails. Beyond the kitchen, Elaine voiced her culinary adventures on her podcast, "Dishing," and co-owns Food Blogger Help, extending her expertise to guide budding food bloggers to success. Whether it's for a heartwarming dish or insights into food blogging, Elaine's diverse experiences make her a beacon in the culinary digital landscape.