This is a big pile of Addy's awesome oatmeal raisin cookies!  They are crispy, yet soft and succulent and the best oatmeal cookies I've ever had.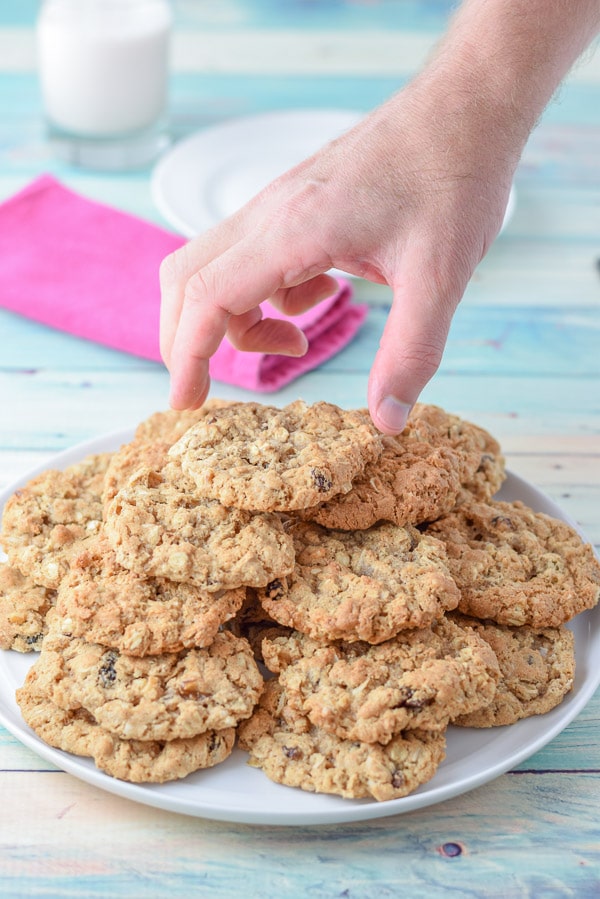 And Christopher is stealing one!  I don't blame him.  They are delicious.  They're the best oatmeal raisin cookies I've ever had.  Really!
Flashback
I had to work long and hard to get this recipe.  When I worked at a medical center in California, I worked with a lovely woman named Adelaide – Addy for short.  We worked closely together and she acted like a pseudo mom to me.
But she was territorial about her oatmeal cookies.  She told me that this recipe was her grandmother's.
I cajoled and cajoled and these were some of the arguments I used:
Don't you want everyone to know how delicious these cookies are?
Don't you want to spread these cookies far and wide?  Remember, I'm from the East Coast
These are the best oatmeal cookies ever, Addy
One of those arguments worked.  Did I feel guilty?  A little, but Addy ended up telling me that she wasn't really sure why she hadn't given out the recipe before.  She guessed it was because her grandmother kept it so secret.
I'm so glad she gave it to me.  Addy died many years ago, but her memory and her cookies live on.

Other cookie recipes:
How to make Addy's Oatmeal Raisin Cookies
Preheat oven to 350 degrees Fahrenheit.
Tips:
Take out butter an hour before making these cookies
Use a stand mixer as it makes mixing cookies easier
Don't over mix the dry ingredients, just until incorporated
Don't over cook these cookies, you want the slightly crispy on the outside but soft on the inside
They will be fluffy right out of the oven but they will deflate
Let cookies cool on cookie sheet for 5 minutes before removing to a wire rack
Process shots for the Oatmeal Raisin Cookies:
Butter, sugars and eggs
The above wet ingredients mixed
Flour, baking powder and baking soda
The above dry ingredients mixed until just incorporated
Stir in oatmeal, raisins, walnuts and coconut flakes.  Do not over mix

More process shots:
Use a Cookie scoop to get the same amount of cookie dough. Roll the dough into balls between your palms
Baked for 15 minutes.  The cookies are fluffy when they come out of the oven
Time to eat the Oatmeal Raisin Cookies
Since this is a food blog, after all, I plate the cookies for show!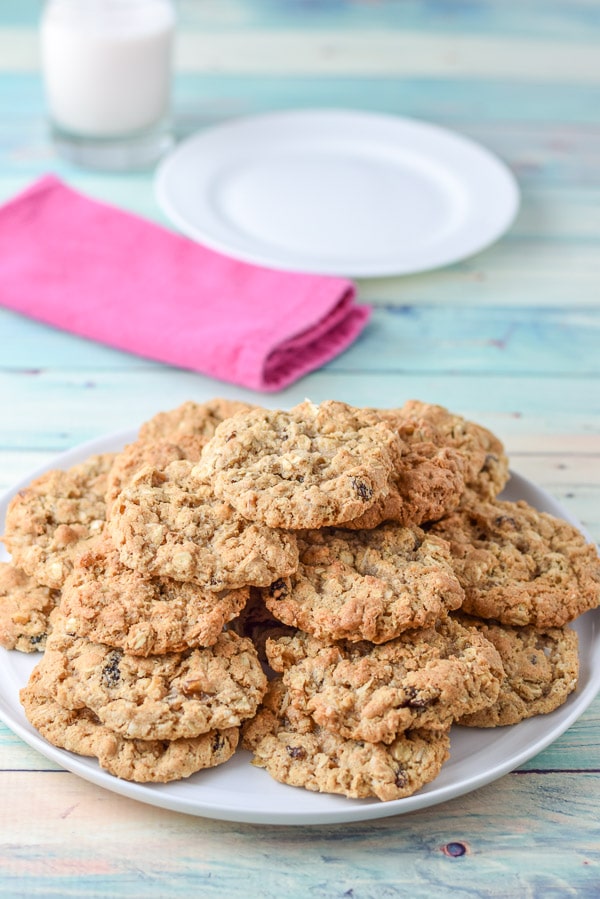 Christopher is hungry.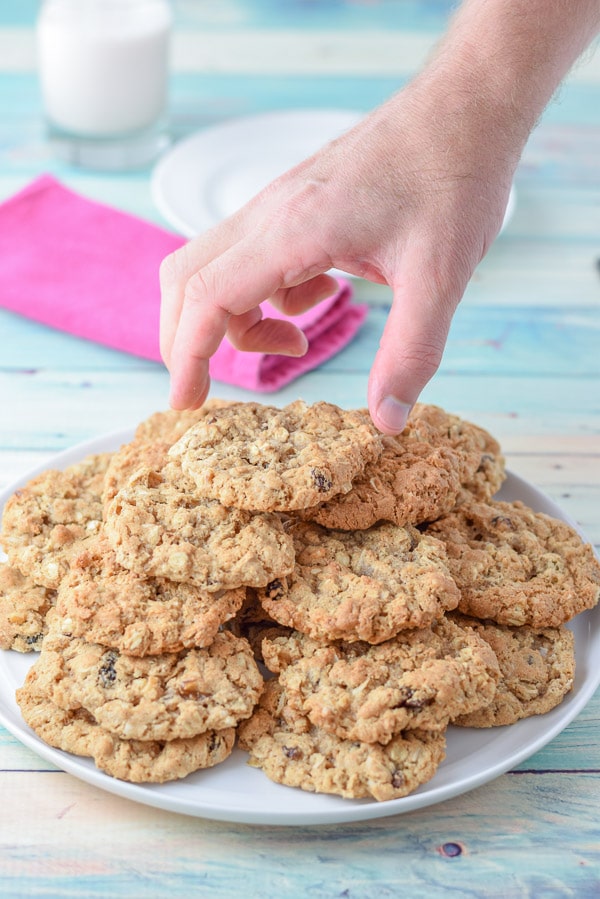 So am I but I still have more photos to take.  Which I do as fast as I can.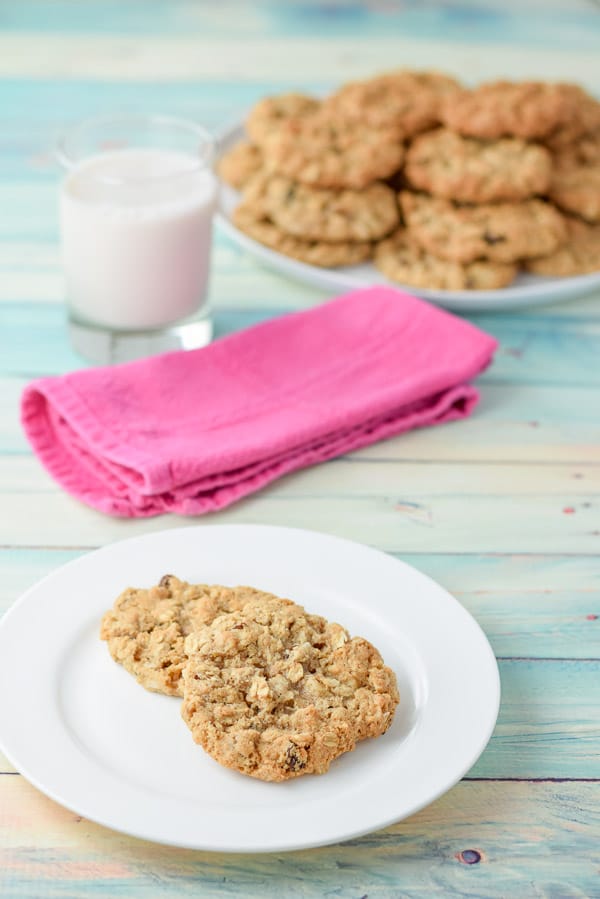 Those cookies are calling to me.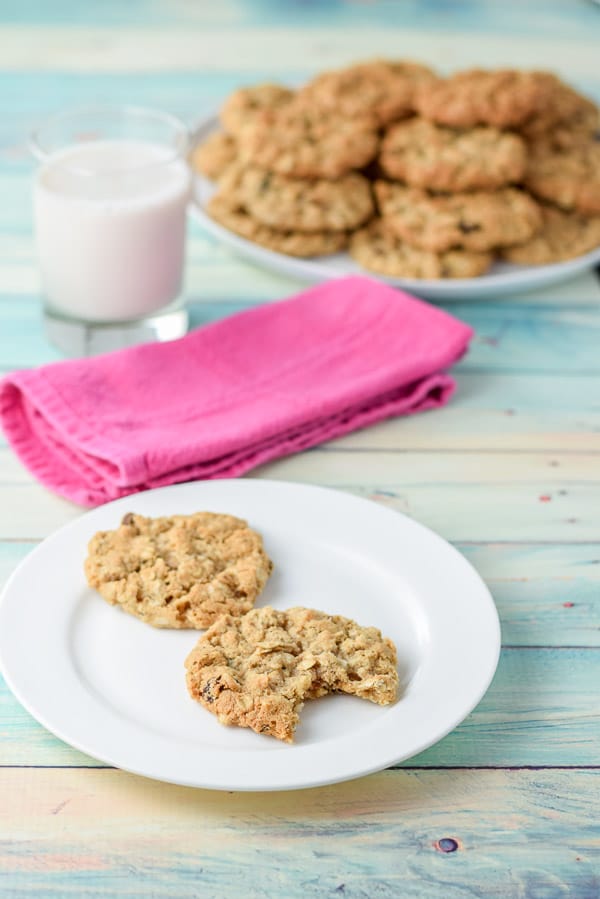 CHOMP!
Yum!  So delicious!
I hope you enjoyed this oatmeal raisin cookies recipe!
Please feel free to leave me a comment!  What is your favorite cookie?
And as always, may all your dishes be delish!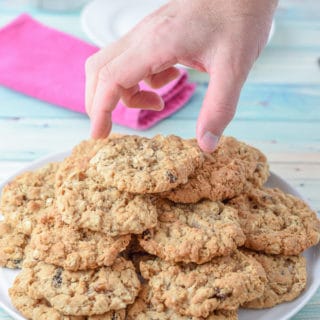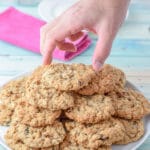 Oatmeal Raisin Cookies
Moist, delicious oatmeal raisin cookies! The best you've ever had!
Keyword:
oatmeal cookies, oatmeal raisin cookies
Ingredients
Beginning Ingredients
3/4

cup

brown sugar

1/2

cup

white sugar

3/4

cup

butter

softened

2

eggs

1

teaspoon

vanilla
Dry Ingredients
2

cups

spelt flour

1 1/2

teaspoons

baking soda

1

teaspoon

baking powder

1/4

teaspoon

salt
Stirred in
2

cup

oatmeal

1

cup

shredded coconut

1

cup

raisins

1

cup

walnuts
Instructions
Preheat oven to 350 F

In a mixer, add butter and sugars. Mix until combined

Add eggs and vanilla and mix until combined

Add flour, baking powder, baking soda and salt and mix until combined

Stir in oats, coconut, raisins and nuts

Grab a medium ball of dough and roll into a ball. Place each ball on a few cookie sheets

Place one of the sheets in the oven and bake for 15 minutes or until they are done

Let the cookies cool for 5 minutes before removing them from the cookie sheet

Bag cookies up or serve some immediately with a nice big glass of milk or tea

Bite into a cookie

Smile

Thank Addy

Enjoy
Nutrition Facts
Oatmeal Raisin Cookies
Amount Per Serving (2 Cookies)
Calories 110
Calories from Fat 45
% Daily Value*
Fat 5g8%
Cholesterol 14mg5%
Sodium 81mg4%
Potassium 65mg2%
Carbohydrates 13g4%
Protein 1g2%
Vitamin A 100IU2%
Vitamin C 0.2mg0%
Calcium 13mg1%
Iron 0.6mg3%
* Percent Daily Values are based on a 2000 calorie diet.