This chocolate peanut butter granola recipe is so satisfying! There is nothing like a tasty, crunchy sprinkle of this granola on your yogurt or even as your cereal in the morning! It's so good!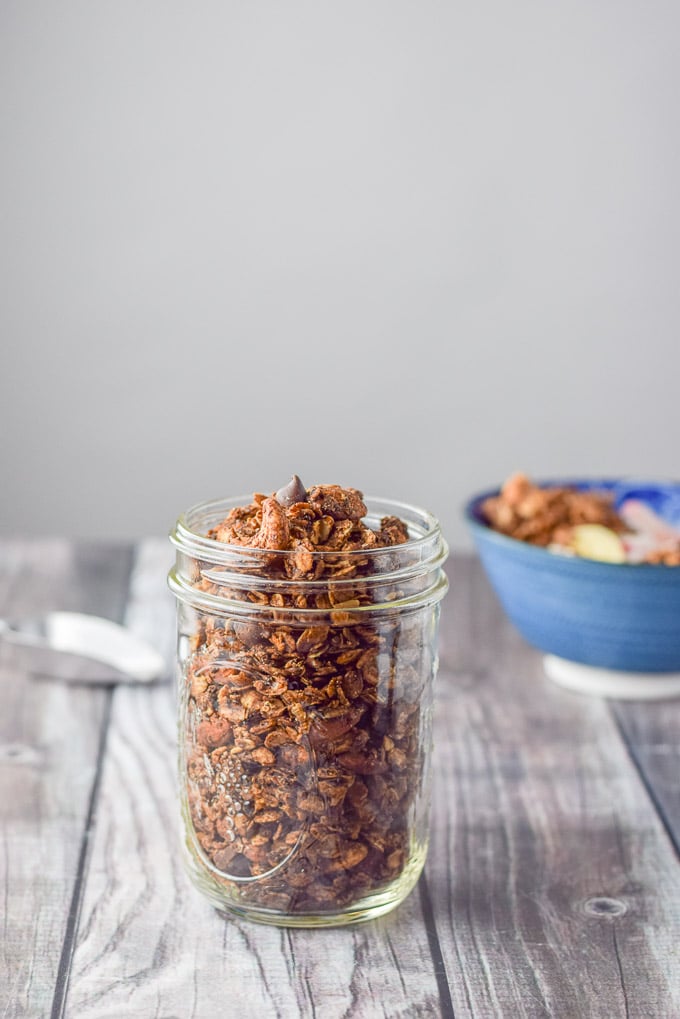 I've always loved granola.  I could eat it by the handful and I could polish off a whole box by myself in a few days.  Yes, in "a few days."  Not in "one sitting," as those of you who know me may be thinking.  Though, I'm always tempted to do that.
Years ago, I didn't eat granola often because I always seemed to be watching my waistline.  Then I got out of the habit of eating granola.  So sad!  🙁
My love of granola was re-ignited when I went on a business trip with my hub Christopher a few years ago.  While he was being all business-like, I was doing what I do best by being all leisurely-like.  One of the things I did was treat myself to breakfast in the hotel restaurant.  But what to order?
What… to… eat?
I chose some yogurt with granola on it.  The menu made it sound delish and I was not disappointed.  This was NOT the granola that I grew up with.  It was light and not overly sweet.  Absolutely De-LISH.  When we returned home, I decided to continue on the granola bandwagon and hunted for a granola that rivaled the one I had on that trip.
I found one that was sort of like the delish crunchy goodness I had stumbled upon, but I didn't like how much fat was in it.  Or how expensive it was.  Sooooo, I started making my own.
Best decision ever.
How to make the Peanut Butter Granola
Preheat oven to 325 and line a large jelly roll pan with parchment paper.
This version of granola has chocolate, natural peanut butter, nuts and chocolate bits.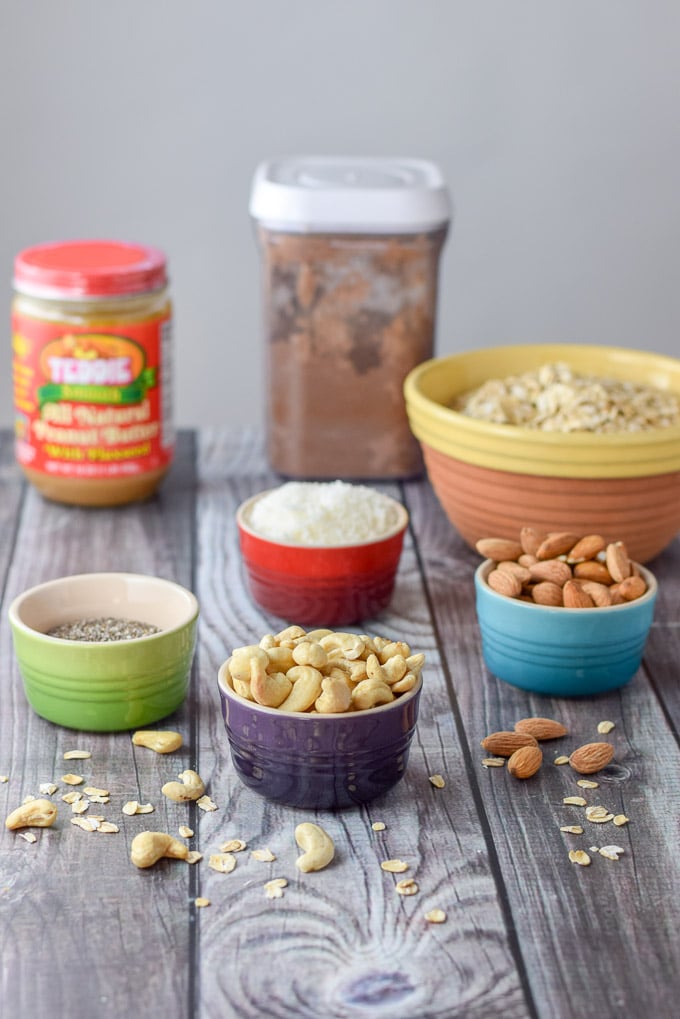 The joys of Stirring Peanut Butter
One of the things I love about this crunchy, chocolate, peanut butter granola is the peanut butter.  The taste is subtle but present enough to know that it is one of the ingredients.  We use a natural creamy peanut butter – the kind where you need to stir in the separated oil.  That is Christopher's job.
He discovered (thank you, YouTubers!) a super easy and great way of stirring natural peanut butter without slopping it all over the container or the counter.  He pours the oil off the top into a measuring cup, stirs the remaining peanut butter and slowly pours the oil back in; all the while stirring it.  Easy peasy.  And it's much better than having to be extra careful with it.
Process shots for the PBG:
All the ingredients in the mixing bowl (and me upside down in the bowl)
The mixed granola spread on a jelly roll pan, ready to be baked for 20 minutes.  Take out of oven and flip the granola and bake for 10 minutes
Fresh out of the oven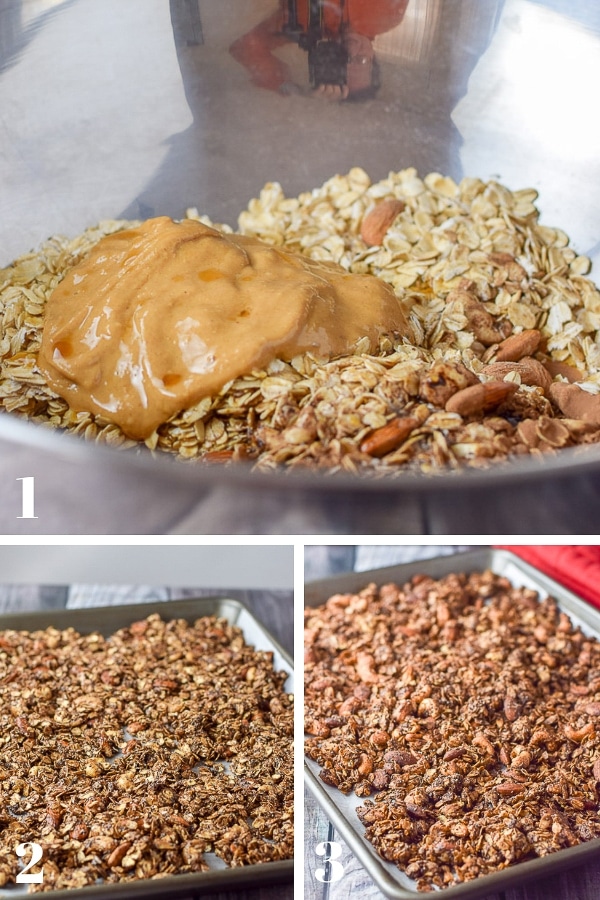 Everyone knows how to eat granola but I like to point out some of the ways I love to eat it.
As mentioned before, I eat it on yogurt along with fruit.  I also eat it by the fist full, errrrr, I mean, by the dainty little handful.  I also combine it with regular cereal and milk.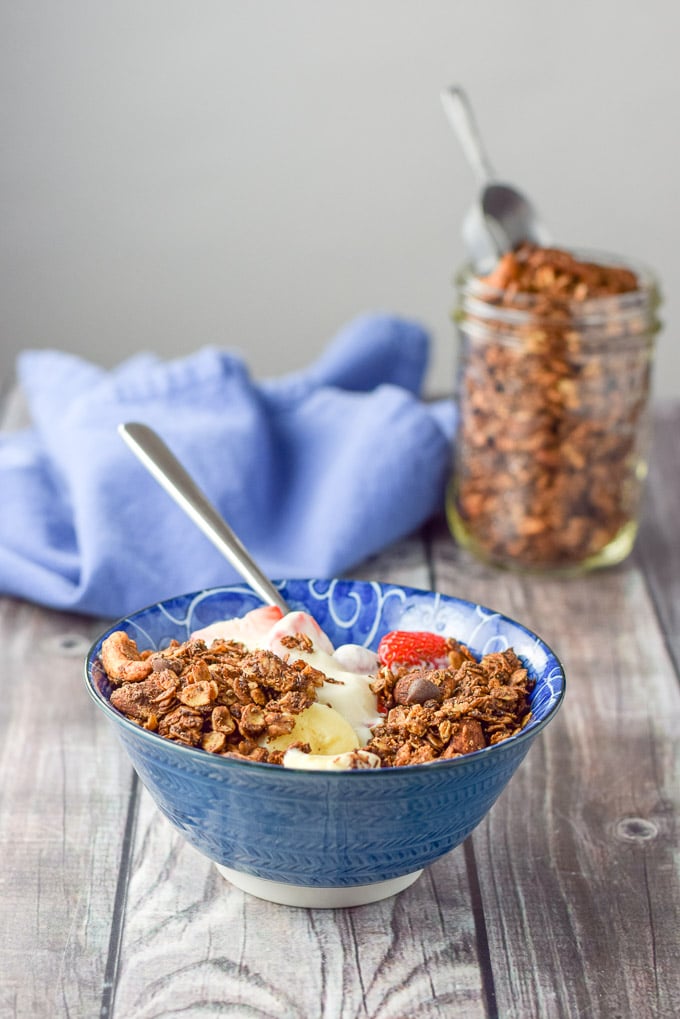 Yum, it's so delicious!  I especially love it in yogurt because the chocolate in the recipe turns the yogurt chocolatey!  Oh yeah!
Other Popular granola recipes on Dishes Delish:
I hope you like this recipe.  Let me know what you think when you make it.
Please feel free to Yum the recipe to Yummly, Pin any photo with Pinterest and leave me a comment.  What is your favorite granola to eat?
And as always, may all your dishes be delish!
If you've tried this peanut butter granola or any other recipe on the blog, I'd love the hear what you thought about it in the comments below.  I love hearing from you!  You can also FOLLOW ME on FACEBOOK, TWITTER, INSTAGRAM and PINTEREST to see more of my delicious food and delightful cocktails!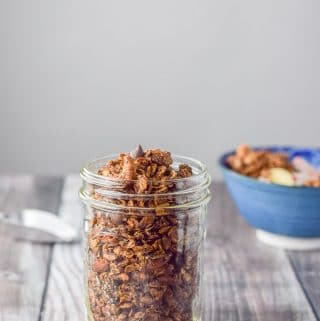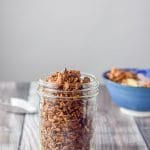 Peanut Butter Granola | Crunchy Chocolate
Satisfying, crunchy, sweet chocolatey peanut butter granola!
Keyword:
peanut butter granola
Ingredients
3

cups

oats

(not instant or quick oats)

1/2

cup

unsweetened coconut

1/4

cup

chia seeds

1/2

cup

almonds

1/2

cup

cashews

1/4

cup

unsweetened cocoa powder

1/2

cup

peanut butter

1/4

cup

olive oil

(or grape, canola etc)

1/4

cup

maple syrup

1/2

teaspoon

vanilla

3/4

cup

semi-sweet chocolate chips
Instructions
Preheat oven to 325 degrees

In a large bowl combine oats, cocoa, chia seeds, coconut and nuts

Add the wet ingredients, peanut butter, maple syrup, olive oil and vanilla and stir it until everything is combined

Line a jelly roll pan with parchment paper

Pour mixture in the pan and press down with a spatula or your hands

Place in the middle of the oven.

Bake for 20 minutes

Flip granola and cook for another 10 minutes

After letting it cool for 10 minutes, stir in the chocolate chips

Pour in a bowl after it cools completely

Eat by the fistful

Enjoy
Nutrition Facts
Peanut Butter Granola | Crunchy Chocolate
Amount Per Serving
Calories 558
Calories from Fat 324
% Daily Value*
Fat 36g55%
Cholesterol 1mg0%
Sodium 83mg4%
Potassium 540mg15%
Carbohydrates 48g16%
Protein 14g28%
Vitamin A 10IU0%
Calcium 109mg11%
Iron 4.5mg25%
* Percent Daily Values are based on a 2000 calorie diet.