Who doesn't love simple stir fry chicken?  Or better yet, who doesn't like 'simple' anything? But when it comes attached to a delish chicken and veggie mixture with a delicious sauce, who can resist it?  Not me!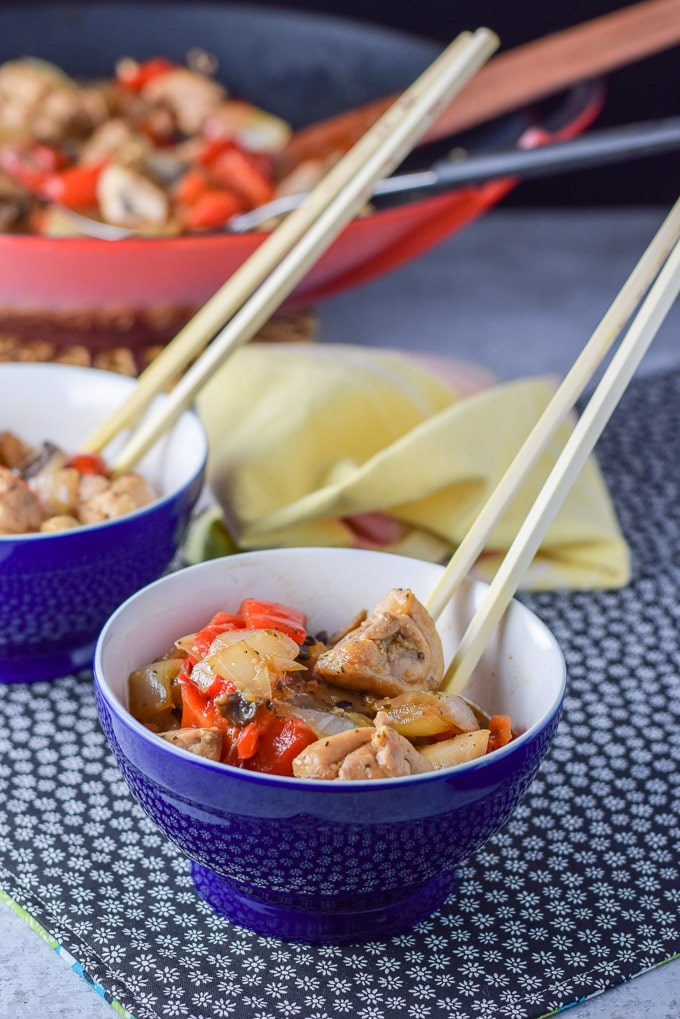 But, back to my question of who doesn't like simple stir fry chicken, I'm actually sure there are some peeps not fond of stir fry.  I just don't personally know any of those peeps. Do you?
Let's narrow it down further, who in my house doesn't love simple stir fry chicken?
"NO ONE!" screeches me!!
Christopher and I both love simple chicken stir fry.  Especially when it has lots of veggies in it and a hint of ginger. Yum!
There isn't anything fancy about this recipe but that is not to say that it doesn't have delish flavors and a delicate balance of a sauce with herbs and ginger!  It's just to say that it is super simple to make!
On to the Simple Stir Fry Chicken Recipe
So, I start with some chopped onions, red bell peppers and sliced mushrooms.  I cut them in chunks because I like hefty veggies in my simple stir fry chicken! I then heat the wok at medium high heat. Once it's all heated, I drizzle in some sesame oil and add the onions and peppers.
I sauté the onions and peppers for 15 minutes before adding some garlic, sliced ginger and the sliced mushrooms.  I continue to sauté it for another  5 minutes.  The reason I'm sautéing for so long is because there is a crap load of veggies!
I absolutely LOVE my wok.  It's cast iron, cooks food quickly and looks so nice on the table!! If you don't have a wok, not to worry, you can use a big sauté pan.  But just know it won't look as cool as my wok.  😉
Cluck, Cluck, Chicken Time
As the veggies are cooking, I cut my boneless, skinless chicken thighs into bite sized pieces.
I take my other wok and turn the heat on medium.  After it heats up, I add some sesame oil and after that heats up, I add the chicken pieces.
I sauté the chicken for 6 minutes, stirring every few minutes.
Between stirring, I make the scrumptious sauce.
We have, soy sauce, maple syrup, chicken broth, cumin, chipotle powder, basil and a little garlic powder.
I dump all the ingredients in a metal bowl and whisk them all together.
I use my spatula to get every little drop of this delicious sauce and place it with the chicken for the last 2 minutes.  In total, I cook the chicken for 8 minutes.
See the delicious sauce?  Oh, and the lovely chicken?
Now, I transfer the chicken mixture into the wok with the veggies.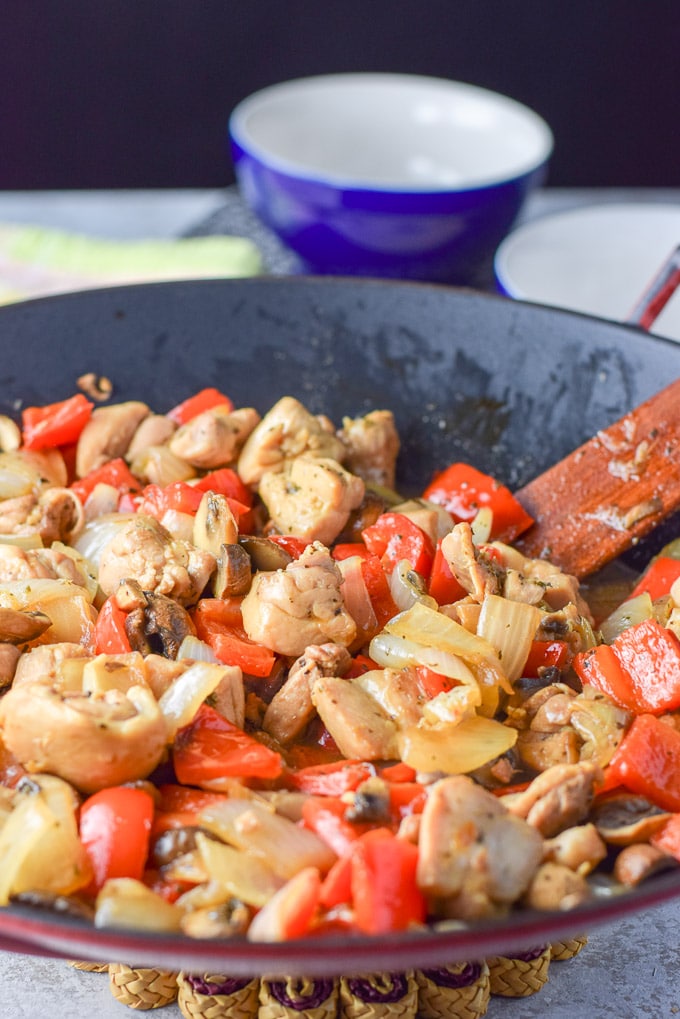 Yahoo!
Time's a wastin' Let's get to Tastin'
Now, I spoon the simple stir fry chicken into two bowls and get ready to serve it to Christopher and me.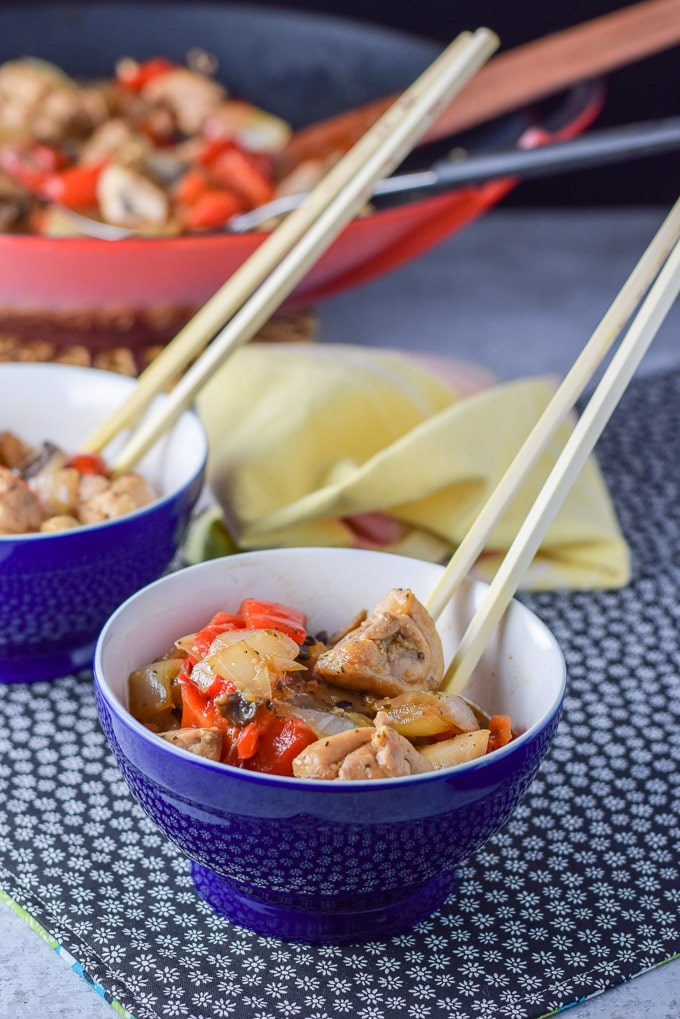 Let's get closer.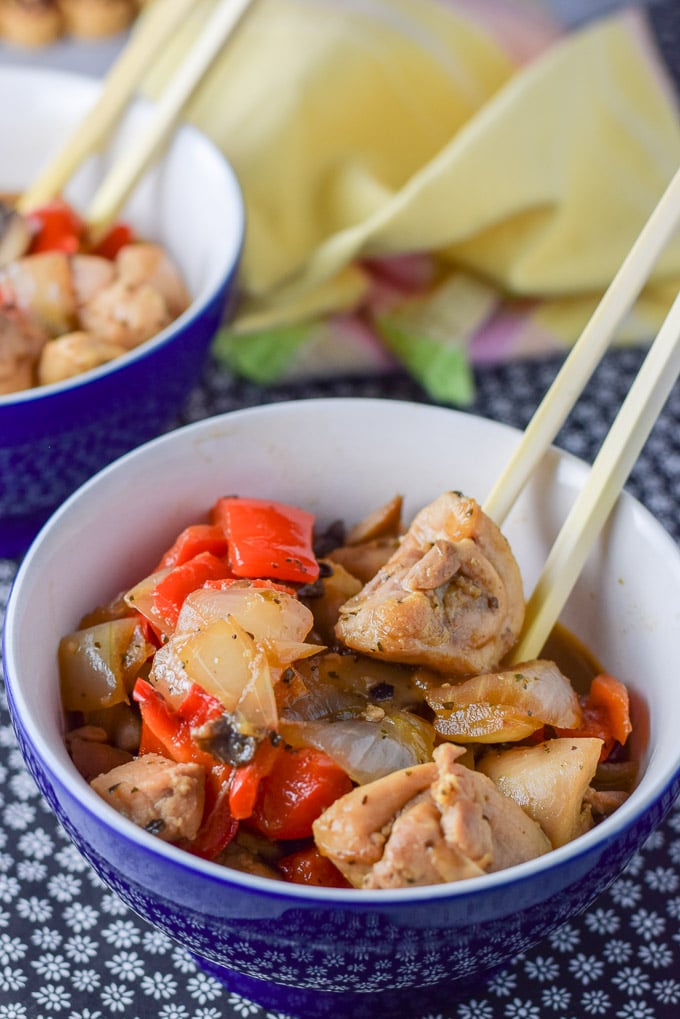 And for the overhead shot.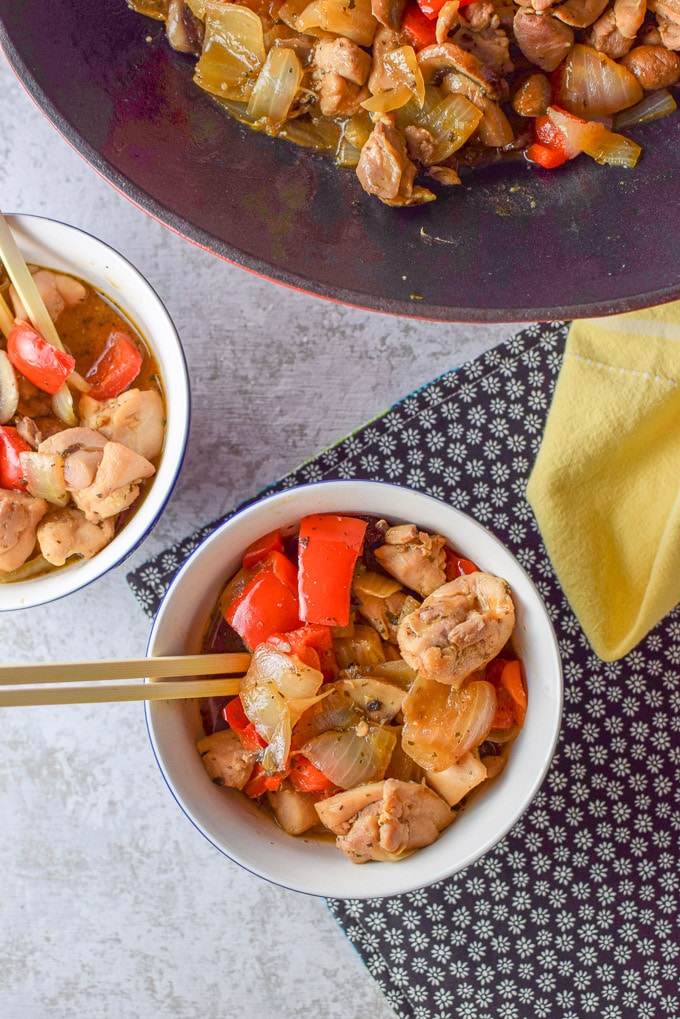 Mmmm.  Delicious!
I hope you enjoyed this simple stir fry chicken recipe!
Please leave a comment and tell me what is your favorite stir fry to eat?  Also, you can Pin any photo to Pinterest and Yum the recipe to Yummly!  Or share to Facebook!  Shall I keep going?  I can be at this all day!
And as always, may all your dishes be delish!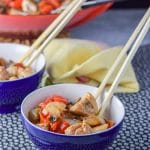 Simple Stir Fry Chicken
A simple, delicious way to make chicken and veggies!
Keyword:
simple stir fry chicken
Ingredients
2

tablespoons

sesame oil

2

onions

medium, chopped

2

red bell peppers

sliced and chopped in chunks

10

ounces

portobello mushrooms

package, sliced

1/4

teaspoon

salt

3

teaspoons

garlic paste

1

inch

ginger

sliced

1

tablespoon

sesame oil

1.5

pounds

chicken thighs

of boneless, skinless, chopped to bite size chunks
Sauce
1

teaspoon

dried basil

1/4

cup

soy sauce

2

tablespoons

maple syrup

1/2

cup

chicken broth

1

teaspoon

cumin

1/8

teaspoon

chipotle powder

or more

1/2

teaspoon

garlic powder
Instructions
Heat a wok or sauté pan on medium high heat

Add sesame oil

Add onions and bell peppers

Sauté for 15 minutes

Add mushrooms, garlic and ginger

Sauté for 5 minutes

Take off heat

Heat another sauté pan on medium

Add sesame oil

Add chicken and sauté for 6 minutes, stirring every minute

Make sauce

Get your mixing bowl and add soy sauce, maple syrup, chicken broth, basil cumin, garlic powder and chipotle powder - whisk to combine

Add to chicken and cook it all for 2 more minutes (so the chicken cooks 8 minutes all together)

Spoon into bowls

Serve

Eat

Enjoy
Nutrition Facts
Simple Stir Fry Chicken
Amount Per Serving (1.5 cups)
Calories 266
Calories from Fat 108
% Daily Value*
Total Fat 12g 18%
Cholesterol 107mg 36%
Sodium 820mg 34%
Potassium 654mg 19%
Total Carbohydrates 14g 5%
Protein 25g 50%
* Percent Daily Values are based on a 2000 calorie diet.