This chicken Marengo recipe is not only comforting and delicious but it can be on your table in a little over an hour!!  
Some history about chicken marengo
My mom used to make this delicious recipe.  I always thought it was her own creation. Little did I know that it was Napoleon Bonaparte's chef who, after scrounging in a village for whatever ingredients he could get his hands on, came up with this recipe.
I'm pretty sure this isn't the original recipe because rumor has it there were crayfish and eggs in that first iteration.  The chef later perfected the recipe by adding mushrooms instead of the the crayfish.  He also added wine.
It is said that this dish was named Chicken Marengo because it was first eaten by Napoleon after the Battle of Marengo.  He liked the dish so much that he requested it be served after every battle.
Notice I said, "requested".  I'm sure Napoleon asked most politely.
During my research, I also learned that everything I just told you might be a myth; that perhaps a random chef in a restaurant somewhere made this to honor Napoleon's victory.  We will probably never know.
I think I'll go back to believe my mom made it up!

This post may contain affiliate links, which means I get a small commission, at no additional cost to you, if you click the link and buy something. You can read my disclosure here.
Helpful Tips
Use a heavy large dutch oven as I feel it cooks more even than a metal stock pot
Try to buy organic chicken as it's tastier and antibiotic and hormone free
Dredge chicken pieces in just flour
Brown chicken in two phases.  Start with legs as they take longer (8 minutes), then the boneless thighs (5 minutes)
While you are sautéing the chicken, chop the vegetables to save time
Use a dry white wine like a Sauvignon Blanc, not a sweet one like Cabernet
Use diced tomatoes instead of crushed as it makes for a hearty chunky dish
How to make chicken marengo
Process shots
Organic legs and thighs
Browned chicken legs and thighs
Red bell pepper ready to be chopped along with sliced mushrooms and already chopped onion
Garlic, 2 cans of diced tomatoes and dry white wine
All the ingredients together in the pan, ready to be simmered to perfection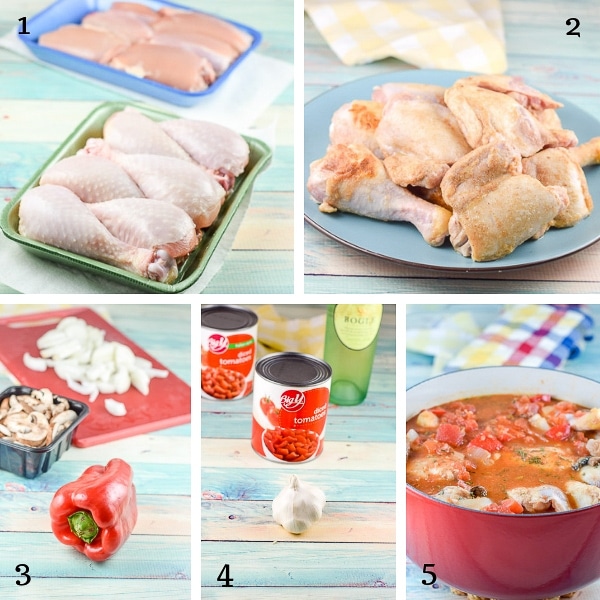 Bring the pan of chicken Marengo almost to a boil and lower the heat to a simmer and cook it for 40 minutes!
See how luscious it looks?  And how all the ingredients melded together?
When I was growing up, we had chicken Marengo on mashed potatoes.  I choose to smother pasta with this delicious dish.
Time to dig in.  Christopher is one happy dude right now.
Yum.  Just like mom used to make.  And maybe just like Napoleon used to eat!  🙂
I hope you enjoyed this chicken marengo recipe.
Other much loved chicken dishes
And as always, may all your dishes be delish!
If you've tried this chicken marengo recipe, I'd love the know what you thought about it in the comments below. I love hearing from you! You can also FOLLOW ME on FACEBOOK, TWITTER, INSTAGRAM and PINTEREST to see more of my delicious food and delightful cocktails!
Chicken Marengo
This dish is pure comfort food. It is so delicious and very easy to make!
Print
Pin
Rate
Ingredients
3

tablespoons

olive oil

6

chicken legs

6

chicken thighs

1/4

cup

flour

1

onion

large, chopped

1

red bell peppers

large, chopped

10

ounces

portobello mushrooms

sliced

3

cloves

garlic

minced

3/4

cup

dry white wine

56

ounces

diced tomatoes

2 cans

1 1/2

teaspoons

salt

2

teaspoons

tarragon

dried

1

teaspoon

parsley

dried
Pan
Instructions
Heat a large dutch oven or stock pot on medium heat and add olive oil

While Dutch oven and oil is heating up, put flour in shallow dish, dredge chicken in flour and place in pan. Brown legs first for 8 minutes, then remove legs and add floured boneless thighs and brown for 5 minutes. Remove from pan and put on a plate, set aside

Add onion, bell pepper and sauté for 5 minutes

Add mushrooms and garlic and sauté for another 5 minutes

Add wine and cook for 2 minutes

Add diced tomatoes, all the chicken, salt, tarragon and parsley

Let it come to almost a boil and then lower heat to a simmer and cook for 40 minutes

Plate with some pasta and a salad

Eat

Enjoy
Notes
This makes a big pot of Marengo - calorie count is just for the Marengo, not what you serve with it, so for a thigh and 1 1/2 cups of the gravy.
Tips:
Use a heavy large dutch oven as I feel it cooks more even than a metal stock pot
Try to buy organic chicken as it's tastier and antibiotic and hormone free
While you are sautéing the chicken, gather the rest of the ingredients
Use a dry white wine like a Sauvignon Blanc, not a sweet one like Cabernet
Dredge chicken pieces in just flour
Brown chicken in two phases.  Start with legs as they take longer (8 minutes), then the boneless thighs (5 minutes)
Chop the vegetables while you are browning the chicken to save time
Nutrition
Serving:
2
pieces
|
Calories:
294
kcal
|
Carbohydrates:
10
g
|
Protein:
23
g
|
Fat:
16
g
|
Saturated Fat:
3
g
|
Cholesterol:
113
mg
|
Sodium:
588
mg
|
Potassium:
661
mg
|
Fiber:
2
g
|
Sugar:
4
g
|
Vitamin A:
550
IU
|
Vitamin C:
26.2
mg
|
Calcium:
61
mg
|
Iron:
2.6
mg