This ground beef enchiladas recipe are so incredibly yummy! What makes it so delicious is how the ground beef is prepared.  It's so easy to make that you're going to want to make and eat them often.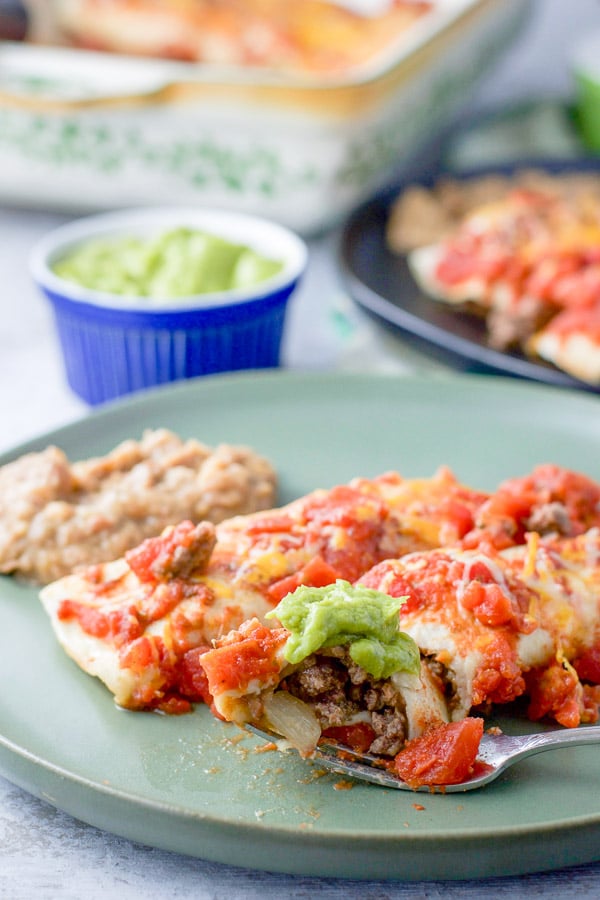 When I make these ground beef enchiladas, I get so excited!  Why?  Because the ground beef has a perfect combination of herbs and spices and a great amount of mushrooms and onions.
That makes these ground beef enchiladas moist and succulent.
I don't eat beef often but when I do, I can't get enough of these enchiladas.  (Does that last statement remind you of the Dos Equis beer guy?)
I especially love them smothered in my chunky enchilada sauce.  And combine that with the soft flour tortillas and you'll do cartwheels in celebration!
Here are a few of my other Mexican food recipes:
On to the Easy Beef Enchiladas recipe
Process shots for the ingredients of the ground beef enchiladas:
Chopped onion and mushrooms – onions will be sautéed for 5 minutes, then add mushrooms and garlic paste and continue cooking for 5 more minutes.
Sautéed vegetables in my sauté pan. I take the vegetables out of the pan and set aside
Ground beef sautéed for 7 minutes with herbs and spices.  Add half the vegetables back to the pan
Enchilada sauce on the bottom of the baking dish
That's a lot of Veggies, do I have to use them all with the beef?
No, absolutely not.  I don't.  I save half of them and use them in Christopher's lunch or as a side veggie for another dinner.
Do I have to add herbs and spices to the ground beef?
Absolutely not!  But the spices and herbs are mostly what make these ground beef enchiladas stand out!
You will definitely have left over beef, but that is a perk.  It is lovely in salads or you can just take a container of it to work and enjoy it for lunch!
Time to make the ground beef enchiladas!
Preheat the oven to 350 degrees Fahrenheit.
Why do you have to add enchilada sauce to the baking dish?
You add it so the enchiladas don't stick to the dish.  If the ground been enchiladas stick, it makes it very hard to serve them without them falling apart.
Now, I take the rest of the ingredients out of the fridge and start my assembly line of enchilada making.  I use 6 inch flour tortillas, homemade refried beans (to be blogged about shortly), Mexican blend cheese and, as mentioned, my lovely enchilada sauce.
How do you make ground beef enchiladas?
It's very easy.
Smear some refried beans on a flour tortilla
Sprinkle on some cheese
Add the ground beef
Roll the tortillas up and place them face down in the baking dish.
Slather enchilada sauce on the enchiladas.
Smile Pretty
And now, can you say CHEESE for the camera?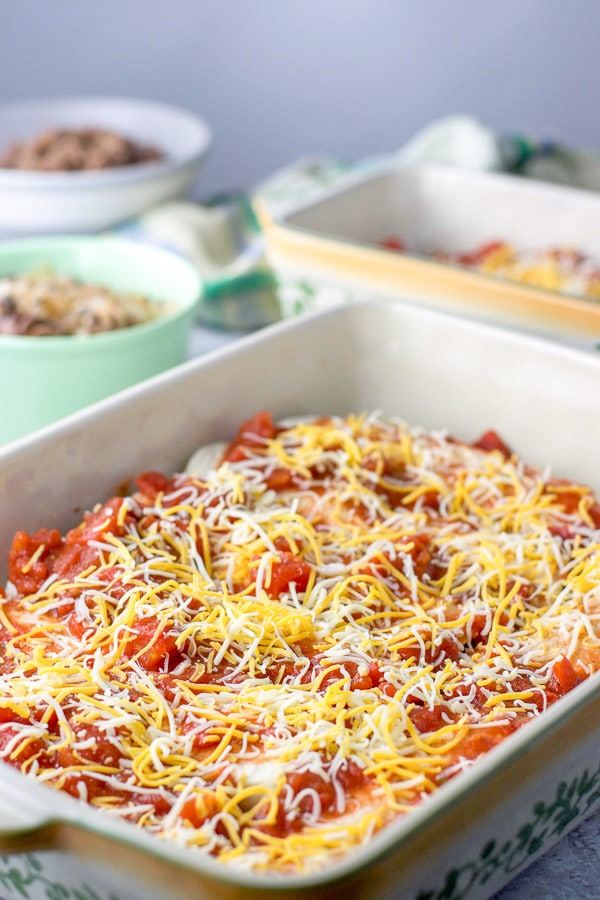 Into the oven the ground beef enchiladas goes!
Bake uncovered for 25 minutes.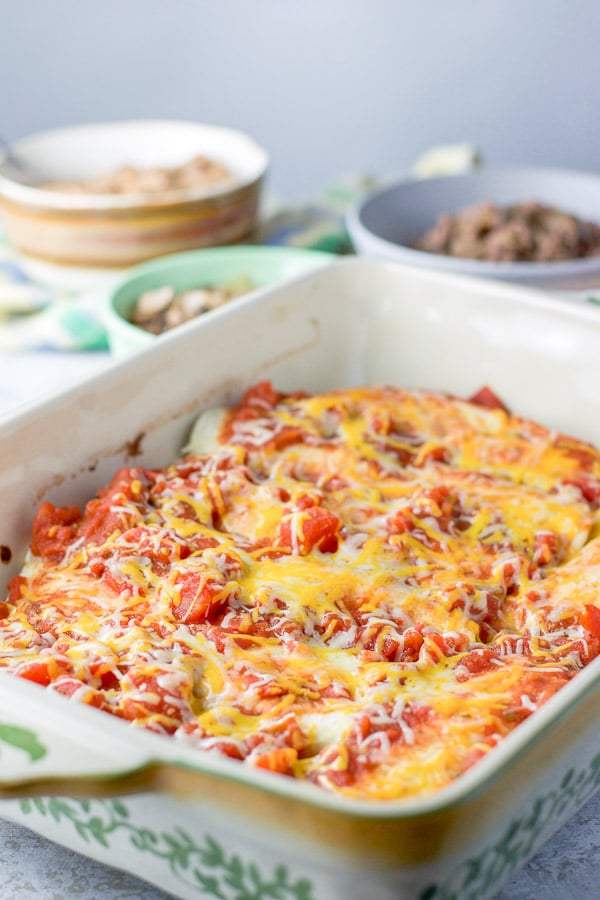 All that is left is to plate the ground beef enchiladas and enjoy!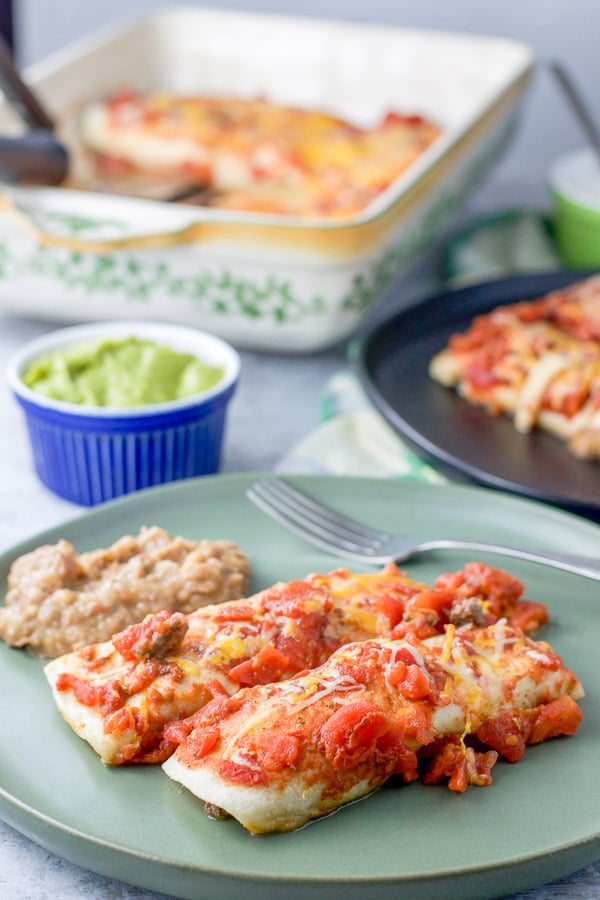 I take my fork and cut into one of the ground beef enchiladas.  I spoon a little guacamole on the forkful of yumminess.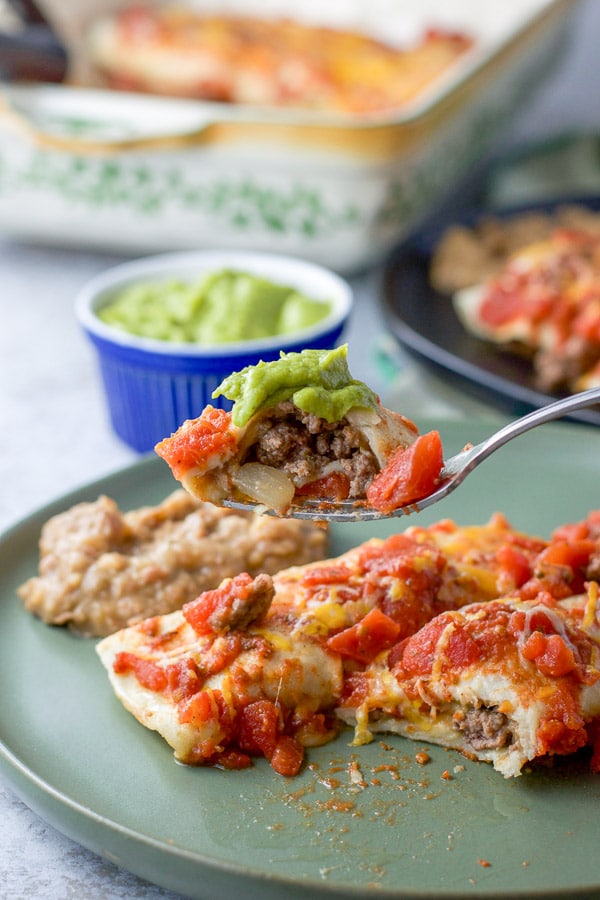 I hope you enjoyed this ground beef enchiladas recipe!
Please feel free to comment and tell me what you think. Especially if you make it!  I'd love to know how it came out!!
And as always, may all your dishes be delish!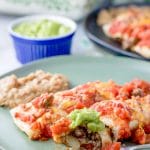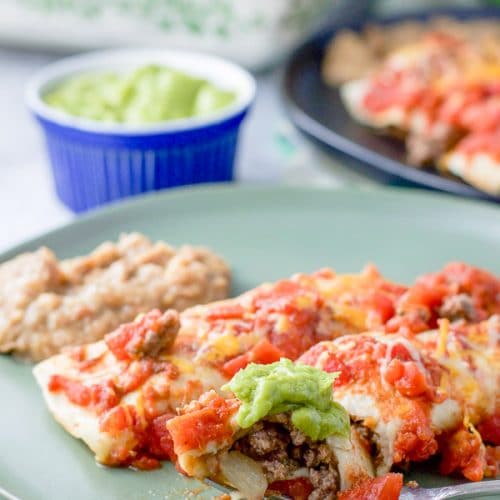 Ground Beef Enchiladas
This easy ground beef enchilada recipe will be sure to satisfy your go to recipe. The veggies, herbs and spices are what make it so special.
Keyword:
beef enchiladas, easy beef enchilada recipe
Ingredients
2

tablespoons

olive oil

1

onion

large, diced

10

ounces

mushrooms

chopped

2

teaspoons

garlic paste

1

pound

ground beef

I used grass fed Angus beef

1

teaspoon

cumin

dried

1

teaspoon

oregano

dried

1/4

teaspoon

salt

1/16

teaspoon

pepper

2.5

cups

enchilada sauce

or as much as you want

10

flour tortillas

6 inches

6

ounces

refried beans

homemade or a can (you will have leftover)

8

ounces

Mexican cheese blend
Instructions
Heat sauté pan and add oil

Add onions and sauté for 5 minutes

Add mushrooms and garlic and sauté for additional 5 minutes. Once the vegetables are done, remove from pan and set aside

Add ground beef and break into bite sized pieces or desired size. Saute for 7 minutes - it can still be pink. Add half of the vegetables back with the beef and stir until combined

Preheat oven to 350 F

Get baking dish and spread enchilada sauce on the bottom of it

Gather tortillas, refried beans and Mexican cheese

Smear refried beans onto each of the tortillas, sprinkle some cheese on the beans and some beef on the cheese

Roll tortillas and place each one seam side down in prepared pan

Spoon enchilada sauce on rolled up ground beef enchiladas and sprinkle cheese on top of sauce

Bake uncovered for 25 minutes

Separate enchiladas with a spatula

Serve

Enjoy
Recipe Video
Nutrition Facts
Ground Beef Enchiladas
Amount Per Serving (2 enchiladas)
Calories 360
Calories from Fat 180
% Daily Value*
Total Fat 20g 31%
Cholesterol 53mg 18%
Sodium 500mg 21%
Potassium 301mg 9%
Total Carbohydrates 25g 8%
Protein 18g 36%
* Percent Daily Values are based on a 2000 calorie diet.