Chocolate cookies filled with gooey marshmallows?  I want this chocolate marshmallow cookie right now!!  Don't you?  I mean, look at it!
Remembering is fun
My love for marshmallows goes back a long time.  Marshmallows not only go well in s'mores, or s'more granola bars, but also in baked goods like this delicious cookie.  Lately, I've been devising more ways to serve my beloved marshmallows.
Want to see what I did with the marshmallows I bought for this recipe?
But first, did you know they now sell squished marshmallows for stacking?
When I saw them in the store, I thought, "Holy moly!  How ingenious!!"
So what did I do with them, once I opened the bag?  Well, naturally, I popped one into my mouth.
But the second one… I did this with the second marshmallow…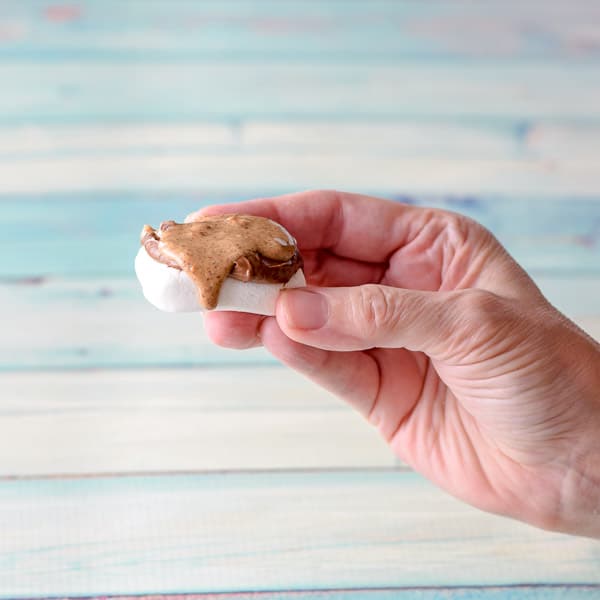 I took the stackable out of the bag, slathered it with Nutella and then topped it with almond butter.
YUM!
Now then, back to my memory.  One sandwich I wanted all the time growing up, and I mean all the time, was the fluffernutter sandwich.  For those of you who don't know, a fluffernutter is peanut butter and marshmallow fluff (aka marshmallow creme) slathered on white bread.  I ate so many of them that my mom used to think I was going to turn into one of those sandwiches.
I didn't.  What did she know?!  😉
How to Bake Chocolate Marshmallow Cookies
Take out a stick of butter an hour or two before you start.  When ready to begin, preheat the oven to 350 degrees Fahrenheit.
Take out your mixer, put the softened butter in it with sugar and mix until nice and creamy.  Add the egg and vanilla until just incorporated.  Do not over mix.
Process shots of these delicious chocolate marshmallow cookies:
Butter, sugar and egg
Cocoa powder, flour, baking soda and salt.  Add to mixer and mix until just combined.  Stir in the chocolate chips
Dough in a bowl
Make a divot in the dough and add a marshmallow.  Scoop the sides of the dough over the marshmallow
Dough for the chocolate marshmallow cookies on the sheet
Place a full cookie sheet into the oven and bake the cookies for 15 minutes.
DING
Let the cookies cool on the sheet for 5 minutes before gobbling them up.  Oops, I mean, remove them from the cookie sheet and place them on the wire rack to completely cool.
Let's see if they look just as delicious at a different angle.
Yup, just as I thought.  Still looking delicious.
Let's see Christopher break one apart.
Oh yeah!
Now to plate it and eat it.
And so I do.
I hope you enjoyed this chocolate marshmallow cookies recipe.
Please feel free to leave me a comment, what is your favorite cookie?
And as always, may all your dishes be delish!
Chocolate Marshmallow Cookies
These gooey marshmallow filled cookies are scrumptious!
Keyword:
chocolate cookies, marshmallow filled cookies
Servings
:
18
Large Cookies
Ingredients
Beginning Ingredients
1/2

cup

butter

room temperature

1/2

cup

brown sugar

1/2

cup

white sugar

1

egg

1 1/2

teaspoon

vanilla
Dry Ingredients
2

cups

flour

I use sprouted spelt

1/4

cup

cocoa powder

1

teaspoon

baking soda

1/2

teaspoon

salt
Addons
1/2

cup

chocolate chips

18

stackable marshmallows
Instructions
Preheat the oven to 350 F

In a stand mixer, add butter and sugar, mix until incorporated

Add egg and vanilla and mix until combined

Add flour, cocoa powder, baking soda and salt and mix until just mixed

Add chocolate chips and stir them in

Take a big dough ball and roll it into to a flat ball, make a div0t into it and place the a marshmallow in the hole

Bring up the dough around the marshmallow, completely covering it

Put rolled up balls on cookie sheets- I place 9 on each sheet, giving it space to spread

Place one cookie sheet at a time in the oven

Bake for 15 minutes or until done

Let sit on cookie sheet for 5 minutes before removing from sheet and placing on a wire rack

Cool for a few minutes before gobbling it up

Eat one or two or three

Smile

Enjoy
Nutrition Facts
Chocolate Marshmallow Cookies
Amount Per Serving (1 cookie)
Calories 195
Calories from Fat 54
% Daily Value*
Total Fat 6g 9%
Cholesterol 23mg 8%
Sodium 185mg 8%
Potassium 44mg 1%
Total Carbohydrates 32g 11%
Protein 2g 4%
* Percent Daily Values are based on a 2000 calorie diet.