This is my sister Robyn's rocky road fudge recipe.  She has been making this for a long time and usually gifts it at the holidays!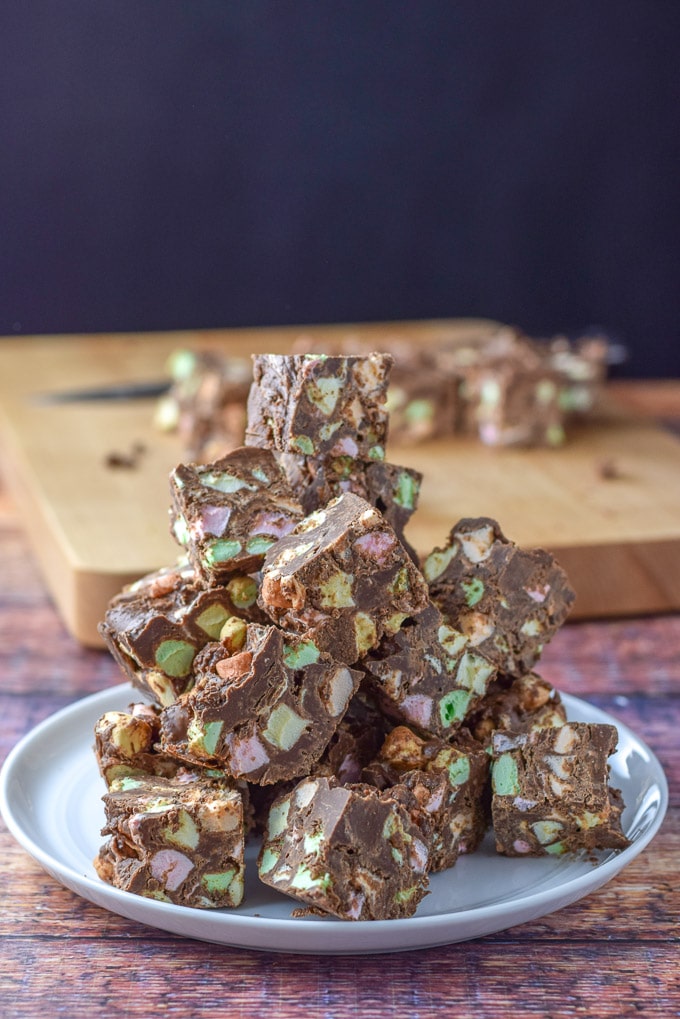 Questions that Need Answering
Why does my sister Robyn only make this rocky road fudge during the holiday season? Is she trying to starve us all?  Why can't we have this fudge year round?
Those are the questions that go through my mind when I receive my tin of holiday treats from her.  What I say though, is, "Thank you!"
As I walk away with the tin clutched in my hands, the questions above start to rattle around in my head again.  Is she trying to starve me?  Does she still love me?  Isn't she supposed to love me?  I'm her sister.
Then the light bulb goes off over my head and I say to myself, "Why haven't I made this rocky road fudge myself? Why have I been relying on Robyn to make it?  Is she hoarding the recipe?"
Then a brighter bulb goes off over my head!  I run over to my recipe book and rifle through it.
There!  THERE!  I see it!  I have the recipe for Robyn's rocky road fudge.
Then I realize that Robyn does love me: she gave me this recipe years ago.
But why haven't I made it?  Perhaps because I was/am afraid of what would happen if I do.
I'd eat the whole darned batch all by myself.  And Lainey wouldn't be happy.  At least, Lainey's thighs wouldn't be happy.
Why am I talking about myself in the third person?
On to Robyn's Rocky Road Fudge Recipe
We have bittersweet chocolate chips, butterscotch chips, almond butter, mini marshmallows and what isn't pictured: some butter.
First thing I do is place the chocolate chips, butterscotch chips, almond butter and butter in a saucepan.  I melt them on medium heat and stand there stirring the mixture together.
I gather the mini marshmallows and prepare the baking dish by greasing it and lining it with plastic wrap.
I stir in the marshmallows and transfer the chocolate mixture to the baking dish.
I place the dish of rocky road fudge in the fridge to set for at least 2 hours.  I actually let this batch sit overnight.
Here it is the next day.  I transferred the hunk of rocky road fudge out of the dish and onto a wooden board.
Doesn't look like much, does it?  But looks are deceiving because it's the best thing EVAH!!  (Boston accent coming through.)
All I need to do is cut it into squares.
Now, I pile some on a plate.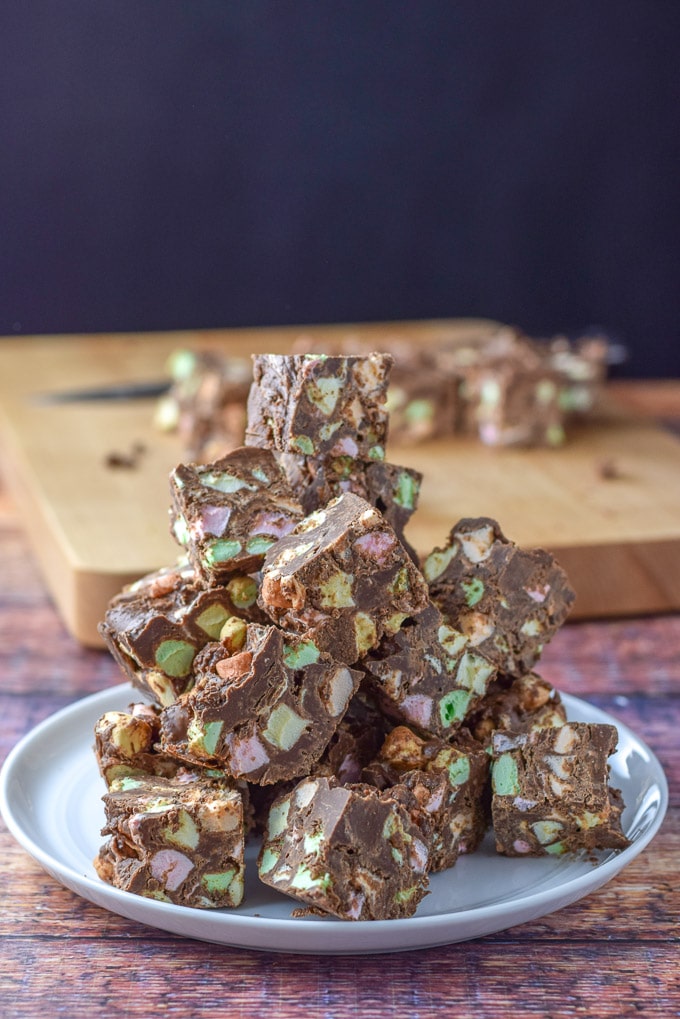 And Christopher bites into a piece of rocky road fudge.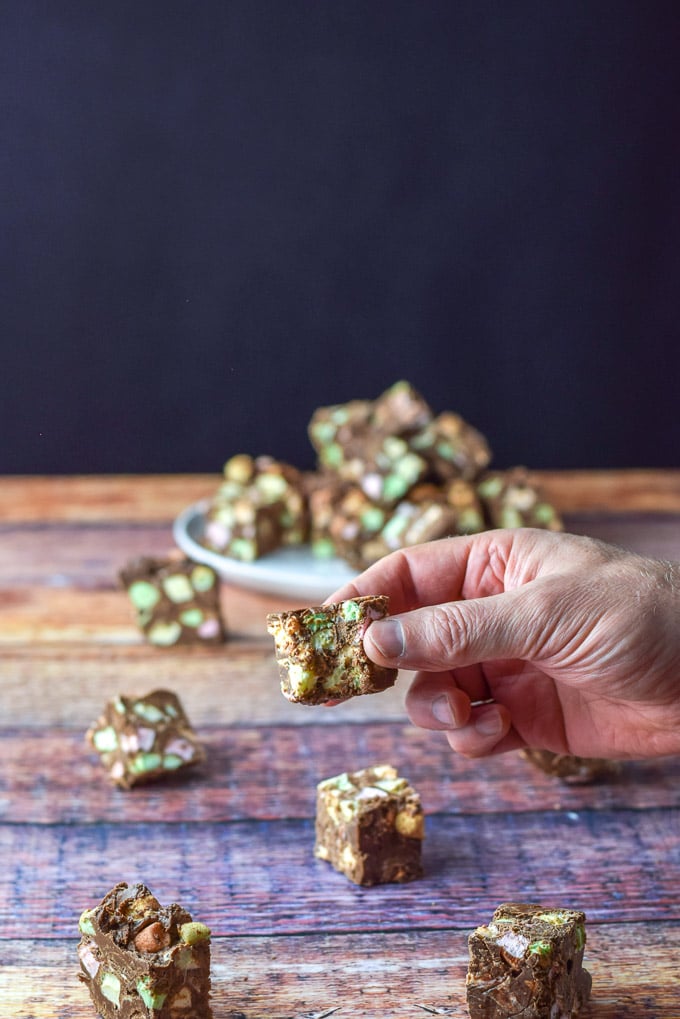 Yummy!  It is so good.
I made Christopher take the rocky road fudge to work in order to keep it away from my thighs.
Okay, okay, I kept four pieces of the rocky road fudge.
And I ate the four pieces.
In two days.
Heroic.
Please feel free to leave me a comment.  What's your favorite treat to eat?  You can also Yum the recipe to Yummly and Pin any photo to Pinterest.
And as always, may all your dishes be delish!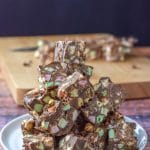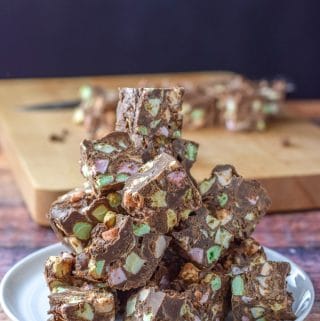 Robyn's Rocky Road Fudge
This rocky road fudge is incredibly addictive. You have been warned.
Keyword:
rocky road fudge
Ingredients
10

ounce

bittersweet chocolate chips

1

cup

butterscotch chips

1

cup

almond butter or peanut butter

1

tablespoons

butter

8 - 10

ounces

mini marshmallows
Instructions
Make it!
Place chocolate chips, butterscotch chips, almond butter and butter in a medium saucepan

Melt on medium heat, standing there stirring while it melts

Stir in marshmallows

Transfer chocolate mixture into baking dish

Place in refrigerator for at least 2 hours, I leave it in the fridge overnight

Remove from dish and take off plastic wrap

Cut fudge into squares

Eat 1 or 2 pieces

Hide the others from your sight

Smile

Enjoy
Nutrition Facts
Robyn's Rocky Road Fudge
Amount Per Serving (1 square)
Calories 182
Calories from Fat 81
% Daily Value*
Total Fat 9g 14%
Cholesterol 1mg 0%
Sodium 50mg 2%
Potassium 140mg 4%
Total Carbohydrates 22g 7%
Protein 3g 6%
* Percent Daily Values are based on a 2000 calorie diet.