These are my mini s'more cookie muffins recipe!  I love me s'mores.  I want s'more s'mores.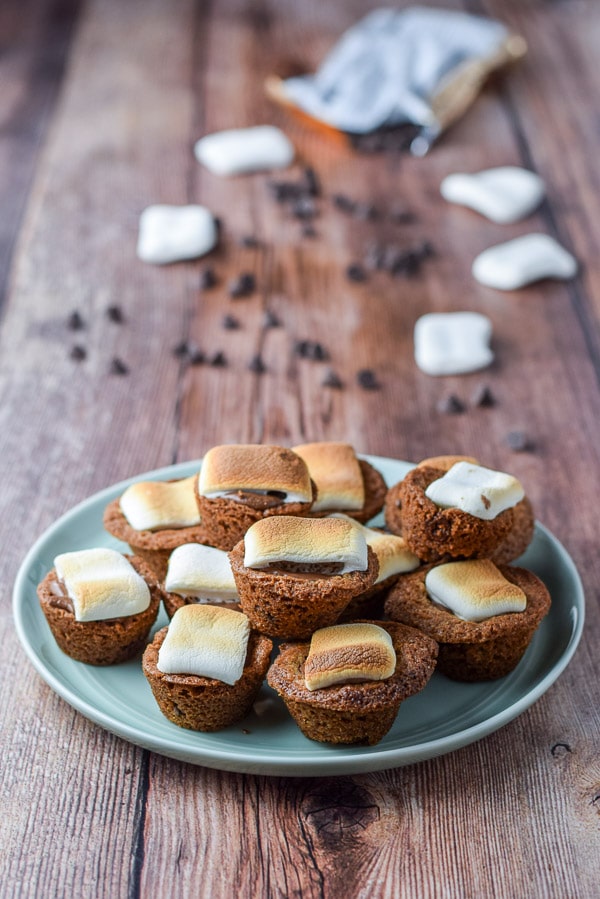 Nothing to do with S'mores Cookie Muffins
It is no secret that I love desserts.  I openly declare my love for sweets to everyone.  And anyone.  There is no shame to my sweet loving!  None.
A weekend or two ago, we went to our uncle's 91st birthday party!  We all gathered together and had pizza and cake.  A fun time was had by all, which means lots of food and singing.
We sang happy birthday so many times that I wish I had kept count.  I figure it was around 30 times.  We sang to Uncle Leo.  We sang to Bill because it was his birthday too.  And we sang to anyone who walked into the room.  We sang just for the heck of it.
And it's not that we just sang softly.  No, we sang at the top of our lungs.  After the fact, I actually felt a little bad for the other residents in the facility because of how obnoxious it must have been to listen to that song over and over and over and over.
The real reason for the story
I don't tell you the above story because of our lovely singing.  I tell you because of the cake.  As I mentioned, it was Uncle Leo's birthday and Bill's birthday, so our cousin Mary made a sheet cake for both of them.  When she asked her father what he wanted, he said chocolate cake (I knew I loved Uncle Leo for a reason!) and when she asked her son Bill what he wanted, Bill said yellow cake.  Ummm.  Whatever.  I still love Bill.
So, she made half the cake chocolate with white frosting and the other half yellow with chocolate frosting.
As Mary was doling out the cake, I kept expecting her to ask me which kind I felt like having.  I realized that I'd sat in the wrong spot.  Then I was sitting on her left and she started serving around the table to her RIGHT.
I started to get frantic.  Seriously.  You think I'm joking.  I watched everyone dig into their piece and in some cases PIECES of cake and I had yet to even have a taste.  She even asked Christopher what he wanted and he was behind her, so technically AFTER me.
I finally said,  May I PLEASE have some chocolate cake????
Christopher:  Said?
Me:  Okay, I whined.  Loudly.
In case you missed it
You're probably wondering why I told you that story.
Because I get frantic if I don't get my desserts in a timely manner.  That's how much I love them. And these delicious s'mores cookie muffins?
I would go ballistic if I didn't get them tout de suite!
How to make the Mini S'mores Cookie Muffins
Preheat the oven to 350 degrees Fahrenheit.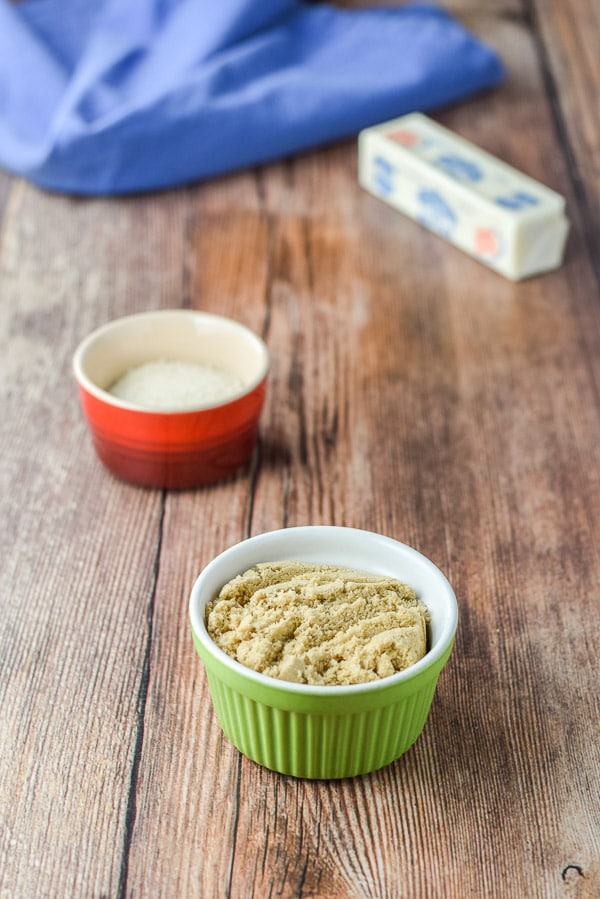 I start by lugging out my stand mixer.  Do you have a stand mixer?  Don't you love it?
I put in a stick of butter, along with some brown sugar and cane sugar.  I turn the mixer on and mix until butter and sugars are combined.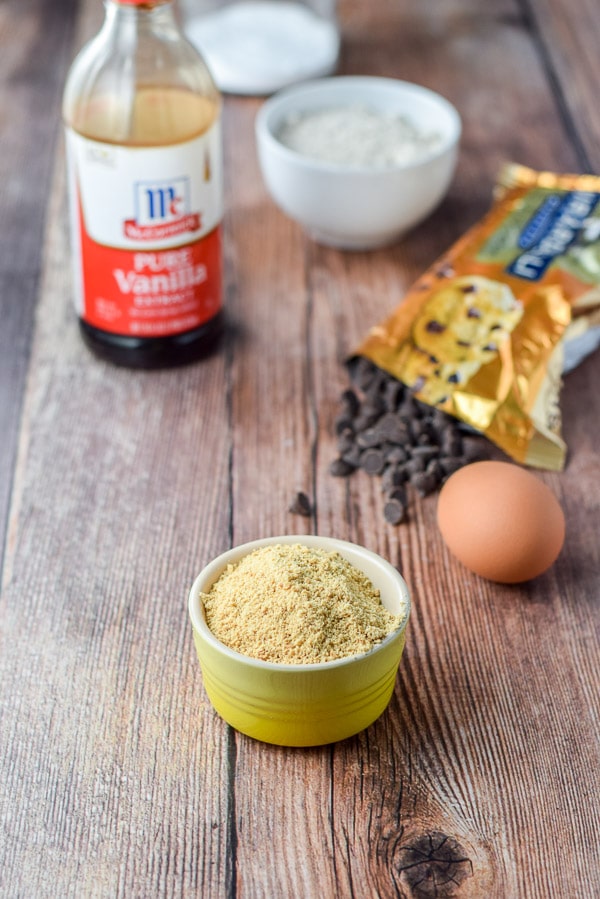 Above you will see some graham crackers crumbs, flour, baking soda, an egg, vanilla and some chocolate chips.
I add the egg and vanilla to the mixer and mix until combined.
Time for the dry ingredients.  In go the flour, graham cracker crumbs and baking soda. On goes the mixer again and I mix until everything is combined.  I add some chocolate chips and stir them in.  By hand.  Because chocolate chips deserve that.
I spray two mini muffin pans with PAM and spoon some batter into their cups.  I make a mistake by filling one of the pans too full.  It becomes a fail.  But just that one pan.  I think the s'mores cookie muffins in that pan also failed because it was a sub-par pan from the get-go.  It was made of really thin metal.
I got it at a thrift store.  It wasn't a win like the time I found a Le Creuset wok at the same store.
But hey!  You win some, you lose some.
If you want to read about my Le Creuset wok, go here.
The lesson
The lesson is: don't fill your muffin cups more than 2/3 full with batter.  See the front pan for the correct amount.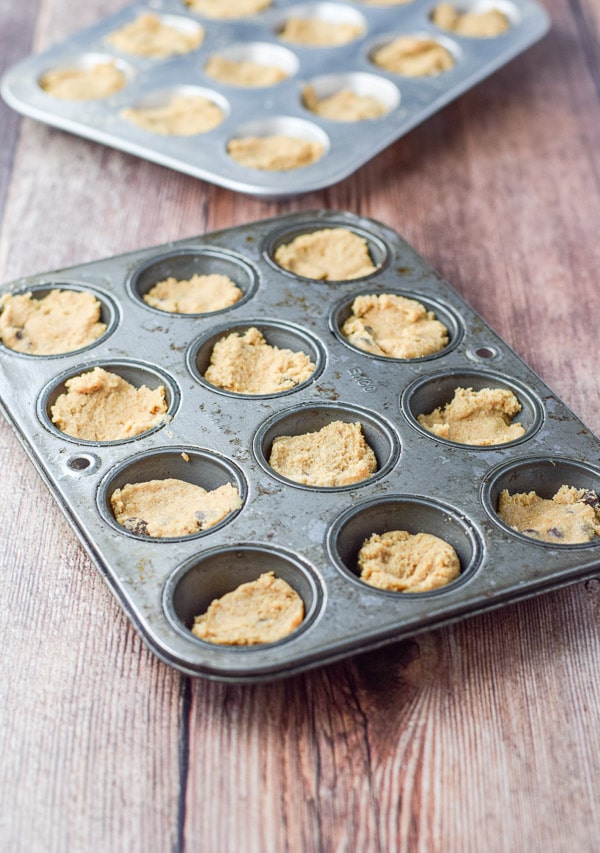 Into the oven they go and I bake them for 8 minutes, tops.
They are done.  Don't look at the back failed pan.
Hey!  I said, DON'T!
I take the pestle from my mortar and plunge it into the muffins.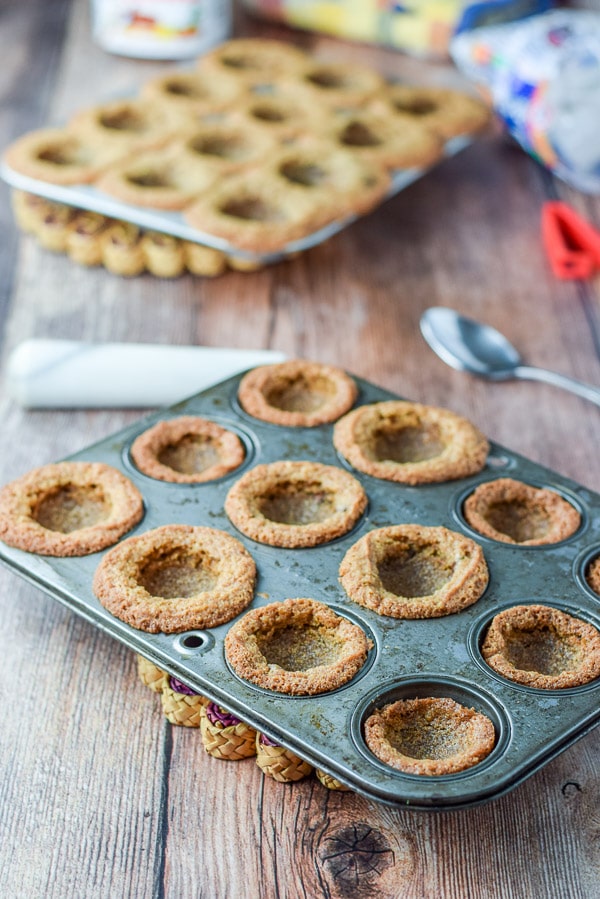 Time to gather the rest of the ingredients:
Nutella and marshmallows.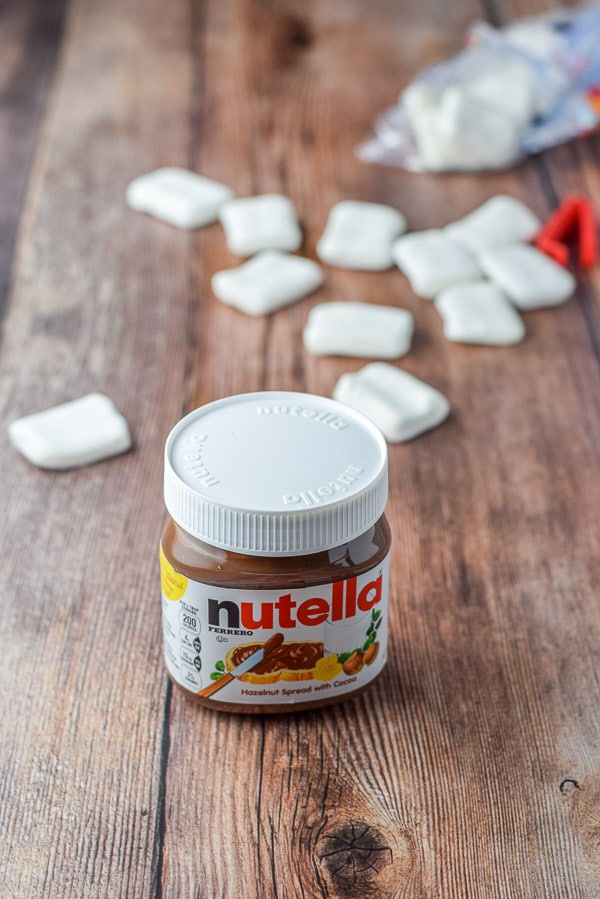 I get my teaspoon and scoop a dollop of Nutella into each muffin divot.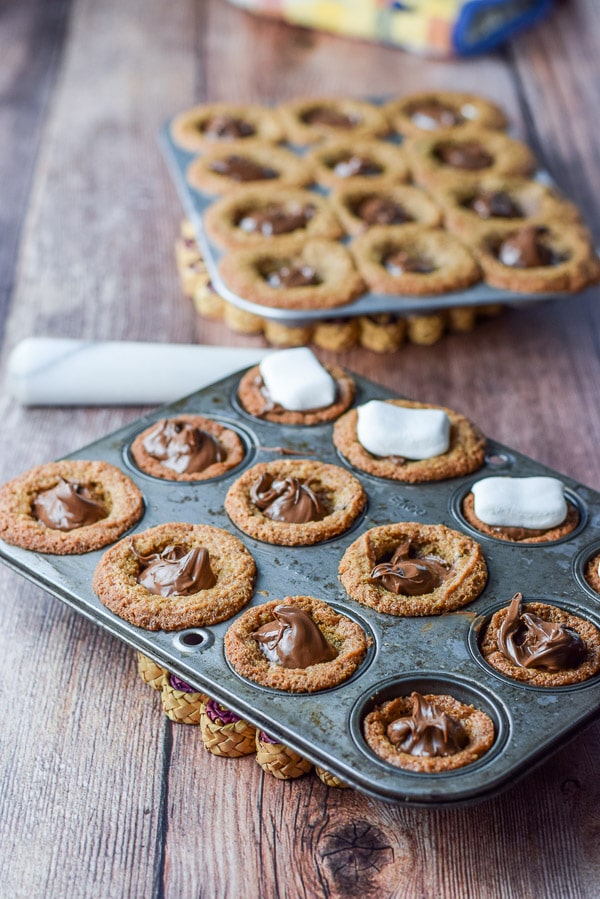 I get ahead of myself and started putting the stackable marshmallows on the Nutella before I've taken a photo without them.  But once I realize my mistake, I don't want to peel them off.  I think it's okay if things aren't perfect so I'm letting myself broadcast my mistakes.
Not that it was a mistake in the recipe, but you get the idea!
Now for the rest of the marshmallows.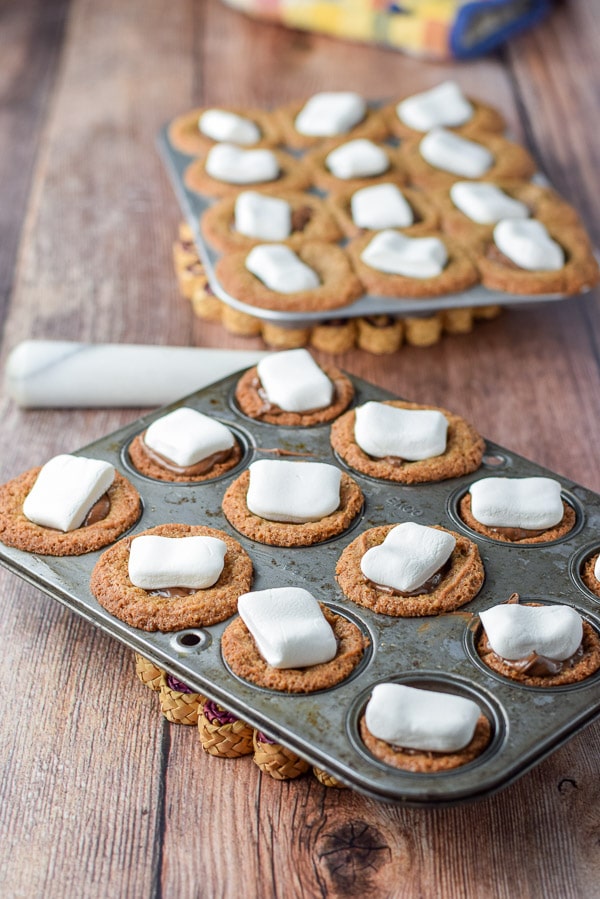 I turn the broiler on my oven and stick the pans back in.  I stand there because those marshmallows toast up fast.  The photo below is after toasting them for only 1 minute.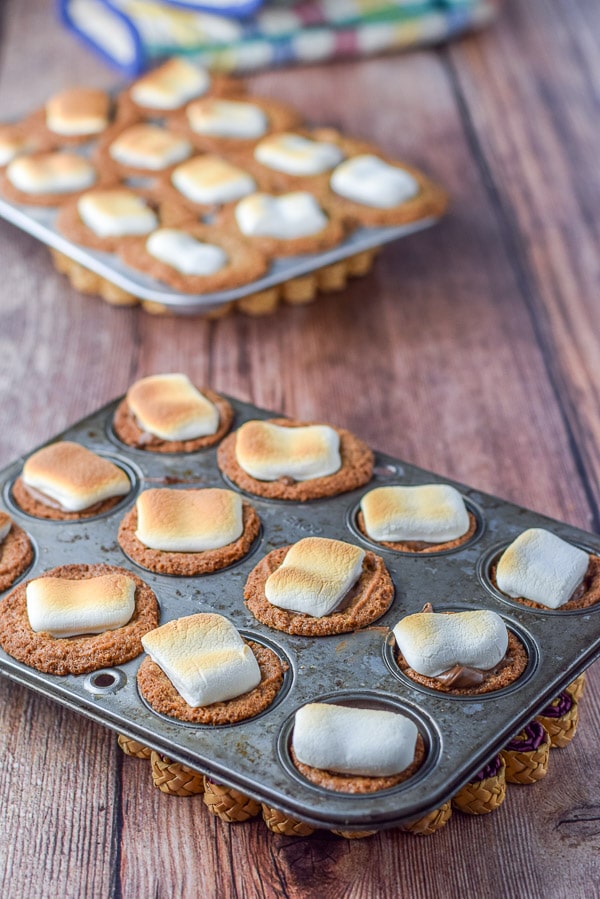 Perfect.  Some of them are toasted a lot, and some barely toasted.  I like them both ways. How do you like your marshmallows done?  Leave me a comment to let me know.
Are you wondering why the pan in the back was a fail?  Because the batter overflowed the cups and I couldn't remove the muffins without breaking off the tops.
Wait a minute.
You can break the tops off and eat them, then take a spoon and scoop out the remaining muffin.
Brilliant.
I believe I'm on to something.
Let's look at the muffins that came out of the pan easily.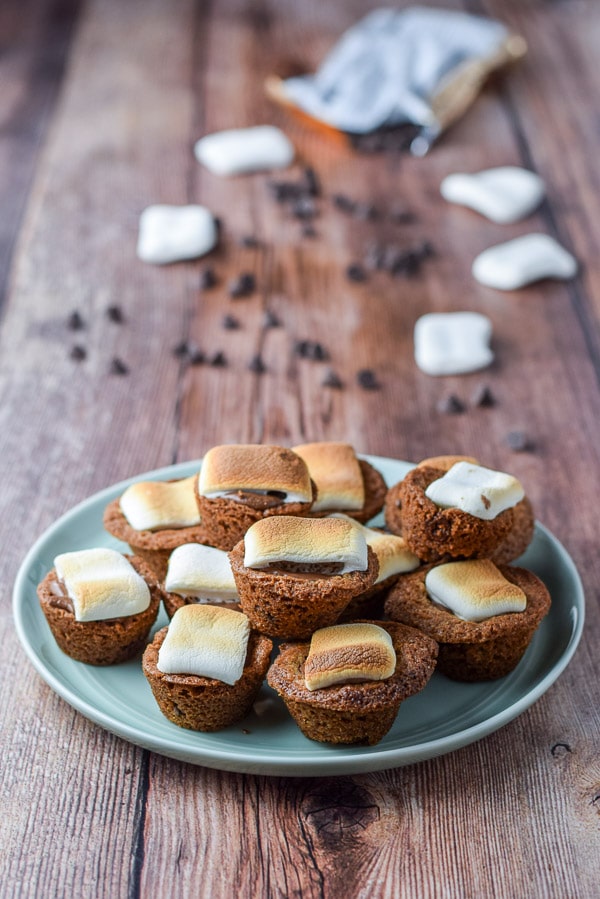 Confession
I ate three soon after I took this photo.  THREE!  I have no will power when it comes to s'mores cookie muffins.
I hope you enjoyed this recipe as much as I enjoyed shoving them in my maw!
Feel free to leave me a comment.
And as always, may all your dishes be delish!
If you've tried this s'more cookie or any other recipe on the blog, I'd love the hear what you thought about it in the comments below.  I love hearing from you!  You can also FOLLOW ME on FACEBOOK, TWITTER, INSTAGRAM and PINTEREST  to see more of my delicious food and delightful cocktails!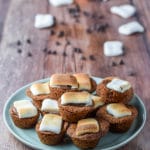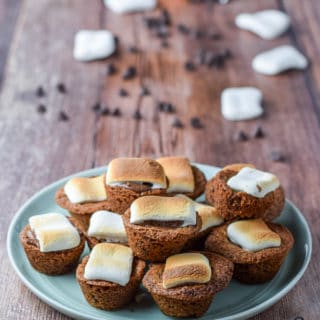 Mini S'mores Cookie Muffins
These super easy s'mores cookie muffins are soooo good! And they're small so you can have more than one.
Keyword:
S'mores Cookie Muffins
Servings
:
24
cookie muffins
Ingredients
1/2

cup

butter

softened and room temperature

1/2

cup

brown sugar

1/4

cup

white sugar

(or cane)

1

egg

1

teaspoon

vanilla

3/4

cup

flour

1/2

cup

graham cracker crumbs

1/2

teaspoon

baking soda

1/8

teaspoon

salt

1/2

cup

bittersweet chocolate chips

6

teaspoons

Nutella

6

marshmallows

cut in half
Mini muffin tins, greased
Instructions
Preheat oven to 350 F

Grease muffin tins or use some muffin cups

In a mixer, add butter and sugars and cream together

Add egg and vanilla and mix until combined

Add flour, graham cracker crumbs, baking soda and salt and mix until combined

Stir in chocolate chips

Fill each muffin cup a little more than 1/2 way with batter

Bake for 6 - 8 minutes

Let cool for 5 minutes before taking a pestle or back of a spoon and making a divot in the muffin

Fill each muffin divot with a dollop of Nutella

Top off with 1/2 marshmallow on each muffin

Turn oven on broil and broil for no longer than 1 minute

Wait five minutes before taking the muffins out

Plate a few

Eat a few

Eye a few more

Smile

Enjoy
Recipe Notes
Very addicting! So beware!
Nutrition Facts
Mini S'mores Cookie Muffins
Amount Per Serving (2 cookie muffins)
Calories 116
Calories from Fat 45
% Daily Value*
Total Fat 5g 8%
Cholesterol 17mg 6%
Sodium 90mg 4%
Potassium 44mg 1%
Total Carbohydrates 15g 5%
Protein 1g 2%
* Percent Daily Values are based on a 2000 calorie diet.