This chicken in creamy mushroom sauce recipe is so delicious and satisfying!  It's healthier than the average creamy sauce because I use almond milk!  You can also substitute cream if you want.  Christopher and I could eat it each and every week!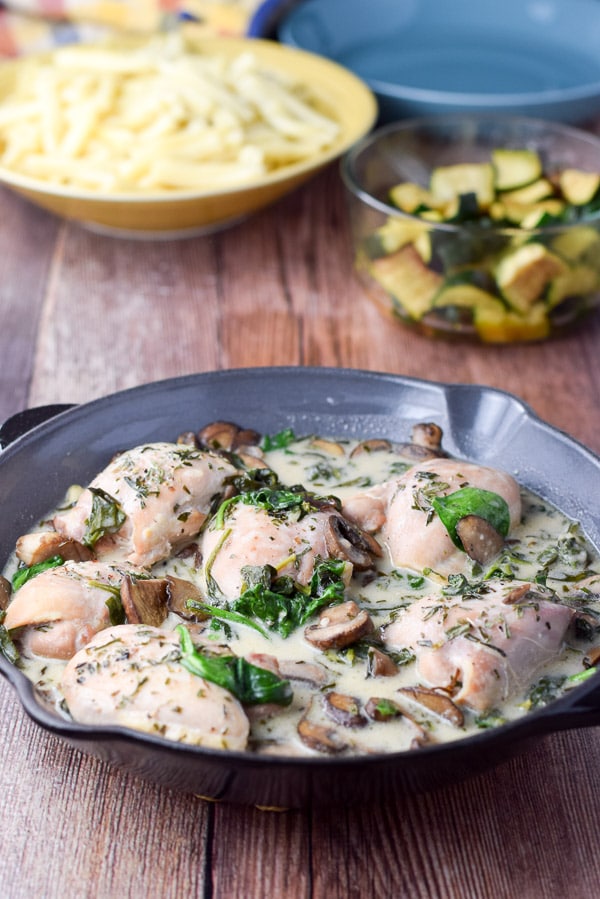 Squeamish Peeps jump ahead to the "read more."  For reals
Not sure why I am telling this story because it's not a pretty one.  In fact, it's not a super fun memory for me, but you know what?  I'm glad I had this experience, because if I hadn't, I would not have the appreciation I have today for eating meat.
One summer we were at our vacation home up in New Hampshire.  Our next door neighbors, who had chickens, asked us for help slaughtering them.  I was creeped out to say the least, but truth be told, I was also kind of intrigued.
My sister Nancy was gung-ho about it and wanted to be out in the yard helping.  I did not want to do that, so my sister Robyn and I stayed in the kitchen where we would do the second plucking.
The first plucking happened outside after the chickens were 'processed'; meaning, their heads were chopped off, they ran around the yard, then Nancy helped fetch them so they could be dunked in scalding water and plucked of the big feathers.  Robyn and I plucked all the feathers that the peeps outside missed.
I wouldn't recommend going out of your way to see chickens being slaughtered.  It was an interesting experience and obviously a necessary process for peeps who are going to eat meat.  Instead of just seeing meat in its packaging at a grocery store, you can appreciate that it belonged to living animals.
I know, I know.  Not something you want to hear before you look at this delicious recipe, but there you go!  It's part of life.
My mom made chicken Marengo that night and let me tell you, I did not enjoy it as much as I usually did.  But I did gain an appreciation and respect for the process it took to get that chicken on the table that I never had before.
How to make the Chicken in Creamy Mushroom Sauce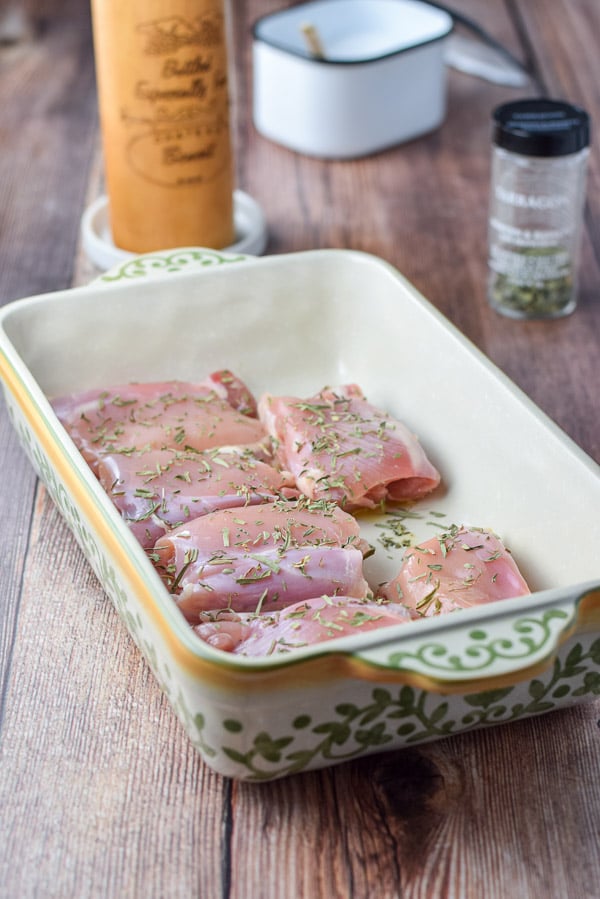 I preheat the oven to 350 degrees Fahrenheit.
I grab my baking dish and dribble olive oil on the bottom.  Then I lay the boneless chicken thighs down in the dish and sprinkle tarragon on top.  I also sprinkle on some salt and pepper.  The last thing I do is dribble more olive oil on top.
Into the oven it goes.  I set the timer for 30 minutes.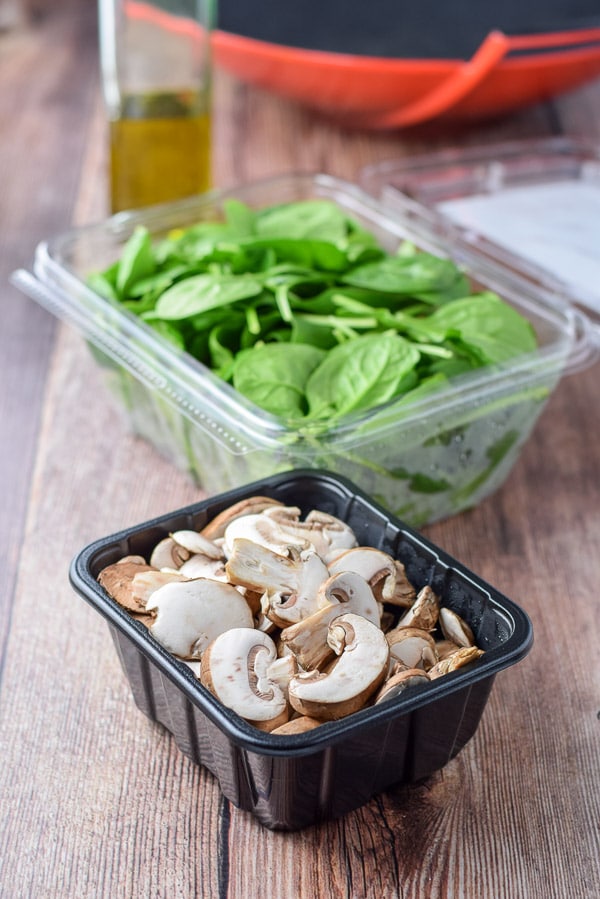 Ten minutes before the chicken has finished baking, I grab the mushrooms and sauté them on medium/high heat for 5 minutes.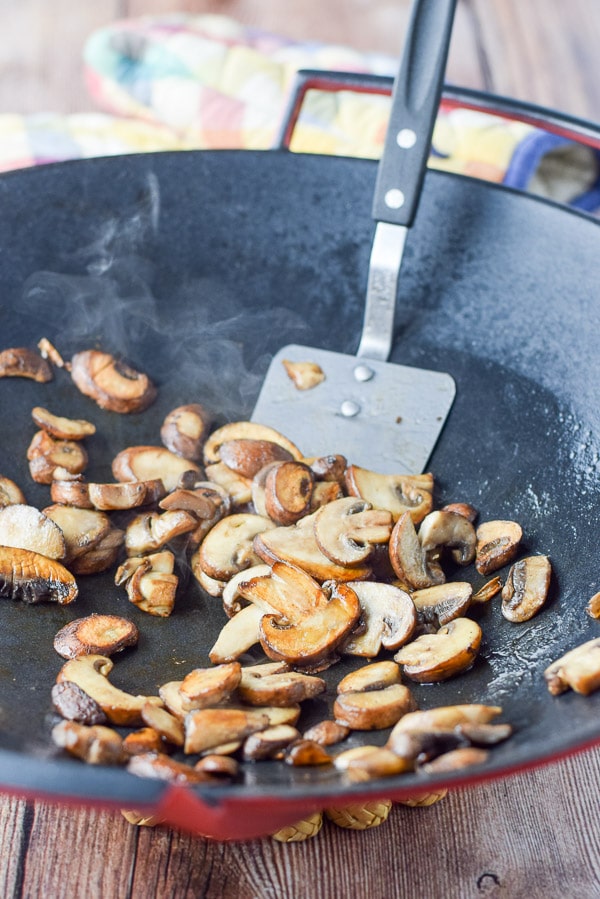 The medium high heat makes the mushies nice and brown.
I gather the ingredients for the cream sauce.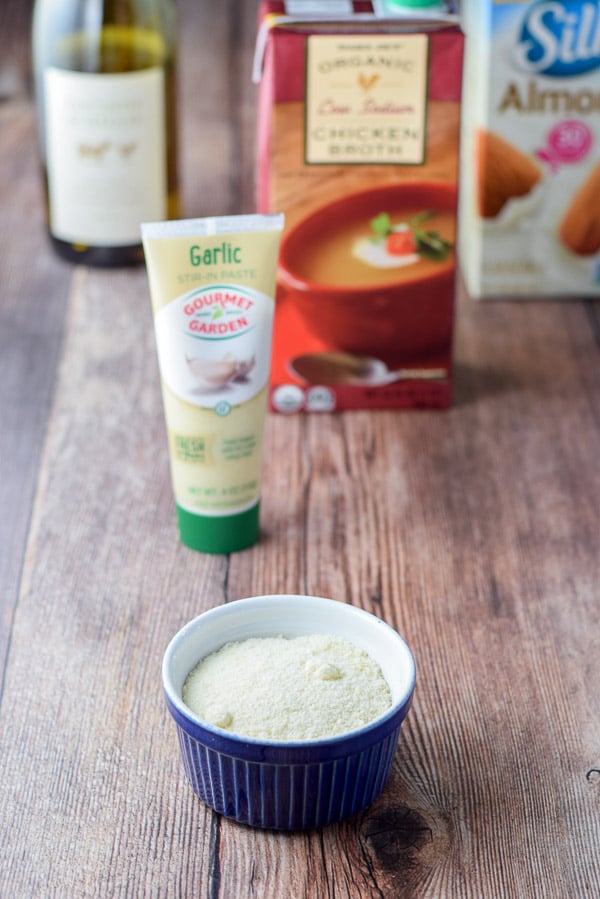 Here they are: Parmesan cheese, garlic paste, chicken broth, wine, and almond milk.
I get my smaller dutch oven and heat it on medium.  I add the milk, broth and wine and let it come to a near boil.  Also, I add 1 teaspoon garlic paste (equivalent to 1 clove of garlic), 1/2 teaspoon salt and Parmesan cheese.  I whisk it until the cheese has melted.
Now, since I'm using almond milk, the sauce won't be quite as thick as it would be if I were using light cream but that's okay by me.
Time for me to add the spinach and stir it around until it has wilted somewhat.
DING
The chicken is done.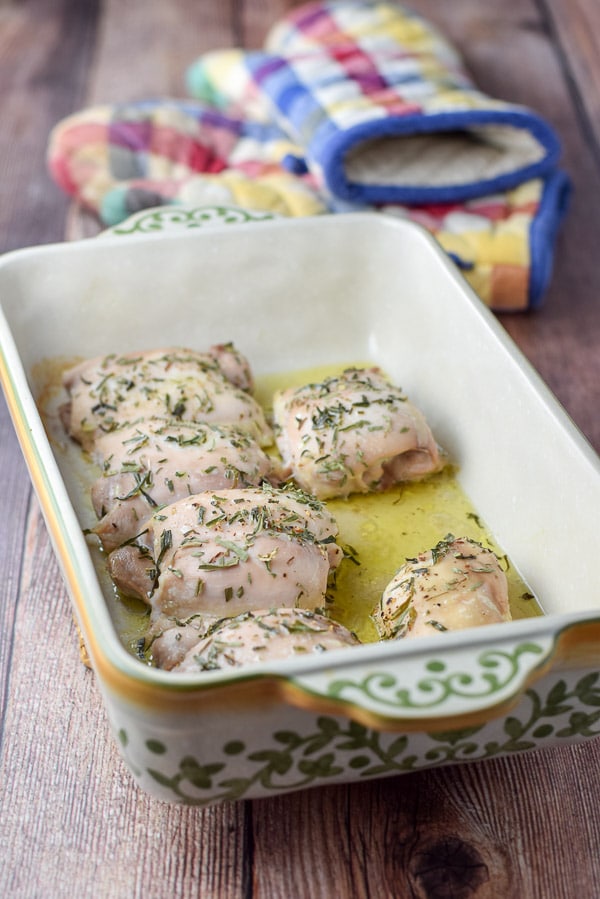 I add the chicken to the creamy sauce and mix it around so the chicken is covered.  I let the chicken simmer for 5 minutes in the sauce.  And now we have a pan of chicken in creamy mushroom sauce!  Oh and spinach.  🙂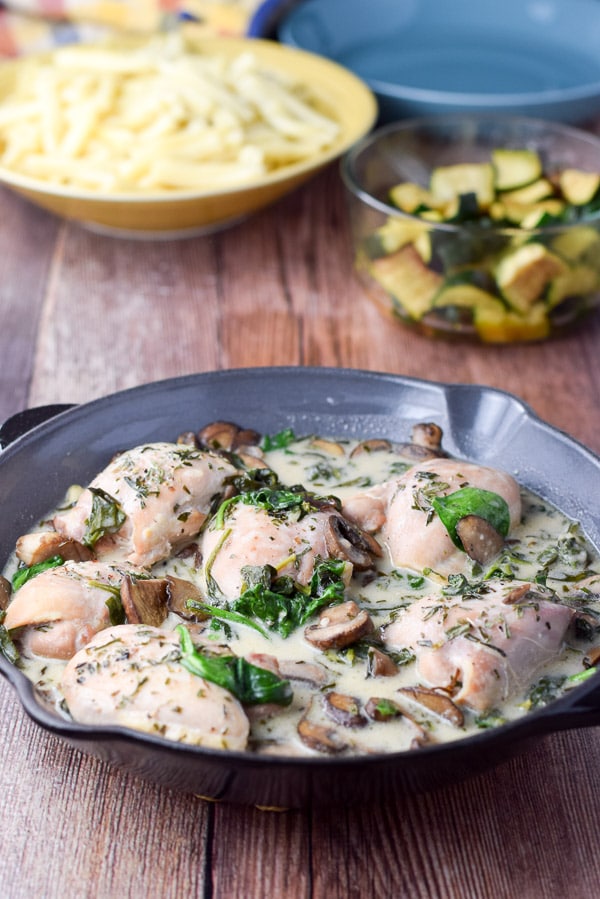 Yahoo!
Serve that chicken
Time to serve the chicken in creamy mushroom sauce.  I scoop some pasta in the plate and spoon some chicken on top!  I also scoop some sautéed zucchini on the plate.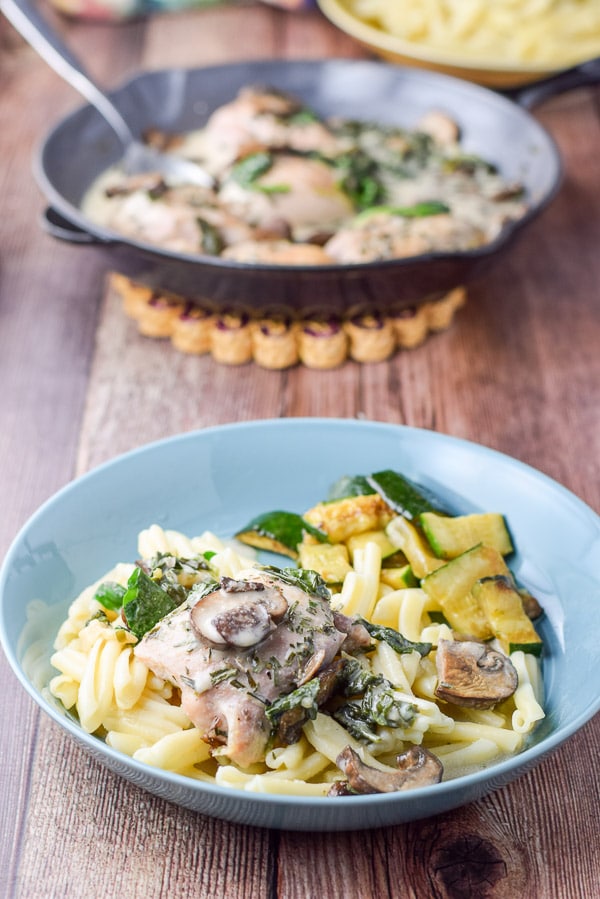 Mmmm.  Delish.  Let's get a closer look at that creamy mushroom and spinach chicken.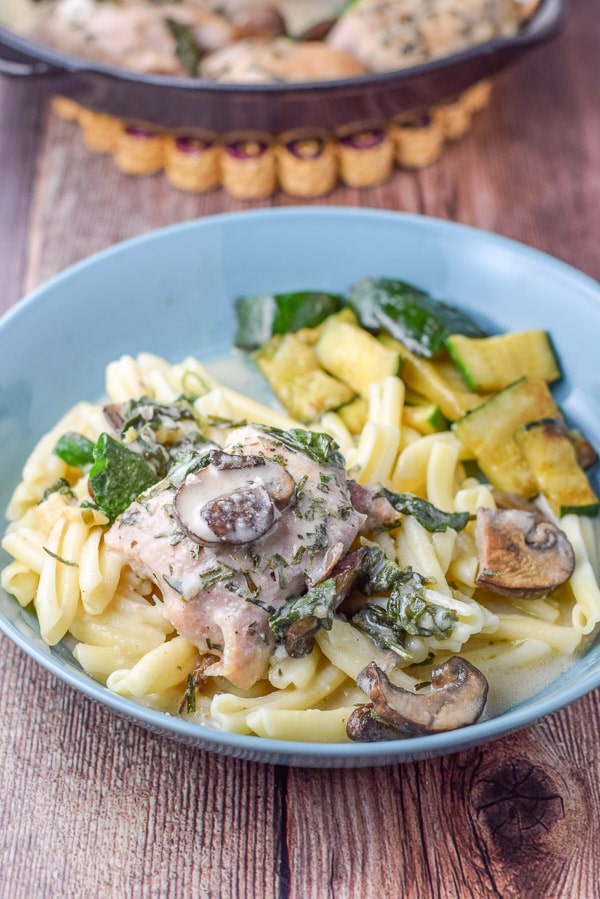 I hope you enjoyed this chicken in creamy mushroom sauce recipe!
It's really delicious!
Other chicken dishes on Dishes Delish
And as always, may all your dishes be delish!
If you've tried this chicken in creamy mushroom sauce or any other recipe on the blog, I'd love the hear what you thought about it in the comments below.  I love hearing from you!  You can also FOLLOW ME on FACEBOOK, TWITTER, INSTAGRAM and PINTEREST  to see more of my delicious food and delightful cocktails!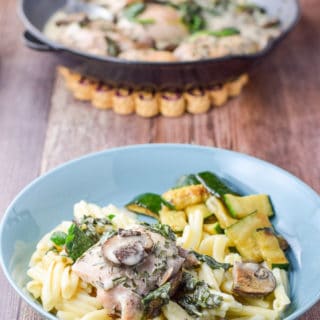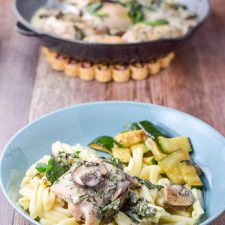 Chicken in Creamy Mushroom Sauce
This creamy chicken dish is so good, not to mention pretty!
Print
Pin
Rate
Servings:
6
chicken thighs
Ingredients
6

boneless chicken thighs

1

tablespoon

olive oil

salt

pepper

1

tablespoon

olive oil

10

ounces

portobello mushrooms

sliced
Sauce
1

cup

almond milk

1/2

cup

grated parmesan

1/4

cup

chicken broth

1/4

cup

white wine

1/2

teaspoon

salt

1

teaspoon

garlic paste

(1 clove garlic, crushed)

2

cups

spinach

(one large handful)
Instructions
Preheat oven to 350 F

In a medium baking dish, dribble some olive oil on the bottom

Add the chicken, sprinkle tarragon, salt and pepper on top. Dribble more olive oil on top of the chicken

Bake for 30 minutes

10 minutes before the chicken is done, heat a sauté pan on medium/high and add 1 tablespoons olive oil. Add mushrooms and sauté for 5 minutes

In a small dutch oven, add milk, broth and wine. Heat until almost at a boil and add the parmesan cheese, salt and garlic paste. Whisk until the cheese has melted and it is all combined

Add spinach and stir until it has wilted somewhat

Add chicken and stir around until the chicken is combined. Simmer for 5 minutes

Plate some pasta on a plate and spoon some creamy mushroom and spinach chicken on top

Eat

Sigh

Smile

Enjoy
Nutrition
Serving:
1
thigh
|
Calories:
353
kcal
|
Carbohydrates:
3
g
|
Protein:
23
g
|
Fat:
26
g
|
Saturated Fat:
7
g
|
Cholesterol:
118
mg
|
Sodium:
511
mg
|
Potassium:
484
mg
|
Sugar:
1
g
|
Vitamin A:
1100
IU
|
Vitamin C:
3.8
mg
|
Calcium:
161
mg
|
Iron:
1.2
mg