This chicken saltimbocca recipe is truly one of my absolute favorites. I serve it whenever I can to guests because I know that they are going to love it!!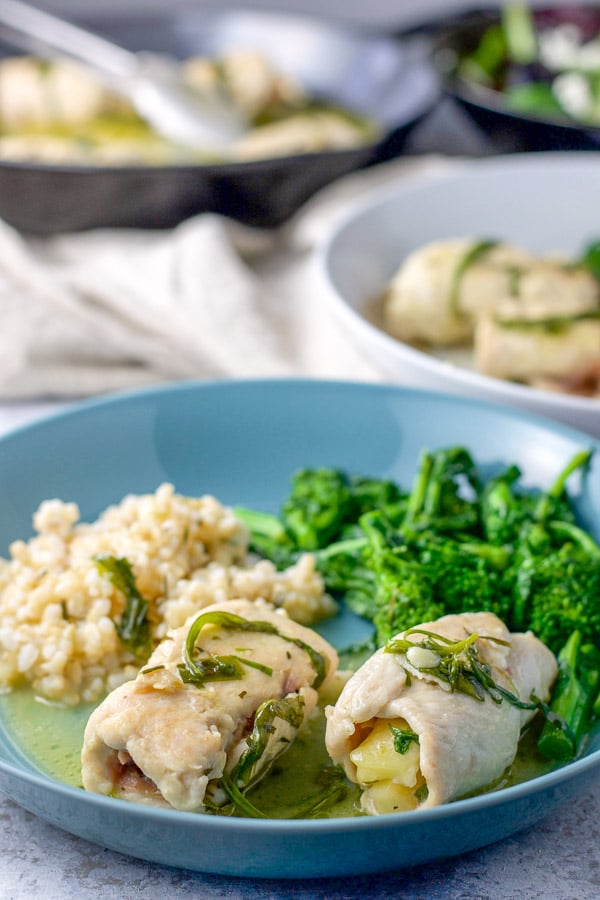 I gaze lovingly at these cute little chicken roll-ups.  That's what I call this chicken saltimbocca recipe. I would pet these chicken roll-ups like a beloved animal if it wasn't weird and didn't get my fingers all greasy.  It's an awesome combination of chicken, salt, pepper, prosciutto, fresh tarragon and gouda cheese.
Doesn't that make you want to dance the chicken saltimbocca jig?
It does me!
Did you know that saltimbocca means "jumps in the mouth" in Italian?  Well, it does and believe me, you are going to want these beauties to jump right into your mouth, no fork necessary!
Tips for the chicken saltimbocca:
Use chicken tenders as it's easier than cutting up chicken breasts
If you can, use fresh tarragon
If you don't have a tenderizer, then use the side of a cast iron pan.  Not elegant but it will do the job
Use gouda cheese because it's flavorful and melts delightfully and don't skimp on the cheese
Use prosciutto because it is so flavorful.  You can also use ham if you prefer
To roll them: grab the chicken at the fat end of the slab and roll tightly so that the cheese wraps up first, roll down the chicken and stick a toothpick 1/4 of an inch away from the seam
The making of the Chicken Saltimbocca
I get out my tools:  plastic wrap, meat tenderizer and large plate.
Process shots for the chicken saltimbocca:
Chicken tenders ready to be processed
Chicken tenders flattened between two sheets of plastic wrap
Gouda cheese cut in rectangles, prosciutto and fresh tarragon in the background
Flattened tenders, prosciutto, tarragon and gouda cheese
Chicken tenders rolled up and secured with toothpicks
Time to heat your sauté pan to medium heat.  Add the stick of butter and once the butter has melted place each chicken rollup in the pan.  After 2 1/2 minutes, turn each roll and sauté for an additional 2 1/2 minutes.
Now, it's time to take out the chicken saltimbocca and place them on a plate.  Add one cup of chicken broth and as much fresh tarragon and you would like.  I actually use the at least half the container since it's not that big.
If the butter-broth-tarragon mixture isn't boiling, turn up the heat so it does.  Boil for 5 minutes.  While you are waiting for the 5 minute boil, take out the toothpicks from the chicken saltimbocca.
Don't worry it won't uncurl like a party favor.  It stays together.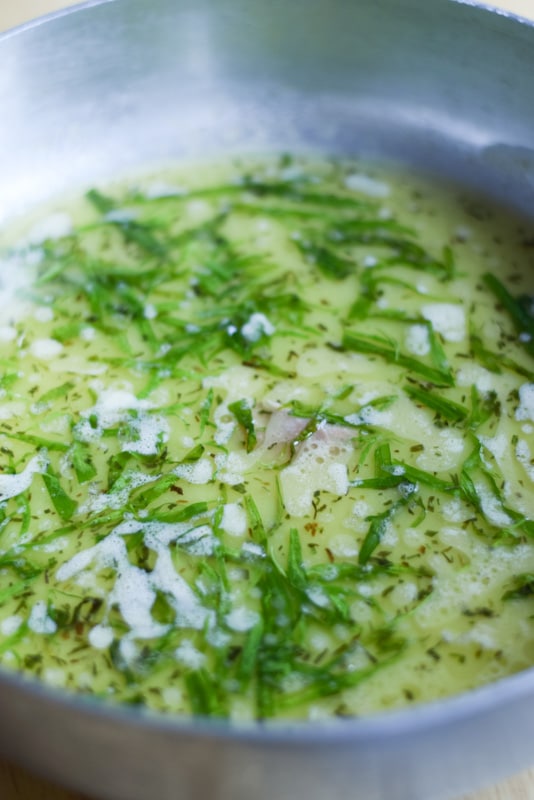 Once the 5 minutes is up, I turn the heat off for approximately 2 minutes (to end the boil), then I set the heat to a simmer and place the chicken back in the pan and sauté for 2 1/2 minutes.  I turn the chicken and sauté for an additional 2 1/2 minutes or until it's fully cooked.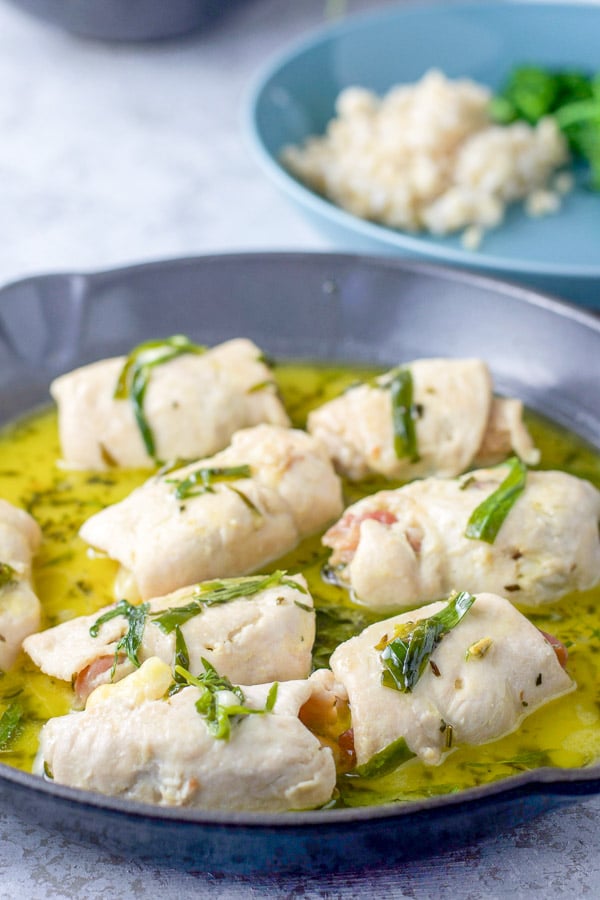 I plate some rice and some broccoli rabe!!  You can plate it with any vegetable of your choice.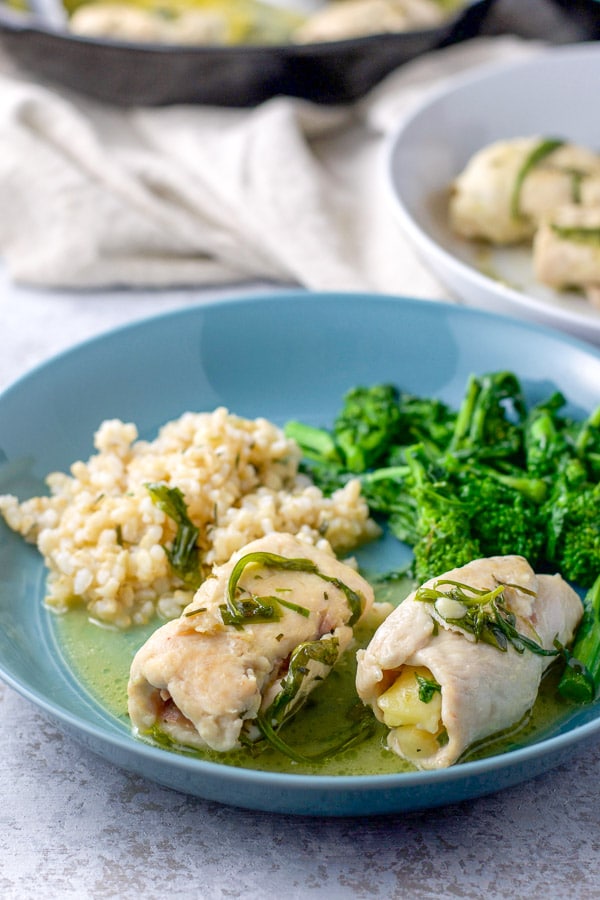 Other popular chicken recipes on Dishes Delish:
I hope you enjoyed this chicken saltimbocca recipe.  It's truly a favorite in my house.
And as always, may all your dishes be delish!!
If you've tried this chicken saltimbocca or any other recipe on the blog, I'd love the hear what you thought about it in the comments below.  I love hearing from you!  You can also FOLLOW ME on FACEBOOK, TWITTER, INSTAGRAM and PINTEREST to see more of my delicious food and delightful cocktails!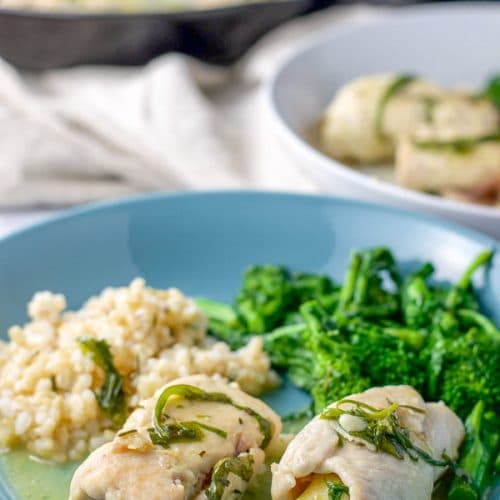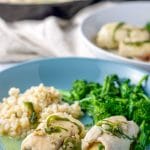 Chicken Saltimbocca Recipe
An easy and delish way to eat chicken roll ups!
Keyword:
chicken saltimbocca recipe
Ingredients
8

chicken tenders

Organic boneless

salt

pepper

8

pieces

prosciutto

16

cubes

Gouda cheese

cubed

4

ounces

fresh tarragon

1/4

teaspoon

dried tarragon

1/2

cup

butter

1

cup

chicken broth
Instructions
Place chicken between two pieces of plastic wrap

Pound chicken with the flat of a meat tenderizer

Place 2 thin chicken pieces on plate and sprinkle salt and pepper on them

Place a sheet of prosciutto on chicken

Put some fresh tarragon on the prosciutto

Place 2 to 3 cubes of cheese on the chicken, close to one end

Start to roll up the chicken, making sure you tuck the cheese in first

Stick toothpick 1/4 inches from seam of chicken roll up

Repeat until all the chicken is rolled up into cute little tubes

Heat sauté pan on medium

Add stick of butter and melt it

Place chicken in butter and sauté for 2 1/2 minutes

Turn chicken and sauté for additional 2 1/2 minutes

Remove chicken and set aside

Add broth and both fresh and dried tarragon

Boil for 5 minutes

Eat that little bit of prosciutto

While broth is boiling, remove toothpicks

Turn off the heat to make the broth stop boiling, cooling for 1 - 2 minutes

Place chicken back in pan

Turn the heat to simmer

Sauté for an additional 2 1/2 minutes, turn chicken

Sauté for additional 2 1/2 minutes or until done

Remove chicken

Pair it with some lovely side dishes

Eat

Enjoy
Nutrition Facts
Chicken Saltimbocca Recipe
Amount Per Serving (2 pieces)
Calories 235
Calories from Fat 126
% Daily Value*
Fat 14g22%
Cholesterol 65mg22%
Sodium 298mg13%
Potassium 636mg18%
Carbohydrates 7g2%
Protein 14g28%
Vitamin A 975IU20%
Vitamin C 9.7mg12%
Calcium 183mg18%
Iron 4.8mg27%
* Percent Daily Values are based on a 2000 calorie diet.