This mussels with wine sauce on creamy polenta recipe is so good that your taste buds are going to do the cha-cha in celebration!!  One of the things I love about this recipe is I used already shucked mussels which makes it so easy.  But you can make this delightful recipe with fresh mussels in the shell.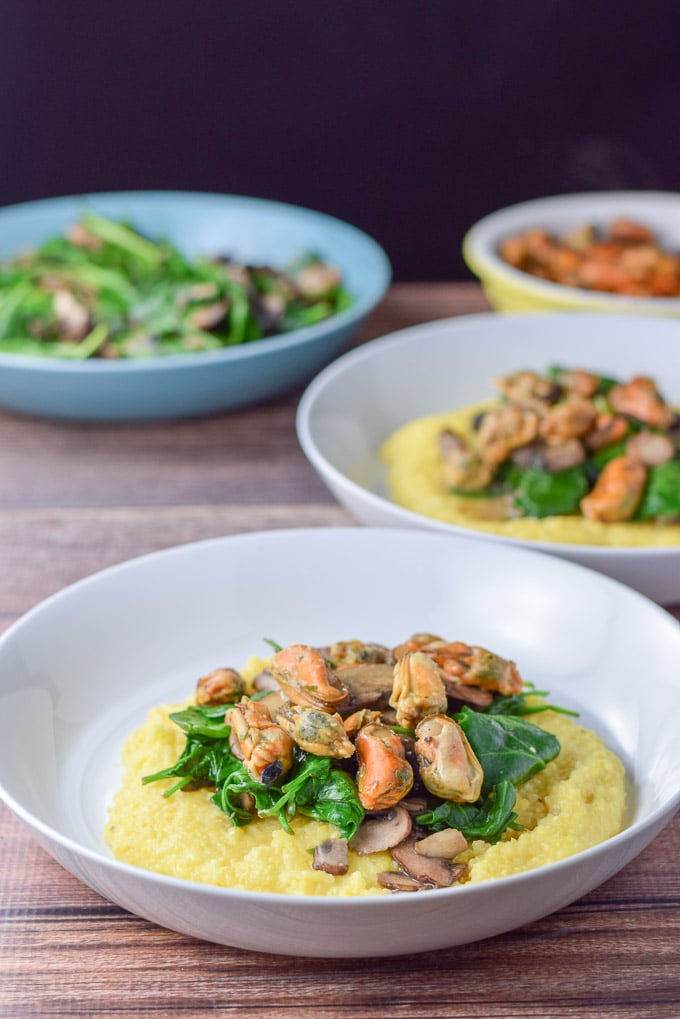 Great Seafood in an unlikely Place
We go to a fabulous restaurant on Main Street in our small town.  It is well known in our area and regularly awarded for its seafood.  That's surprising to me.  Why?  Because although we live near Boston and close to the ocean, our little town doesn't exactly scream delicious seafood.  You'd expect to find delicious seafood on the coast, in picturesque towns like Gloucester or Marblehead or somewhere on the Cape.  But our little town?  Not so much.
And yet, we do have great seafood.  When Christopher and I want to celebrate, we go to this restaurant for its delicious food and cocktails.  It's just a little on the pricey side, but it's well worth it for those special occasions!
When we go to eat there, we love to sit at the bar.  That's where they shuck oysters and cook lovely appetizers like mussels and steamers.  I've watched them like a hawk as they prepare that dish.  They have this cool cooking station with pans lined up that are attached to levers that tip the finished product into dishes and bowls.  They also have water faucets above the cooking pans to wash them after each batch.
I decided to make a dish that reminds me of that restaurant!
You know what makes their mussels and steamers so scrumptious?  The liquid they're cooked in. Mmmm.  The restaurant uses chicken broth, butter, herbs and some wine.  It's so good you could drink it.  But Christopher and I try to be circumspect and just soak it up with their fabulous dinner rolls.
For this recipe, I've attempted to recreate their broth and I think I've been able to do it.
So.  Tasty.
I cook the mussels in that broth.  I then serve them over the vegetables on a bed of creamy polenta.
Here are some other seafood recipes on Dishes Delish:
On to the Mussels with Wine Sauce on Creamy Polenta Recipe
Just a note:  I prepare the rest of the meal as I'm cooking the polenta, so that everything is finished at roughly the same time.
The process shots for the mussels with wine sauce:
Polenta, and chicken broth. Bring broth to a boil, add polenta and cook for 20 minutes, stirring every 5 minutes.  Add goat cheese and let it melt for another 5 minutes
Package of mussels, spinach and mushrooms.  I love already shucked mussels
Spinach and mushrooms sautéed in my wok
Polenta dolloped on two plates and vegetables in the background
Mussels cooked in wine, basil and chicken broth
I then spoon mussels over the creamy polenta and get ready to eat.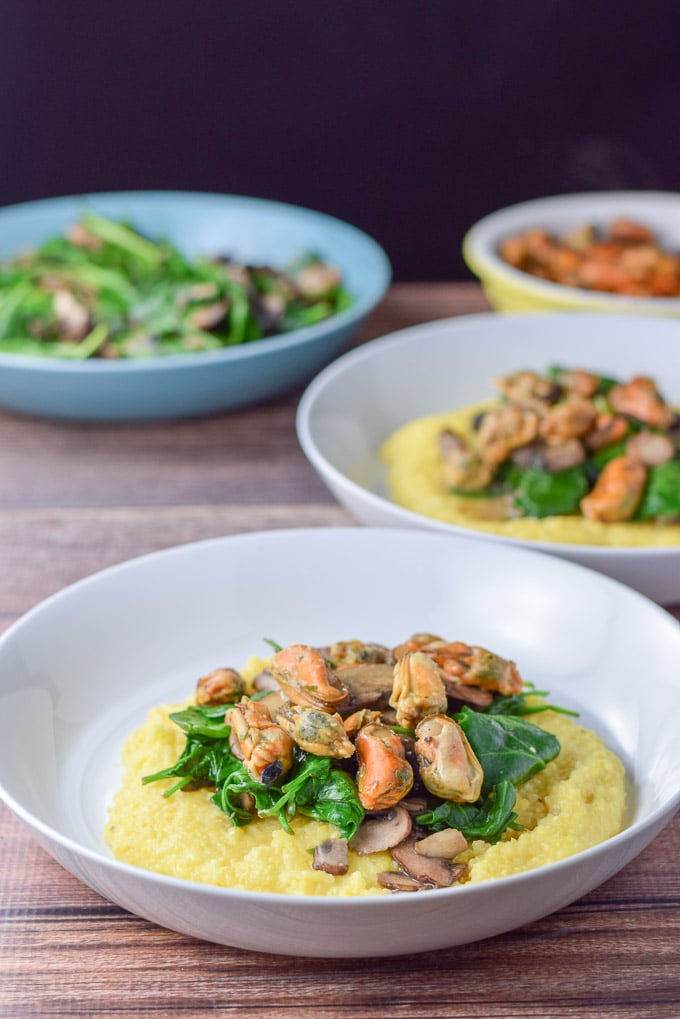 Let's look at the mussels with wine sauce on creamy polenta from a different view!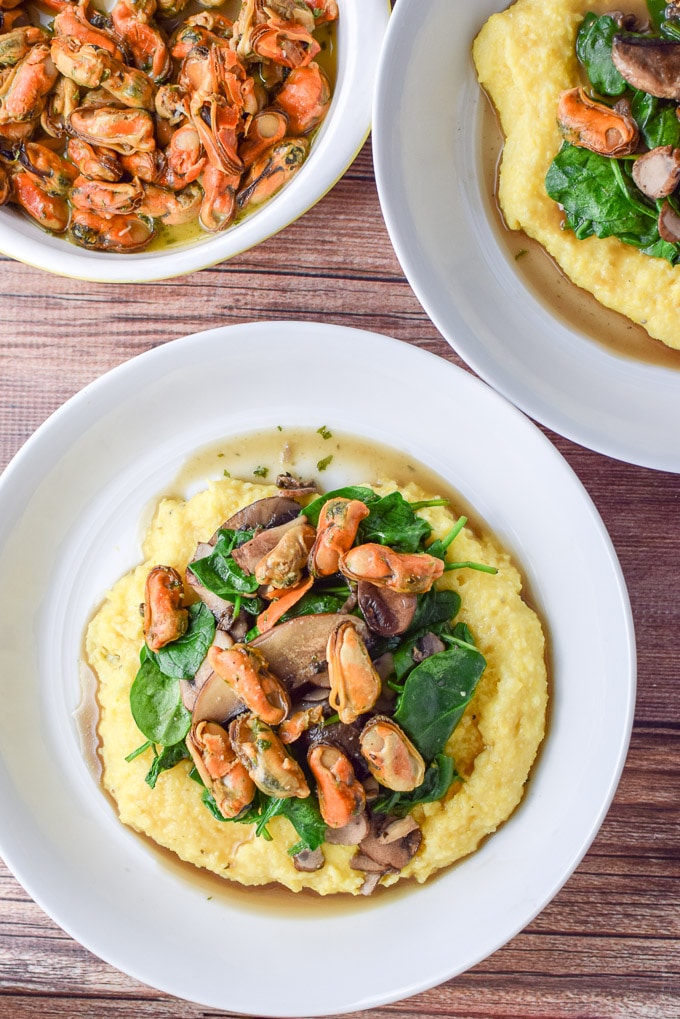 I hope you enjoyed this mussels with wine sauce recipe!
Please feel free to leave me a comment.  Is there a restaurant you love whose recipes you've ever tried to recreate?  If so, how did it go?  I'd love to know.  And if you leave me a comment, please take the time to rate the recipe, as well!  I really appreciate it!
And as always, may all your dishes be delish!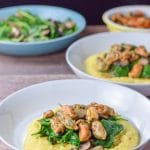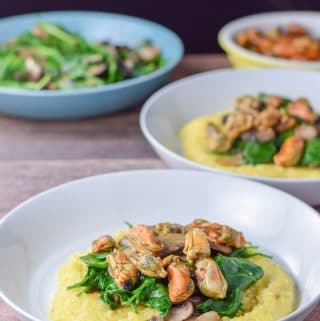 Mussels with Wine Sauce on Creamy Polenta
Everything about this dish is so delicious! Especially the broth the mussels are cooked in.
Keyword:
mussels with wine
Ingredients
Polenta
4

cups

chicken broth

1

cup

polenta

1/2

teaspoon

salt

2

ounces

goat cheese
Veggies
2

tablespoons

chicken broth

10

ounces

sliced portobello mushrooms

2

large portobello mushrooms

sliced thinly

10

ounces

baby spinach

one package

1/4

teaspoon

salt

2

teaspoons

garlic paste

or 2 cloves of garlic
Mussels
2

tablespoons

butter

1/4

cup

chicken broth

1/8

cup

dry white wine

5

ounces

mussels

pre-packaged without shells

1

teaspoon

dried basil
Instructions
Make it!
In a medium saucepan, set chicken broth to boil, add polenta and 1/2 teaspoon salt and let cook for 20 minutes, stirring every 5 minutes

Add goat cheese and continue to cook and stir for 5 minutes until cheese is melted

Meanwhile, put sauté pan on medium heat, add 2 tablespoons chicken broth, mushrooms, garlic paste and salt and sauté for 5 minutes

Add spinach and stir until wilted

Meanwhile put another sauté pan on medium heat, add butter, chicken broth, wine and mussels and sauté for 5 - 7 minutes. If you are using fresh mussels in the shell, once the shells open, it's done

Spoon polenta into two shallow bowls or plates

Spoon some mushrooms and spinach mixture on the polenta

Top it off with mussels and broth

Eat

Smile

Enjoy
Recipe Notes
I cook the polenta, mushrooms and spinach and mussels at the same time to cut down on the time it takes to cook! You will have lots of mushrooms and spinach leftover so, it's a great side dish!
You can also use fresh mussels.  You can cook them and place them with their shells on the polenta.  I just prefer shucked.
Nutrition Facts
Mussels with Wine Sauce on Creamy Polenta
Amount Per Serving (1.5 cups)
Calories 210
Calories from Fat 63
% Daily Value*
Total Fat 7g 11%
Cholesterol 17mg 6%
Sodium 1065mg 44%
Potassium 752mg 21%
Total Carbohydrates 27g 9%
Protein 9g 18%
* Percent Daily Values are based on a 2000 calorie diet.