It's a yummy cherry and peach tart recipe!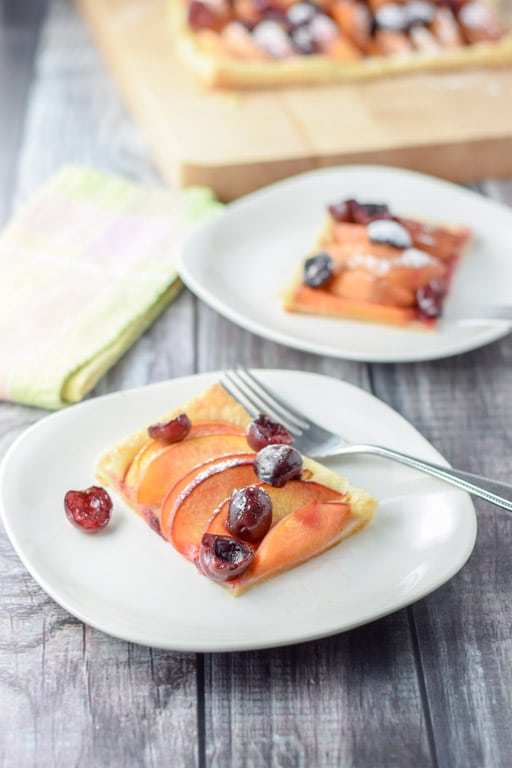 When I decided to make this, I couldn't decide which fruit to put first in the title.  The peach or the cherry.  So, when I finally made my decision, I put the cherry first because I like that fruit more than I like peaches.
Though, don't get me wrong, I do love peaches, but cherries . . . ❤️ ?
FLASHBACK
I think I have stated before that my mom loved cherries.  We all used to wait expectantly around the month of May for the cherry season to arrive.  Once it did, we would all get little bowls of cherries and gobble them up.
The real reason for this flashback is to talk not about cherries, but about peaches.
My mom loved peaches too.  She wanted them barely ripe and rock hard.  I can still hear the crunch of her chomping into one.  The rest of us liked them ripe and juicy.
Slurp.
The other thing I think of when I think of this Georgia fruit…
My folks use to rent a cottage in Vermont for a few weeks in the summer.  One of the activities they required of us before we took our vacation was to put on our bathing suits and sit out in the backyard on lawn chairs.
The reason was because they wanted us to get sun so we wouldn't burn when we went away. Umm, hello?  Why couldn't we just be in the back yard playing?  We would get plenty of sun, even moving around.
Anyway, I have a vivid memory of sitting there, sweating, with a book, eating a peach.  The juice would be dripping down my arm and I would lick my arm from my elbow to my hand.
Only, I had suntan lotion on.
Glurg.
One of my favorite peach recipes: Peach margarita
On to the yummy cherry and peach tart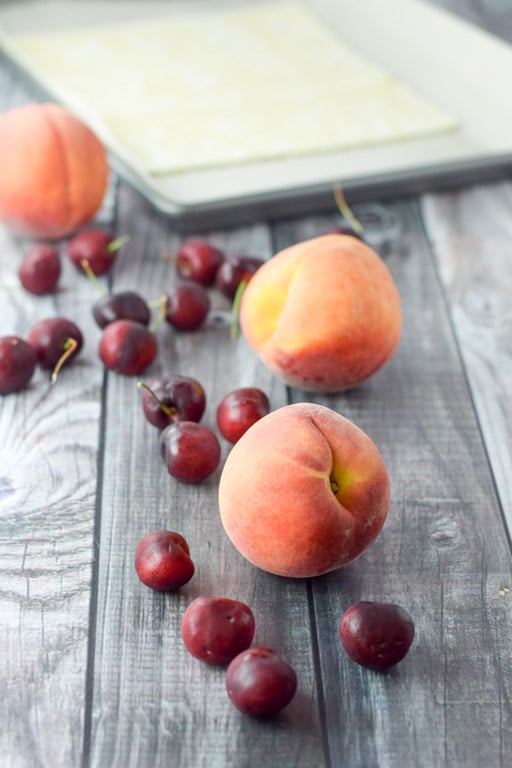 First thing I do is take a sheet of puff pastry out of the freezer.  I let it sit on the counter for 30 – 40 minutes.
I take out my cherries and peaches and wash them.
Pitting the Cherries
I pit the cherries first.  How do you pit your cherries?  I put a bunch on a cutting board, take a wide knife and firmly press down on the sides of the cherries with the side of the knife.  I use my hand as a shield and I also make sure the top of the cherry, where the stem came from – is facing away from me because they will squirt.
Did you know cherry juice can squirt quite a distance?
Well, it can.
Next, I take each cherry in my hands and at the stem hole, I insert my thumbs and pull apart the cherry.  The pit should easily come out at this point.  (And my fingernails should stain easily with cherry juice!)
I then slice up the peaches.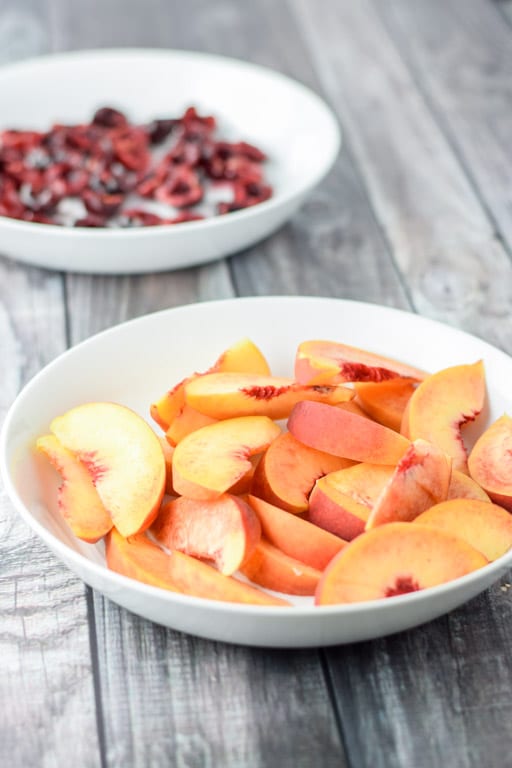 I preheat the oven to 400 degrees Fahrenheit.
I line a jelly roll pan with parchment paper and lay the sheet of puff pastry on it.
Now is the fun part!  I line the sliced peaches up on the puff pastry.  Then I take the cherry halves and sprinkle them on top.  If you enjoy bringing order to this unruly world, as I do, then it's just one more reason to love this recipe!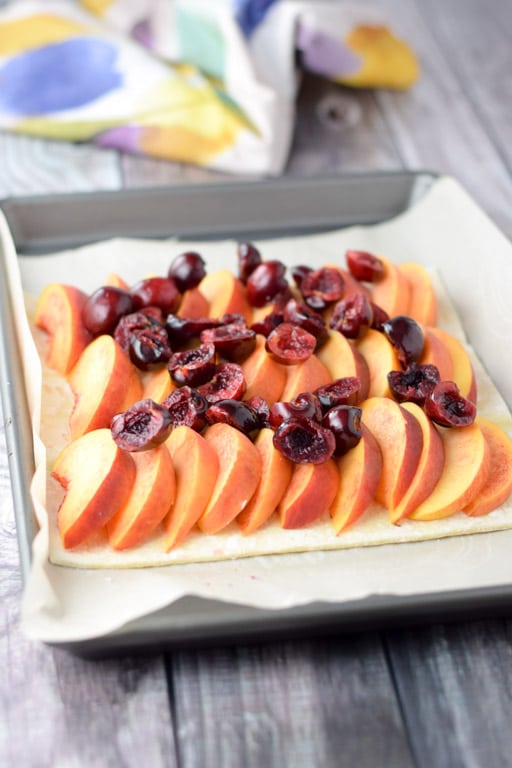 Time to stick them in the oven and bake for 18 minutes.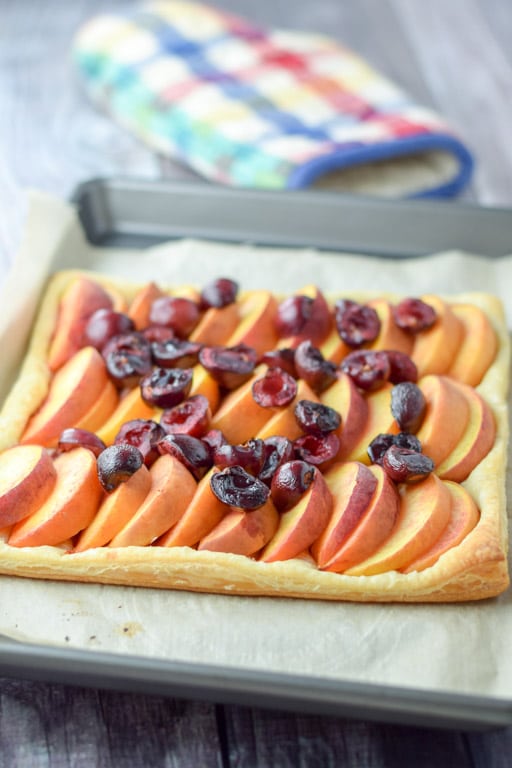 Look how nice and fluffy the pastry got!
I sprinkled some confectioner's sugar on top of the yummy cherry and peach tart.
On other tarts, I have used cinnamon as well as honey, but not this time.  That's just to give you ideas for future tarts.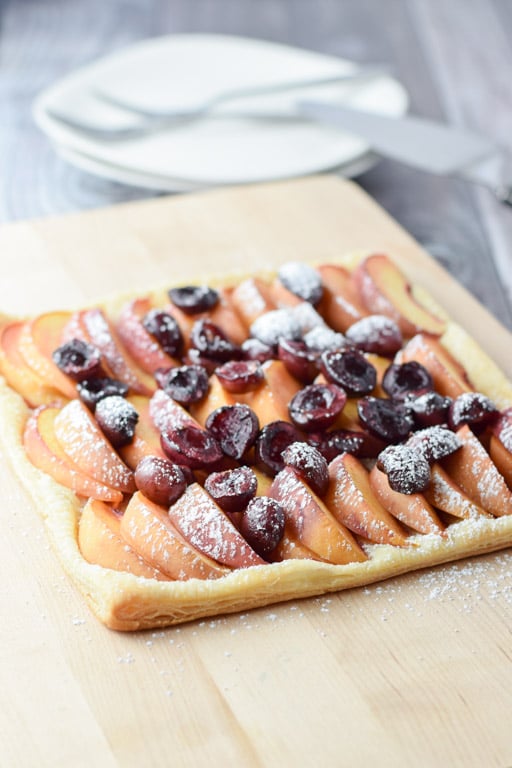 Yummy.
Now, all I have to do is cut a few slices and Christopher and I can eat this delicious tart!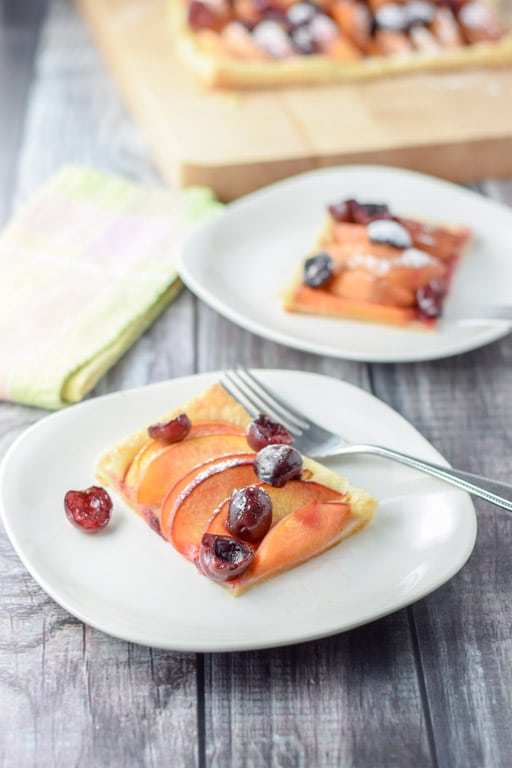 Now to eat a little bite.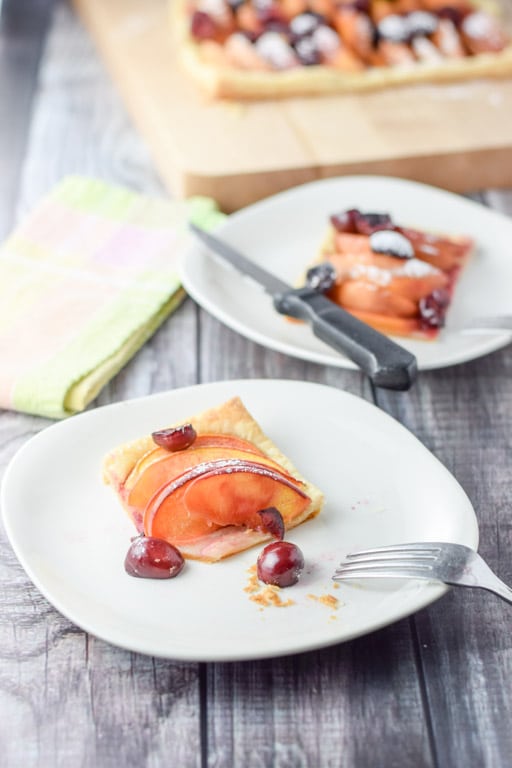 Or two!
😉
I hope you enjoyed this recipe!
Please feel free to Pin any photo to Pinterest, Yum the recipe to Yummly and leave me a awesome comment!
And as always, may all your dishes be delish!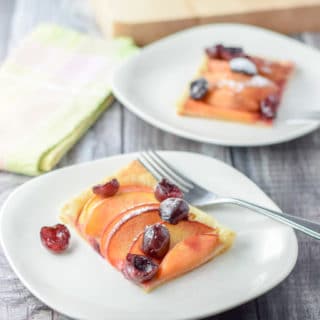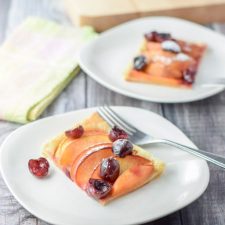 Yummy Cherry and Peach Tart
A delightful summer tart chockfull with peaches and cherries!
Print
Pin
Rate
Ingredients
1

sheet

puff pastry

17

cherries

or so, pitted and halved

2 1/2

peaches

sliced
Instructions
Take out one sheet of puff pastry, leave on the counter for 30 - 40 minutes until thawed

Line parchment paper on a jelly roll pan

Preheat oven to 400 F

Line the puff pastry with the peach slices and sprinkle the cherry halves on top of the peaches

Bake for 15 - 18 minutes

Sprinkle the top with confectioner's sugar

Slice into squares

Eat one square

Share with husband

Smile at each other

Enjoy
Notes
9 pieces depending on how big you want your squares. Also, I counted the 40 minutes because you need to defrost the puff pastry. But, that is passive waiting and you can be doing something fun during that time. 🙂
Nutrition
Serving:
1
piece
|
Calories:
175
kcal
|
Carbohydrates:
18
g
|
Protein:
2
g
|
Fat:
10
g
|
Saturated Fat:
2
g
|
Sodium:
67
mg
|
Potassium:
129
mg
|
Fiber:
1
g
|
Sugar:
5
g
|
Vitamin A:
145
IU
|
Vitamin C:
3.8
mg
|
Calcium:
7
mg
|
Iron:
0.9
mg