When I want an alternative to a sandwich, I make this almond butter and banana puff pastry recipe and it is sooooo good!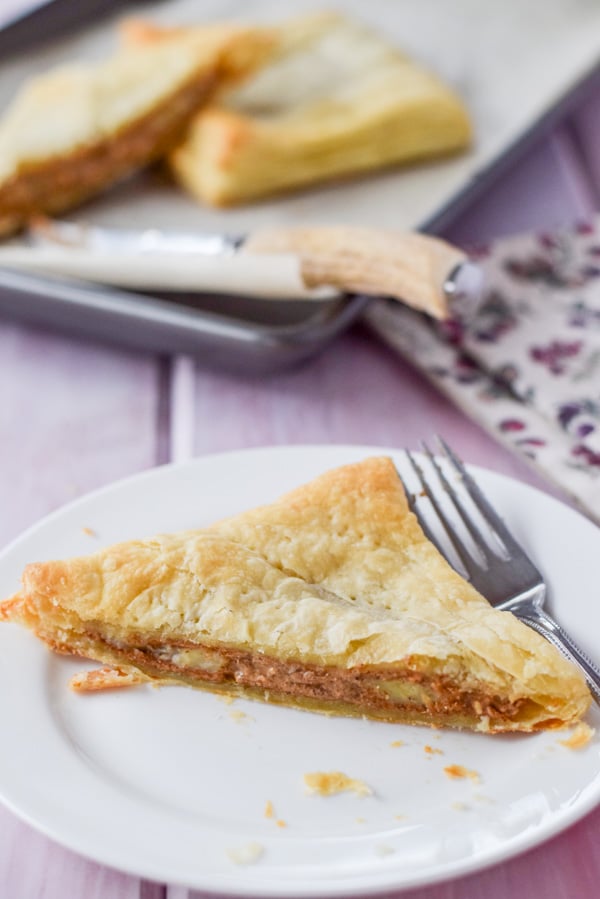 This almond butter and banana puff pastry is a great addition to your lunchtime rotation! It is so easy to make and super duper delicious!
You can quote me: super duper!
I love puff pastry sheets. They are fun to use and so versatile. You can make sweet or savory delicacies or sweet and savory delicacies. The possibilities are endless! And I intend to discover them all! I am going to have FUN!
On to the recipe:
The making of greatness
I start with one sheet of frozen puff pastry. Before I can use it, I have to let it thaw, which usually takes about 40 minutes. I let it sit on the counter for the first 20 minutes. Then I line a jelly roll pan with parchment paper, unfold the pastry and lay the unfolded sheet to thaw on the parchment for the remaining 20 minutes.
I preheat the oven to 400 degrees Fahrenheit.
I cut the pastry sheet in half.
I could roll it out with a rolling pin but I'm lazy and the finished product doesn't show the creases. Mostly!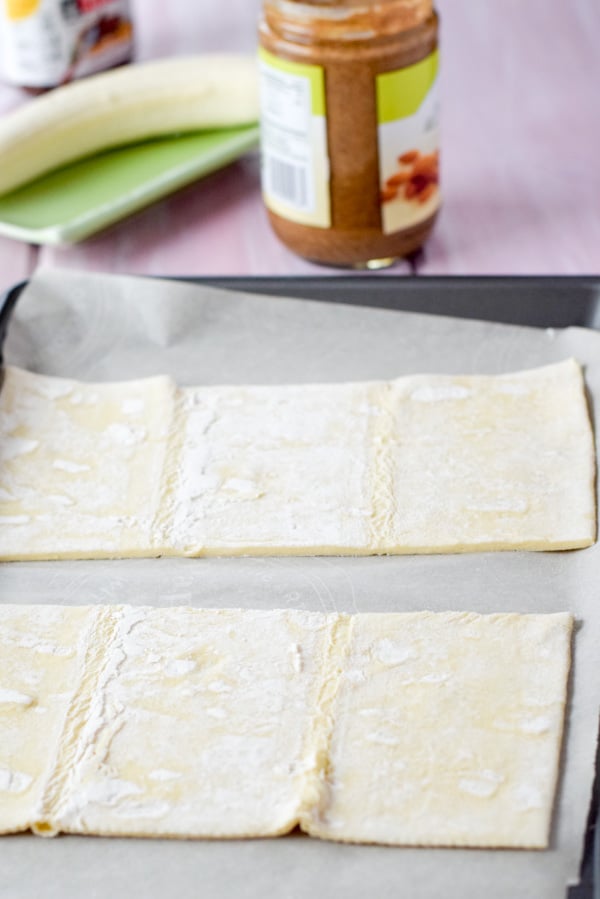 I gather the almond butter (crunchy, don't you know), and a banana.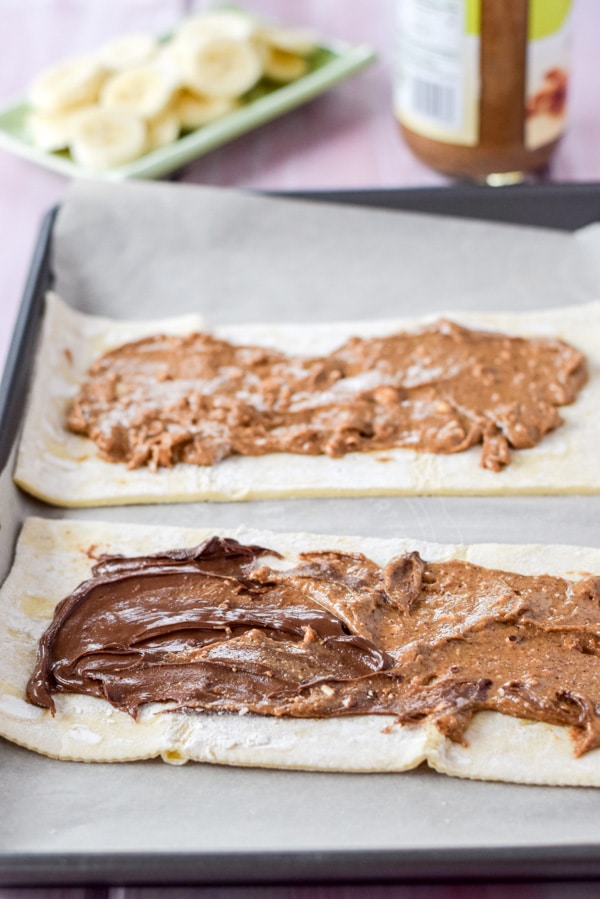 Okay, you will notice the Nutella on the pastry sheet in the foreground. I love Nutella so I put some on mine.
I take my Nutella and spread it over half of the first pastry sheet. I then take the almond butter and spread it over the other half of that same sheet. On the second pastry sheet (Christopher's) I spread almond butter on the whole thing. See the photo above.
I then take a banana, cut some rounds and place them on one half of both of the pastry sheets.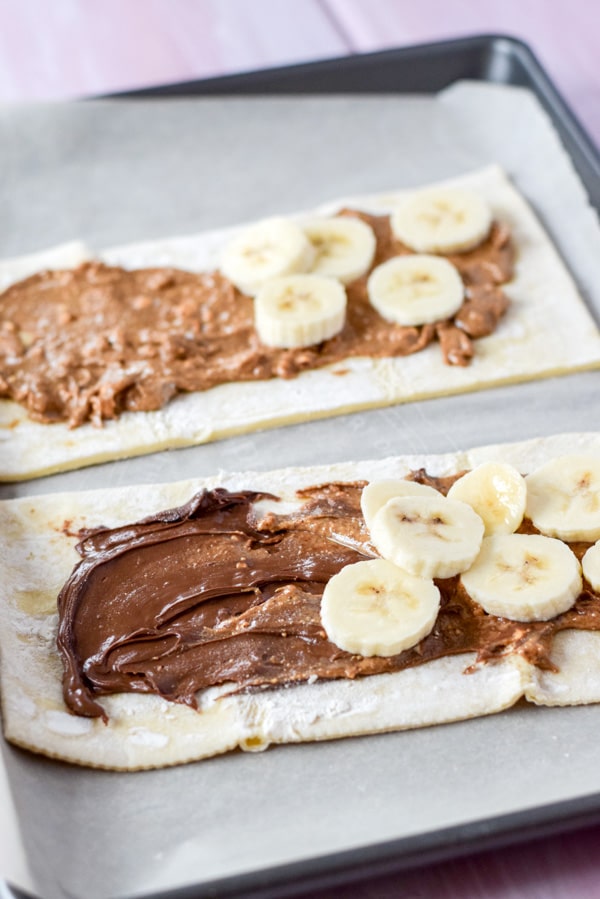 I take the half without the banana rounds and fold it over the banana half. Then I pinch the edges together. I repeat with the other pastry.
I pick up each of the folded puff pastries and jab them with my fork on both sides.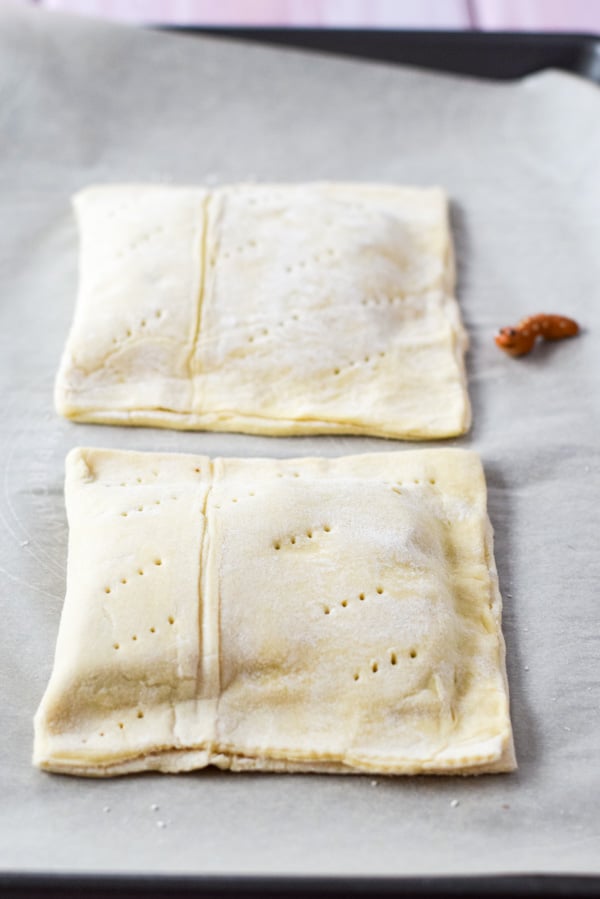 I then pop these two pillows of happiness into the oven. I bake them for 15 minutes or until they are golden brown.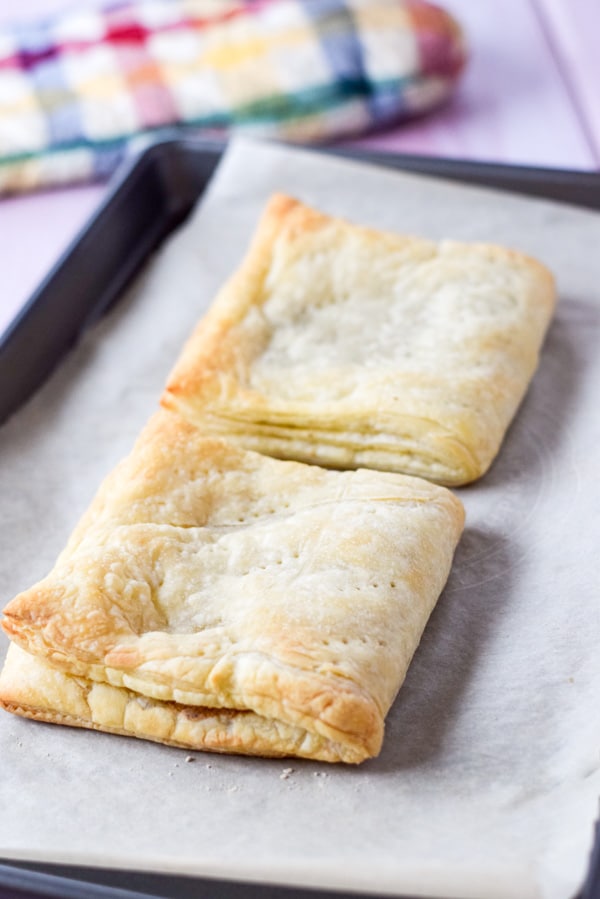 Done!
Yahoo. Look at them! They are so luscious. They get all puffy when you first take them out of the oven. But, alas, they deflate as they cool.
I cut each square in half and now it's time to indulge and Christopher and I can eat them for lunch!
The pastry below is the one with almond butter and banana.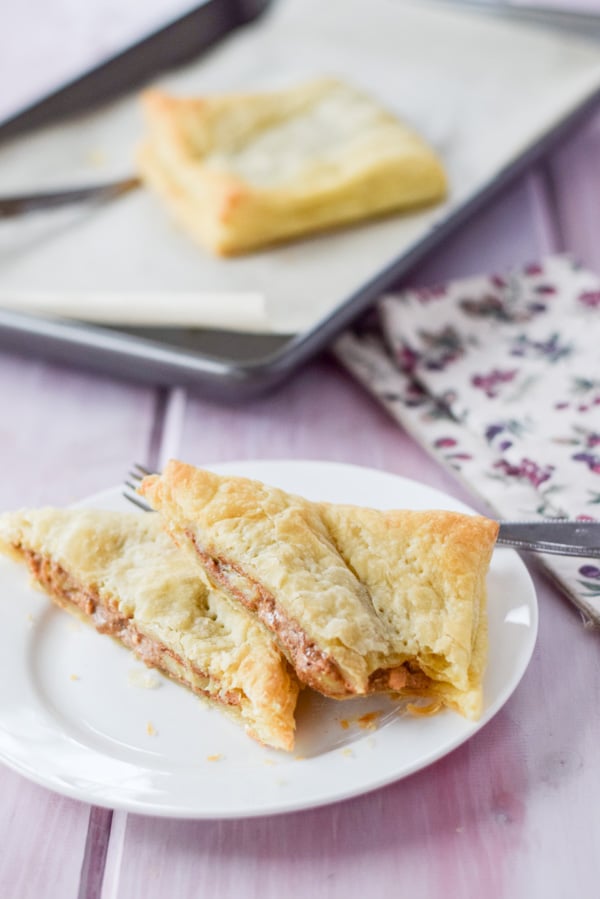 Here is one of the halves by itself.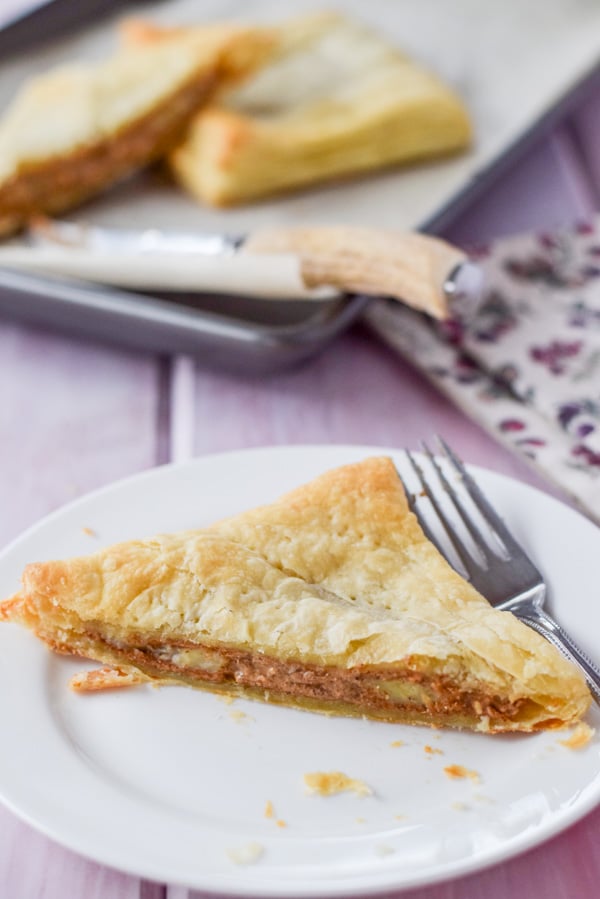 And my favorite: the almond butter Nutella pastry!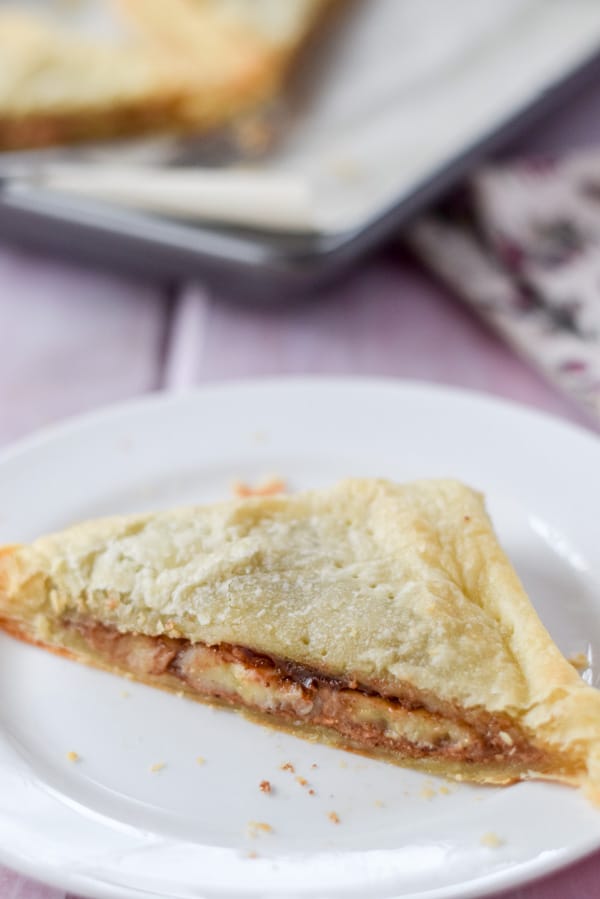 Mmmmmm!
So delish!
I hope you enjoyed this recipe and you make it soon. You will not be disappointed.
Feel free to comment, Pin any photo to Pinterest or Yum the recipe to Yummly.
And as always, may all your dishes be delish!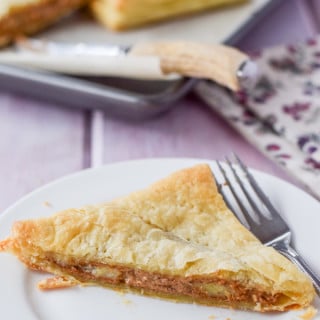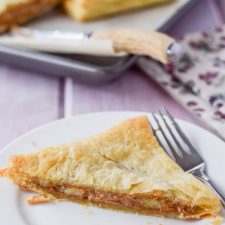 Almond Butter and Banana Puff Pastry
This is a perfect addition to your lunchtime rotation! A delicious blend of almond butter, Nutella and banana on some puff pastry.
Print
Pin
Rate
Ingredients
1

sheet

puff pastry

defrosted, cut in half

2.5

tablespoons

Almond butter

.5

tablespoon

Nutella

if you want - and you do, you do

1

Banana
Instructions
Preheat the oven to 400 degrees F

Take out one sheet of puff pastry and let it defrost for 20 minutes

Line a jelly roll with parchment paper

After 20 minutes, unfold the sheet, place it on the jelly roll pan, and let thaw another 20 minutes

Cut the puff pastry in half

Leave a border on the puff pastry as you spread the nut butters

Spread some Nutella on one half of a sheet

Spread almond butter on the whole of one sheet and half of the Nutella sheet

Cut the banana in medium sized rounds

Place banana slices on one half of each sheet

Fold the part without the banana rounds over the banana part

Pinch the borders closed

Place on jelly roll pan

Place in oven and bake for 15 minutes

Remove and cut each pastry square in half

Place on plates

Serve

Enjoy
Notes
I didn't add the 40 minutes of thaw time for the puff pastry!
Nutrition
Calories:
875
kcal
|
Carbohydrates:
75
g
|
Protein:
14
g
|
Fat:
59
g
|
Saturated Fat:
14
g
|
Sodium:
308
mg
|
Potassium:
454
mg
|
Fiber:
5
g
|
Sugar:
11
g
|
Vitamin A:
40
IU
|
Vitamin C:
5.1
mg
|
Calcium:
82
mg
|
Iron:
4.2
mg