I love this incredibly easy beer bread recipe!  Why?  Because it contains beer and it is bread, which I love. I love all things bread and all things beer!  Put them together and it's a win-win!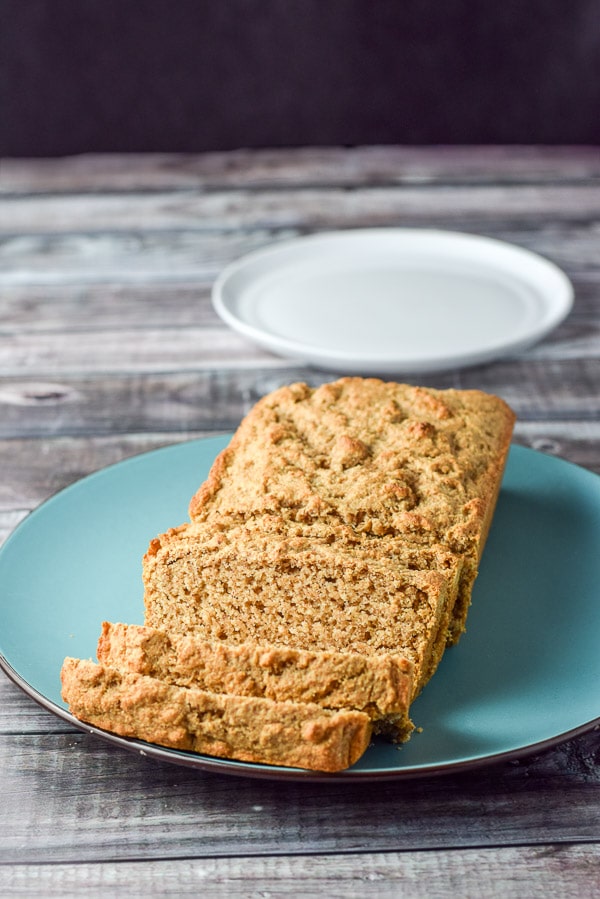 When you say the word 'easy', do you have a hard time not adding the word 'peasy' after it?  I do!  I freely admit it even though it is sort of funny because I'm a woman in my early 50s and I know how it sounds to other people.
Truthfully, I don't care how it sounds.  If I feel like saying it, I do!  Yehaw!
Birthday Fare
Our nephew, Nicholas, turned 30 recently and we went to his birthday bash.  It was a lot of fun.  One of the things I had for the first time was beer bread.
I had first heard of this bread from my sister, Robyn, who got a beer bread mix from Erin, my nephew Bryan's significant other.  For Nicholas's birthday party, Erin baked a beer bread, crumbled it up in pieces and served it with a few different dips.  Delish!
I thought to myself, this would be easy to make and so I looked around, made some adjustments and here we go!
Clueless about babies
It's been a while since I handed food to a baby.  I was sitting next to my niece, Robyn, who was holding her totally adorable 10 month old son, Mitchell.  She handed him a piece of the beer bread and I asked if I could give him some.
But the first time I went to hand it to him, I picked an inch long crumble.  Robyn took it from my hand, broke off a little piece, and gave it to the baby.
Oops.
After that, I handed him little pieces.  Some he let me stick in his mouth, some he picked up from the middle of my palm with his amazingly dexterous fingers and a few times he lowered his face to my palm and ate off it.
That was my favorite.
How to make the Beer Bread
Wait till you see how easy it is to make this bread.
I preheat the oven to 375 degrees Fahrenheit.  Next, I liberally grease a loaf pan.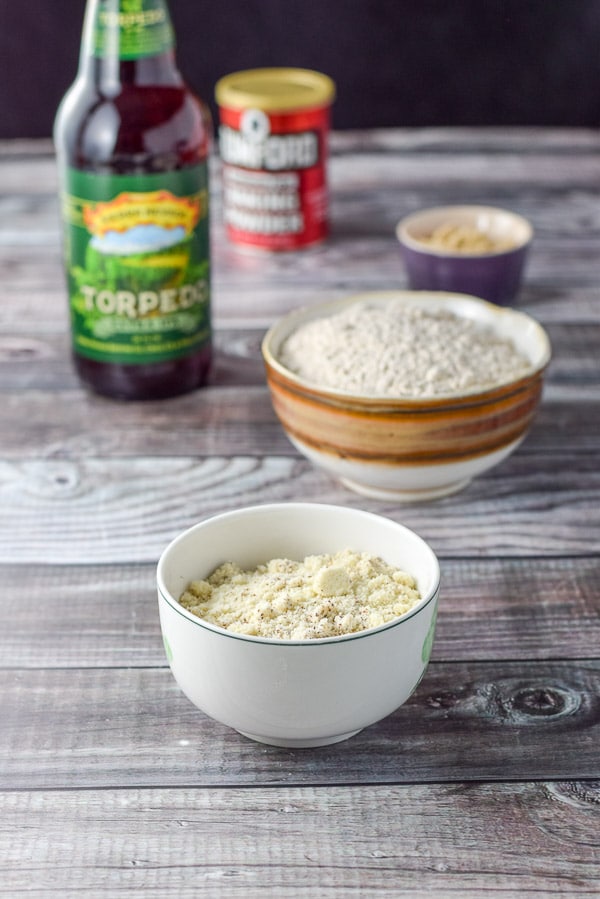 I gather some spelt flour, almond flour, beer, brown sugar, salt and baking powder.
Next, I grab my mixing bowl and place the dry ingredients in it. I take my pastry cutter and mix the ingredients together.  I then add 12 ounces of beer.
Also, I bought an extra IPA for the recipe.  The next time I make this delicious beer bread, I'll just use a regular IPA or a milder beer.  The bread was good, but I could taste the bitterness from the extra IPA.
The beer causes the mixture to foam up and makes the batter fluffy.  I take my rubber spatula and stir it until it is well mixed.
Pour that Beer Bread
Time to pour the batter into the loaf pan.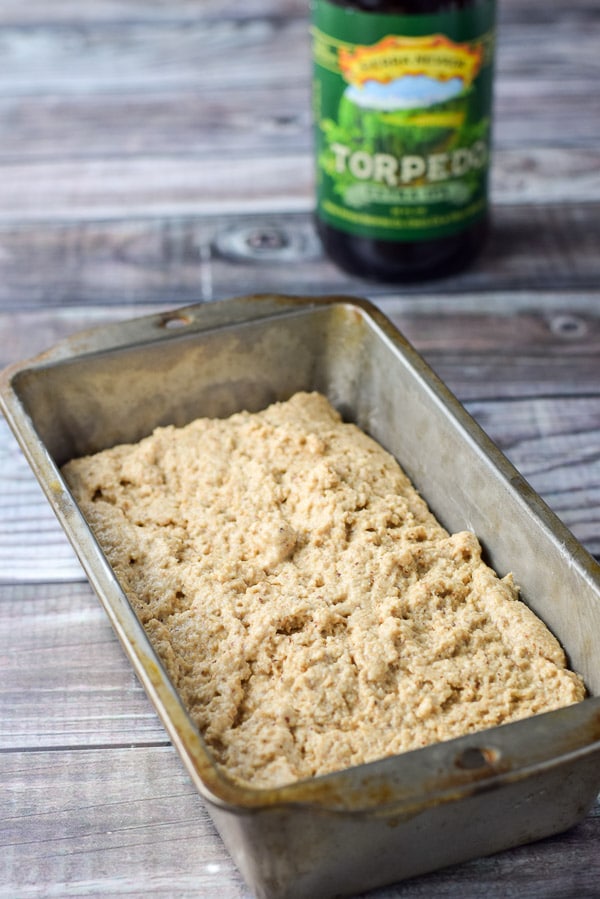 I place it in the oven and bake it for 40 minutes or until the tester comes out clean.
Beer Bread has left the Oven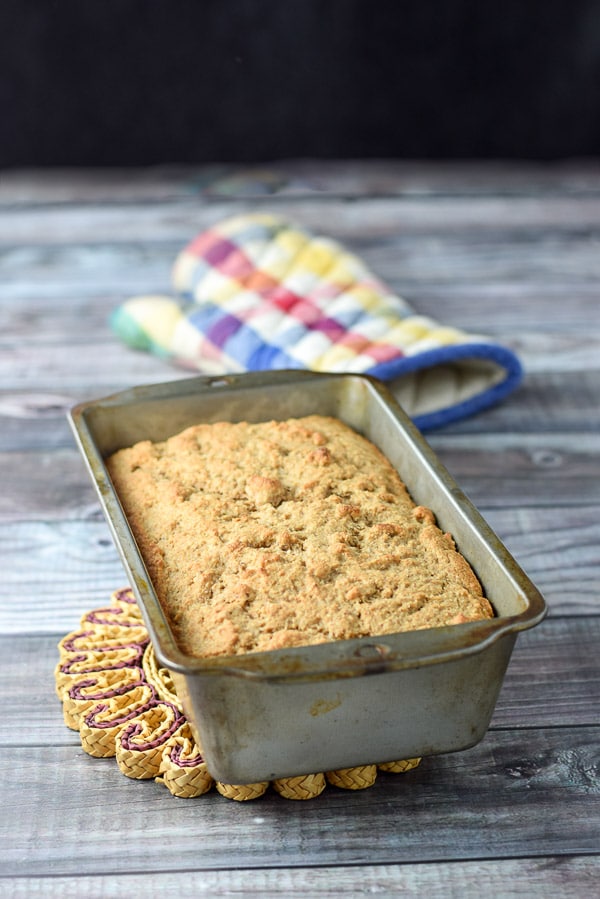 Perfect!!
I let it cool for 5 minutes in the pan and then turn it out onto a wire rack.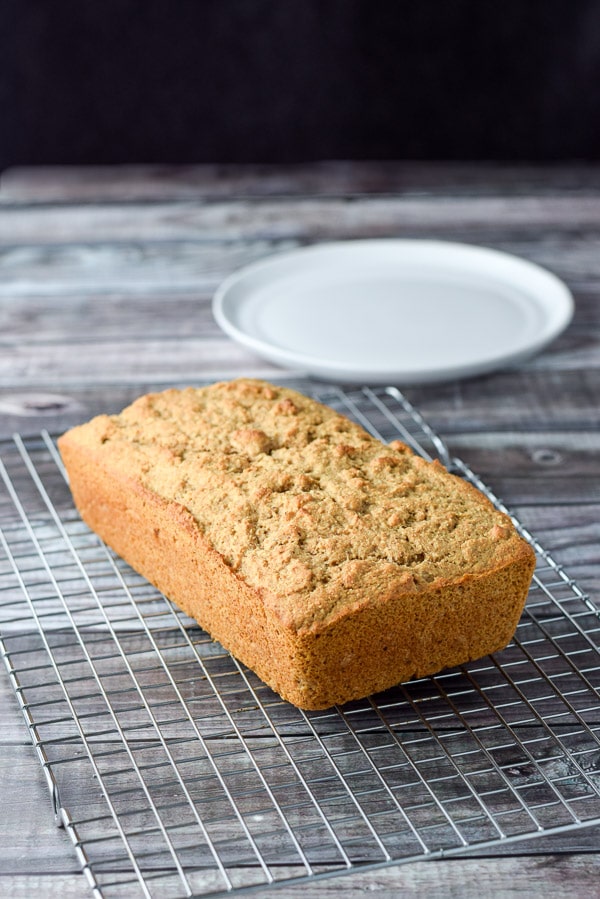 It's okay to cut it now even though it isn't cooled.  Just make sure you use a sharp, serrated edge knife.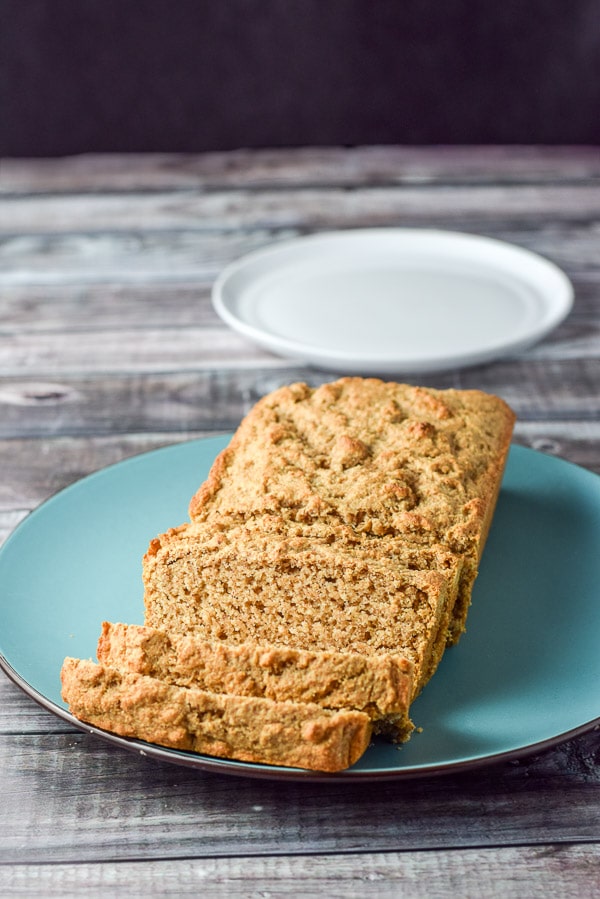 Texture is everything
Look at that texture.  So good!
I plate a piece of beer bread and slather it with butter.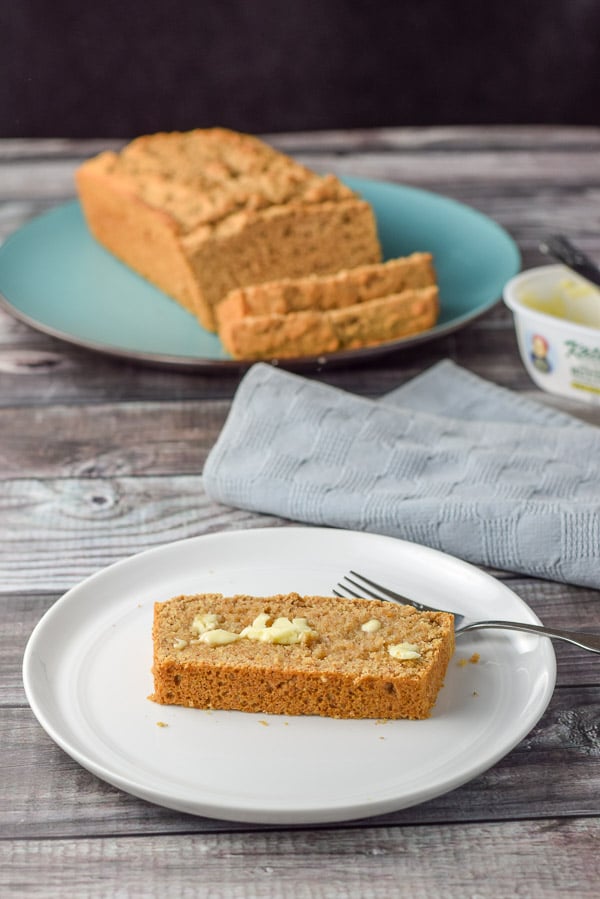 And now to taste my masterpiece.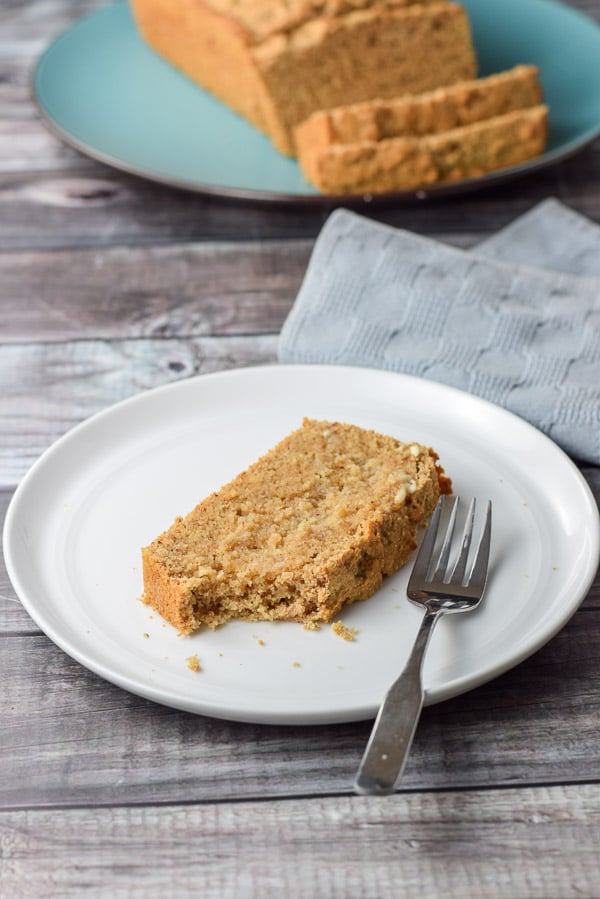 Mmmmm, so good!!
I want to look at the beer bread again but a little closer.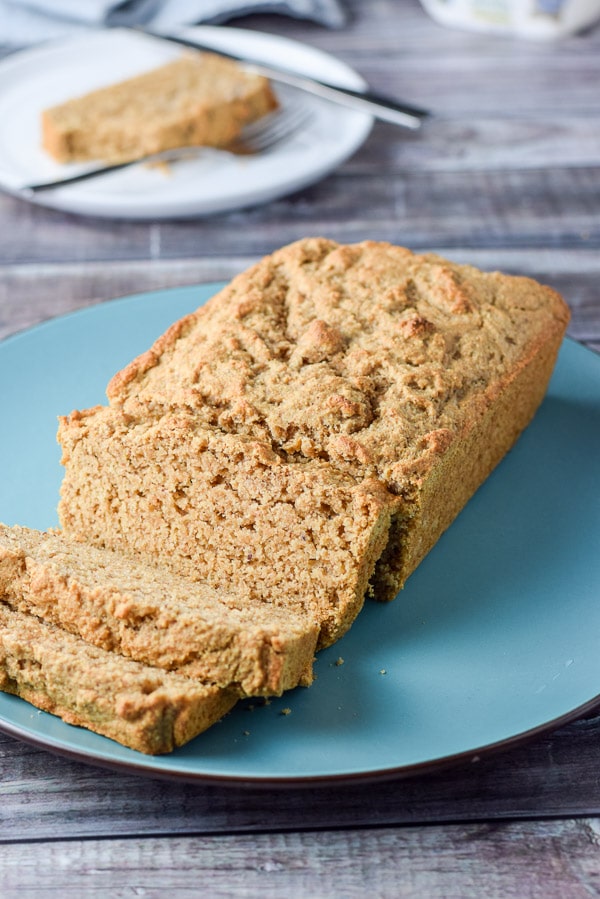 Yahoo.  It was so good!
I hope you enjoyed the easy beer bread recipe!
Please feel free to leave me a comment.  I read every single one.
And as always, may all your dishes be delish!
If you've tried this easy beer bread or any other recipe on the blog, I'd love the hear what you thought about it in the comments below.  I love hearing from you!  You can also FOLLOW ME on FACEBOOK, TWITTER, INSTAGRAM and PINTEREST  to see more of my delicious food and delightful cocktails!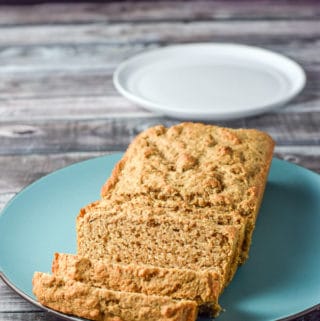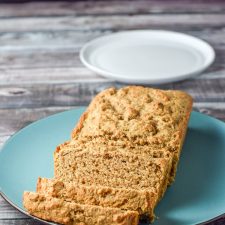 Incredibly Easy Beer Bread
This beer bread is slightly sweet and oh so good!
Print
Pin
Rate
Instructions
Making the Beer Bread
Preheat the oven to 375 F

Liberally grease loaf pan

In a bowl, add dry ingredients, mix together until combined

Add beer and stir with a spatula, making sure it is well mixed

Pour batter into loaf pan

Bake for 40 minutes, or until tester comes out clean

Let cool for 5 minutes in pan

Remove beer bread to wire rack

Cut warm with a sharp serrated knife

Slather with butter

Eat

Sigh

Smile

Enjoy
Notes
I would use a micro beer for the best taste!  I used an IPA.
Nutrition
Serving:
1
slice
|
Calories:
195
kcal
|
Carbohydrates:
26
g
|
Protein:
5
g
|
Fat:
6
g
|
Sodium:
120
mg
|
Potassium:
97
mg
|
Fiber:
4
g
|
Sugar:
5
g
|
Calcium:
64
mg
|
Iron:
1.7
mg