Once you make this jelly donut shot, you will want to pick it up and shoot it! Trust me! It's so good! The two ingredients together create the taste sensation of a jelly donut!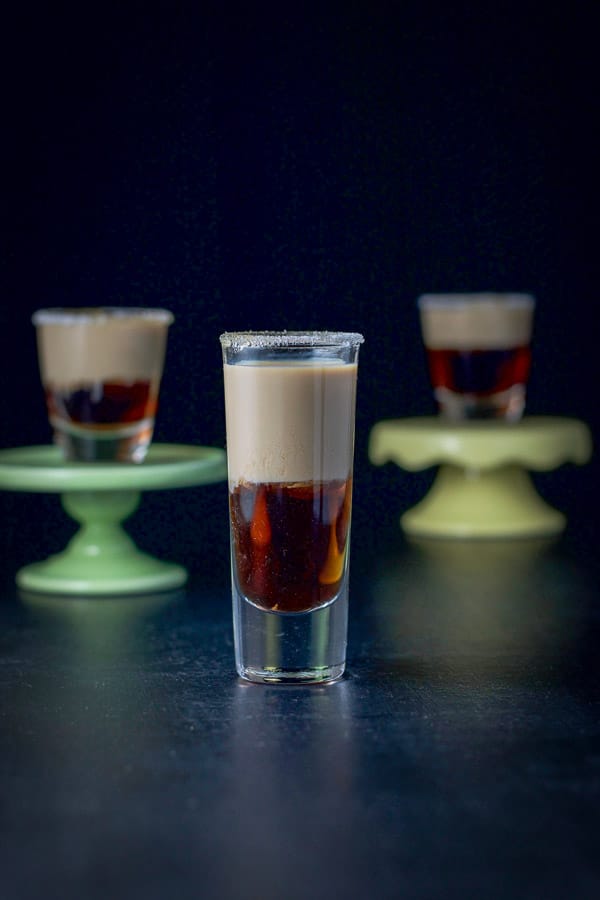 This shot recipe is popular. In fact, you could say it went viral. But another cocktail that hasn't gone viral but is SUPER popular is my Cadillac margarita!
It's fun that the HBO show Camping starring Jennifer Garner and David Tennant, made the jelly donut shot popular. There is a review of the show in the New Yorker, where you can read here.
There are always variations to cocktail and shot recipes so, if you want, you can substitute Rumchata for the Baileys as they did on the show. Rumchata is milder and is often substituted in recipes that call for Baileys.
[mv_video key="yaglrhbpzumpkpfavflr" volume="70″ aspectRatio title="Jelly Donut Shot" thumbnail="https://mediavine-res.cloudinary.com/video/upload/yaglrhbpzumpkpfavflr.jpg"]
How to Layer the Jelly Donut Shot
Pre-step
Get a small plate and sprinkle some sugar in it. Next, wet a finger with some water and run it along the rim of the shot glass. Place the glass, rim down, in the sugar and make sure it is coated. With the glass still upside down, give it a light shake to remove excess sugar.
Also gather the a pourer and a cocktail spoon.
Step one
Gather the ingredients – Chambord and Baileys Irish Cream.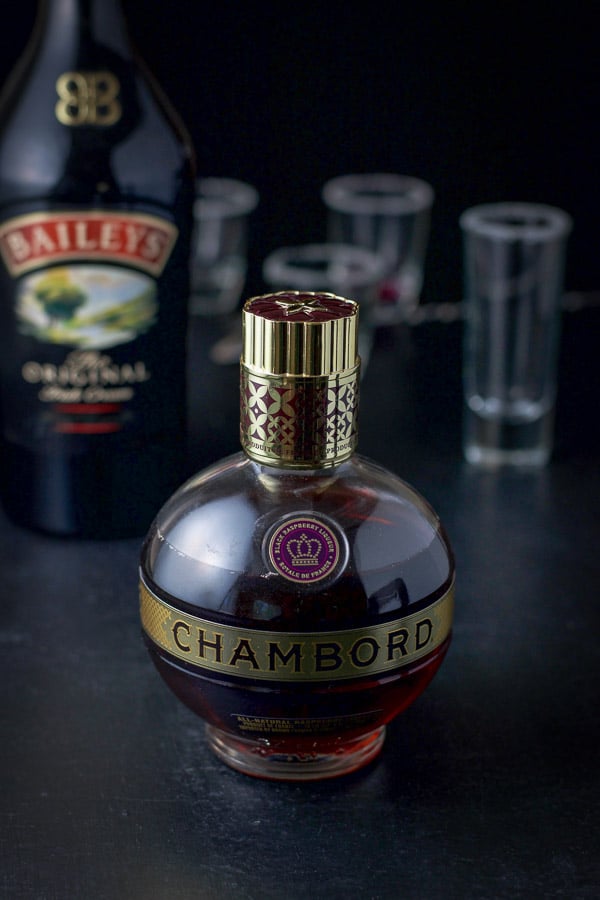 Step two
Pour the delicious Chambord into the glass to fill it half way. Avoid pouring the liquid over the rim.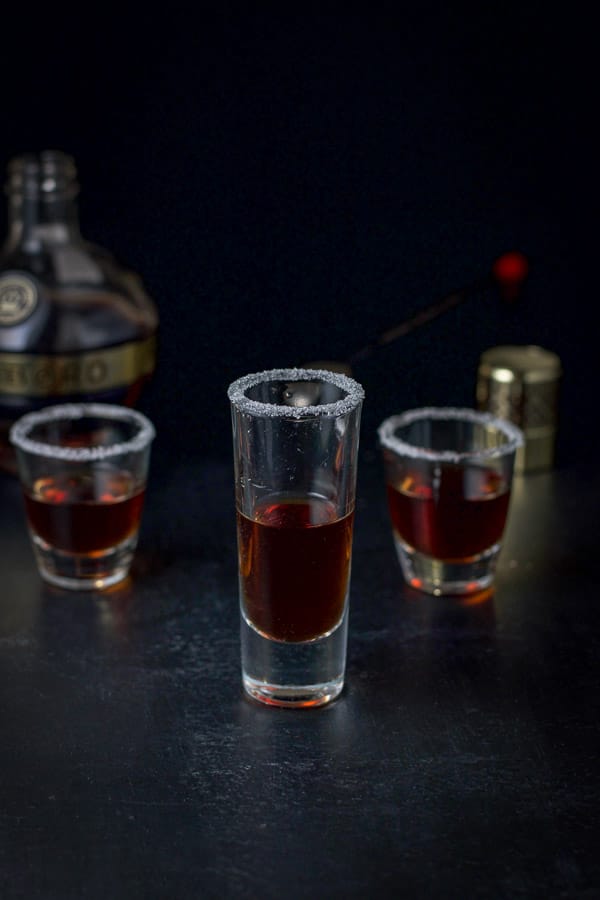 Is it hard to layer the Jelly Donut shot?
No. The first few times you do it might be a little tricky but you get the hang of it really fast. One useful tool that makes it much easier is a pourer to get the flow of the Baileys in a concentrated stream. Think of how they pour liquor in restaurants. It's so much easier than trying to dribble just a little liquid out of the bottle.
How do you layer a shot?
Take a cocktail spoon (or other small bowl spoon, such as an espresso spoon) and place it bowl side up against of the inside of the glass, making sure it's below the sugar and above the Chambord. Slowly pour Bailey's Irish cream over the bowl of the spoon, watching to make sure it stays on top of the Chambord.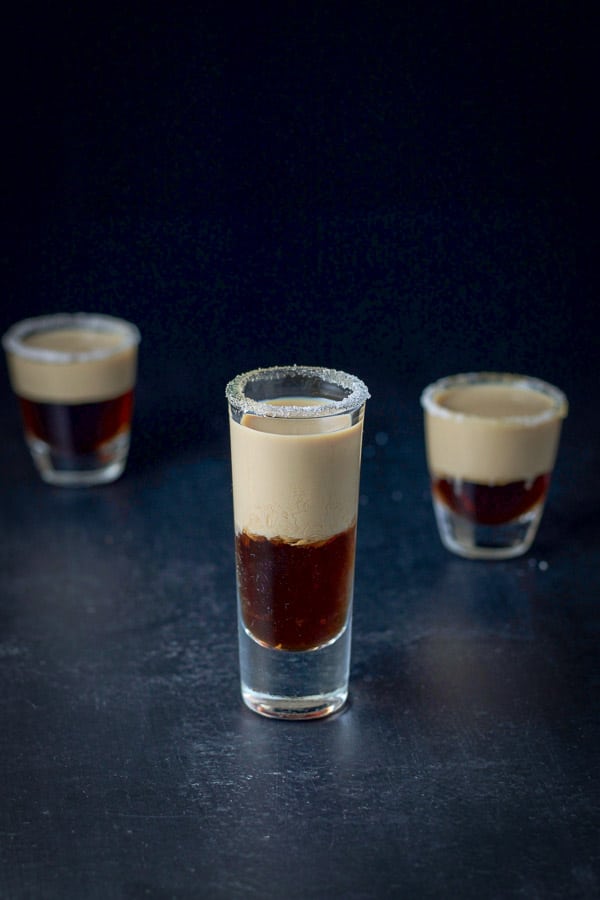 The vertical view.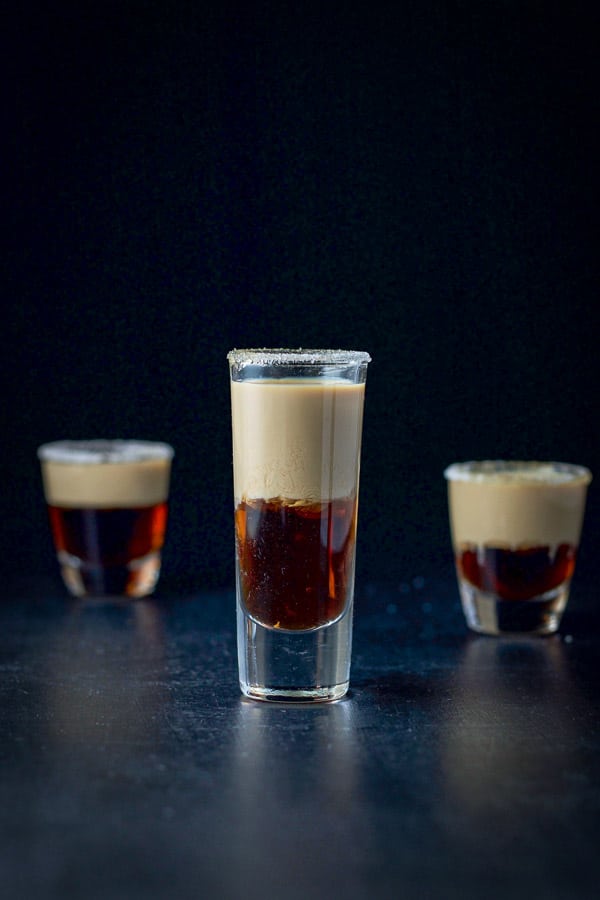 And now a fun photo.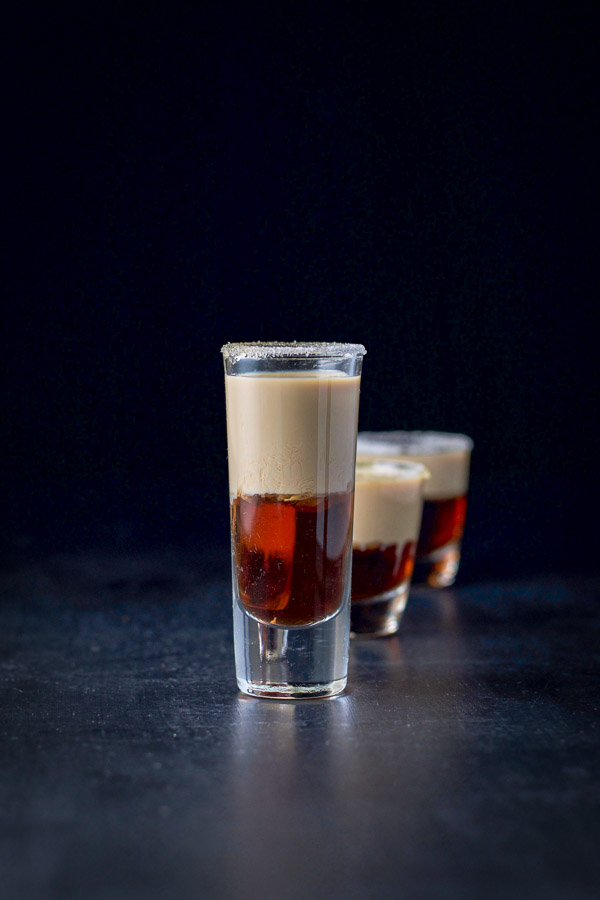 And another!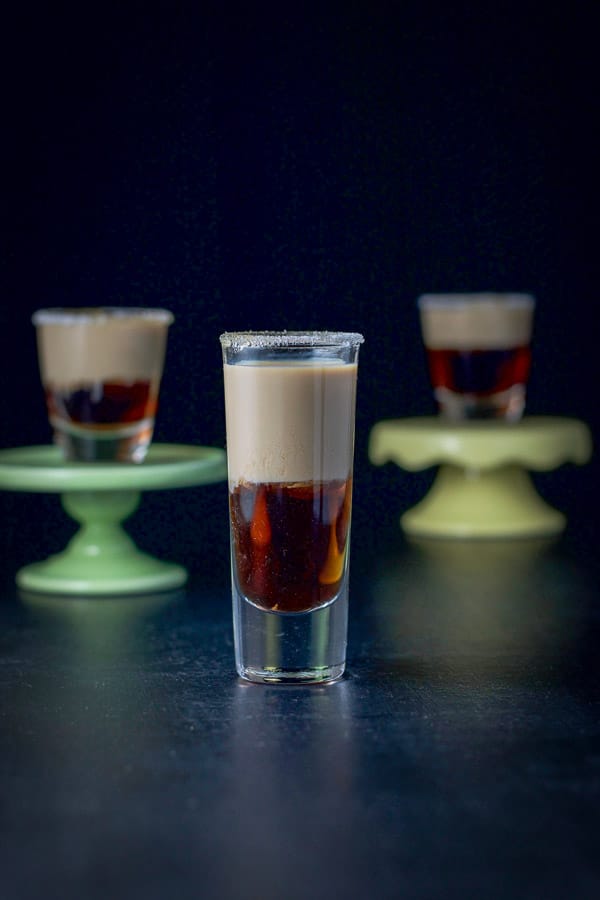 After I take the photo, I pick one of the glasses up and down that jelly donut shot.
Let the party ensue!!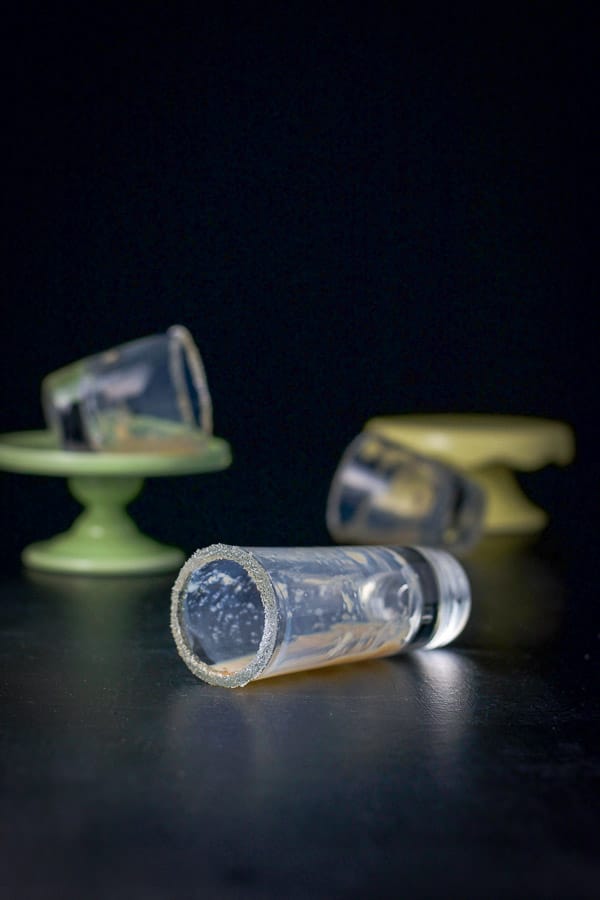 Is it undignified to stick one's tongue in a shot glass?
Other popular shots or sweet drinks on Dishes Delish:
I hope you enjoyed this jelly donut shot recipe.
Please feel free to leave me a comment! What is your favorite shot? You can also Yum the recipe to Yummly and Pin any photo to Pinterest.
And as always, may all your dishes/drinks be delish!
If you've tried this jelly donut shot or any other recipe on the blog, I'd love the hear what you thought about it in the comments below. I love hearing from you! You can also FOLLOW ME on FACEBOOK, TWITTER, INSTAGRAM and PINTEREST to see more of my delicious food and delightful cocktails!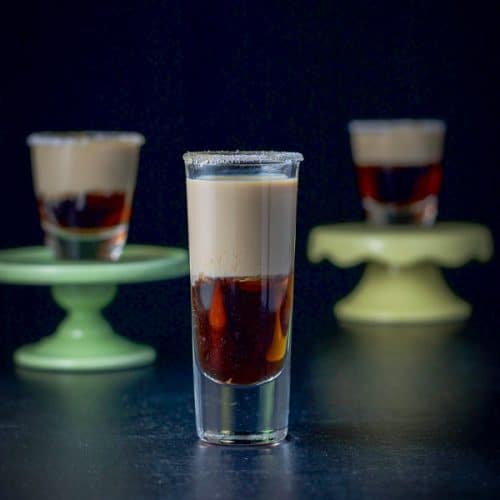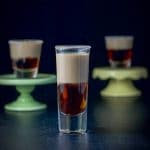 Jelly Donut Shot
This Jelly Donut shot is super easy and extra delicious! Gives you the flavor of a jelly donut 🙂
Keyword:
jelly donut shot
Ingredients
1

ounce

Chambord

1

ounce

Bailey's Irish Cream

(or Rumchata)
Instructions
Sprinkle some sugar in a small dish

Wet the rim of the glass with a little water, I use my finger

Place glass rim side down in the sugar and make sure it's covered

Pour Chambord 1/2 way full in the shot glass

Take your spoon and place it against the inside of the glass under the sugar but above the Chambord

Place your pourer in the Bailey's bottle and pour the liquid slowly on the spoon until it reaches the amount you would like

Pick up shot glass

Shoot it

Smile

Sigh

Enjoy
Recipe Video
Recipe Notes
The measurements are approximate as I pour it directly in the glass, so eyeball it. Calorie count is for 1 ounce of each ingredient.
Also, any recipe calling for Baileys Irish cream can be substituted with Rumchata - different taste but just as good!
Nutrition Facts
Jelly Donut Shot
Amount Per Serving (2 ounces)
Calories 180
Calories from Fat 27
% Daily Value*
Fat 3g5%
Sodium 2mg0%
Carbohydrates 16g5%
* Percent Daily Values are based on a 2000 calorie diet.