I wanted to make this scorpion bowl recipe for my sister Denise's visit. We hadn't seen her in twelve years and she loves this drink. Yes, I nailed it.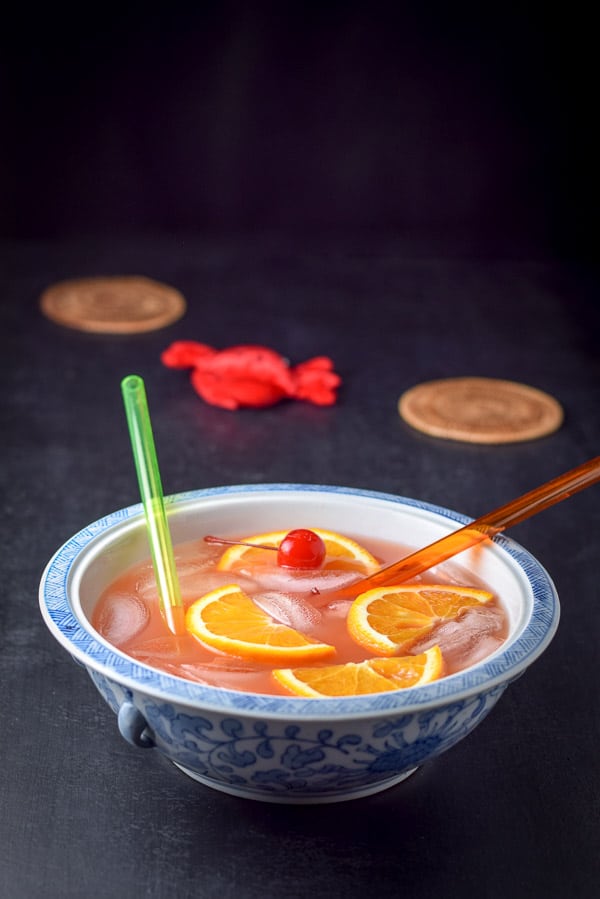 My sister, Denise, just reached a milestone birthday and she told her daughter that she wanted something special to celebrate!
So, Emily decided to buy them both tickets to come to Massachusetts. It's been 12 years since they've been up to visit. They arrived Christmas weekend and stayed through Tuesday. That made the holiday more special for our whole family this year.
Tradition, Tradition
One of our family traditions is to order Chinese food on Christmas eve. You can read all about it in my Mai Tai post. We used to drink our Mai Tais at the restaurant while we waited to pick up the food, which we then brought to my sister Robyn's house to eat. But the last couple of years I've been making the Mai Tais at Robyn's and we drink them there.
Well, this year Denise wanted a scorpion bowl so I told her I'd concoct one.
And so I did.
Scorpion bowls have so much booze in them. I knew they were potent, I just didn't know how much. I use more orange juice in mine than other scorpion bowls, but you will see why.
The one ingredient that surprises me is gin. Who knew a scorpion bowl had gin in it? Not me.
On to the recipe.
How to make the Scorpion Bowl Recipe
Here's the line up: gin, dark rum, white rum, vodka, grenadine, pineapple juice and orange juice.
Without further ado, let's start this!!
I grab my cocktail shaker but this time I do something I almost never do: I leave it empty. No ice here because there is a lot of booze in the scorpion bowl recipe and it won't fit in the shaker if I include the ice cubes.
Each of the ingredients get poured into the shaker after it's been measured:
Gin
Dark rum
Gold rum
But, we are not done yet with the scorpion bowl recipe.
Vodka
Grenadine
Pineapple juice
Orange juice
I take my cocktail stirrer and stir away, being careful not to spill any. You will notice there is a big bowl in the background. That's where the ice goes.
Here we go! I need to pour that stirred scorpion bowl recipe into the drink receptacle.
Garnish and Bottoms up
I cut two orange rounds, cut them in half again and grab four maraschino cherries.
I also grabbed my little, red stuffed crab off the fridge because it's the closest thing to a scorpion I have.
I pour the scorpion bowl recipe into the bowl and plop two straws, the oranges and the cherries into the drink.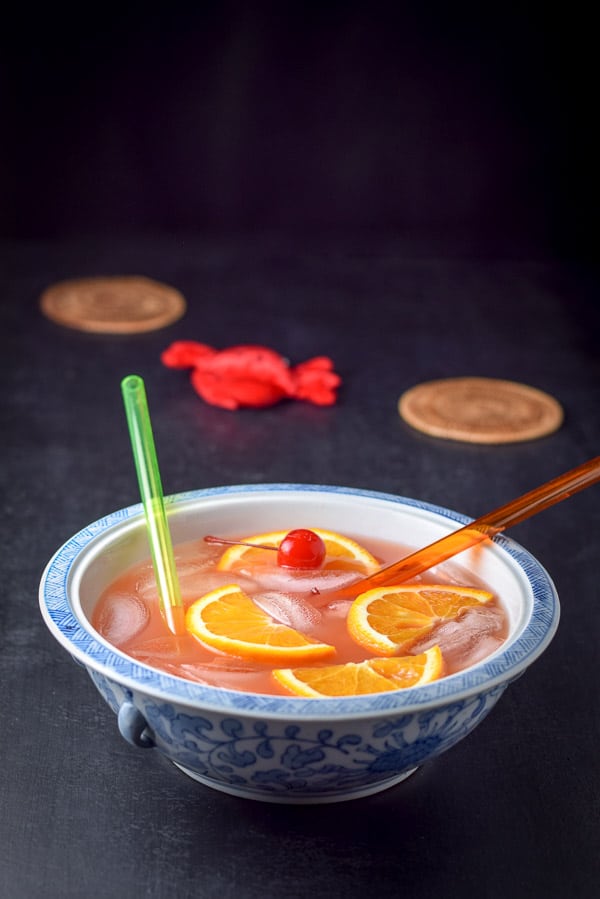 Let's look at another view of the lovely scorpion bowl recipe.
And now for the final photo. It's the aerial view!
I take a sip. Woohee! It is strong! But delicious. I bottle it up and put it in the freezer for my sister's visit.
I hope you enjoyed this scorpion bowl recipe!
Please feel free to leave me a comment what is your go-to cocktail recipe.
And as always, may all your dishes/drinks be delish!
If you've tried this scorpion bowl recipe I'd love the hear what you thought about it in the comments below. I love hearing from you! You can also FOLLOW ME on FACEBOOK, TWITTER, INSTAGRAM and PINTEREST to see more of my delicious food and delightful cocktails!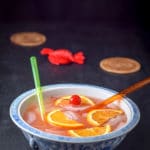 Scorpion Bowl Recipe
This boozy scorpion bowl is so yummy but extra potent.
Keyword:
scorpion bowl recipe
Ingredients
2

ounces

gin

1

ounce

dark rum

2

ounces

white rum

2

ounces

vodka

2

ounces

Grenadine

4

ounces

pineapple juice

8

ounces

orange juice
2 orange slices cut in half
Instructions
In a cocktail shaker add all the ingredients

Stir

Add ice to bowl

Pour into bowl

Add oranges and cherries

Add big straws too

Sip

Smile

Enjoy
Recipe Notes
Usually 151 rum goes in a scorpion bowl recipe but Bacardi stopped making it.  I used gold instead.
Nutrition Facts
Scorpion Bowl Recipe
Amount Per Serving (7 ounces)
Calories 176
% Daily Value*
Sodium 1mg 0%
Potassium 28mg 1%
Total Carbohydrates 3g 1%
* Percent Daily Values are based on a 2000 calorie diet.