This is my great jumping grasshopper cocktail recipe. Who doesn't like a great jumping grasshopper cocktail?  Actually, you may be surprised to learn that I'm one of  the people who doesn't like this cocktail!  So, why am I blogging about it?  Because other people do and I like to give my readers what they want.
FLASHBACK
I have mentioned before that my folks gave dinner parties for relatives and one of the things we kids loved were the mixed nuts.  I know it has nothing to do with cocktails, but I used to so look forward to the next morning because that meant scrounging for nuts out of their little bowls.  For some reason, they tasted so good the next day.  Probably because it felt decadent to eat them.
But let's get back to the party.  They would always have glamorous (to us) drinks like Manhattans, whiskey sours, and sloe gin fizzes, to name a few, along with this grasshopper cocktail.  The only reason I'm not thrilled with this drink is because of the creme de menthe.
Some people love this green liqueur but to me it tastes chalky, sort of like Maalox.  Do you know that antacid?  My dad used to have it periodically and we kids would be dosed with it when we had a tummy ache.
Blech!
So, anything that reminds me of that chalky stuff is not yummy in my book.
But don't let that stop you from trying this drink.  If you like creme de menthe, you would love this great jumping grasshopper cocktail.
On to the recipe.
The Ingredients for the Great Jumping Grasshopper Cocktail and the Mixing
Front and center is the creme de menthe, then we have creme de cacao, and lastly some heavy cream.
Time to get mixing.  I get my cocktail shaker and fill it half way with ice.
Next, I measure out 1 ounce of creme de menthe.
I pour it into the cocktail shaker.
Now for the creme de cacao.  I measure out 1 ounce.
I add it to the shaker!
Lastly, I measure out 1 ounce of heavy cream.
I pour it into the cocktail shaker.
It sure does look pretty.
I have a coupe glass waiting in the wings, so I cap the shaker and shake it 10 times.
Time to strain the green mixture into the coupe glass.
It's a colorful drinkie, don't you think?
Here's a vertical view.
And the obligatory aerial view.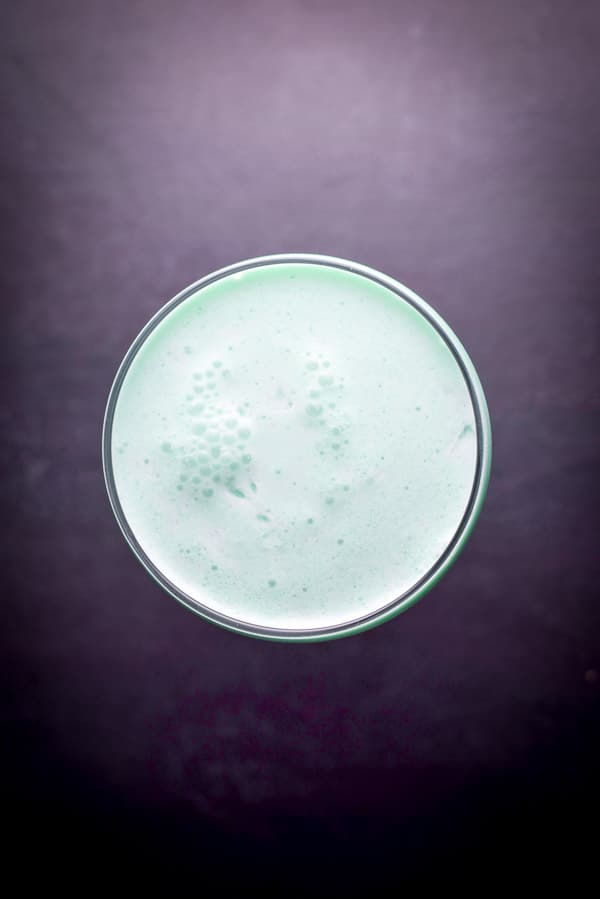 Now, all that is left for me to do is lift the glass and sip it.  Which I did.  Yup, just how I remembered it.  Christopher also took a sip.  He liked the taste and didn't think it was chalky at all.  I wonder if it is my tastebuds?
I hope you enjoyed this recipe.
Please feel free to Pin any photo to Pinterest, Yum the recipe to Yummly and leave me a comment!!
And as always, may all your dishes/drinks be delish!
Great Jumping Grasshopper Cocktail
This beautifully green drink is a throw back cocktail. Yummy and fun!
Keyword:
grasshopper cocktail
Ingredients
1

ounce

creme de menthe

1

ounce

white creme de cacao

1

ounce

heavy cream
Instructions
Fill a cocktail shaker 1/2 full with ice

Add creme de menthe, creme de cacao and heavy cream

Cap shaker and shake 10 times

Strain into a coupe glass

Lift glass, admire the green color

Sip

Smile

Enjoy
Nutrition Facts
Great Jumping Grasshopper Cocktail
Amount Per Serving (4 ounces)
Calories 295
Calories from Fat 126
% Daily Value*
Fat 14g22%
Cholesterol 38mg13%
Sodium 12mg1%
Carbohydrates 19g6%
Protein 1g2%
Vitamin A 415IU8%
Calcium 18mg2%
* Percent Daily Values are based on a 2000 calorie diet.