This is such a super tasty warm spinach salad recipe! I've been making it for years and everyone I make it for enjoys the flavor combinations!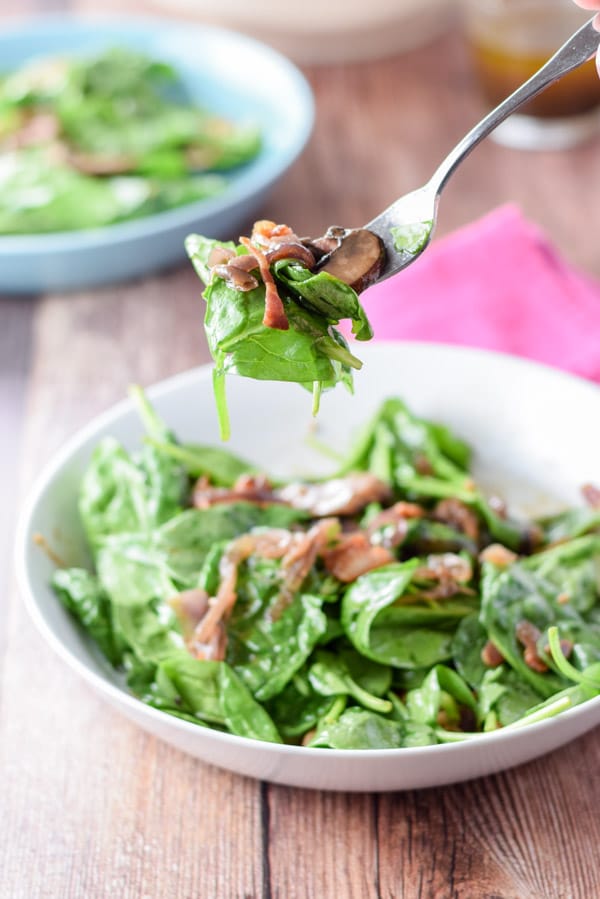 There is so much to love about this delicious salad.  First off it has healthy spinach.  I have always loved spinach.  I like it both cooked and how it is in this salad, raw.
The other thing I love is that it is covered with sautéed purple onion and mushrooms.  And bacon.  Have I mentioned that it has bacon?
*Rubs hands together and licks lips*
And then it is topped with a balsamic vinaigrette dressing.
MMMMMMM.
FLASHBACK
Christopher and I lived in Sacramento, California for a little over 9 years.  One of the things we enjoyed doing was driving to San Fransisco to see the sights.  To top the day off, we would go to a vegan gourmet restaurant called Millennium restaurant.  You can see from their website that they've moved to Oakland.
One of the reasons we loved to go there was we were vegan at the time and it was one of the few restaurants around that had food we could actually eat.  And such delicious food!  They served a delightful tofu spread to slather on the bread they brought after you were seated.
The reason I bring up this restaurant, other than to say how delicious it was, is because I bought their cookbook while we were still living in California and one of the recipes in it is warm spinach salad.
My recipe is a version of that salad.  If I can be so bold, I actually like this recipe better than Millennium's version because instead of wilting the spinach a lot, I keep it as raw as possible. The heat of the cooked veggies will wilt it a little but not much.
On to the super tasty warm spinach salad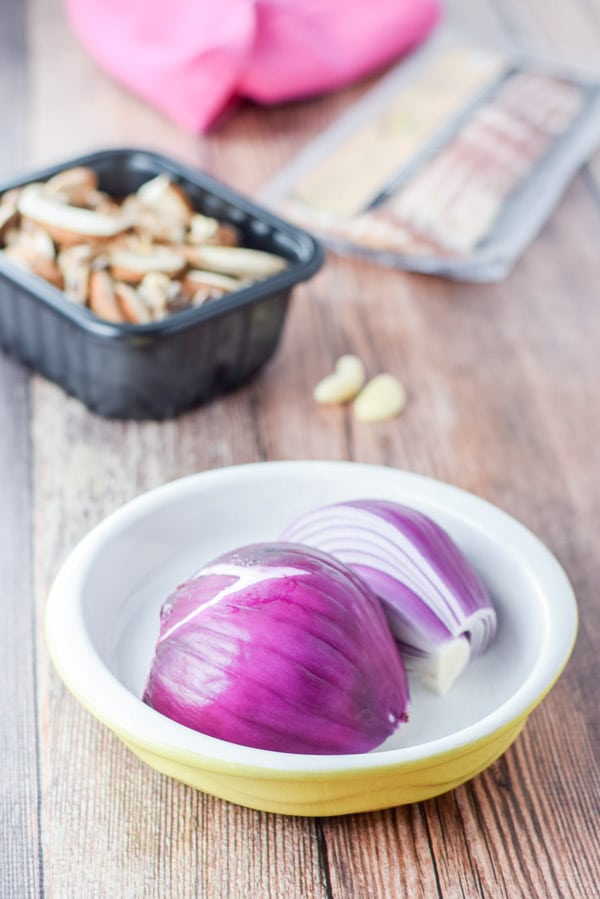 I get out my bacon, purple onion, mushies and garlic.
I buy uncured bacon because it doesn't have nitrates and that makes Christopher and I happy!
Bring home the bacon, Fry it up in a pan
I heat up my trusty sauté pan, put in the bacon and fry it up.  I like it to be nice and crispy! That takes around 8 minutes.
I place the bacon on some paper towels to soak up the grease and set it aside.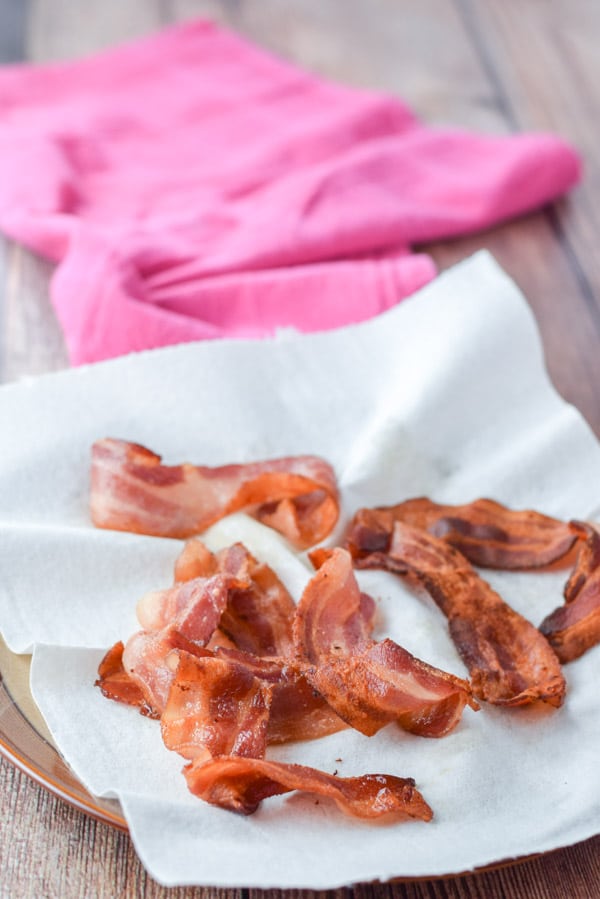 While the bacon is frying, I take out my wok, heat it and add a tablespoon of olive oil.
I sauté the sliced onions for 10 minutes or until they are translucent.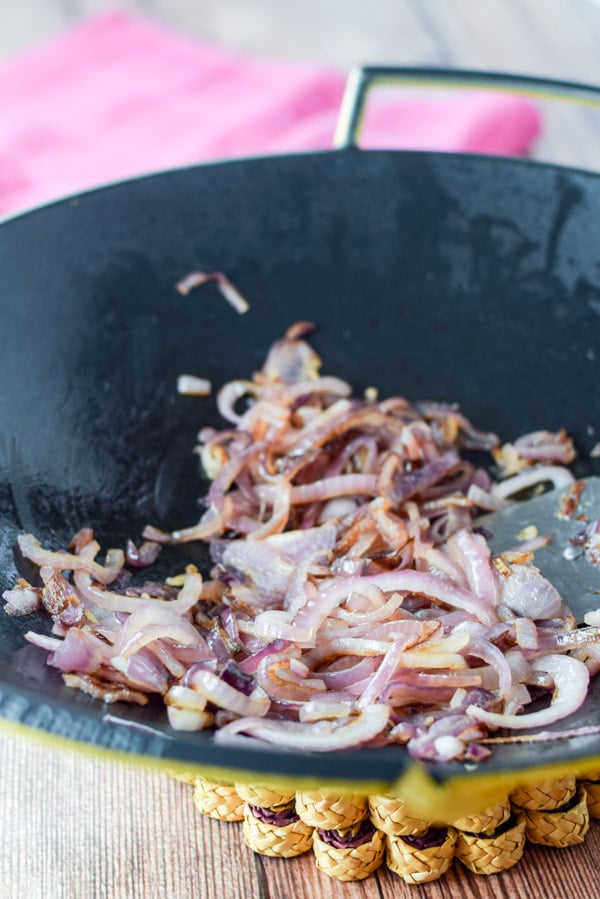 I add the sliced mushrooms and minced garlic to the wok and continue sautéing for 3 minutes.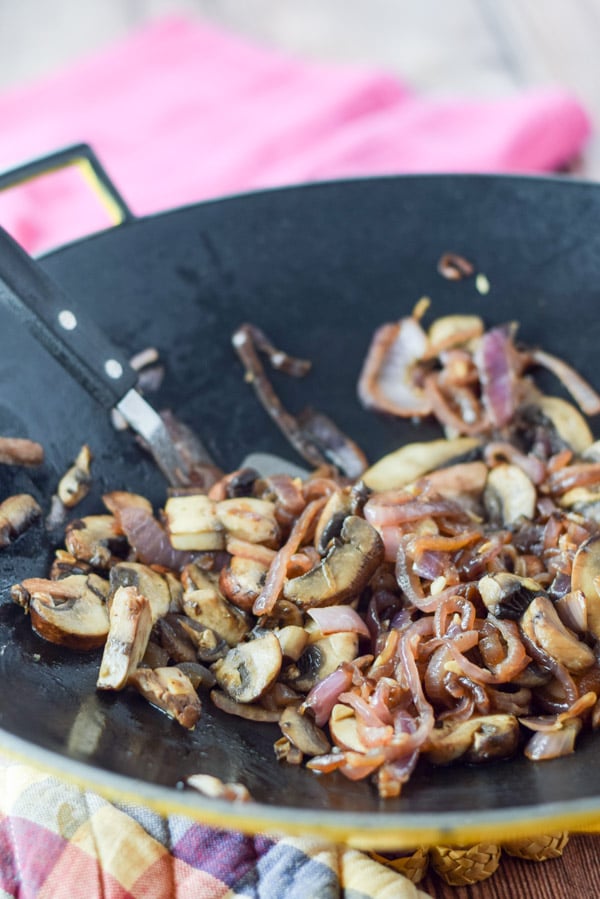 Give me some greens
Time to get the spinach.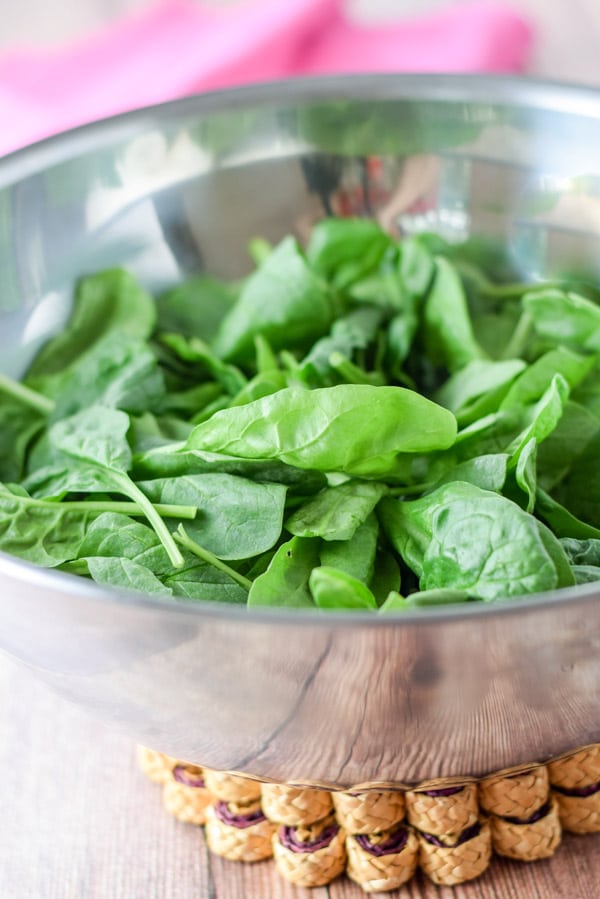 I use the full 11 ounce container of organic baby spinach because Christopher and I love us some spinach.
Time to put the onion mixture on top of the green gloriousness.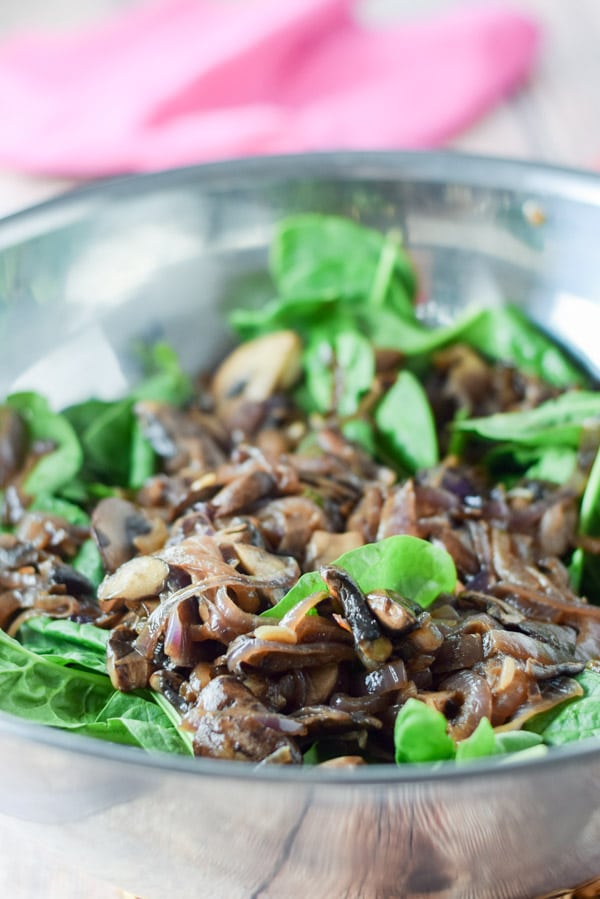 Weeeeee!  How delicious does that look?
Mighty delicious in my opinion!
I take my spatula and mix the onion mixture with the spinach.  Notice that the spinach wilts the teeniest bit.
A Cameo by yours truly
You can also see an upside down reflection of me in the top of the bowl.  "Hi peeps!"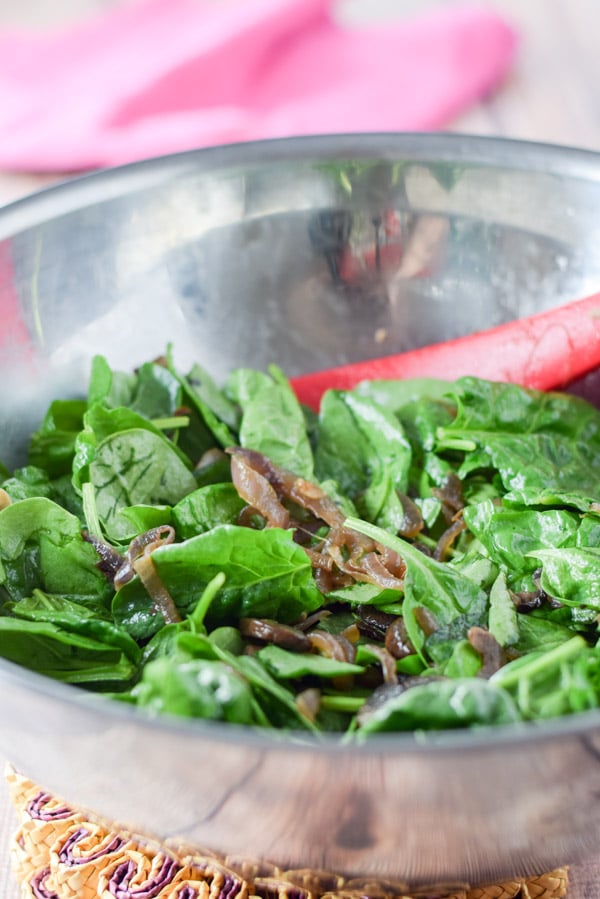 Time to put it in a prettier serving bowl.
Not that I don't love my stainless steel bowl.  *Kissy, kissy!*
I chop up the bacon and sprinkle it on top!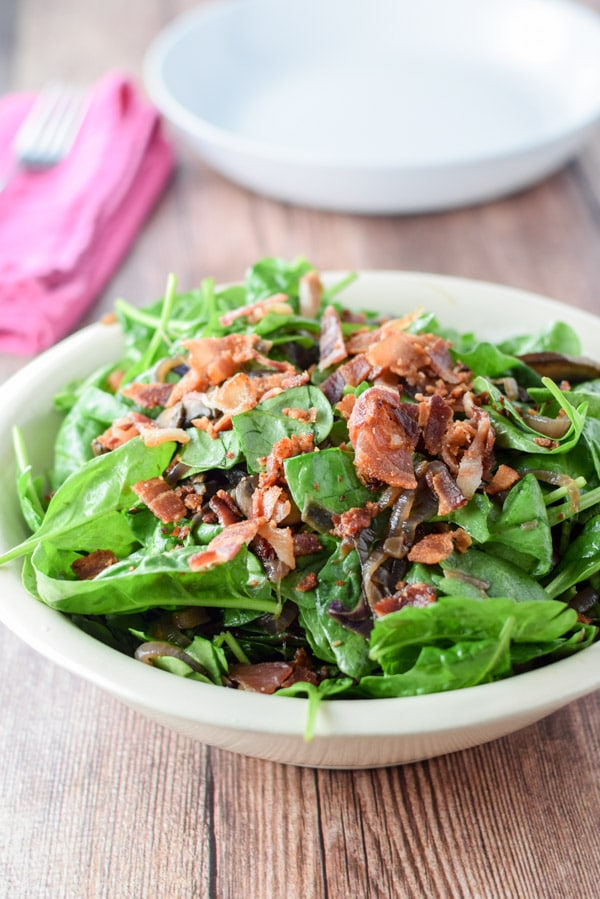 Time to serve it up!
Christopher's ready, and so am I.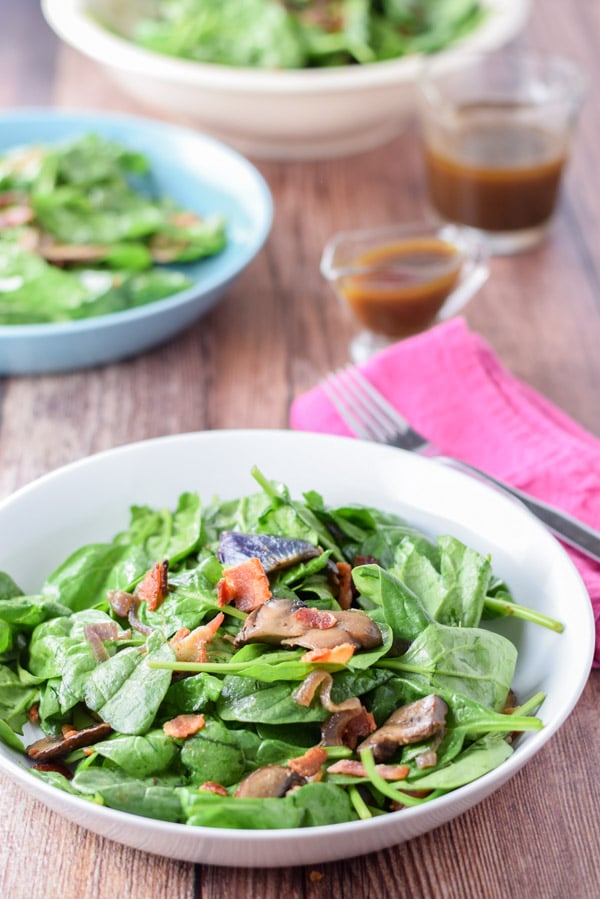 All served in the salad bowls, just waiting for the vinaigrette to be poured.
Oh, Christopher!  Pour time!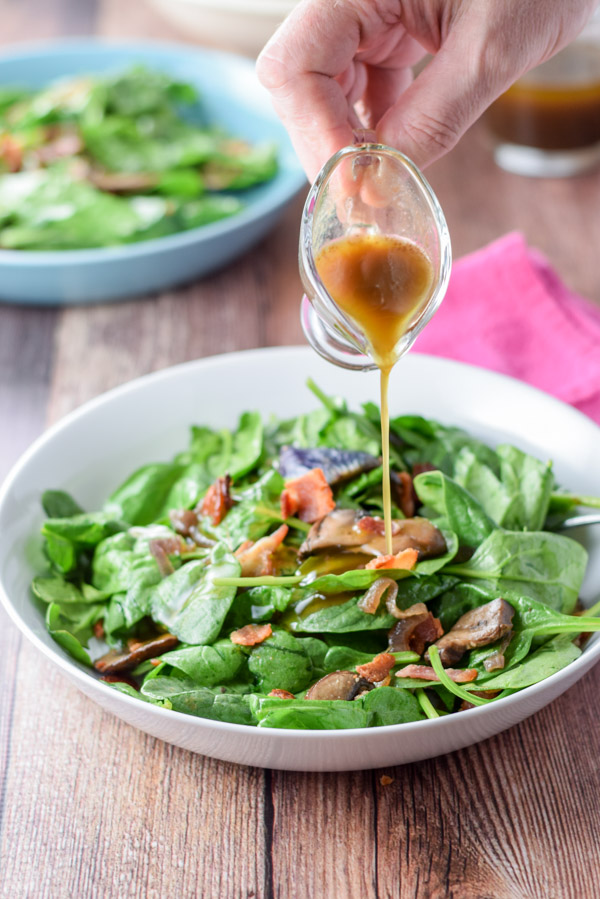 All finished pouring!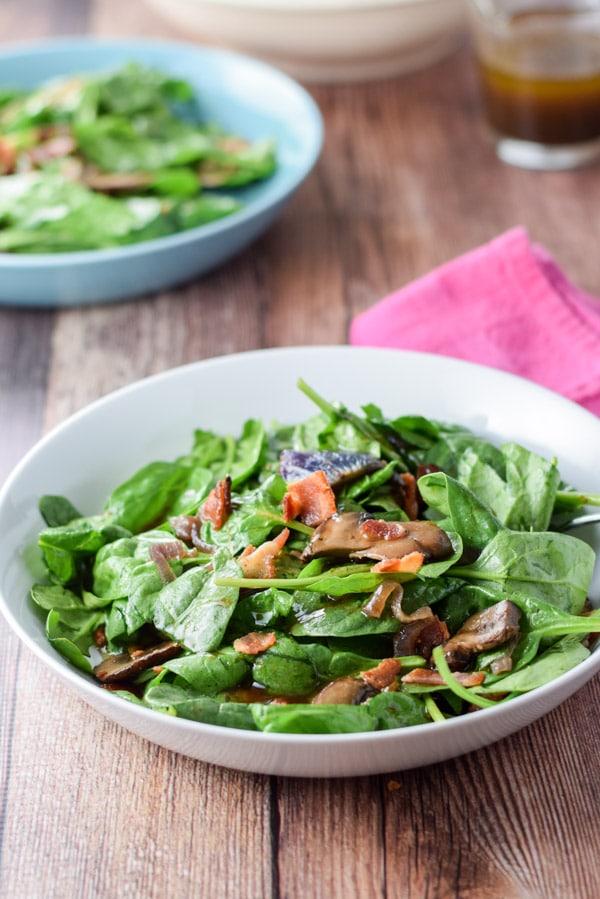 Christopher sticks a fork in it and gets ready to eat!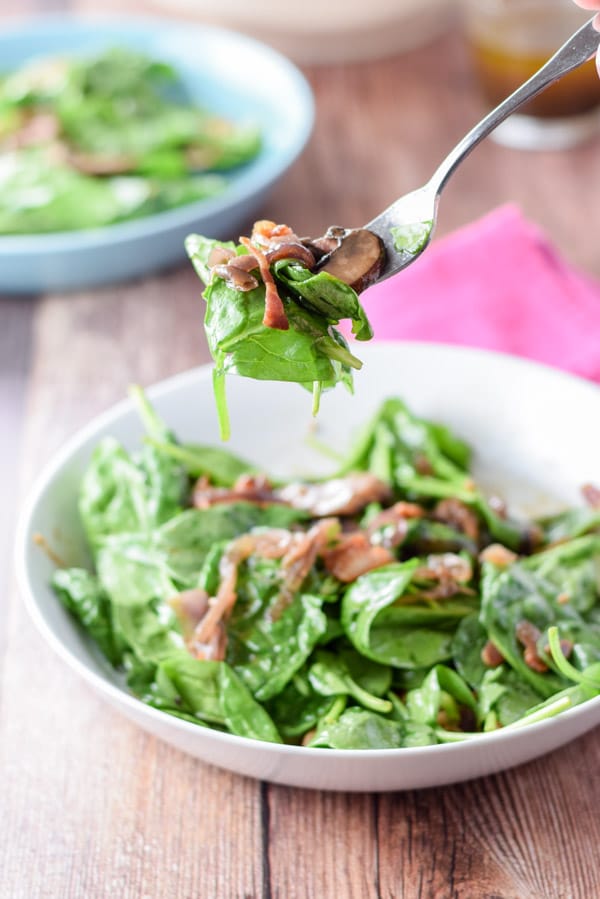 I really hope you enjoyed this recipe!  It's super delicious.
Please feel free to leave a comment, Pin any photo to Pinterest and Yum the recipe to Yummly.
And as always, may all your dishes be delish!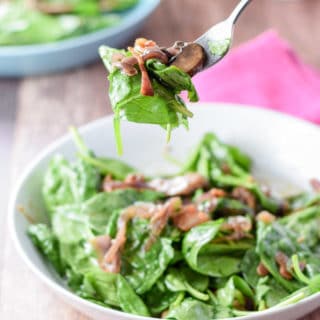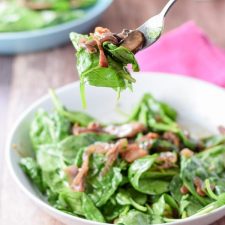 Super Tasty Spinach Salad
This delicious and healthy spinach salad is easy to make and beautiful to serve
Print
Pin
Rate
Ingredients
8

ounces

uncured bacon

fried and cut into bite sized pieces

1

medium purple onion

sliced into rings

8

ounces

sliced portobello mushrooms

2

cloves

garlic

minced

11

ounces

baby spinach
Instructions
Fry the bacon on medium heat until crispy, lay on paper towel and set aside. Once the bacon has cooled, cut in bit sized pieces

Heat a wok or sauté pan on medium and add the onion, sauté for 10 minutes

Add the mushrooms and onion and continue sautéing for 3 minutes

Put the spinach in a large mixing bowl

Add the onion mixture on top and mix with a spatula until combined

Transfer the spinach to a serving bowl and top the spinach with bacon

Serve

Top with balsamic dressing

Take a forkful

Eat

Smile

Enjoy
Notes
Makes 6 good sized salads
Nutrition
Serving:
2
cups
|
Calories:
186
kcal
|
Carbohydrates:
5
g
|
Protein:
7
g
|
Fat:
15
g
|
Saturated Fat:
5
g
|
Cholesterol:
24
mg
|
Sodium:
295
mg
|
Potassium:
529
mg
|
Fiber:
1
g
|
Sugar:
1
g
|
Vitamin A:
4890
IU
|
Vitamin C:
16.3
mg
|
Calcium:
59
mg
|
Iron:
1.7
mg