This mojito cocktail recipe is so perfectly balanced that you are going to be smacking your lips after every sip! The combination of rum, mint, lime and simple syrup makes this one of the most refreshing cocktails!!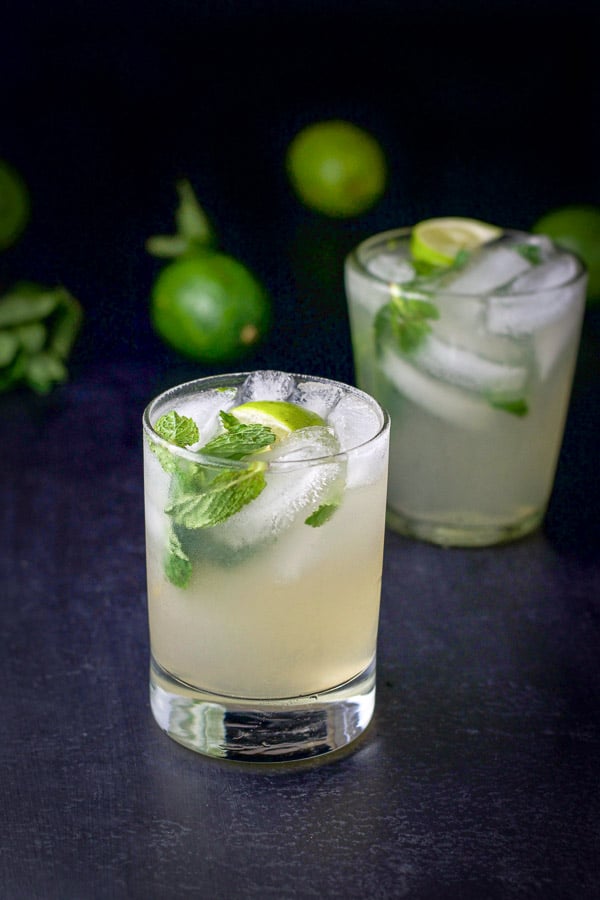 The first time I had a mojito cocktail was at a restaurant near where I live.  I told the bartender I didn't like overly sweet drinks and she recommended the mojito. I decided to take a chance.
I regretted that decision.
Too sweet.
The second time I had a mojito was in San Juan, Puerto Rico.  We were going on a cruise and flew down the day before so we could see the sights.  For lunch, we went to a popular restaurant and my brother ordered a mojito.  I ordered a beer and the rest of my family ordered sangria.
Everybody's drinks came quickly except the mojito since the bartender took his time.
When it finally arrived, my brother offered us all a sip and I remember my sip perfectly: I raised the glass to my lips and fireworks exploded around my head.  WOW!
At that moment, I realized I loved mojitos.  Loved!  This was the real deal, not like the sugary concoction I was previously served.
A couple of other minty cocktails:
Tips on Making the Mojito Cocktail Recipe
Use really fresh mint
If you don't have a muddler, you can use the back of a wooden spoon. It takes longer but will still work
Use good quality rums
Make your own simple syrup instead of buying it – 1 cup white sugar to 1 cup water, boil for 5 minutes
Always use freshly squeezed lime
Do I have to use both White and Gold rum?
No, but I find it enhances the taste of the mojito cocktail recipe. If you only use one type of rum, make sure it is NOT spiced rum
Will Rose's Lime juice work in this mojito cocktail?
No. The end.
What about the Sweet and Sour, is it equal parts?
Yes, this is one of the few cocktails that I use equal parts. I've tried it with half sweet to sour and it just doesn't work because it doesn't balance the mojito cocktail recipe.
The Ingredients for the mojito cocktail recipe and the Mixing
I gather all the ingredients.  Mint, two kinds of rum, lime juice, simple syrup and club soda.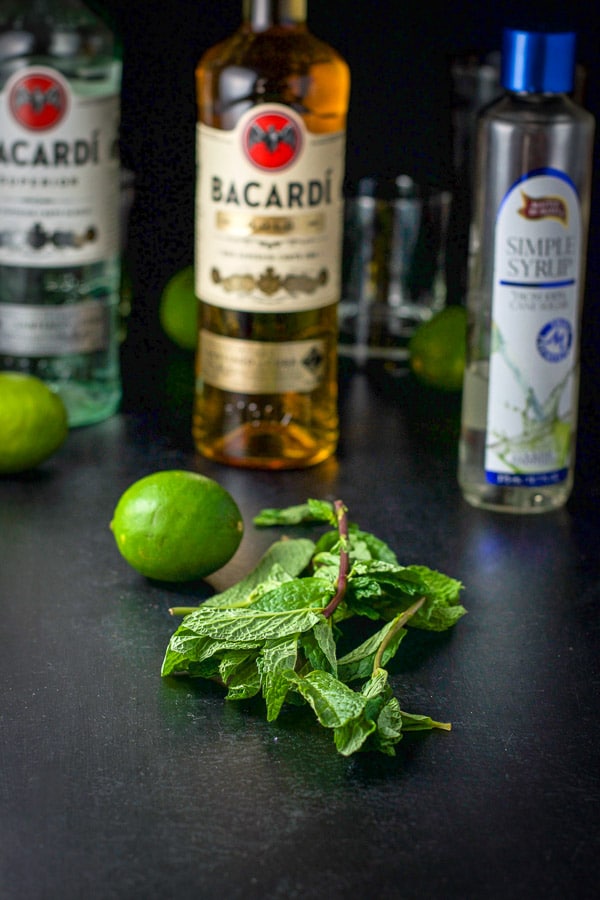 I grab my cocktail shaker and place the mint inside it. All the following ingredients get added to the shaker once measured out.
Simple syrup
Lime juice.  I take my muddler and muddle the two ingredients with the mint. I muddle for at least 2 minutes making sure I can smell the mint without putting my nose to the shaker
White rum
Gold rum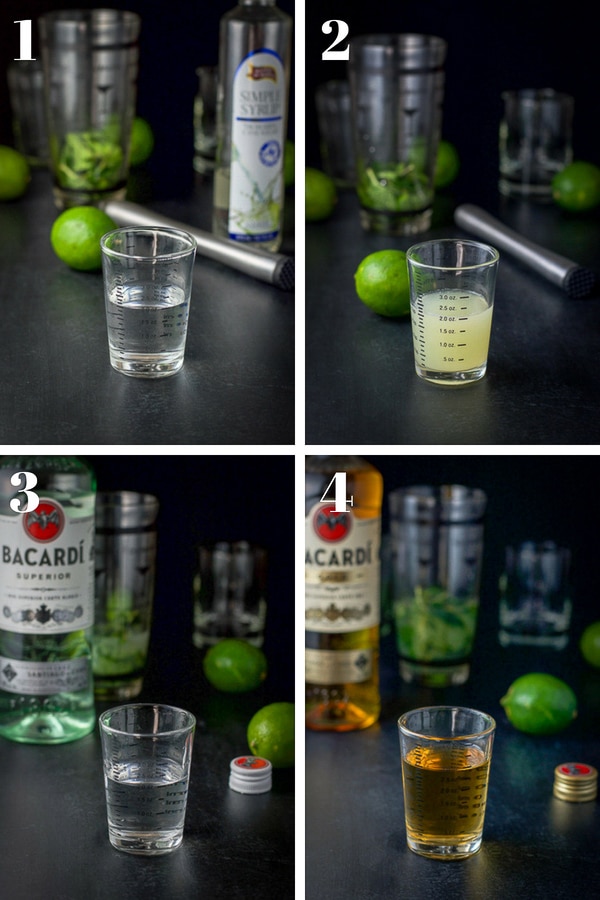 I add some ice and cap the shaker and gently shake for 30 seconds. I add ice to the glasses and strain the mojito cocktail recipe into them.
I don't fill the glass all the way to the top with the mojito. I leave an inch free and add club soda to both glasses.
I open the shaker and fish some mint leaves out and place them in the mojito.
I cut 2 wedges of a lime, squeeze the juice in the cocktails and place the lime wedge on top.
Bottoms Up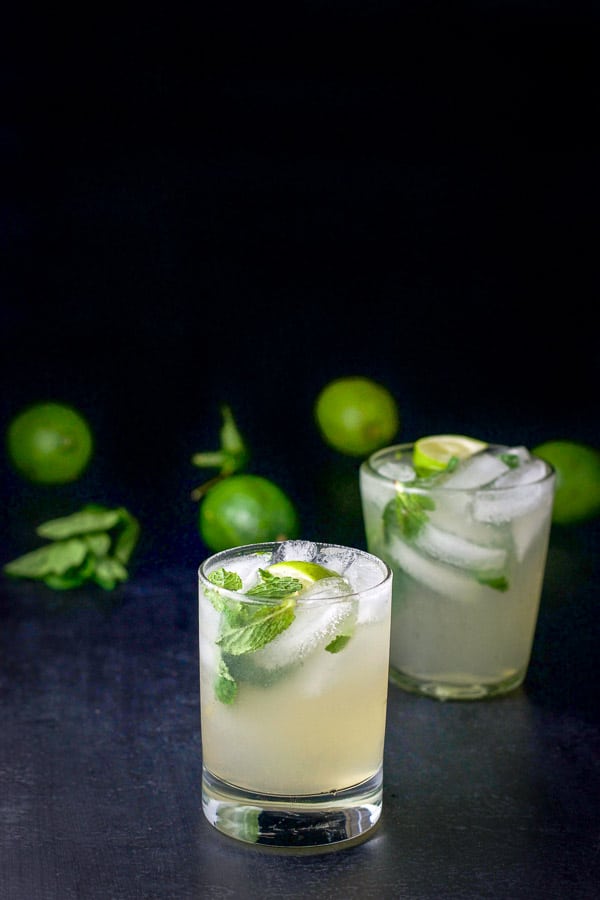 And a vertical view of this tasty drinkie!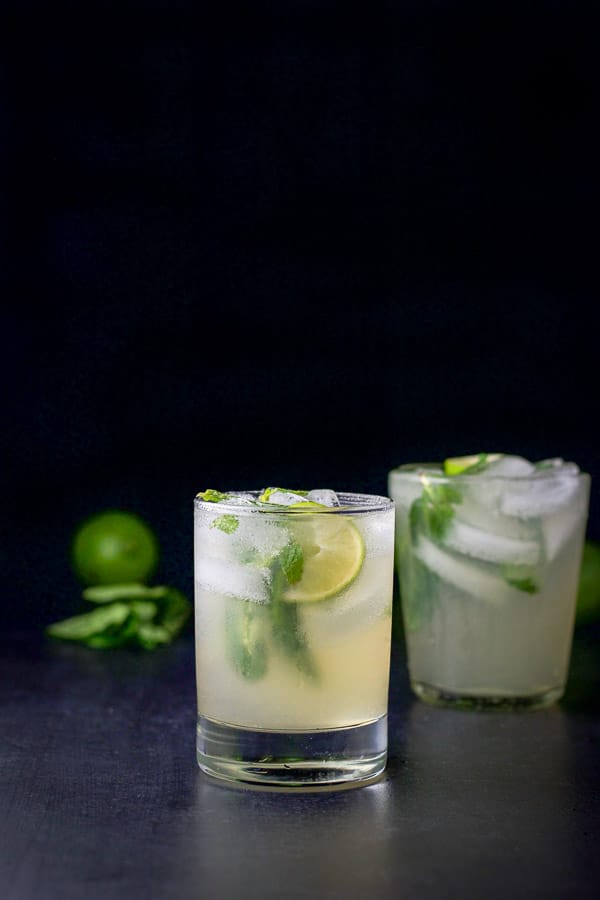 All that is left is to sip it.
*Fireworks explode around my head*
I hope you enjoyed this mojito cocktail recipe.  I certainly loved drinking this cocktail.
Please leave me a comment, what is your favorite rum cocktail?
And as always, may all your dishes/drinks be delish!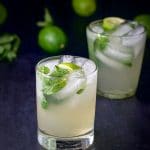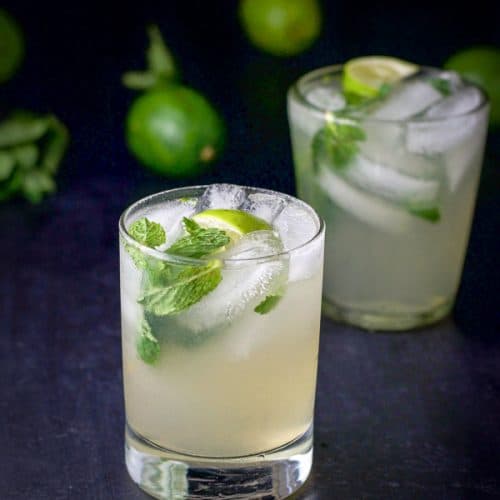 Mojito Cocktail
This delicious cocktail is so refreshing and super easy to make!
Keyword:
mojito, mojito cocktail recipe
Ingredients
15

mint leaves

2

ounce

simple syrup

2

ounce

lime juice

2

ounce

white rum

3

ounces

gold rum

4

ounces

club soda

2

lime wedges
Instructions
Add the mint, lime juice and simple syrup in a shaker. Take your muddler and muddle until you can smell the mint

Add white rum and gold rum along with ice. Cap shaker and shake for at least 30 seconds

Add ice to the glasses and strain contents of shaker in them, leaving an inch for the club soda

Add club soda and give it a few stirs


Fish som mint leaves out and place them in each glass. Squeeze a ledge of lime in each glass and drop the lime in as well

Sip

Enjoy the pretty fireworks

Smile

Enjoy
Nutrition Facts
Mojito Cocktail
Amount Per Serving (1 cocktail)
Calories 272
% Daily Value*
Sodium 33mg 1%
Potassium 162mg 5%
Total Carbohydrates 31g 10%
* Percent Daily Values are based on a 2000 calorie diet.
This mojito cocktail recipe was first published in July of 2016