Layers of Midori and Baileys Irish Cream run through with a dash of grenadine create the mangled frog look this shot is famously named for.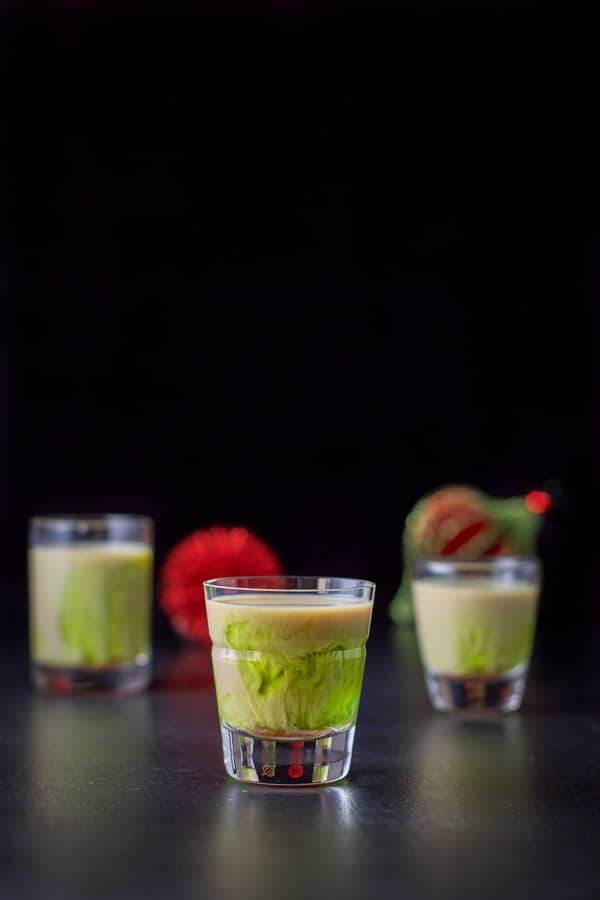 This is the tenth post in my 12 Shots of Christmas series. On the tenth day of Christmas, my true love gave to me: one Mangled Frog shot, one Chocolate-Covered Cherry shot, one Nutcracker shot, one Tootsie Roll shot, one Eggnog shot, one After Eight shot, one Snowball shot, one Black Forest Cake shot, one Chocolate Raspberry Kiss shot and a shot named Peppermint Patty!
This is a nastily named shot, isn't it? I assuming whoever named it, did so because it resembles a smooshed frog.
I made this shot four times in a row, trying to match how I saw it portrayed when I did research for this Christmas shot series. I could not replicate it, even when I fudged the amounts of the ingredients.
Nope, it pretty much looked like the shot above. Though I will show you in one of the photos below how the longer it sits, the more the liqueurs meld together.
It's still pretty and let me tell you, the Midori and Baileys together make for one delicious shot. It's creamy with a fun melon taste and it's not too sweet, which I was afraid was going to be the case.
Tips for making the Mangled Frog shot:
If you are going to layer this shot, either use a cocktail spoon or regular iced tea spoon – for the thin, tall shot glass, I have to use the iced tea spoon because the cocktail spoon is too wide to fit in the glass
Always place the spoon bowl side up in the glass, against the side
Using a pourer controls the pour, which is critical to layering any shot. But if you do use a pourer, just know that you will have to eyeball your quantities because in that case, they're coming straight out of the bottle, unmeasured
As with all layered shots, you need to place the heaviest liquor on the bottom and work your way up to the lightest
If you don't have an eye dropper, you can put a small amount of grenadine on a teaspoon and slowly drip it into the glass
How to Make and Layer the Mangled Frog Shot
This recipe is for one shot. To make multiple shots, you can double or triple the recipe.
Get a shot glass and a cocktail spoon.
Step one
Gather the ingredients – Baileys, Midori and grenadine.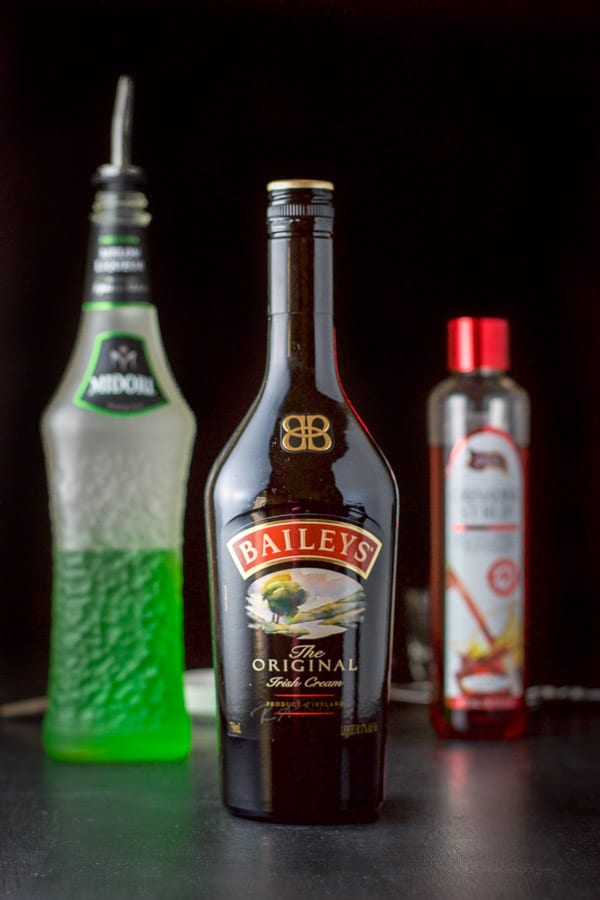 Step two
Pour 3/4 ounce Midori in the shot glass.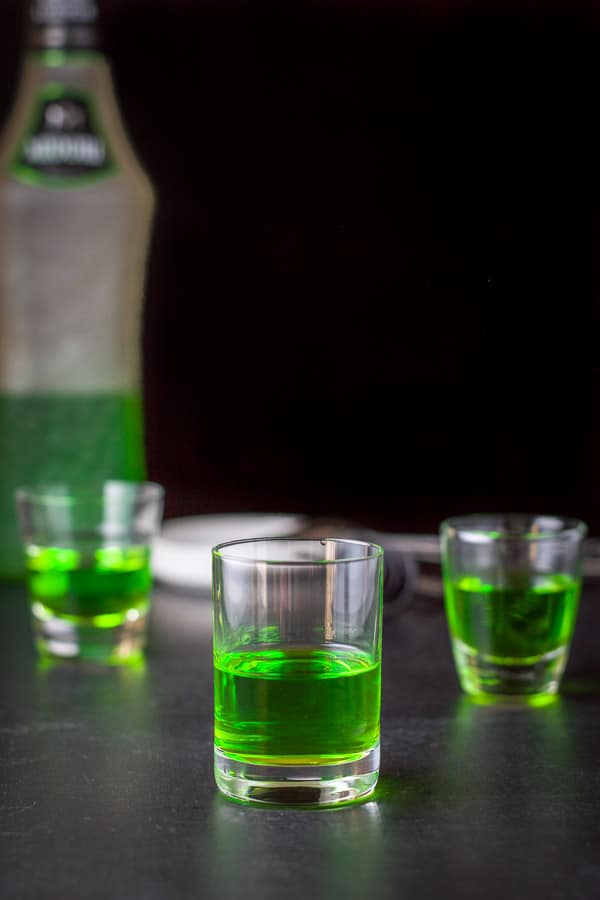 Step three
Place the spoon bowl side up in and against the side of the glass. Slowly pour 1/2 ounce Baileys over the bowl and into the glass.
I absolutely love how the two ingredients split sides, with just a little infiltration. It makes me want to serve the mangled frog shot like that.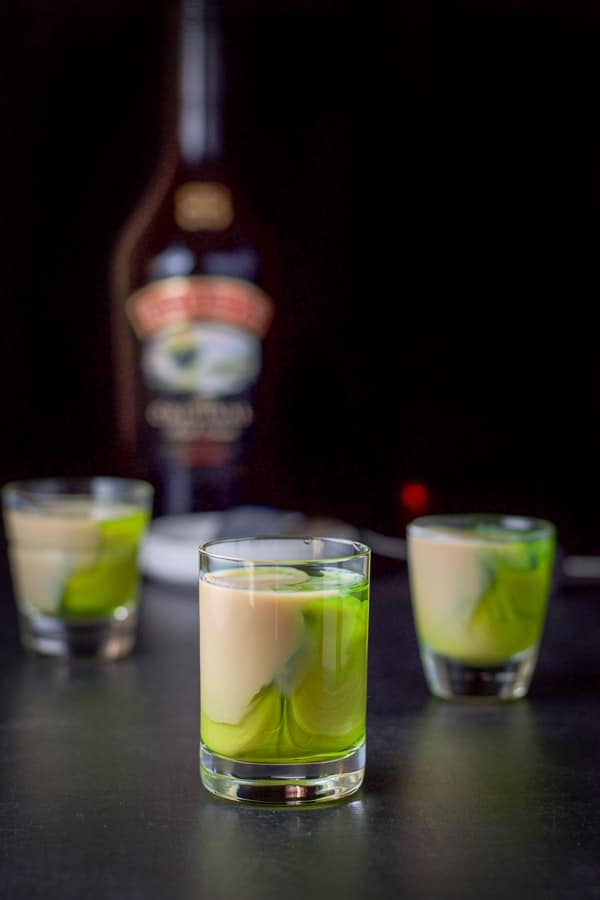 Step four
Pour a little grenadine in a small glass. Take an eye dropper, if you have one, and pull some grenadine up into it.
Notice in the photo below, you can see what I spoke about above; the longer the ingredients rest in the glass, the more they meld together. It was one of the four times I tried to make this shot and I had let it languish on the table for a few minutes.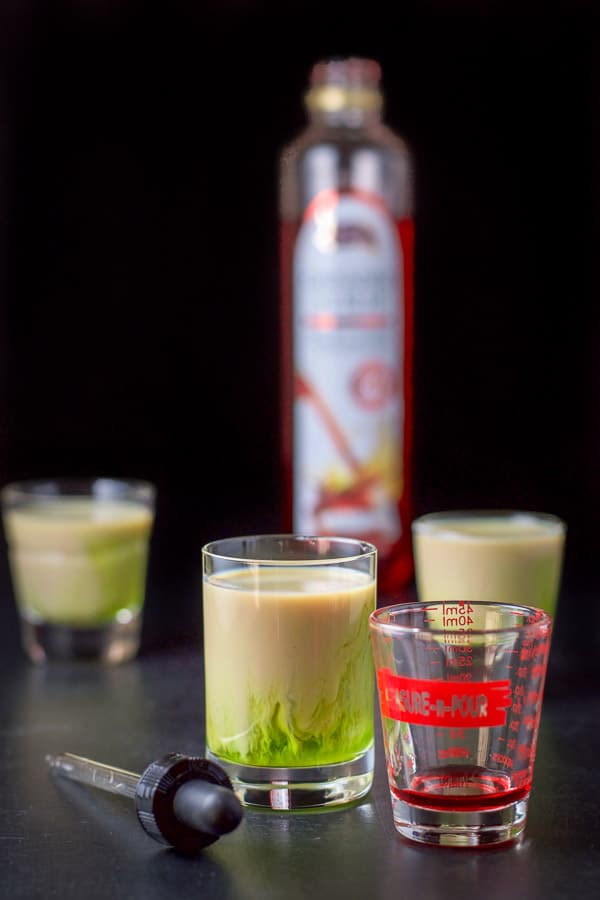 Step five
Squeeze 6 – 8 drops of grenadine into the shot glass. You can barely see the red, but if that makes the shot look less like a mangled frog, it can't be a bad thing, right?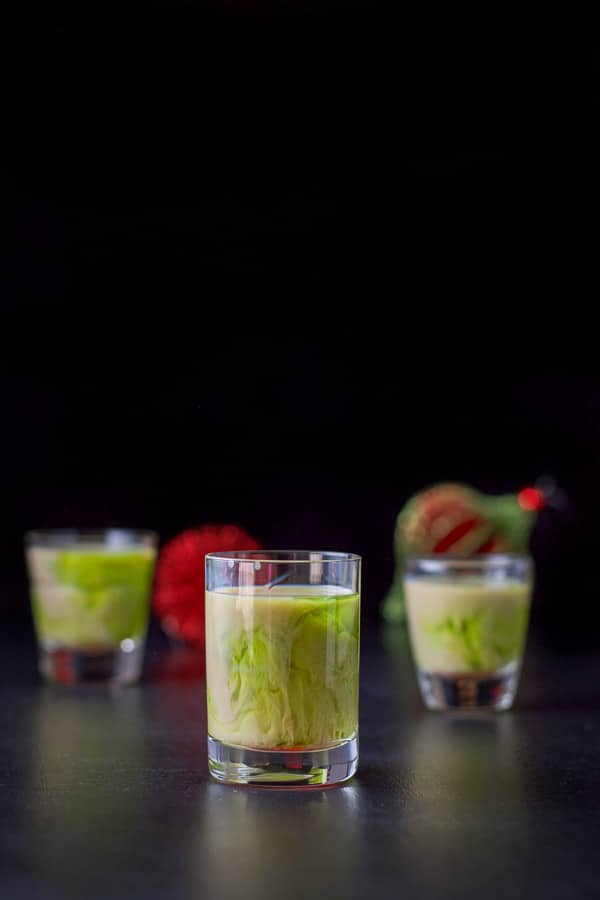 It's a pretty shot, isn't it?
Let's look at another view with the beveled glass in front.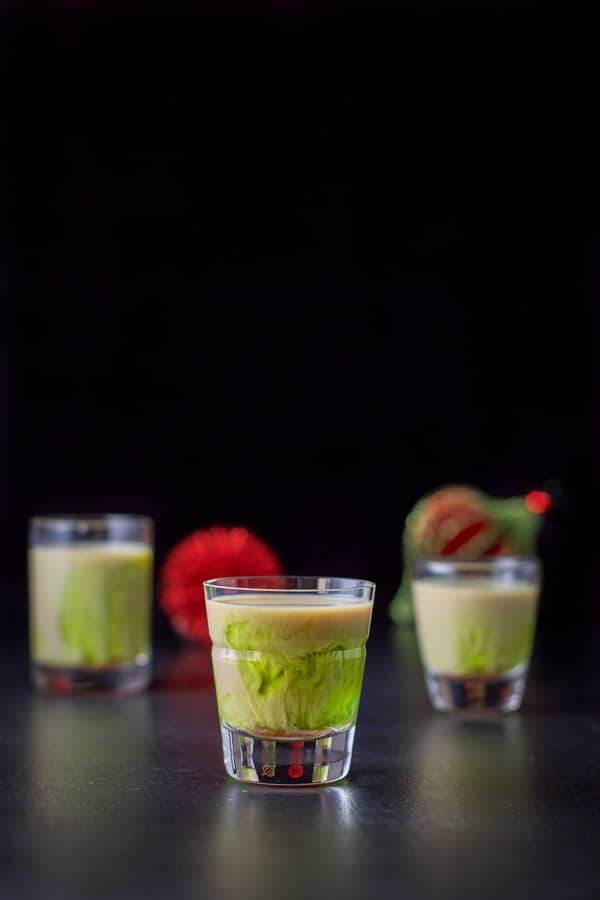 All that is left is to shoot the shot.
I hope you enjoyed this mangled shot recipe!
Other popular green cocktails on Dishes Delish:
And as always, may all your dishes/drinks be delish!
If you've tried this Mangled Frog Shot or any other recipe on the blog, I'd love the hear what you thought about it in the comments below. I love hearing from you! You can also FOLLOW ME on FACEBOOK, TWITTER, INSTAGRAM and PINTEREST to see more of my delicious food and delightful cocktails!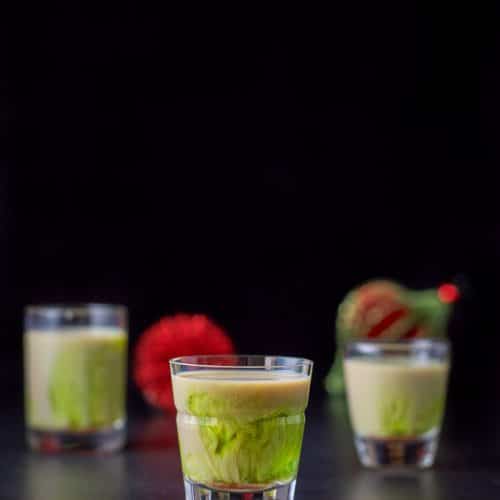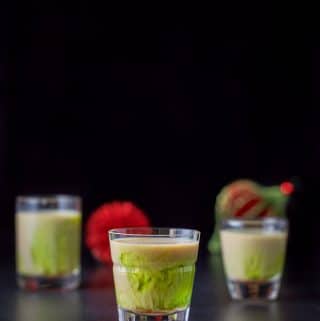 Mangled Frog Shot
Only 3 ingredients in this pretty and delicious shot! It's a fun shot to serve at a party!
Print
Pin
Rate
Ingredients
.75

ounce

Midori

.50

ounce

Baileys Irish Cream

(or other Irish cream liqueur)

6

drops

grenadine

(6 - 8)
Instructions
Pour Midori in the shot glass

Place the spoon with the bowl side up in and against the side of the glass and slowly pour the Baileys over the bowl and into the glass

With the eye dropper, pull up some grenadine into it and drop 6 - 8 drops into the shot
Notes
Tips for making the Mangled Frog shot:
If you are going to layer this shot, either use a cocktail spoon or regular iced tea spoon - for the thin, tall shot glass, I have to use the iced tea spoon because the cocktail spoon is too wide to fit in the glass
Always place the spoon bowl side up in the glass, against the side
Using a pourer controls the pour, which is critical to layering any shot. But if you do use a pourer, just know that you will have to eyeball your quantities because in that case, they're coming straight out of the bottle, unmeasured
As with all layered shots, you need to place the heaviest liquor on the bottom and work your way up to the lightest
If you don't have an eye dropper, you can put a small amount of grenadine on a teaspoon and drip slowly into the glass
Nutrition
Serving:
1
shot
|
Calories:
119
kcal
|
Carbohydrates:
15
g
|
Fat:
1
g
|
Saturated Fat:
1
g
|
Sodium:
1
mg
|
Sugar:
13
g