This is the Eggnog shot. Yes, even something as innocent and child-pleasing as eggnog can be mixed with alcohol to become a fun drink for grown-ups only to enjoy during the holidays!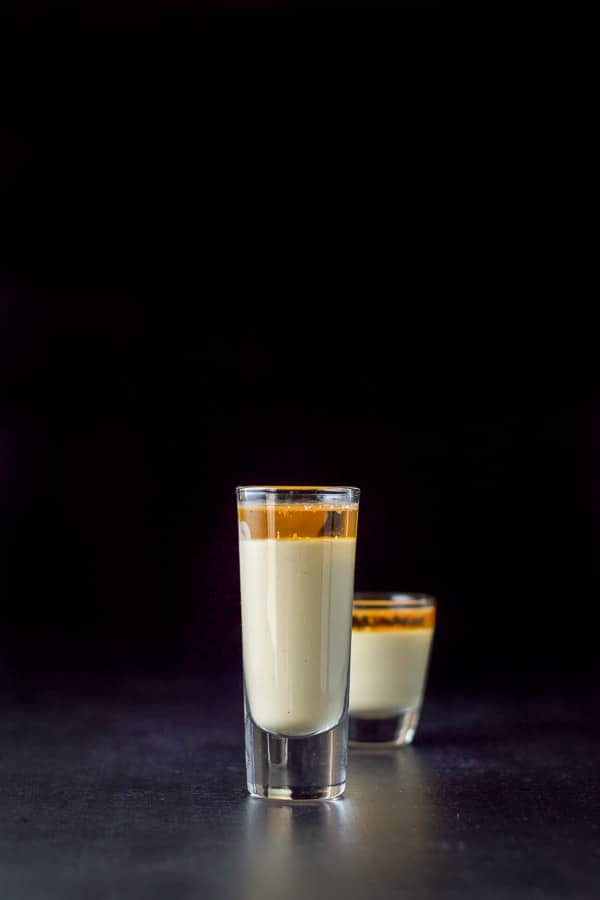 This is the sixth post in my 12 Shots of Christmas series. On the sixth day of Christmas, my true love gave to me: one Eggnog shot, one After Eight shot, one Snowball shot, one Black Forest Cake shot, one Chocolate Raspberry Kiss shot and a shot named Peppermint Patty!
Eggnog was always a guilty pleasure for me. Why? Because my family used to serve it in a punch bowl with huge dollops of freshly whipped cream floating on top. So, my glass of eggnog consisted of 1/2 of the golden liquid to 1/2 of whipped cream. Yum.
Of course, the grown-ups added some brandy or dark rum to their glasses and I used to sneak sips from my grandmother. Double yum.
To layer or not to layer
Even though I've layered this shot, it is not necessary. I just like how it looks. And you have to admit, the golden color of the brandy looks beautiful over the eggnog.
I actually serve this shot with one of those eco friendly stirrers in it. Because if you down this shot without stirring it, the taste of the brandy can be very prominent. That might be fine, but if you stir the contents before downing it, you will appreciate the balance more. Leave me a comment if you have a different experience!
So, you can either layer this shot as I did, or you can fill a cocktail glass 1/4 way full with ice, add the ingredients to the shaker, shake for ten seconds and strain the liquid into a shot glass.
But what is the fun in that?
Not to be outdone
I've explained before that I love to watch the liquors of a layered shot switch places with each other. This is another case where that happens! Maybe it's the mixologist in me, but I love what the liquor does when it switches places. In this eggnog shot, the brandy takes on little droplets of eggnog that make it look so pretty!
Let the party begin!
Tips for making the Eggnog shot:
Use either a cocktail spoon or regular iced coffee teaspoon. For the thin, tall shot glass, I have to use the iced coffee teaspoon because the cocktail spoon is too wide to fit in the glass
Always place the spoon bowl-side up in the glass, against the side
Using a pourer controls the pour, which is critical to layering any shot. But if you do use a pourer, just know that you will have to eyeball your quantities because in that case, they're coming straight out of the bottle, unmeasured
As with all layered shots, you need to place the heaviest liquor on the bottom and work your way up to the lightest
This recipe is written for a one and a half ounce shot. If your shot glasses are larger, just eyeball one part brandy to five parts eggnog
How to Make and Layer the Eggnog Shot
Step one
Gather the ingredients – Brandy and eggnog. Tools – shot glass and cocktail spoon.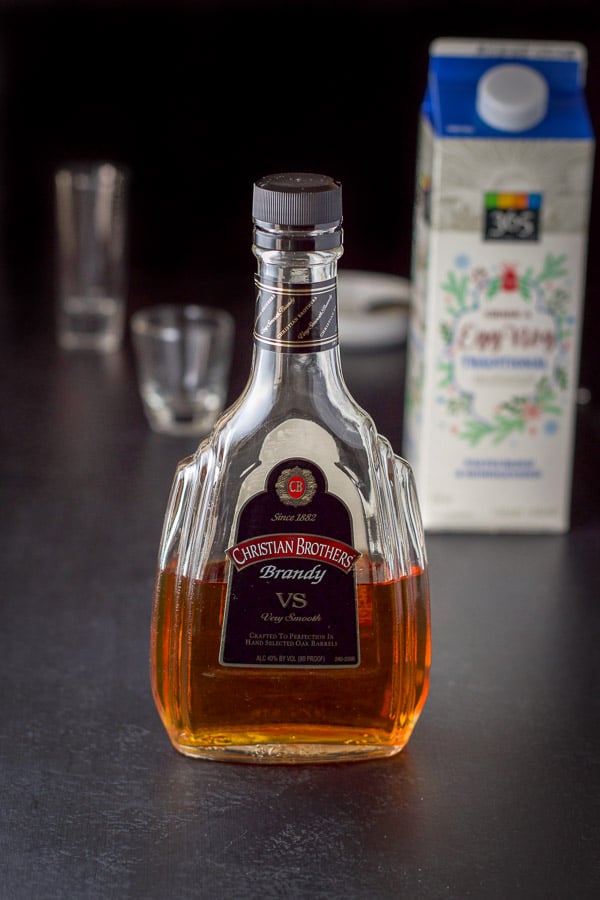 Step two
Pour 1/4 ounce of brandy in the shot glass.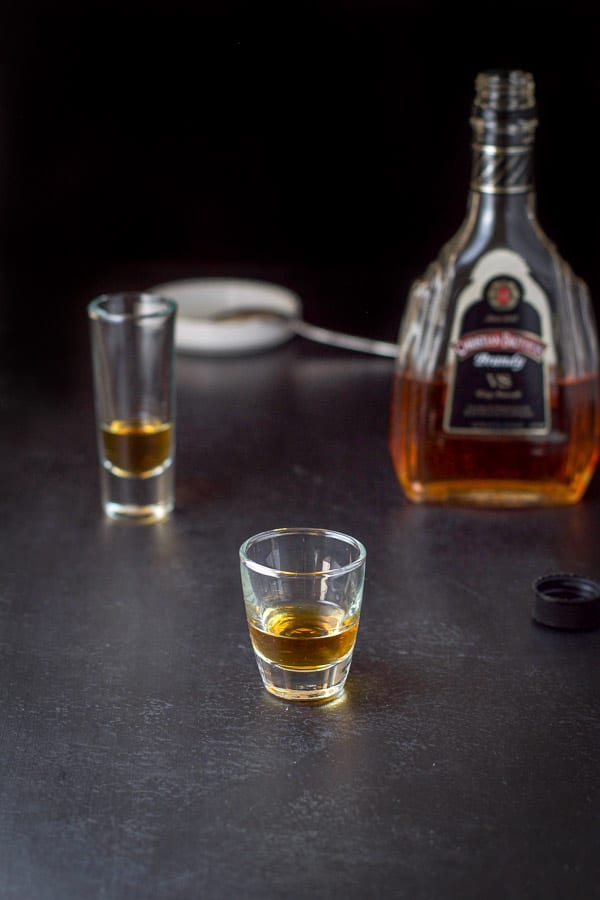 Step three
Place the spoon bowl side up in and against the side of the glass. Slowly pour 1 and 1/4 ounces eggnog over the bowl of the spoon until it reaches near the top of the glass.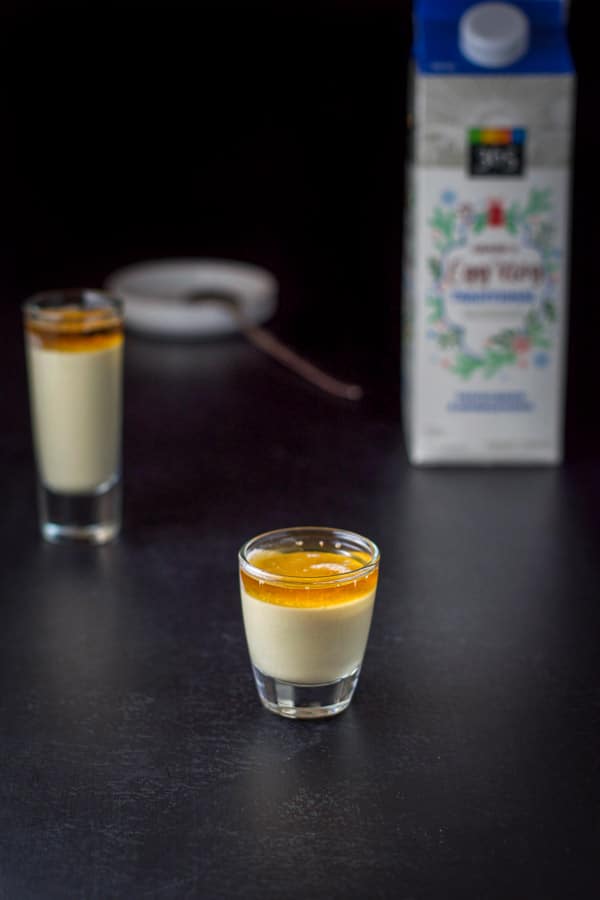 Fun! I love that they switched places!
Let's look at it without the eggnog carton in the photo.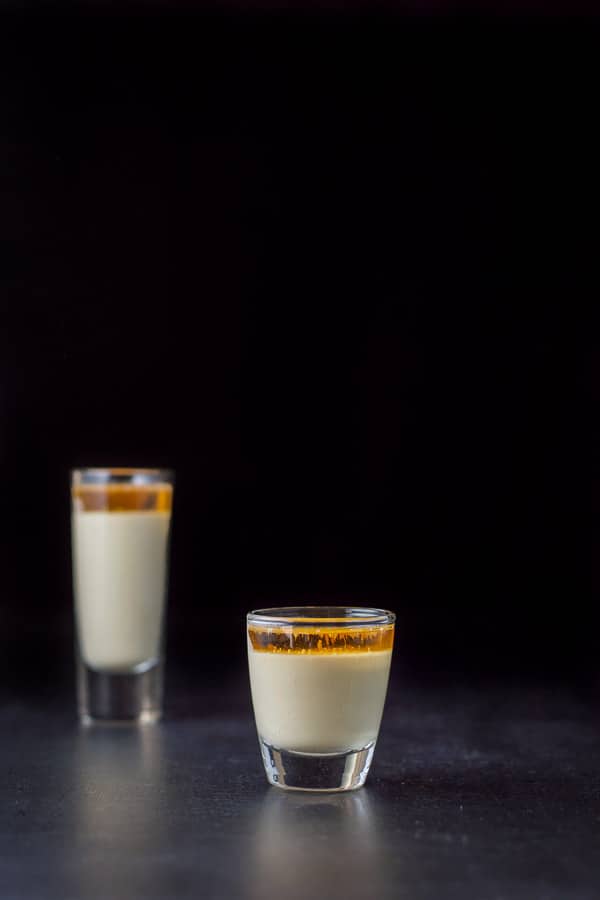 Another vertical view!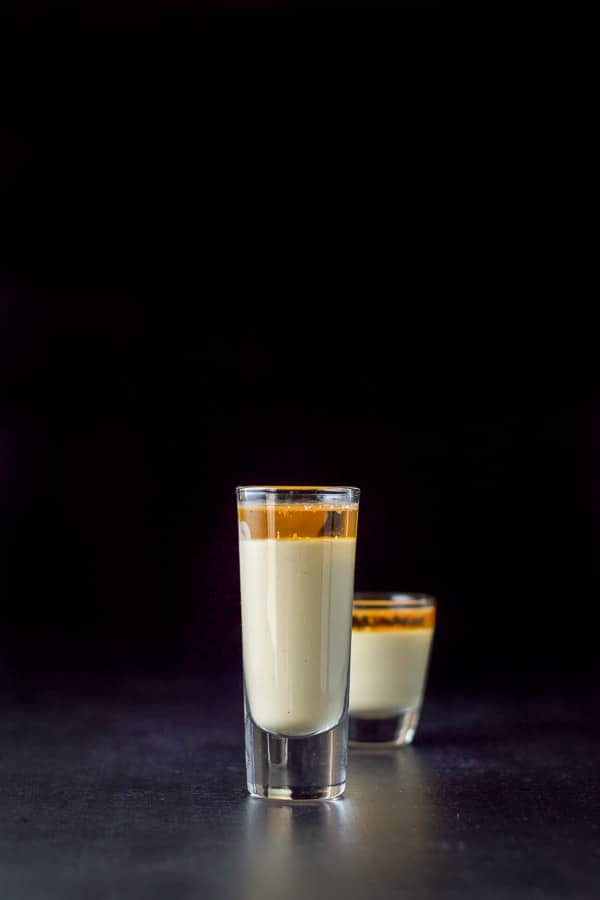 I hope you enjoyed this eggnog shot! Don't forget to stir it before you drink it! Or you may just want to live on the edge and down it as is!
Other popular, creamy cocktails on Dishes Delish:
And as always, may all your dishes/drinks be delish!
If you've tried this Eggnog Shot or any other recipe on the blog, I'd love the hear what you thought about it in the comments below. I love hearing from you! You can also FOLLOW ME on FACEBOOK, TWITTER, INSTAGRAM and PINTEREST to see more of my delicious food and delightful cocktails!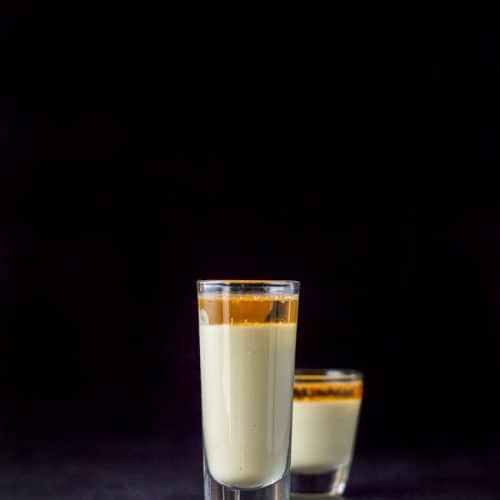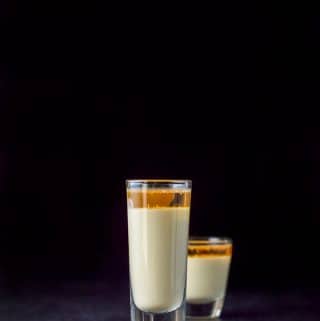 Eggnog shot
A fun and delicious shot to serve at your next holiday party!
Print
Pin
Rate
Ingredients
.25

ounce

brandy

1.25

ounces

eggnog
Instructions
Pour brandy in the shot glass

Take spoon and place in and against the glass and slowly pour the eggnog over the bowl of the spoon

Place a small plastic stirrer in the glass and mix the spirits before shooting

Notes
These measurements are approximate. It's okay to pour by eye!
Tips for Making the Eggnog Shot:
If you are going to layer this shot, either use a cocktail spoon or regular iced tea spoon - for the thin, tall shot glass, I have to use the iced tea spoon because the cocktail spoon is too wide to fit in the glass
Always place the spoon bowl side up in the glass, against the side
Using a pourer controls the pour, which is critical to layering any shot. But if you do use a pourer, just know that you will have to eyeball your quantities because in that case, they're coming straight out of the bottle, unmeasured
As with all layered shots, you need to place the heaviest liquor on the bottom and work your way up to the lightest
Nutrition
Serving:
1
shot
|
Calories:
78
kcal
|
Carbohydrates:
2
g
|
Protein:
1
g
|
Fat:
1
g
|
Cholesterol:
20
mg
|
Sodium:
19
mg
|
Potassium:
58
mg
|
Sugar:
2
g
|
Vitamin A:
75
IU
|
Calcium:
46
mg