This colorful roasted baby potatoes recipe is the perfect starch with any meat dish!  They have two things going for them, they are pretty and so delicious.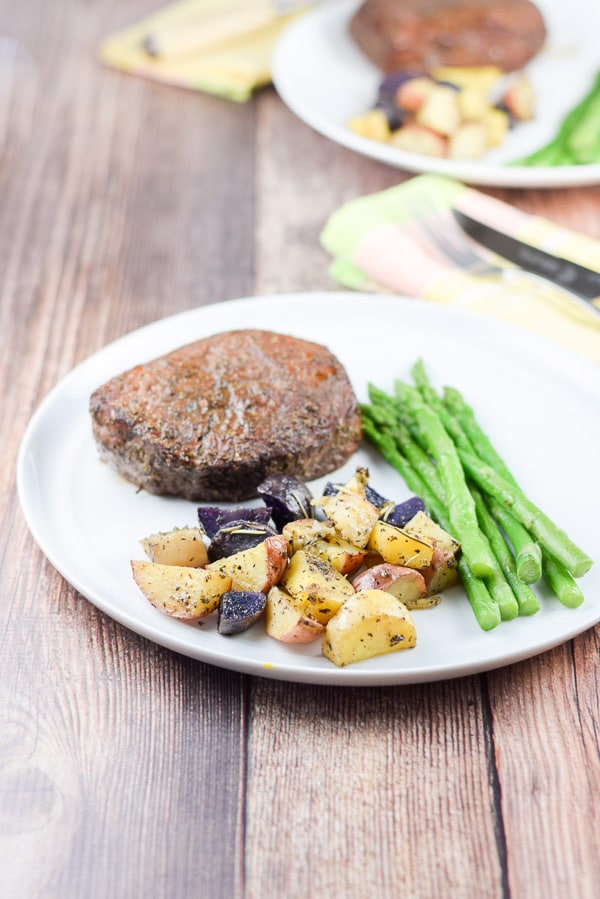 I've been making this roasted baby potatoes recipe for years!  Christopher loves these potatoes, not only because they are colorful and cute, but they are also perfectly seasoned and delightfully delicious.  Just ask him!
The first time I tried my hand at these potatoes, I admit freely it was a huge disaster.  I baked them at too low a temperature and for too short a time.  Back then, they didn't sell these colorful baby potatoes in the store.  Or, at least not at the stores I'd been in.  I used honking huge yellow potatoes and back then, I peeled the potatoes.
This was way before I was married.  I had a dinner party.  I made pot roast, carrots and roasted potatoes.  The only item on that menu that came out pretty good was the pot roast.
I made the carrots, not with the stove top recipe I've posted on this blog, but baked in the oven the way my grandmother used to do.  And I roasted the potatoes at the same time, which was a big mistake.  I didn't take into account that with two dishes in the oven, they would need extra baking time.
Result:  Crunchy carrots, crunchy potatoes, but delicious pot roast.
On to the colorful roasted baby potatoes recipe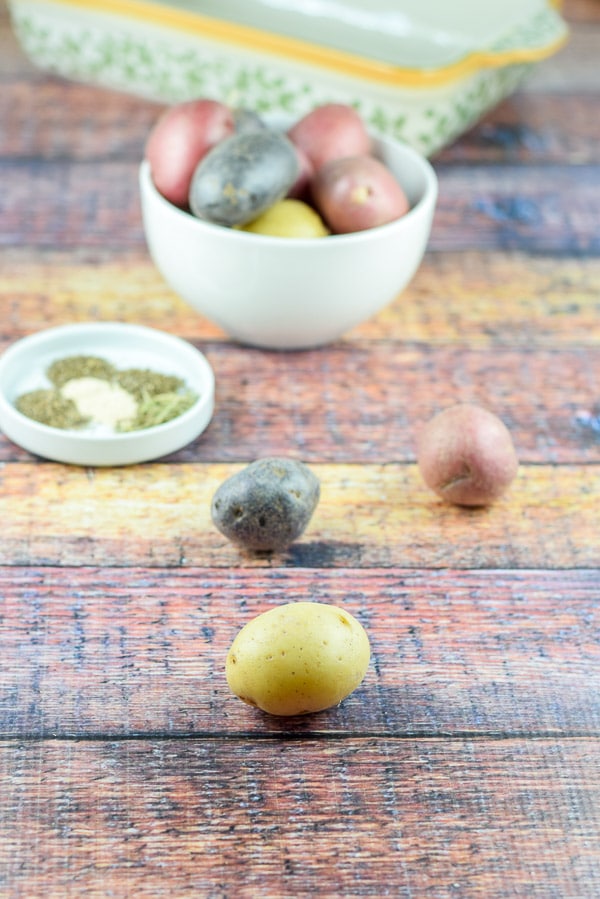 Here are the ingredients.  Colorful baby potatoes, garlic powder, dried thyme, marjoram, basil, rosemary, salt, pepper and olive oil.
I heat the oven to 375 degrees Fahrenheit.
I wash the potatoes and leave the skins on.  I cut each potato in chunks and I toss them into a medium mixing bowl.  I add all the herbs and spices and some olive oil.  I take a spatula and mix it all together.
I get out my medium baking dish and tumble the contents of the bowl into the dish.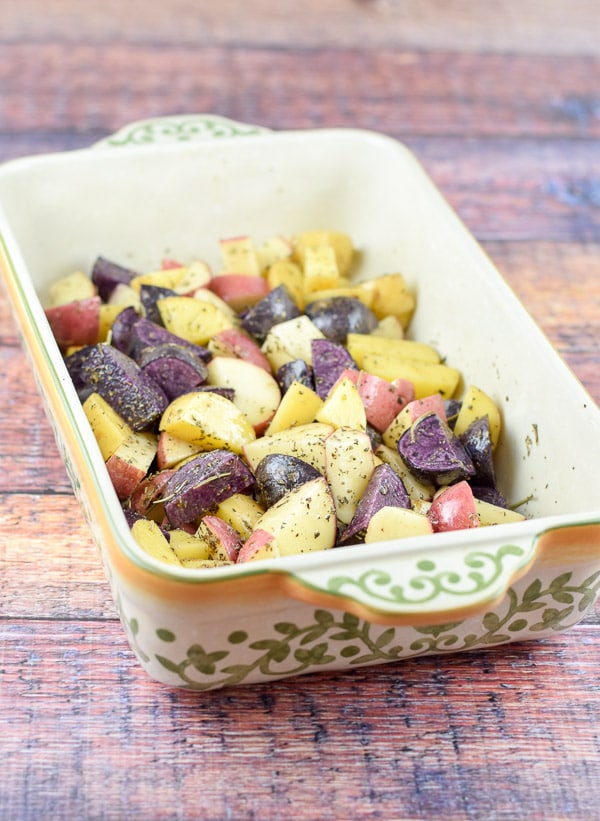 I cover the dish with foil and put it into the oven.
I bake the potatoes for 30 minutes before taking off the foil, flipping the potatoes and letting them bake for another 30 minutes.
DING
⏲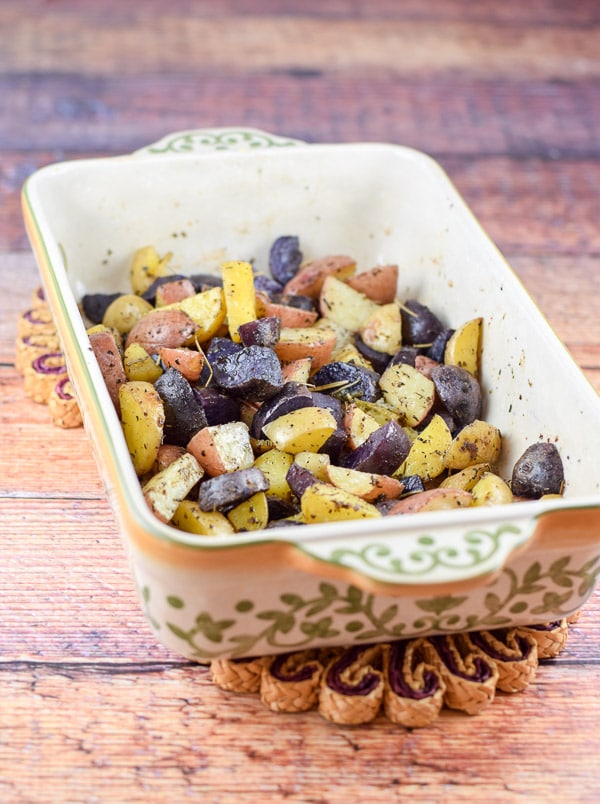 YUM.
Time to plate the potatoes with some Jolly Juicy Grass Fed Sirloin Steak Filets and become a member of the clean plate club.  Again.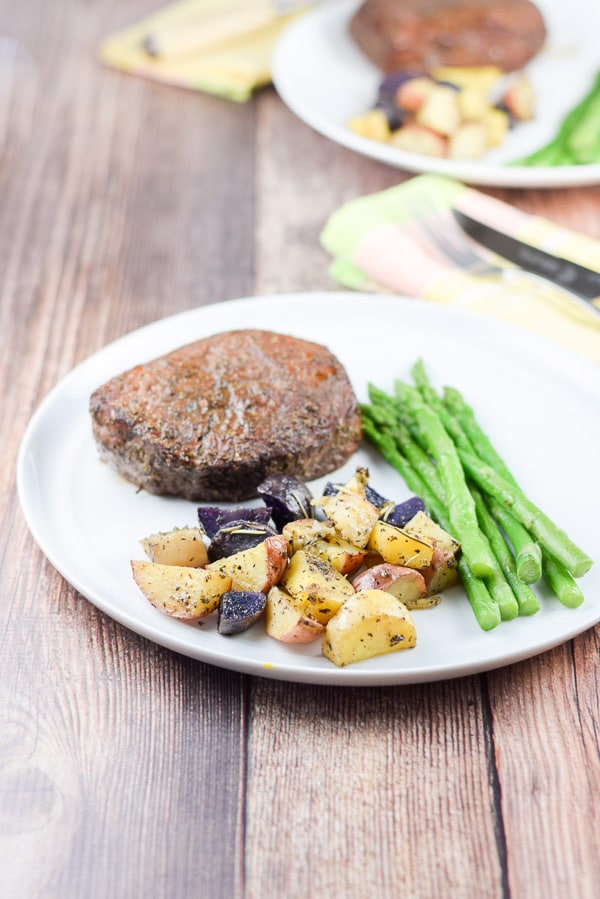 I hope you enjoyed this roasted baby potatoes recipe!
Please feel free to Pin any photo to Pinterest, Yum the recipe to Yummly and leave me a comment.
And may all your dishes be delish!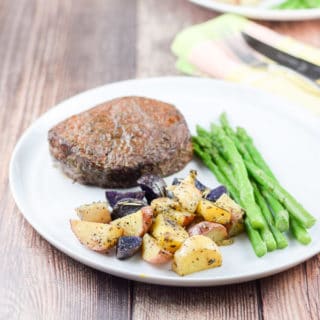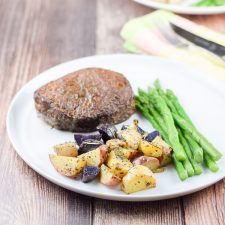 Roasted Baby Potatoes Recipe
These tasty potatoes are a perfect starch, paired with some meat and veggies.
Print
Pin
Rate
Total Time:
1
hour
5
minutes
Ingredients
24

ounces

baby potatoes

baby colorful potatoes, washed, cut in chunks with skins on

1/2

teaspoon

dried basil

1/4

teaspoon

dried marjoram

1/4

teaspoon

dried thyme

1/4

teaspoon

dried rosemary

1/4

teaspoon

salt

1/8

teaspoon

pepper

2

tablespoons

olive oil

2 - 3
Instructions
Preheat oven to 375 F

In a medium bowl, toss all the above ingredients and mix with with a rubber spatula

Toss the potatoes in a medium baking dish and cover with foil

Place in oven and bake for 30 minutes

Uncover the potatoes, flip the potatoes and bake for another 30 minutes

Plate potatoes with some meat and veggie

Taste

Smile

Enjoy
Nutrition
Calories:
258
kcal
|
Carbohydrates:
39
g
|
Protein:
4
g
|
Fat:
9
g
|
Saturated Fat:
1
g
|
Sodium:
207
mg
|
Potassium:
954
mg
|
Fiber:
4
g
|
Sugar:
1
g
|
Vitamin C:
44.7
mg
|
Calcium:
31
mg
|
Iron:
2
mg