Is there anything more satisfying than stovetop candied pecans? This recipe is so easy and the pecans are super delicious, especially on a salad, or by the handful.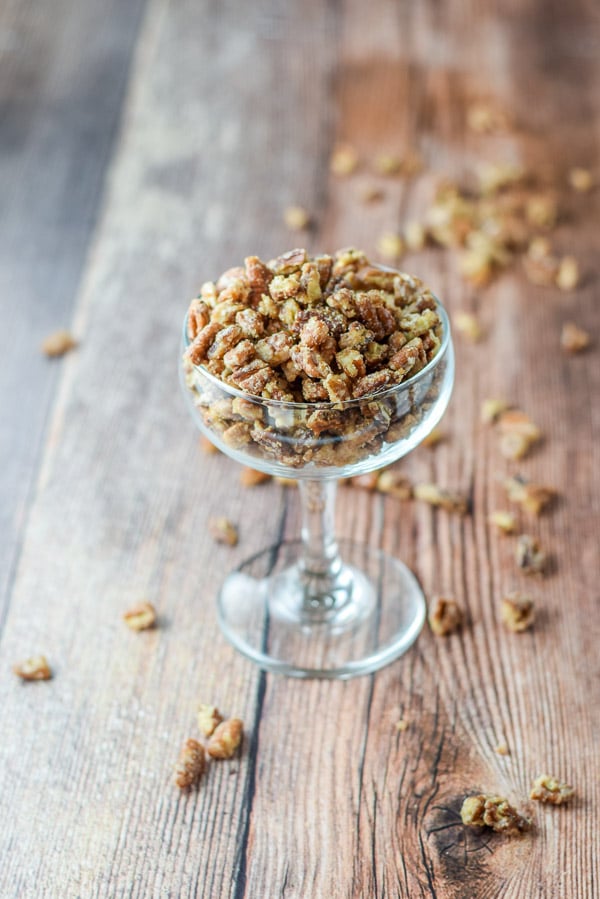 Love me some candied nuts
One thing I have always loved, is candied nuts.
Probably because it has the word candy in it.
No, not really. I've always enjoyed having candied walnuts or other candied nuts sprinkled on my salad or in my fist before it gets transferred into my open maw.
I never really thought of making them myself until my sister Robyn started to make candied nuts around the holidays.
Then I realized, that these candied pecans were like a drug. I'd have a little and want more. So, I'd have more and yet it wasn't enough because I'd want even more.
So, I only make candied pecans (or other candied nuts) when I'm going to have a dinner party and going to serve a salad that would be enhanced by the nuts.
But the dilemma is, I believe that every salad could be enhanced with these delish nuts. And I still eat quite a few salads, so shouldn't I be able to have nuts on those salads too? Why do I have to just serve them to stupid guests?
See? I become disgruntled and mean. So, I limit how many times a year I make these fabulous nuts so I can stay my sweet self.
And when I do make this recipe, I make only a cup.
Because as I stated before, one handful would become two etcetera, etcetera.
How to make stovetop candied pecans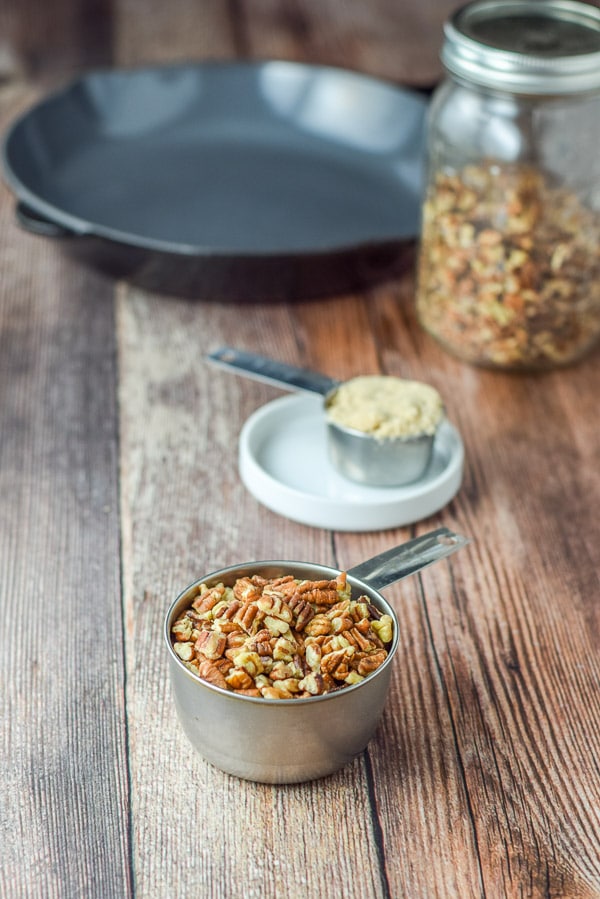 First thing I do is grab my sauté pan. Next, I measure out one cup of pecan pieces and 1/4 cup brown sugar along with one tablespoon of water.
I heat the sauté pan and dump the brown sugar and water into it.
Once the sugar is melted, I cook it until it is all bubbly!
My kitchen is so dark and never gets sun. I had to take this photo with the ISO way high. The colors are a little off.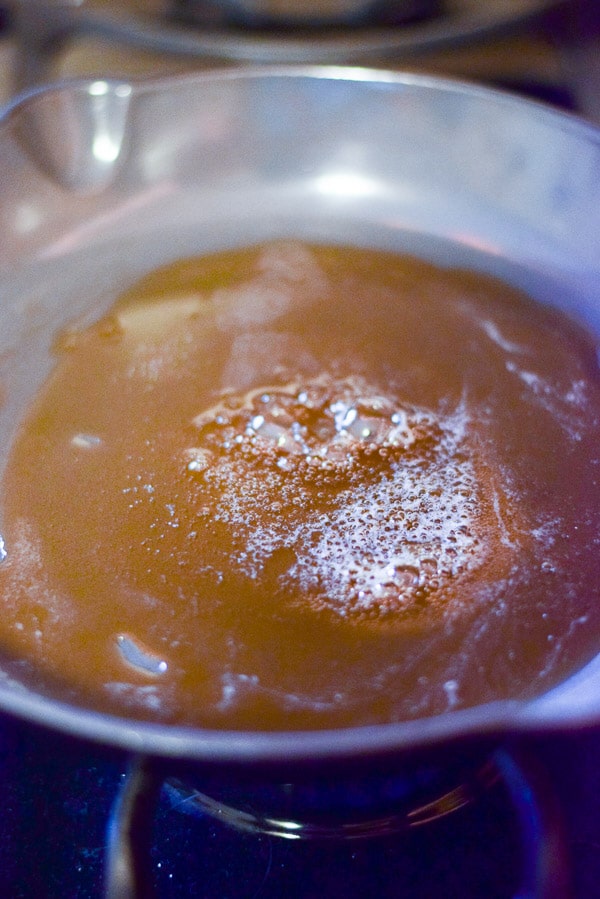 Time to dump the pecan pieces and salt into the pan. I stand over it and stir, stir, stir and let it cook for five minutes.
Once the pecans are done, I place them on a wax paper covered wire rack.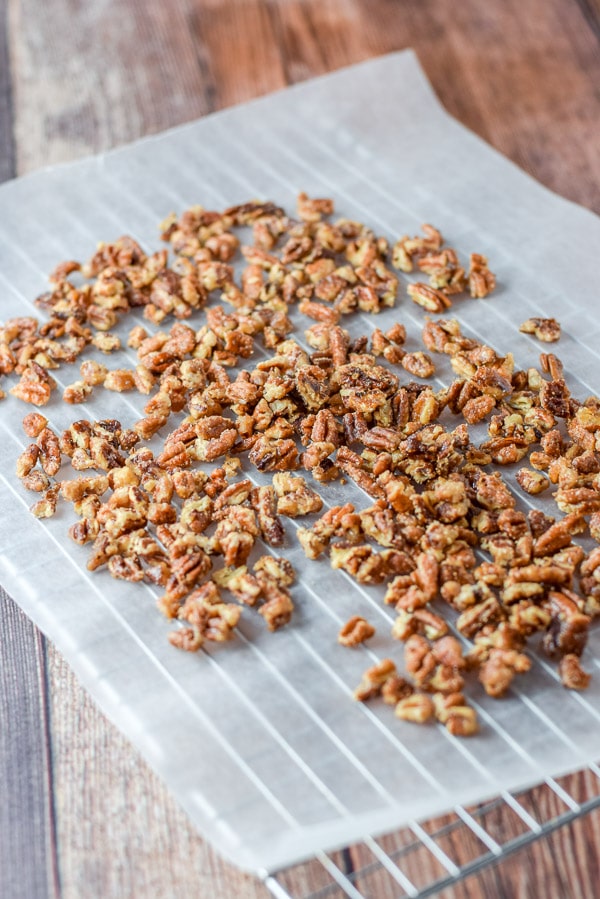 Time to let them cool completely. They will get nice and crunchy.
Woohoo, let's look at them a different way.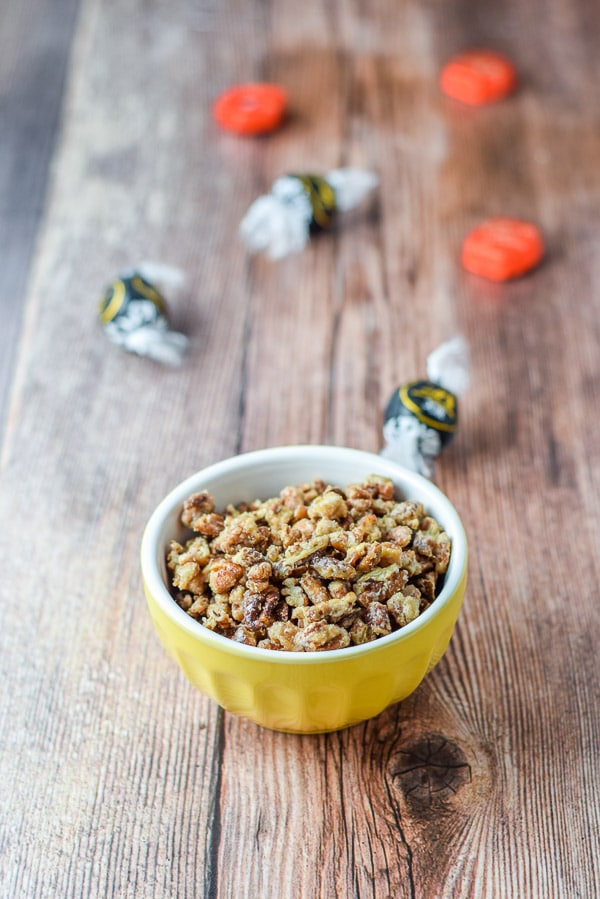 Of course I had to put some candy with the candied pecans.
Now, let's see it a different way.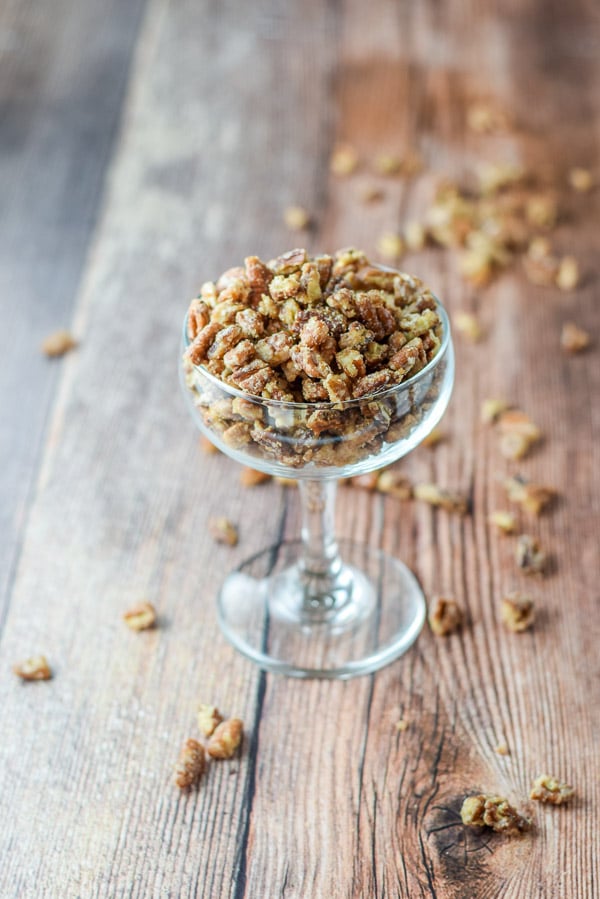 Let's see it on a salad.
See! Perfect on a salad.
I hope you enjoyed this recipe!
Would you be so kind to comment and tell me what nut you love best candied?
And as always, may all your dishes be delish!
If you've tried this candied pecans I'd love the hear what you thought about it in the comments below. I love hearing from you! You can also FOLLOW ME on FACEBOOK, TWITTER, INSTAGRAM and PINTEREST to see more of my delicious food and delightful cocktails!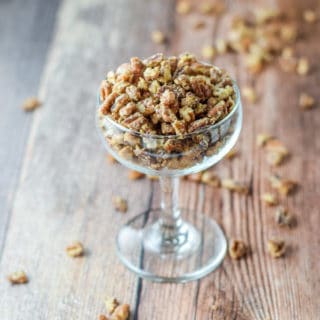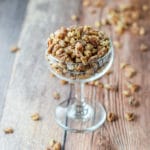 Stovetop Candied Pecans
Candied pecans are great sprinkled on a salad or eaten by the handful
Ingredients
1

cup

pecan

pieces

1/4

cup

brown sugar

1

tablespoon

water

1/8

teaspoon

salt
Instructions
Heat a sauté pan on medium heat and dump the brown sugar and water into it

Stir until melted and bubbly

Dump pecans and salt in and stand there stirring for 5 minutes

Place some wax paper on a wire rack and spread the pecans on it to fully cool

Sprinkle some on a salad

Or eat a handful

Smile

Enjoy
Nutrition Facts
Stovetop Candied Pecans
Amount Per Serving (1 tablespoon)
Calories 60
Calories from Fat 36
% Daily Value*
Fat 4g6%
Sodium 1mg0%
Potassium 32mg1%
Carbohydrates 4g1%
Vitamin A 5IU0%
Vitamin C 0.1mg0%
Calcium 8mg1%
Iron 0.2mg1%
* Percent Daily Values are based on a 2000 calorie diet.