I have been making tomato gravy for years!  Look at it and imagine yourself chomping on those delicious chunks.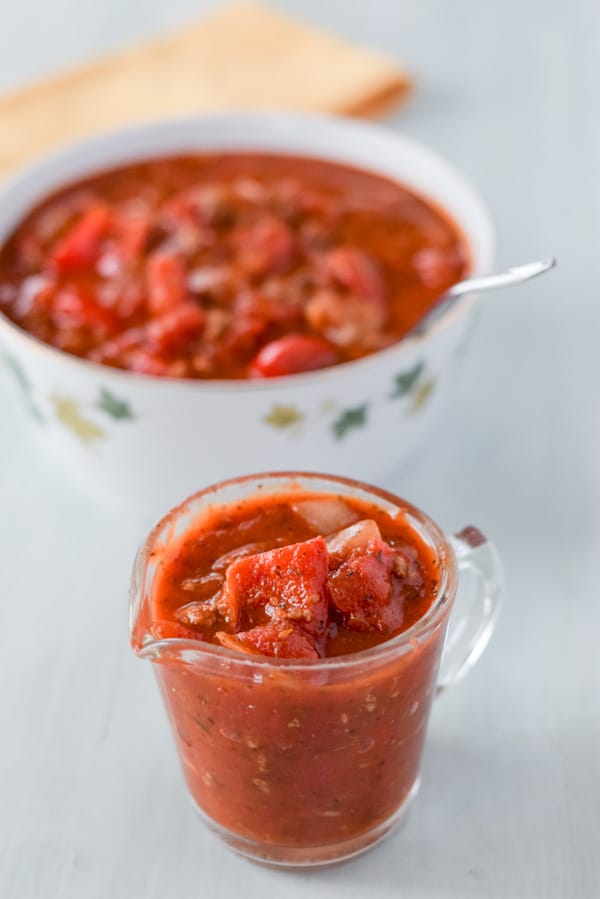 Yum!  It is so satisfying ladling this delicious tomato gravy onto your pasta because you know that you are going to have a delicious meal filled with chunky vegetables and delectable grass fed ground beef.
I will go over quickly why I call this lovely red goodness above 'gravy'.  I do mention it in another post.  Actually my very first post.  A lot of people differ on what to call it – gravy or sauce.  I think what you call it depends on where in Italy your ancestors came from. People without the Italian heritage usually call it sauce, unless they knew someone who called it gravy and the word stuck.
One thing I find interesting is that people who call it sauce seem to get irritated with people who call it gravy.  At least that is my experience.  But if you ask a gravy type of person how they feel about 'sauce' people, they are usually indifferent.  I don't care what you call it, just let me call it whatever I want without being a brat about it.  Free speech and all that!
This post may contain affiliate links, which means I get a small commission, at no additional cost to you, if you click the link and buy something. You can read my disclosure here.
On to the tomato gravy recipe
I get my red bell pepper, onion and mushrooms and cut them really chunky.  I then mince the garlic.
I get my sauce pan
 and place it on the stove.  I turn the heat to medium and once the pan is heated, I put in 4 tablespoons of olive oil.  After the oil heats up, I place the red bell pepper and onions in the pan.  I sauté them for 10 minutes, stirring occasionally.
Next I add the mushrooms and garlic and sauté them for 5 more minutes.
Time to open the cans of diced tomatoes and paste.
I plop them into the pan with the veggies.
I stir it all around and add some dried herbs; namely basil, oregano, parsley and thyme.  I also add one bay leaf and some salt and pepper.
I take the paste can, fill it with water and pour it in.  I fill it again, but only 3/4 full and add that as well.  The reason you add water is to thin the paste out a little.  Add as much or as little water to your gravy as you prefer.  I find 1 and 3/4 of a can of water is perfect.
Once the tomato mixture comes to a boil, I turn the heat down to simmer and let the concoction cook for 1 hour, stirring every 10 minutes or so.
Here's a little digression:  I may have mentioned before that my mom didn't use the word "stir"; she used the word "shushle".  I remember her using it most often when she would ask us to "shushle the gravy".  And of course, after you shushle, you have to hit the side of the pan with the wooden spoon to get the gravy off the spoon.
Here's my question to you: When you hit your pan with a utensil to get food off of it, how many times do you hit the pan?  Leave me a comment to tell me.  I almost always hit the spoon 3 times.  I noticed it the other day and I found it funny.
You can't really see it in the photos, but the wooden utensil I used for the gravy used to be my mom's and the side of it is worn down from mom's hitting it so often on the side of a pan!  End of digression.
Beef time
While I'm waiting on the gravy, I grab my grass fed ground beef and sauté pan.
I turn the heat under the sauté pan to medium and put 1 tablespoon of olive oil in it.  Once it's heated up, I add the ground beef and take a metal spatula to break it apart.  I stir it and sauté it for about 5 minutes, until it's cooked but still has pink parts.
Once it's all done, I set it aside.
Here's the gravy after it has been simmering for the hour.  Look at that thick goodness.  Yum-MMY!
Of course, if you are a vegetarian, you can stop here and not add the beef.
But I'm going to add it.
I stir it all in and let it simmer for another 10 minutes.
Yay, it's done.  Now, it's time to serve it on some yummy pasta.  Sometimes, I just pour the gravy on some bread and eat it with a knife and fork.  Sort of like an open faced sandwich.  Seriously, you should try it.  YUM!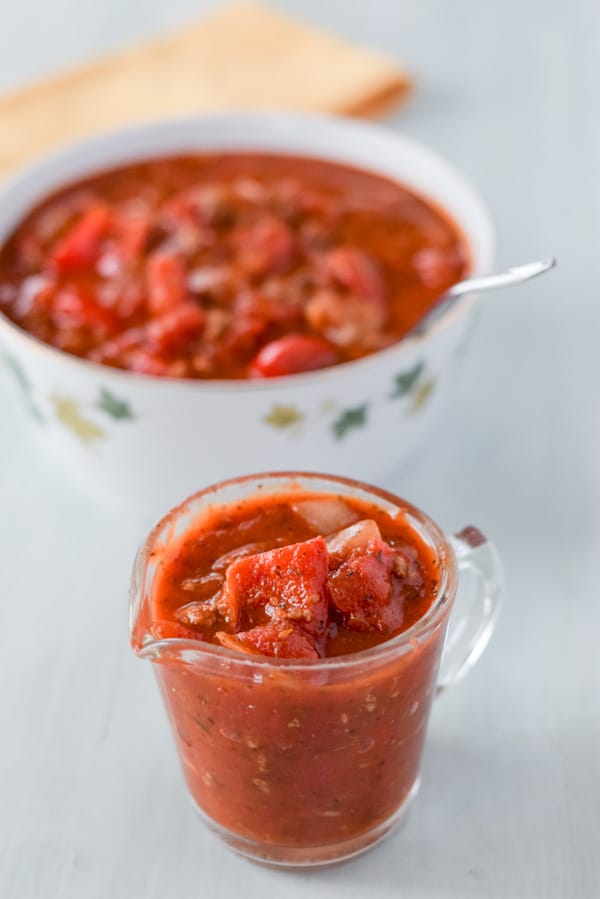 I hope you enjoyed reading about this recipe as much as Christopher and I love to eat it.
And as always, may all your dishes be delish!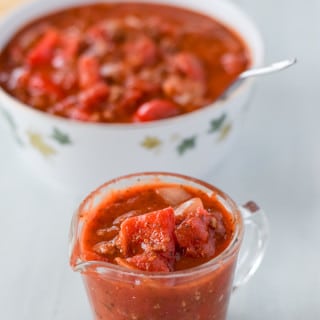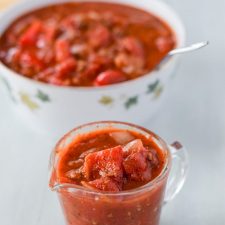 Tomato Gravy | Chunky Vegetables and Beef
This delicious recipe is perfect on your pasta or even just topped on a piece of bread!
Print
Pin
Rate
Ingredients
1

onion

large, chopped in chunks

1

red bell pepper

large, chopped in chunks

1

package

portobello mushrooms

package of sliced baby bellas

3

tablespoons

olive oil

3

cloves

garlic

minced

28

ounces

diced tomatoes

12

ounces

tomato paste

Water

1

tablespoon

dried basil

1

tablespoon

dried oregano

1

tablespoon

dried parsley

1

teaspoon

dried thyme

1

teaspoon

salt

or to taste

Pepper to taste

1

bay leaf

1

tablespoon

olive oil

0.5

pound

ground beef

grass fed
Instructions
Chop the onion and bell pepper into chunks

Heat large sauce pan on medium heat

Add olive oil and heat it up

Add onion and bell pepper and sauté for 10 minutes

Add mushrooms and garlic and sauté for 5 minutes

Add diced tomatoes, paste and 1 3/4 cans of water (use the paste can)

Add herbs, bay leaf, salt and pepper

Once mixture comes to a boil, lower to simmer

Simmer for 1 hour, stirring every 10 minutes

Heat a sauté pan on medium heat

Add 1 tablespoon olive oil

Add ground beef and break up into little pieces

Sauté until cooked but still pink inside

Add to gravy

Continue simmering for 10 minutes

Take a spoon and try the gravy

Groan with delight

Ladle on pasta

Spoon some more gravy in your mouth

Serve plates of pasta

Eat gravy drenched pasta

Sigh in contentment

Enjoy
Nutrition
Calories:
274
kcal
|
Carbohydrates:
21
g
|
Protein:
11
g
|
Fat:
17
g
|
Saturated Fat:
4
g
|
Cholesterol:
26
mg
|
Sodium:
1056
mg
|
Potassium:
1140
mg
|
Fiber:
5
g
|
Sugar:
12
g
|
Vitamin A:
1655
IU
|
Vitamin C:
52.3
mg
|
Calcium:
110
mg
|
Iron:
5.1
mg