This is my three cheers for shepherd's pie casserole recipe.  It's a nice variation of the classic dish!   Yams top a layer of kale with grass-fed beef in broth, spices, onions and corn at the base of this delicious meal!!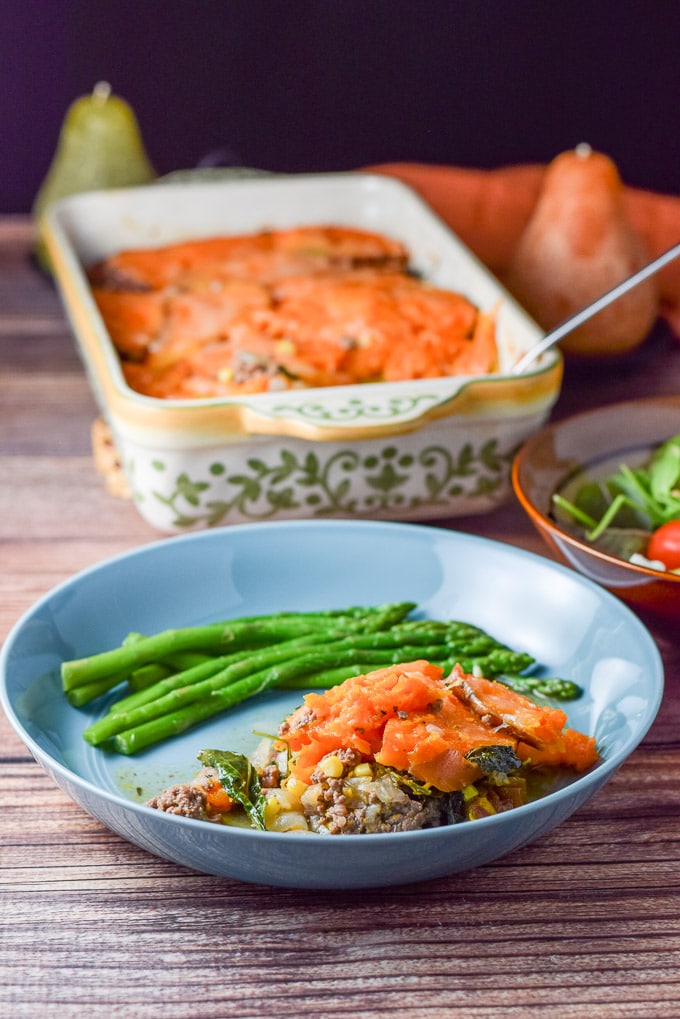 Shepherd's Pie Casserole and what it means to me
I had shepherd's pie casserole years ago and I didn't like it, to begin with.  However, maybe I was just in a mood. In fact, maybe that day I didn't want my veggies mixed with meat and potatoes.  Or maybe I just didn't like shepherd's pie.
Over the years, I would listen to my sister Robyn tell me many times that she had baked her family a shepherd's pie and that it was delicious.  At that point, I'd figuratively turn my nose up in the air and pooh – pooh the news in my head.
Years later, we go to my sister-in-law's for an overnight visit.  She pays to have a fully cooked gourmet meal sent to her house every week.  The week we visit, it is shepherd's pie casserole.  She offers to share it with us for dinner.
At this point, I think, "Oh, joy!"
I am a good guest though so I dutifully take a bite.
WHAT?
Surprisingly, I am loving it.  Between bites, I am also asking questions about it.
Questions like:
What do you think she used in the gravy?  (SIL doesn't know)
What kind of cheese is this?  (Cheddar)
Did she cook the kale first? (Shoulder shrugs)
Hence, I decide I am going to wing it.  How hard can it be?  Besides, I'm rather clever so I'm sure I could figure it out.
And I do!
So, I cheer with my metaphorical pom-poms and short skirt and the rest is history.
And speaking of, here are a few of the other casseroles I've blogged about that are beloved by my family:
How to make the Shepherd's Pie Casserole
Firstly, I preheat the oven to 375 degrees Fahrenheit.
Pictured above, we have some delicious grass-fed beef, an onion, some beef broth and two freshly baked yams.
I fry the onions in my wok for 5 minutes before adding the beef, salt, cumin, oregano and garlic paste.  I also continue to sauté everything for 5 minutes, leaving the beef on the rare side.
Lastly, I cut up the freshly cooked yams in slices and get the corn out of the freezer.
Start Layering the Shepherd's Pie Casserole
I add broth and the corn to the meat mixture.  I simmer it for 2 minutes and pour it into the baking dish.  Next, I get the kale and sliced yams.
I take a few handfuls of kale and place them on top of the meat mixture.
I layer the yams on the kale and shred some cheddar cheese on top.  I don't take the skins off the yams but you can if you prefer to.
By the way, here's another option: you can either spread out the yams by using your knife or you can leave them the way I did in the photo above.  I've done it both ways so I need to bake this shepherd's pie at least 12 more times before I can be sure which way is best.
Really.
Finally, I pop the shepherd's pie into the oven and bake it for 25 minutes.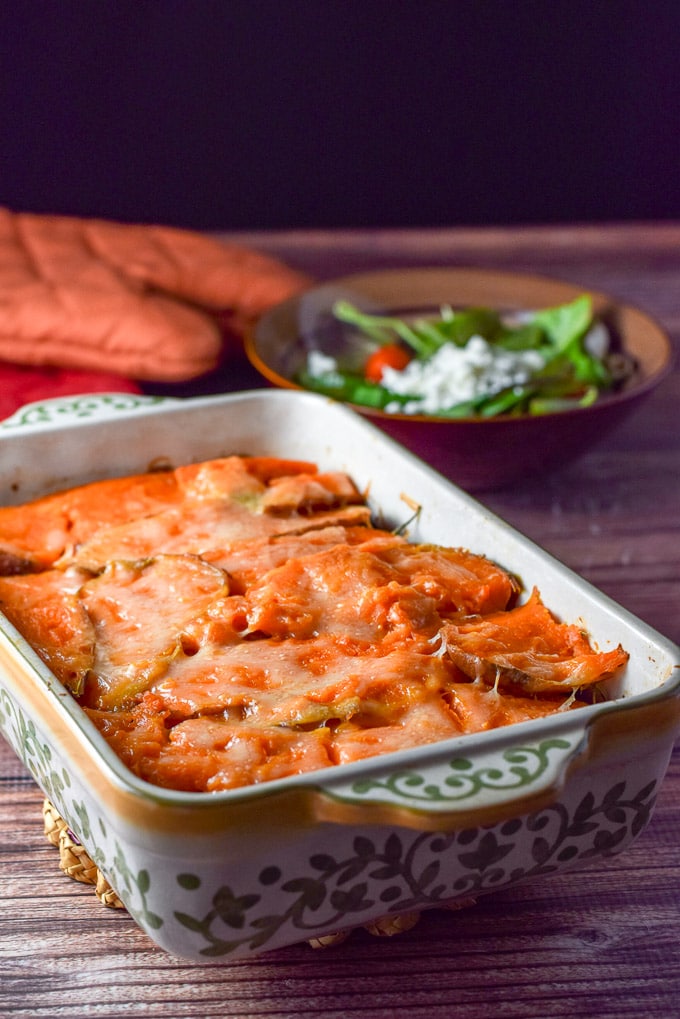 While I'm waiting, I make a salad.  When the shepherd's pie casserole is done, I let it sit for a few minutes and then plate it with a few asparagus spears.
And the next time my sister Robyn tells me that shepherd's pie casserole is delicious, I will nod my head, knowingly.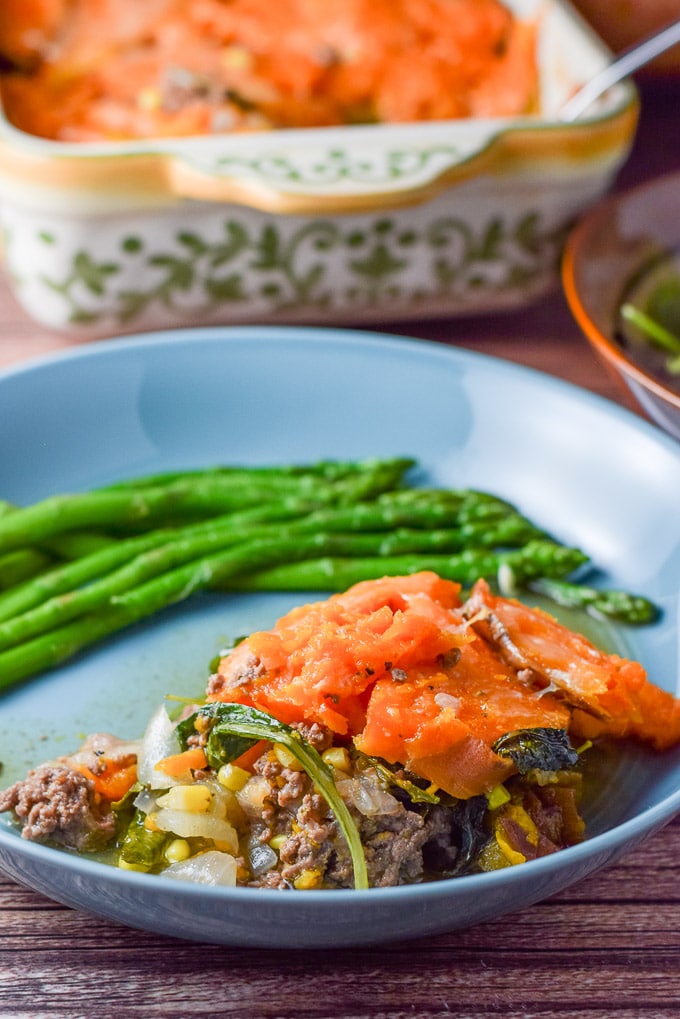 I hope you enjoyed this Shepherd's Pie Casserole recipe!  Christopher and I certainly enjoy this meal.
Also, please leave me a comment.  Do you like shepherd's pie?  I would love to know.
And as always, may all your dishes be delish!
If you've tried this shepherd's pie casserole or any other recipe on the blog, I'd love the hear what you thought about it in the comments below.  I love hearing from you!  You can also FOLLOW ME on FACEBOOK, TWITTER, INSTAGRAM and PINTEREST  to see more of my delicious food and delightful cocktails!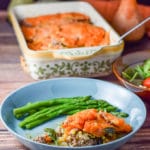 Shepherds Pie Casserole
A healthy take on shepherd's pie! So tasty with yams instead of potatoes!
Keyword:
shepherd's pie casserole
Ingredients
2

tablespoons

olive oil

1

onion

chopped

1

pound

ground beef

grass-fed

1/2

teaspoon

salt

1

teaspoon

cumin

2

teaspoons

oregano

2

teaspoons

garlic paste

or 2 garlic cloves crushed

1

cup

beef broth

1

cup

corn

fresh or frozen

1

cup

kale

a few handfuls

2

baked yams

cut into thin slices, lengthwise

1/4

cup

sharp cheddar cheese

shredded
Instructions
Make it!
Preheat oven to 375 F

Heat up your sauté pan or wok on medium heat

Add oil

Add onions and sauté for 5 minutes

Add beef, salt, cumin, oregano and garlic paste and sauté for 5 more minutes

Add broth and let it come to a simmer

Add corn and cook for 2 minutes

Pour meat mixture in baking dish

Spread kale over meat mixture

Place yam slices over kale covering it completely

Sprinkle cheddar over yams

Bake for 25 minutes

Let rest for 5 minutes before cutting into the shepherd's pie

Plate with a veggie

Eat

Sigh

Enjoy
Recipe Notes
The yams take 50 minutes to bake.  I won't add the time.  You can slice into the yam with a sharp knife at least 6 times and cover with foil.  Bake at 375 for 50 minutes.  You can bake the yams a few hours before you make the shepherd's pie.
Nutrition Facts
Shepherds Pie Casserole
Amount Per Serving (3 inch square)
Calories 347
Calories from Fat 144
% Daily Value*
Total Fat 16g 25%
Cholesterol 43mg 14%
Sodium 331mg 14%
Potassium 1145mg 33%
Total Carbohydrates 36g 12%
Protein 13g 26%
* Percent Daily Values are based on a 2000 calorie diet.