This crispy tofu curry noodle is flavorful and easy to make. The hardest part is getting the water out of the tofu and that's even easy because a heavy object does the work for you.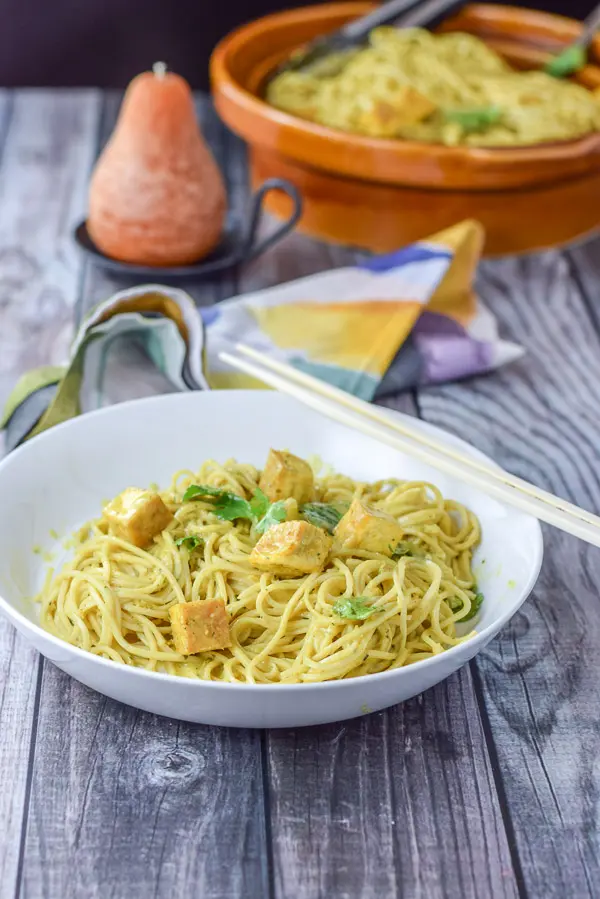 I love, love, love curry and I have brought Christopher along for the ride. I never thought I'd hear him say that he enjoys curry, but he does. I'm so proud of him!
What is not to love? Seriously? Noodles with a nice slightly spicy curry and some crispy tofu?
Crispy tofu is my favorite way to eat tofu. And the way I make it, it's crispy, yet soft in the middle without being deep fried.
My second favorite way to eat tofu is to marinate it in soy sauce and maple syrup. When Christopher and I were vegetarians, we use to eat tofu like that a lot.
This post may contain affiliate links, which means I get a small commission, at no additional cost to you, if you click the link and buy something. You can read my disclosure here.
How to make crispy tofu curry noodle
Step one
Get the tofu.
Step two
Open the tofu package, drain it and get ready to get as much water out of it as you can. That's the trick to making crispy tofu without deep frying it.
Wrap the drained tofu in a clean dishtowel and place it on a plate. Take another plate, put it on top of the tofu and carefully balance something heavy like a cast iron pan on top.
The following photo shows the water already leaking out. Keep the pan on the tofu for at least 30 minutes.
Step three
Preheat the oven to 400 degrees Fahrenheit.
Step four
Take the drained tofu, blot it with a paper towel and cut the block in half lengthwise, and then cut the rest of the tofu into equal sized cubes.
Toss the cubes in some curry powder and line them on a parchment paper lined jelly roll pan.
Step five
Bake the tofu for 25 minutes.
Step six
As the tofu is baking, I put some water on to boil.
Step seven
Gather the ingredients for the sauce – curry paste, coconut cream, garlic paste, ginger paste, fish sauce and noodles.
Curry sauce
Step eight
Heat a Dutch oven or stockpot on medium. Add curry paste, coconut cream, coconut milk, fish sauce, garlic paste and ginger paste.
Step nine
Heat until the coconut cream and milk melts with the rest of the ingredients and the aromas smell fragrant.
Step nine
Once the water comes to a boil, add the chow mein noodles in and set the timer for five minutes.
When the five minutes is up, run cold water over the noodles to stop them from cooking and drain them in a colander.
Step ten
Add the noodles to a serving bowl and pour the curry sauce on top. Add the crispy tofu and toss it all together.
For garnish, I add some cilantro.
Time to serve the noodles!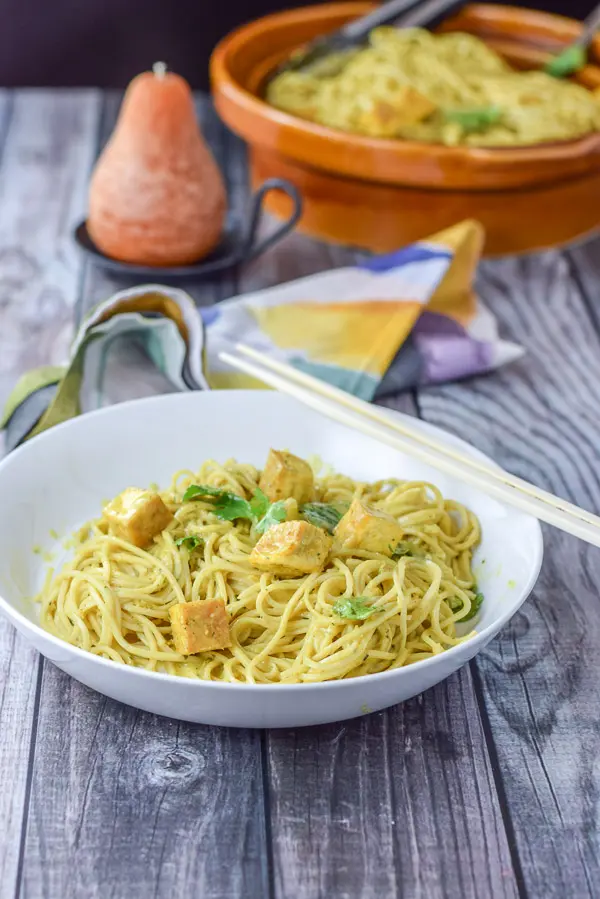 I used both packages of chow mein noodles, but if you want a saucier curry noodle, you can go with one package. We love curry noodle leftovers. So good.
I hope you enjoyed this tofu curry noodle recipe!
Other popular curry dishes
And as always, may all your dishes be delish!
If you've tried this or any other recipe on the blog, I'd love the hear what you thought about it in the comments below. I love hearing from you! You can also FOLLOW ME on FACEBOOK, TWITTER, INSTAGRAM and PINTEREST to see more of my delicious food and delightful cocktails!
Crispy Tofu Curry Noodle
This flavorful crispy tofu curry noodle dish is easy and impressive!!
Print
Pin
Rate
Ingredients
1

package extra firm tofu

drained

1

teaspoon

yellow curry powder

to coat the tofu
Curry Sauce
15

ounces

coconut cream

1 can

7.5

ounces

coconut milk

1/2 can

3/4

cup

curry paste

2

tablespoons

fish sauce

2

teaspoons

garlic paste

2

teaspoons

ginger paste

12

ounces

chow mien noodles

2 packages
Instructions
Wrap tofu in clean dishtowel and set it on a plate. Place another plate on top and balance the heavy object on it. Let it sit for 30 minutes

Preheat oven to 400 F

Cut the tofu in half vertically and then cut the whole things in cubes

Toss some curry powder with the tofu. Line a jelly roll pan with parchment paper and place the tofu on the pan

Bake for 20 – 25 minutes

Set water to boil for the noodles
Curry Sauce
In a medium Dutch oven, add coconut cream and milk, curry paste, fish sauce, garlic paste and ginger paste. Turn the heat on medium and stir the ingredients together until the coconut cream and milk has melted

Once the water has started to boil, add the noodles and cook for 5 minutes. Drain noodles in a colander and add to a serving boil

Pour curry sauce on the noodles as well as the tofu and mix until the noodles are coated with the sauce

Add a few pieces of cilantro for garnish

Plate curry noodles and make sure there is plenty of tofu in it

Spoon residual curry sauce on noodles

Eat

Smile

Enjoy
Notes
If you like lots of sauce on your noodles, just use one package of chow mien noodles. You can also use any type of noodles for this dish, like rice noodles, etc.
Nutrition
Serving:
1
serving
|
Calories:
405
kcal
|
Carbohydrates:
35
g
|
Protein:
9
g
|
Fat:
26
g
|
Saturated Fat:
22
g
|
Sodium:
870
mg
|
Potassium:
249
mg
|
Fiber:
4
g
|
Sugar:
5
g
|
Vitamin A:
3495
IU
|
Vitamin C:
4
mg
|
Calcium:
46
mg
|
Iron:
2.8
mg
Get new recipes in your inbox!
Click here! to sign up for our newsletter
From lighting up stages with her BA in theater to crafting delightful dishes and cocktails, Elaine Benoit's journey is a testament to passion's transformative power. As the CEO of Dishes Delish, she offers a blend of healthy, comforting recipes and exquisitely crafted cocktails. Beyond the kitchen, Elaine voiced her culinary adventures on her podcast, "Dishing," and co-owns Food Blogger Help, extending her expertise to guide budding food bloggers to success. Whether it's for a heartwarming dish or insights into food blogging, Elaine's diverse experiences make her a beacon in the culinary digital landscape.