The Top Five Cocktail Recipes of 2016
I'm sure all of Liquor.com's top five cocktail recipes of 2016 could be made from this well stocked bar. See which of your favorites got on the list!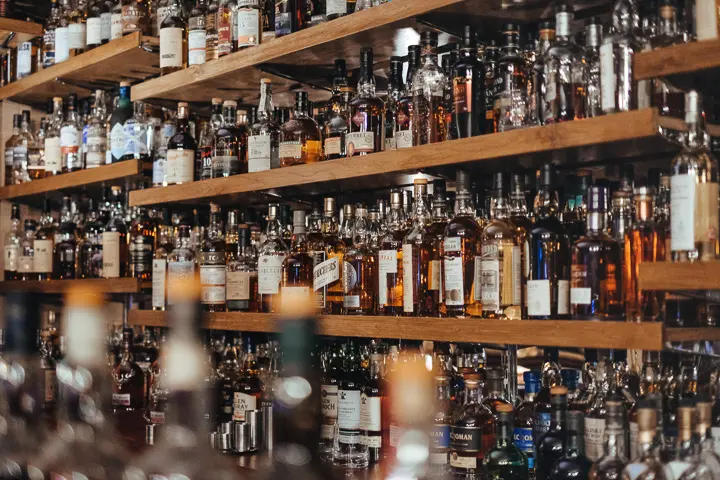 This is not my bar! I got this photo from Unsplash. It is a great site for free photos.
Why am I using a stock photo? Because this post features Liquor.com's top five cocktail recipes of 2016 and I wanted a photo of a bunch of liquors without raiding my liquor cabinet. It's not the raiding I mind. It's putting the bottles back that I don't want to do!
Besides, this photo is cool, isn't it?
Was I surprised that the following cocktails were on the list? No, not really. Only one of the top 5 cocktails 'surprised' me.
One thing I found funny was that I have made and blogged about each of these cocktails without realizing they were on the list.
So without further ado, let me get to them.
#5
The above photo is my dirty martini. If you want to make a dry martini, leave out the brine.
I was surprised that the martini was only number five. I thought for sure it would be at least #3. It's actually number one on my list, but then I'm talking about my beloved martini.
I would drink a dry martini if offered one. But given my druthers, I prefer it dirty.
The martini is such a classic cocktail. So delicious, potent and cool!
Don't you feel like diving in that liquid and bouncing around with those olives?
Yeah, me too!
#4
In my post about daiquiris, I discuss how delicious they are plain. They truly are. This is the way I would drink them. Not with fruit.
This is the one cocktail I was 'surprised' to find on the list. I didn't realize how popular they are.
Daiquiris are making a big comeback. Of that I am not surprised because they are so delicious I could drink one every week.
Really, I could.
In fact, I'm going to have one this weekend.
I can't wait.
But, as delicious as they are, I still can't believe they beat out martinis.
#3
The Manhattan
This was my mom's go-to special cocktail. When she had company over, this is what she would drink. My mom's brother, my esteemed uncle, drinks a Manhattan periodically in my mother's memory!
You can make a Manhattan a few different ways. You can use either whiskey, which is the way my mom liked it, or bourbon.
Both are yummy.
The above photo is the bourbon Manhattan.
The following photo is the whiskey Manhattan.
Moving right along.
#2
This is a surprise to me as well. I'm not surprised it's on the list. I'm surprised it isn't #5 and the martini isn't #2. Or #1.
But that's just me.
I love me martinis.
I'm becoming a broken record.
The Negroni is an aperitif. It's supposed to stimulate the appetite, which makes it the perfect cocktail to serve before a meal.
It has such a vibrant color! When you sip at the Negroni, you feel pretty cool and sophisticated.
This cocktail dates back to the early 20th century. It is said to have been concocted by a bartender when a patron asked for a stiffer version of the Americano; a mix of Campari, vermouth and soda water.
Instead of the soda water, you add gin.
Stronger.
And yummy.
And now, the most popular cocktail of 2016.
Drumroll please!!
(Rat-a-tat-tat-a-tat-tat!)
#1 Cocktail of 2016
Yehaw! It's an oldie but a goodie. This is one of the cocktails that I experimented with once I figured out that my tastes had changed. My sister-in-law drinks this cocktail and nudged me to try it.
And so I did.
The old fashioned cocktail is a great sipping cocktail.
Ha ha. That is so funny. All cocktails are supposed to be sipping cocktails. Well, at least all cocktails except shots and layered shots. Those are NOT sipping cocktails. But everything else? Yes.
I say, "supposed to be" because I don't tend to sip. I don't guzzle drinks, mind you. But I don't exactly sip them.
The old fashioned is the type of drink that I would take the smallest amount of it in my mouth and savor before swallowing.
See the difference?
Let's look at it from a different view.
I hope you enjoyed this post about the top five cocktails of 2016. How about checking out the top 2017 cocktails?
Feel free to leave me a comment and tell me which cocktail you think is missing. You could also Yum any of these recipes to Yummly and Pin any photo to Pinterest.
And as always, may all your dishes/drinks be delish!
The Top Five Cocktail Recipes of 2016
This classic old fashioned cocktail is delicious and fun to drink!
Print
Pin
Rate
Ingredients
For the Muddling
1

orange wheel

cut in half

1

maraschino cherry

1

teaspoon

water

1

teaspoon

sugar
Instructions
Muddle time
In your highball glass, place the orange wheel, maraschino cherry, water and sugar

Take your muddler and smoosh everything in the glass

Put some ice in the glass, on top of the fruit

Pour bourbon over the ice

Take cocktail spoon and stir thoroughly

Sip

Feel cool

Smile

Enjoy
Nutrition
Serving:
3
Ounces
|
Calories:
216
kcal
|
Carbohydrates:
21
g
|
Protein:
1
g
|
Sodium:
1
mg
|
Potassium:
237
mg
|
Fiber:
3
g
|
Sugar:
18
g
|
Vitamin A:
295
IU
|
Vitamin C:
69.7
mg
|
Calcium:
52
mg
Get new recipes in your inbox!
Click here! to sign up for our newsletter