This Brussel sprout salad recipe is for Christopher!  It is delightfully mild and super tasty! And this is from a Brussel sprout disliker. 🙂
Explanation is in order
Why did I name this the reluctant Brussel sprout salad?
Because I do not like Brussel sprouts.  Poor Christopher.  He either has to get them when we go out to a restaurant or eat them at a relative's house.  In the 27 years that we have been married, I have never made Brussel sprouts.
This recipe is my first foray in making this vegetable.
Here's the funny thing about this vegetable.  You either love it or hate it.  You never really find someone who is neutral about Brussel sprouts.
The Why
It's all in your genes whether you love or hate this cute little vegetable.  A study in 2011 by Cornwall College states that the Brussel sprout has a chemical similar to phenylthiocarbamide, which only tastes bitter to people who have a variation to a certain gene.
The research says that approximately 50 percent of the world's population has a mutation to that gene.
I'm one of the people with that mutation.
Brussel sprouts taste so bitter to me, I can't believe that people actually like them.
It never fails
When we've been over people's houses for dinner and they serve this vegetable, once I decline, they say some variation of:
"But this recipe is so good.  Just try it, I'm sure you will like it."
or
"We grew these in our garden.  They are so much better than the ones you get in a grocery store."
Always game for a taste test, I stab my fork into the little sprout and pop it into my mouth.
Glurg.  I still don't like them.
Fast forward to today.  I still don't like Brussel sprouts cooked, but shaving the little darlings and plopping them in a salad seems to be the trick.  They aren't as bitter and I could take a few forkfuls with out saying, "Glurg."
Would I eat a whole salad of this put-upon vegetable?
Probably not.  But a few forkfuls aren't bad.
How to make the Brussel Sprout salad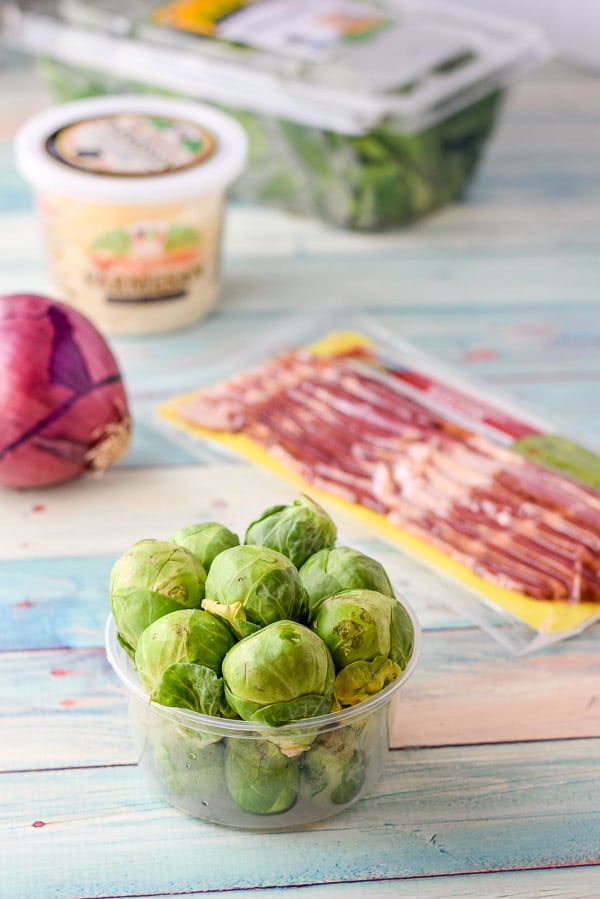 The ingredients for the Brussel sprout salad: 18 Brussel sprouts, bacon, a red onion, spinach and shaved parmesan cheese.
Let's get started.
I place my sauté pan on the stove, heat it on medium low and add three slices of bacon to the pan.  I fry up the bacon and once it's done, I lay the slices on a paper towel and blot them dry.  Then I set them aside.
Next, I wash the Brussel sprouts, chop the stems off them and peel away any damaged outer leaves.  I drag out my food processor and insert the slicing attachment.  I place a bunch of sprouts in the chute and slice them thinly.
Finally, I continue placing more Brussel sprouts into the chute until they are all sliced.
I dump the shredded sprouts in a big mixing bowl with 3 cups of chopped spinach.
Peek a boo!  You can see my upside down reflection in the bowl above.  I'm wearing an orange fleece.  See me?  See me?
Mandolins and Lainey do not mix
Just a quick note about using a food processor instead of a mandolin.  I don't own a mandolin because I'm afraid of what my fingers would look like if I used one.  I know it comes with a so-called guard thing.  But I also know that even with the guard, I would find a way to shave not only my fingers but my forehead and nose.
Who knows how it would happen.  But it would.  Feel free to use a mandolin if you have one.  You are braver than I.
Next, I start on the dressing so the flavors can meld together.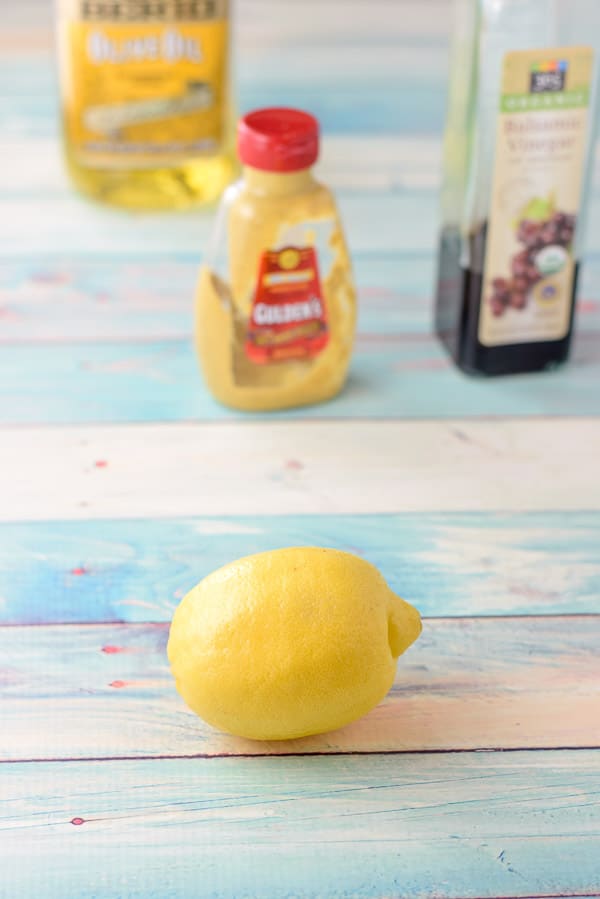 Dressing with a bit of Zing
I'm making a basic balsamic vinaigrette but adding lemon to it, so it stands out a little more and has zing to it!
I grab my lemon, olive oil, balsamic vinegar and some mustard.
I get my medium stainless steel mixing bowl and measure out 1/2 cup of olive oil, 1/4 cup balsamic vinegar, 2 tablespoons lemon juice, 2 teaspoons mustard and 1/8 teaspoon salt.
Then I whisk all the ingredients until they thicken and combine.  I set it aside and continue with the salad.
First up, I slice two slices of onion, chop them into little pieces and sprinkle them on the sprout/spinach mixture.
Next up, I crumble one piece of bacon and sprinkle it on the salad.  I save the other two pieces for leftover salad!
I take a small handful of chopped walnuts and sprinkle them on the salad.  It's always nice to have a bit of crunch to your salad.
Parmesan cheese time!  I love using shaved parmesan, don't you?  It's so pretty on a salad.
Dressing time.  Here's a photo of the dressing, ready to perform its function.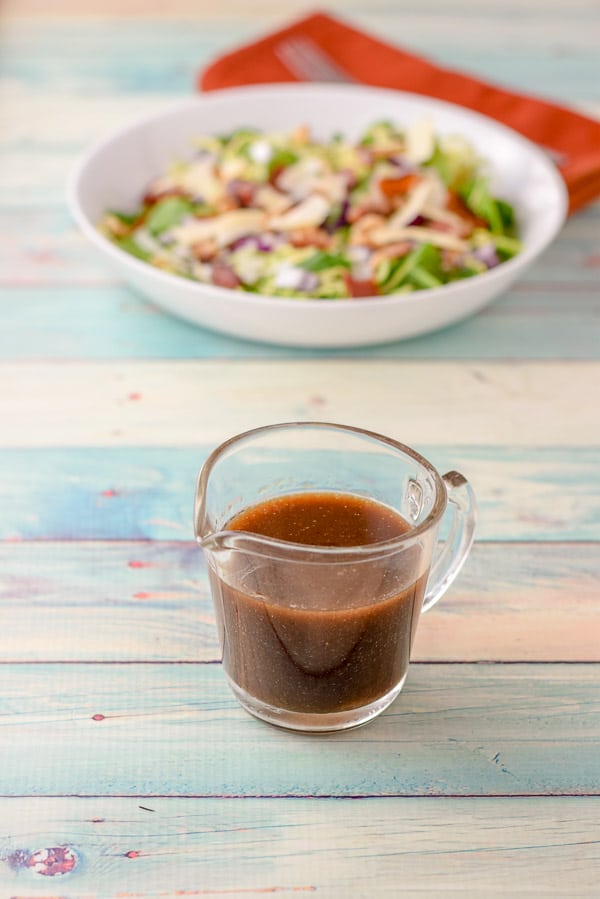 I didn't have my assistant to help me since he was at work.  I had to pour it on the salad myself, so no action shots.
The dressing isn't super obvious but it is there!
I choose not to make a huge salad and dress it because it would just get soggy.  This way, Christopher can have fresh salads everyday until the shredded Brussel sprouts and spinach are used up!
Lucky Christopher!
I hope you enjoyed this Brussel sprout salad recipe.
Christopher enjoyed eating it!
Please feel free to leave me a comment to tell me what you don't like to eat, that others think you should.
And as always, may all your dishes be delish!
If you've tried this Brussel sprout salad or any other recipe on the blog, I'd love the hear what you thought about it in the comments below.  I love hearing from you!  You can also FOLLOW ME on FACEBOOK, TWITTER, INSTAGRAM and PINTEREST  to see more of my delicious food and delightful cocktails!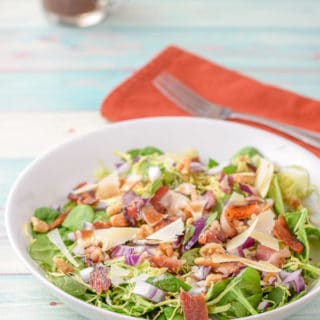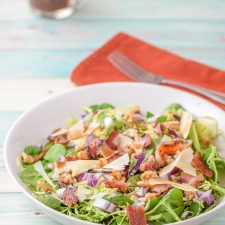 Brussel Sprout Salad
This Brussel sprout salad is perfect to serve at a dinner party, provided that peeps like Brussel sprouts 🙂
Print
Pin
Rate
Ingredients
18

Brussel sprouts

stems chopped off, washed and damaged outer leaves discarded, shredded or sliced thinly

3

cups

baby spinach

chopped

2

red onion

sliced thinly then chopped

3

slices

bacon

fried and blotted dry, crumbled

2

tablespoons

walnuts

chopped

3

slices

Parmesan cheese

shaved
Dressing
1/2

cup

olive oil

1/4

cup

balsamic vinegar

2

tablespoons

freshly squeezed lemon juice

2

teaspoons

mustard

1/8

teaspoon

salt
Instructions
Fry bacon and set aside when done
Dressing
In a medium mixing bowl, add 1/2 cup olive oil, vinegar lemon juice, mustard and salt. Whisk until combined and thickened, set aside
Salad
Combine the shredded Brussel sprouts and spinach

Put some sprout mixture in a salad bowl

Sprinkle red onion on sprout mixture

Crumble 1 or more slices of bacon on salad

Sprinkle walnuts on salad

Sprinkle shaved parmesan on salad

Dribble dressing on salad

Eat

Smile

Enjoy
Notes
This is for 4 servings but I made only one salad for Christopher and saved the rest for leftover salad
Nutrition
Serving:
1
Salad
|
Calories:
320
kcal
|
Carbohydrates:
17
g
|
Protein:
7
g
|
Fat:
37
g
|
Saturated Fat:
6
g
|
Cholesterol:
11
mg
|
Sodium:
268
mg
|
Potassium:
611
mg
|
Fiber:
5
g
|
Sugar:
7
g
|
Vitamin A:
2755
IU
|
Vitamin C:
86
mg
|
Calcium:
89
mg
|
Iron:
2.4
mg