These simple tasty and beautiful roasted beets recipe is so good that you're going to want to make it regularly! It's one of the perfect side dishes and so healthy! We usually pile them on salads!!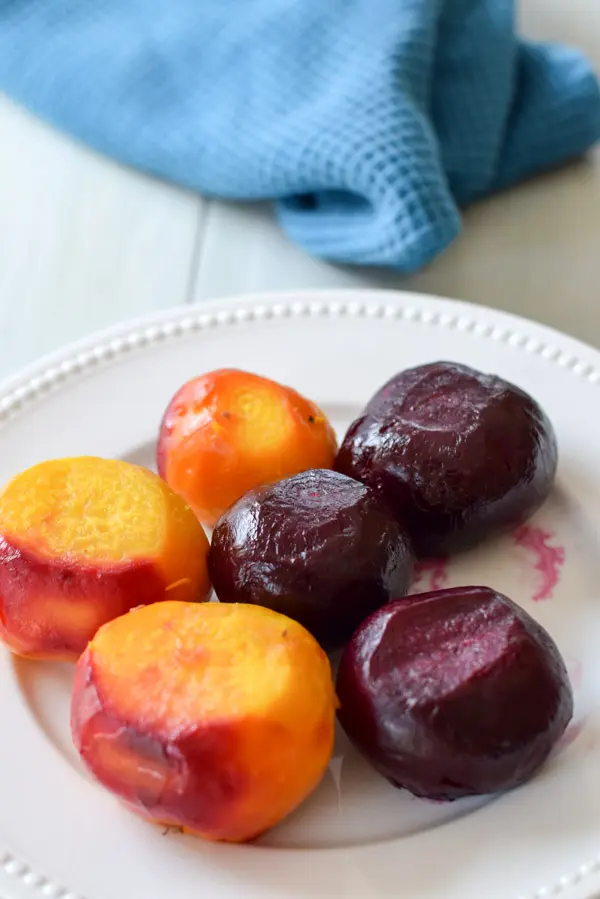 I love beets! I've always loved beets and this recipe deserves its name: tasty and beautiful roasted beets.
Why? Because they are all of those things . . . and more!
One of the things I love to do with beets is slice them up and put them in my salad. I'm drooling just thinking of it now.
Flashback
Not that we didn't have fresh vegetables growing up, but we had canned vegetables a lot. Here's something funny. My young self didn't realize that you could buy fresh beets. Isn't that strange? I knew they were vegetables, but I didn't know they came fresh. I remember seeing some in the store once and asking my mom what they were.
When she told me, I remember thinking, 'Wait a minute! Beets come in cans, how the heck do you eat these things? Next you'll be telling me they grow in the ground.'
Hehe.
Now, I never buy the canned version. It's roasting them all the way for me!
This post may contain affiliate links, which means I get a small commission, at no additional cost to you, if you click the link and buy something. You can read my disclosure here.
How to make oven roasted beets
The beauty of vegetables
I bought both the red beets and the yellow/orange ones. I like having a variety because they look so colorful on salads.
First thing I do is preheat the oven to 425 degrees Fahrenheit.
Next, I wash them by picking up my vegetable brush and scrub away!!
Then I cut off the beet greens, leaving 2 – 3 inch inch stems. I leave the root thingy on them because cutting into the beet lets the juices run out while you roast them.
And we can't have that. Can we? NO!!
I grab a baking dish and plop the beets into it.
Time to oil up these babies and salt them.
All shiny and delicious looking!
I cover them with tin foil and pop them in the oven. I roast them for 30 minutes before I carefully peel off the foil and flip the beets over. I put the foil back on and set the dish back in the oven.
I let the beets roast for another 30 minutes. The exact roasting time will vary depending on the size of the beets. It will take anywhere between 45 – 60 minutes.
You will know they are done when you check the beets with a cake tester. It should slide in fairly easily.
Notice the bubbles on each beet. That is the juice that came out after I tested them.
They're done!
Skinning the beets
I let the roasted beets rest for 5 – 10 minutes before I attempt to take off their skins.
Now, you can use your bare hands to do this but just know that they are going to be stained from the beet juice. I chose to don some gloves before handling the beets.
I pick one up in my hand, grab my paring knife, cut off the top and bottom and discard them. I gently peel the skin away from the beet and discard that as well.
It took me a little under 10 minutes to skin these beets, but I was pretty meticulous.
I placed them on a plate before I cut them to go on our salads.
Yum. One thing that is fun: the orange/yellow beets couldn't help but take on some of the color of the red beets. They are pretty!
I had to take a photo of the baking dish after I took the beautiful beets out.
It looks a little like an abstract painting to me!
Anyway, I hope you enjoyed this oven roasted beets recipe. Christopher and I enjoyed eating them!
And as always, may all your dishes be delish!
Simple Tasty and Beautiful Roasted Beets
These easy and delicious roasted beets will be a family favorite.
Print
Pin
Rate
Ingredients
3

red beets

3

yellow beets

1.5

tablespoons

Olive oil

1/16

teaspoon

Salt
Instructions
Preheat oven to 425 F

Wash your beets

Cut the beet greens off leaving 3 inches of stem. (Save the beet greens for a different recipe)

Leave the long pointy portion on to hold the juices in

Line the beets into a baking dish

Drizzle olive oil on the beets and be generous

Salt the beets

Cover baking dish with foil and put it all into the oven

Roast for 30 minutes

Remove from oven, flip the beets over, cover again with foil and return to oven for another 15 minutes

Test the beets with a cake tester by putting it into the biggest beet. If it is too hard to spear the beet, place back in the oven for additional 15 minutes

Once they are done, let the beets cool for 5 to 10 minutes or until you can handle them comfortably

Don some gloves, grab a paring knife, pick up a beet and cut off the ends off of it, discard ends

With the knife, pull the skin off until all the beets are bare naked

Plate

Slice beets

Place on your fresh salad or place them on your plate with some delicious meat

Chew

Smile with red stained teeth

Enjoy
Nutrition
Serving:
1
beet
|
Calories:
66
kcal
|
Carbohydrates:
7
g
|
Protein:
1
g
|
Fat:
3
g
|
Sodium:
88
mg
|
Potassium:
266
mg
|
Fiber:
2
g
|
Sugar:
5
g
|
Vitamin A:
25
IU
|
Vitamin C:
4
mg
|
Calcium:
13
mg
|
Iron:
0.6
mg
Get new recipes in your inbox!
Click here! to sign up for our newsletter