I wanted to list all the resources I use to run this blog. I will be adding more as time goes by.
Disclaimer: Please note that some of the links below are affiliate links. I will earn a commission if you purchase once you click on the link. But I truly use these products and can highly recommend them. Please feel free to ask me any questions.
WEBSITE RELATED
Tool that really works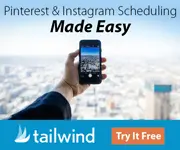 One of my favorite tools to use to schedule Pinterest Pins is the Tailwindapp. There is both a free version and a paid version. I have the paid version and love it. It makes pinning super easy and fun! I literally couldn't blog without it. I used to spend a few hours on Pinterest a week, but now I'm done after 15 – 20 minutes in the same time frame!
Caching
WP Rocket is the best caching plugin I've ever used. It's so easy to use and helped make my site load quickly! You can't go wrong with this premium caching plugin!
Logo Design
I used Kapa99 for my new logo for Dishes Delish to incorporate cocktails in the graphic and also they designed the logo for my Dishing with Delishes podcast! Not only were they professional, but they asked questions and changed whatever I needed changed to get me the perfect logo! I wish I'd used them for my old website's logo which cost me 6 times as much!
Awesome Framework

This is the framework that I use through my wordpress.org account. It's a theme, or as they call it a super theme. It's the framework that holds up my child theme which is next.
Favorite Theme
This is the design portion of my website. I love the nice sleek look and all the widgets. It is a very useful, user-friendly and clean theme.
PHOTOGRAPY RELATED
Current camera

Update: I got a new (to me) used camera from my local photography store. It's the Nikon D810 full-framed camera. What a game changer. Every photo I take with this camera could be used. They are in focus and I take a fraction of the photos I used to. The photo store I bought it from had a great no interest financing for one year. Make sure you ask or look into that as it's an investment but well worth it.
New lens
This is such a great lens! I don't use my 50mm lens much these days, unless I'm using both cameras. This lens goes from 24mm to 70mm and I'm totally in love. It's a great lens to add to my repertoire and my main lens. I also got this used from the local photography store. Christopher prompted me to get it and I am so glad I listened to him!
Back up camera
This is my original camera. It's the Nikon D5300 camera that we bought at the start this blog. I shot my first recipe with my iPhone but most of the posts are taken with this beautiful camera. I decided not to get the top of the line camera but a mid range one to start and this was perfect.
My first prime lens
This is the nifty 50 lens I bought after I bought the camera. The lens that came with the camera was fine but I wanted to take better photographs with good bokeh. This is an awesome lens. Just so you know, this lens is a prime (full-framed) lens that also works with cropped cameras.
Memory card
This is the memory card we bought. It's super fast and holds a ton of data, including video data. Price isn't bad for this great memory card.
Discontinued light
How glad am I that I bought this light while they were still making this light? I know that you can still find these somewhere on the web, but you have to look for it.
This Lowel Ego digital tabletop light unit is the lights that I use for all of my food photography. The reason I use artificial light is because I don't get the right amount of lighting through the windows where I shoot my photography.
This way, I don't have to worry about the time of day that I photograph anything.
I have two of these!
Now, I don't think I'd go back to natural. I love the look of artificial light!
Tripod
One of the things that changed the game in my photography was a tripod! This is the tripod I got. I'm an older individual and even though I'm pretty steady with my photography, a tripod doesn't move and helps you take great photos.
It's the Manfrotto 190 go! One of the things I love about it is that it came with an arm that I can do overhead photography.
New Equipment
My new c-stand that I use for overhead shots and videos. This thing is a beast and is easy to use and transport. I can carry it across our house from one room to the kitchen with no problem. It's a definite must!