Print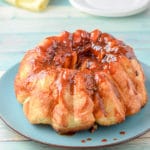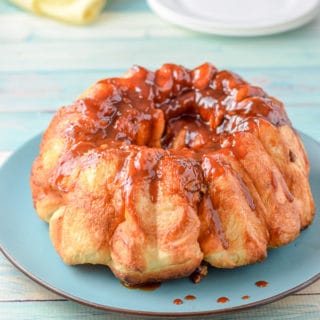 Helen's Butterscotch Bubble Bread
This delicious and addictive butterscotch bubble bread is so good, you'll need a bunch of peeps to help you eat it!
Let the frozen bread thaw in the fridge during the day

Before bed, spray bundt pan with PAM cooking spray

Cut up 1 1/2 loaves of bread into 2 inch balls

Add dough balls in the pan

Mix the pudding and sugar together and sprinkle on the dough balls

Pour melted butter on the pudding mixture

Spray some plastic wrap with PAM and cover the bundt pan

Place pan in the fridge over night and it will rise nicely
Next day
Preheat oven to 350 F

Bake for 25 - 30 minutes

Rest in pan for 5 minutes before turning it onto a plate

Grab a hunk of bread and yank

Bite

Eat

Smile

Enjoy
I'm not going to add the time needed to thaw the dough or let it rise. If you need to know, it's another 16 hours.
Nutrition Facts
Helen's Butterscotch Bubble Bread
Amount Per Serving (1 portion)
Calories 412
Calories from Fat 90
% Daily Value*
Total Fat 10g 15%
Cholesterol 20mg 7%
Sodium 123mg 5%
Potassium 29mg 1%
Total Carbohydrates 17g 6%
* Percent Daily Values are based on a 2000 calorie diet.