This is my friend Vince's croissant breakfast extravaganza recipe! It is so incredibly good and perfect to bake for brunch.
I met Vince years ago when Christopher and I lived in Maine and we were doing theater.  We did some great shows with him and had many laughs.  We also discovered that he's a great cook and shares his recipes freely.
Lucky for me!
I asked him if he would mind if I posted this recipe on the blog and he gave me the thumbs up!  ?
I halved his recipe as it is just Christopher and I who would be eating it.
I knew that since it was Vince's recipe, it would be delicious.  But I didn't know that it was going to be scrump-deli-icious.
On to Vince's Croissant Breakfast Extravaganza
The croissants that I used were huge.  When I make this again, I will use normal sized croissants or I'll make more of the egg custard mixture, since I love me some eggs.  🙂
I preheat the oven to 375 degrees Fahrenheit.
I grab my large jelly roll pan, tear the croissants in little pieces and placed them on the pan.
Into the oven they go for 10 minutes.
Crack those eggs
While they are crisping up, I get a medium bowl and crack 4 eggs into it.  I add some heavy cream and whole milk.
I whisk it together and set it aside.
The croissants come out of the oven nice and crispy.
I transfer them to a baking dish.
Pouring the Custard
Next, I pour the egg mixture on top of the croissant pieces.
I take my metal spatula and make sure all the pieces are covered in the egg mixture.
After I mix it, I cover the baking dish and place it in the refrigerator for 3 hours.
Right before the 3 hours are up, I heat a little sauté pan, place the pancetta inside and sauté it until it is nice and crispy.
I preheat the oven to 350 degrees Fahrenheit.
Shredding Some Cheese
Next, I shred some gouda cheese and chop up some scallions.
Time to layer the above ingredients onto the croissant mixture.
I start with the cheese, then add the scallions and top it all off with the pancetta.
Bakey Bakey
I place it in the oven and bake it for 30 – 40 minutes.
DING!  ⏲
Time to scoop some out and plate it.
And now, I eat some of it.
Yum!  A nice slightly sweet savory breakfast!
Both Christopher and I enjoyed this breakfast meal so much, we are both plotting when I will make it again.
I hope you enjoyed this recipe.
Feel free to Pin any photo to Pinterest and Yum the recipe to Yummly!  And you can leave me a comment, if you please.
And as always, may all your dishes be delish.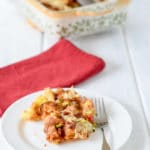 Vince's Croissant Breakfast Extravaganza
This slightly sweet savory breakfast is so satisfying and delicious. How could it not be? It's made with croissants!
Keyword:
breakfast casserole, croissant casserole
Ingredients
4

croissants

broken up into pieces

4

eggs

whisked

1/4

cup

heavy cream

1/2

cup

whole milk

3

ounces

pancetta

crisped

1

cup

gouda cheese

shredded

2

tablespoons

scallions

chopped
Instructions
Preheat oven to 375 F

Place croissant pieces on jelly roll pan and place in oven to crisp for 10 minutes

Crack the eggs in a medium bowl and add the cream and milk. Whisk until combined together

Place the croissants in a medium baking pan and pour the egg mixture on top of the croissants. Flip the croissants around until the egg mixture coats the croissants

Place in the refrigerator for 3 hours

Near the end of the 3 hours, heat a small sauté pan and crisp the pancetta

Preheat the oven 350 F

Shred the gouda cheese and chop up some scallions

Take the baking pan out of the refrigerator and sprinkle the cheese on top, next sprinkle the onion and then the pancetta

Place pan in the oven and bake for 30 - 40 minutes

Scoop out a spoonful of croissant mixture onto your plate

Take a bite

Make the mmmmm sound

Eat everything on the plate

Scoop some more on your plate

Eat

Smile

Enjoy
Nutrition Facts
Vince's Croissant Breakfast Extravaganza
Amount Per Serving (1 cup)
Calories 315
Calories from Fat 198
% Daily Value*
Total Fat 22g 34%
Cholesterol 147mg 49%
Sodium 447mg 19%
Potassium 140mg 4%
Total Carbohydrates 14g 5%
Protein 13g 26%
* Percent Daily Values are based on a 2000 calorie diet.