This is my inspired layered chocolate brownie dessert recipe.  Why inspired?  Well, it is inspired by a fellow blogger's recipe.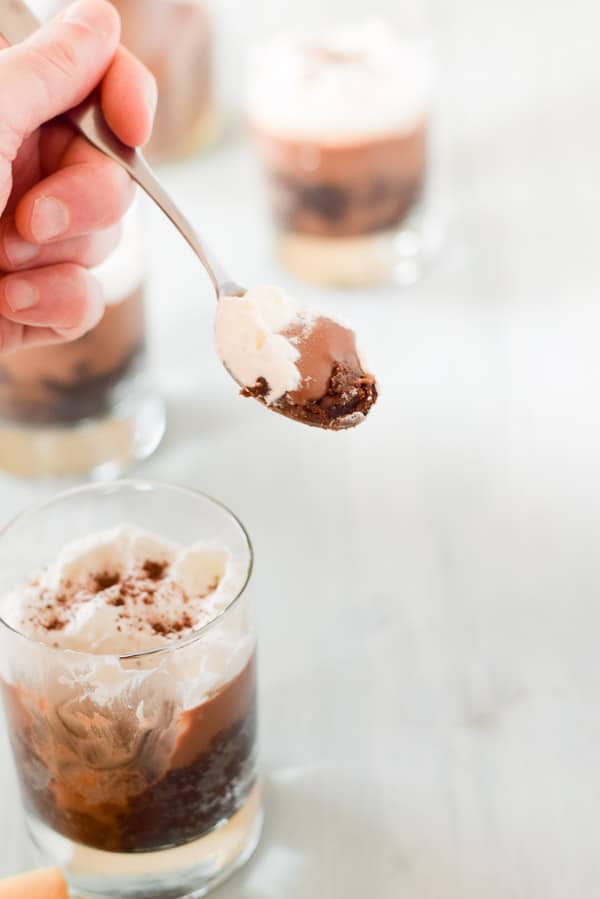 When I saw that recipe, man, oh man, I fell in love.  I thought to myself, "I so have to make this," but with my own spin on it.
The original recipe is called Copycat Lindor Truffle Chocolate Dessert, and seeing that I love Lindor chocolates, it was a no brainer; I had to try it.  (I link to that recipe later in this post.)
In my version, I spoon brownie pieces into serving glasses (I don't bake them in separate units) and for the top layer I use whipped cream. The middle layer of chocolate truffle filling is the same in both recipes.
Yum, right?
The original recipe also calls for a final layer of white chocolate on top and while I actually bought some for the recipe, I just couldn't get myself to use it.  Why?  I don't like white chocolate.
At all.
Seriously.
Christopher asked me why I was standing there staring at the package of white chocolate bits. So, I told him.  He asked why I couldn't do it just for this recipe and I replied that I just couldn't. I had to return them to the store.
So, even though I wanted to see if this dessert actually tasted like a Lindor Truffle, my curiosity wouldn't go there.  I usually wouldn't pick the white chocolate Lindor truffle anyway.  I go for the dark chocolate ones!  🙂
On to the Inspired Layered Chocolate Brownie Dessert
I make the truffle filling first because it has to cool down for at least an hour.
I start out by gathering the milk chocolate bits, coconut oil and heavy cream.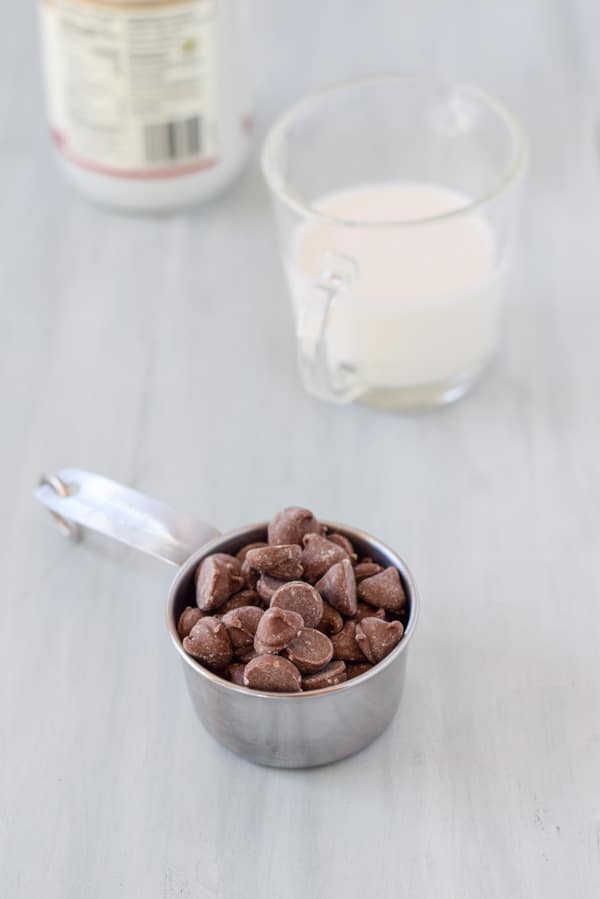 In a small saucepan, I add the cream and heat it up.  I add the chocolate bits and coconut oil and stir until completely dissolved.  Then I set that aside and set the timer for an hour.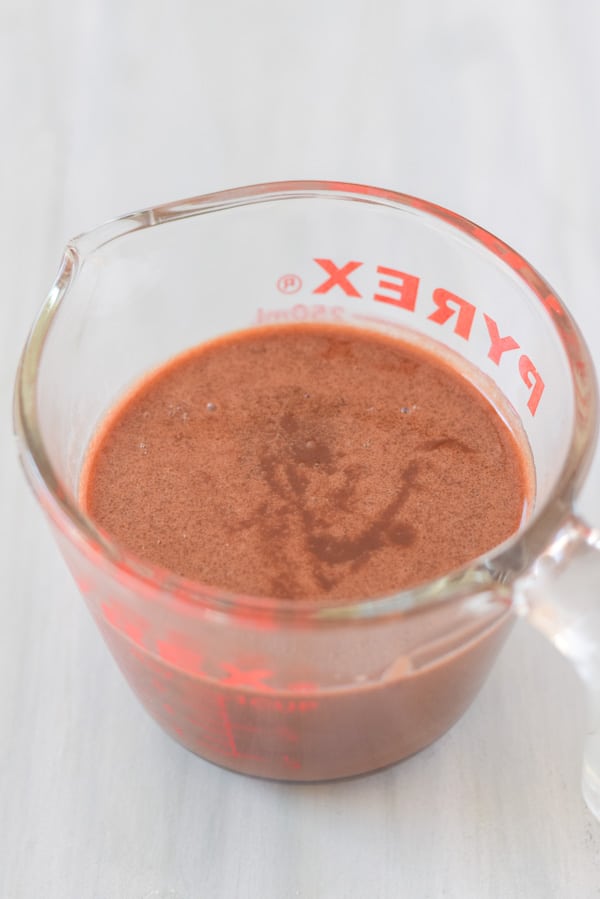 Time to bake the brownies.  You could also use box brownie mix, but homemade is so much better.
The original recipe calls for baking the brownies in single-serving, oven-proof glassware. But since I do not own any, I bake the brownies as usual and, once cooled, spoon chunks into each glass.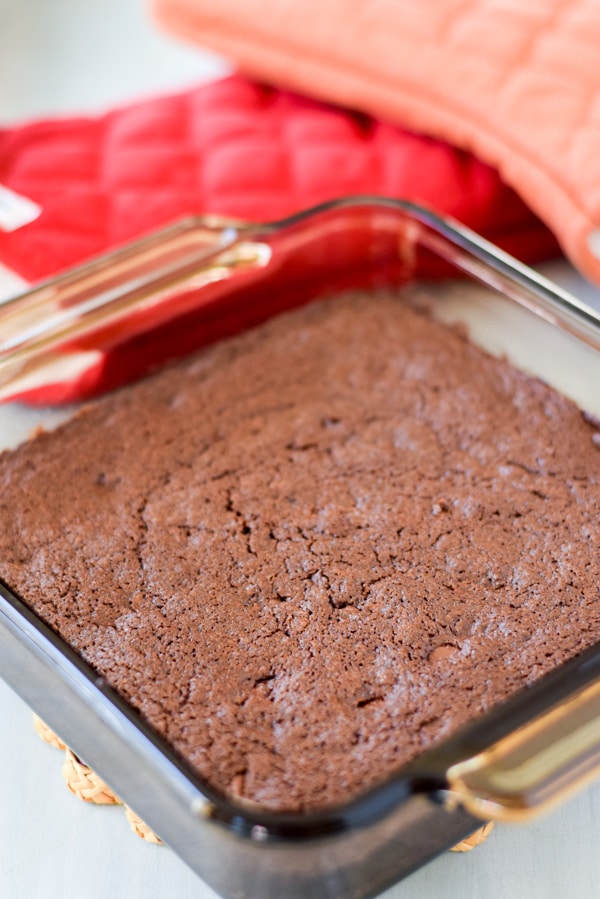 After they've baked, I let the brownies cool for at least a half hour.
Next, I take a spoon, scoop out chunks of the soft brownie center (I don't use the crust) and place the spoonfuls into the serving glasses.  I don't pack down the chunks, wanting the brownies to have some space.  I think that layer would be too dense if you packed it in.
(And yes, you will have leftover brownies!  Yay!)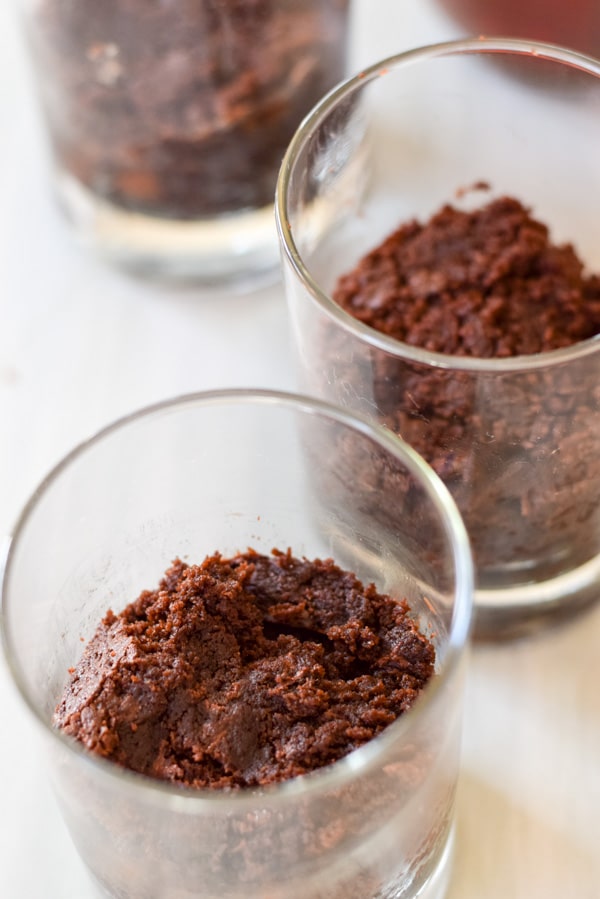 Mmmm.  Good enough to eat now!  But I will wait for the rest of the ingredients to get the full effect from this delish dessert.
Time to Pour
Next, I take the truffle filling and pour it on top of each brownie layer, dividing it evenly between the glasses.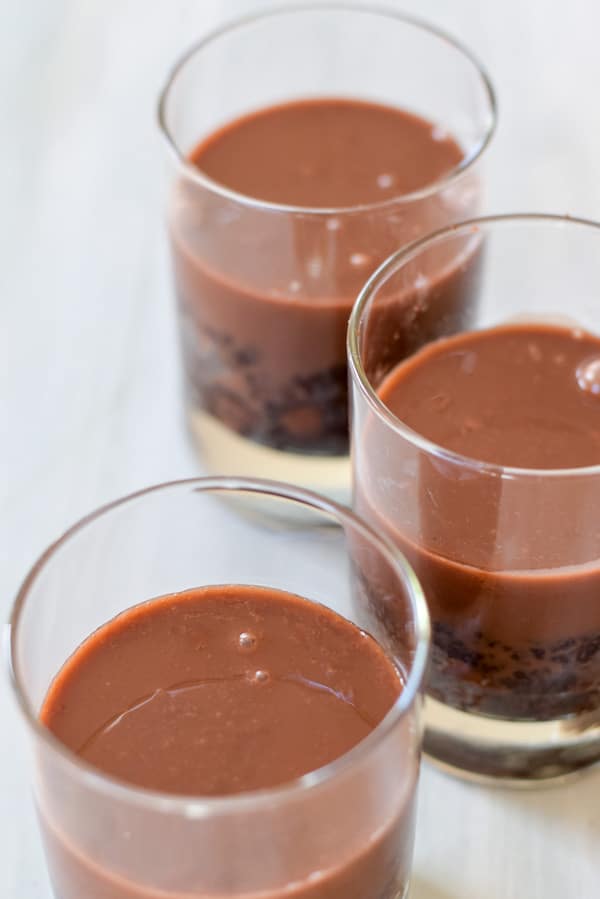 Now, I place the glasses into the refrigerator for at least 2 hours before the next step.
After the filling sets, I whip heavy cream and confectioner's sugar to make whipped cream.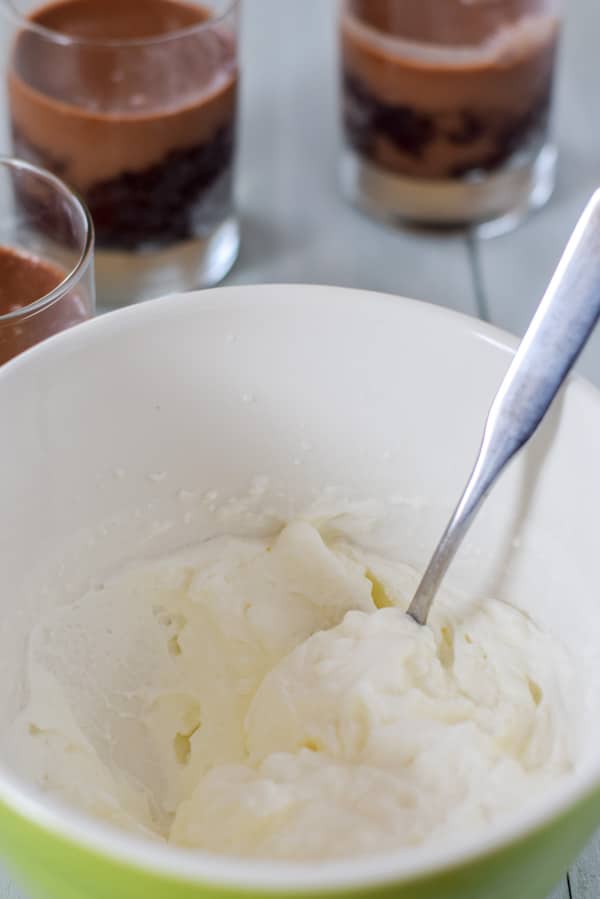 I put a generous portion of whipped cream on top of the layered dessert and I top if off with a sprinkling of hot chocolate powder mix.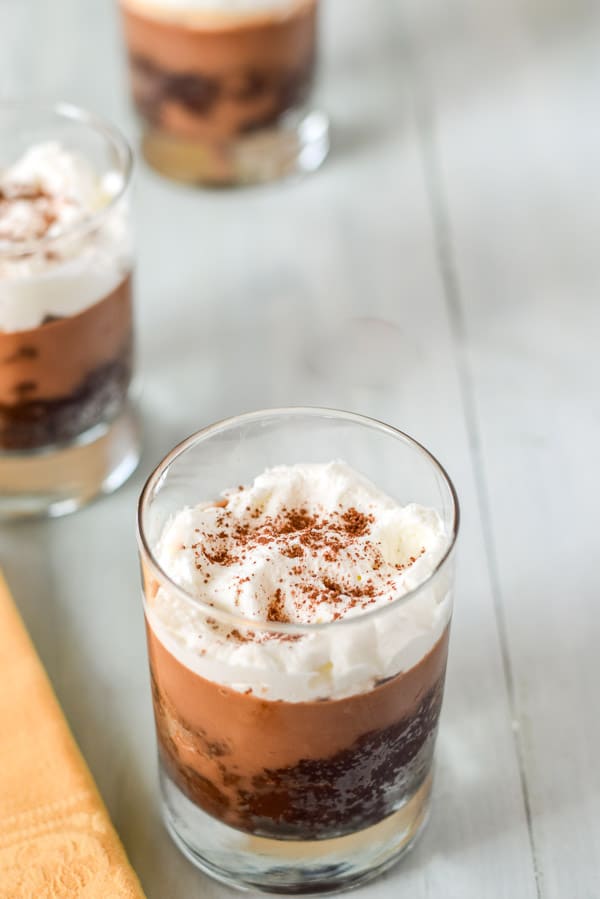 Mmmm, ready to be served!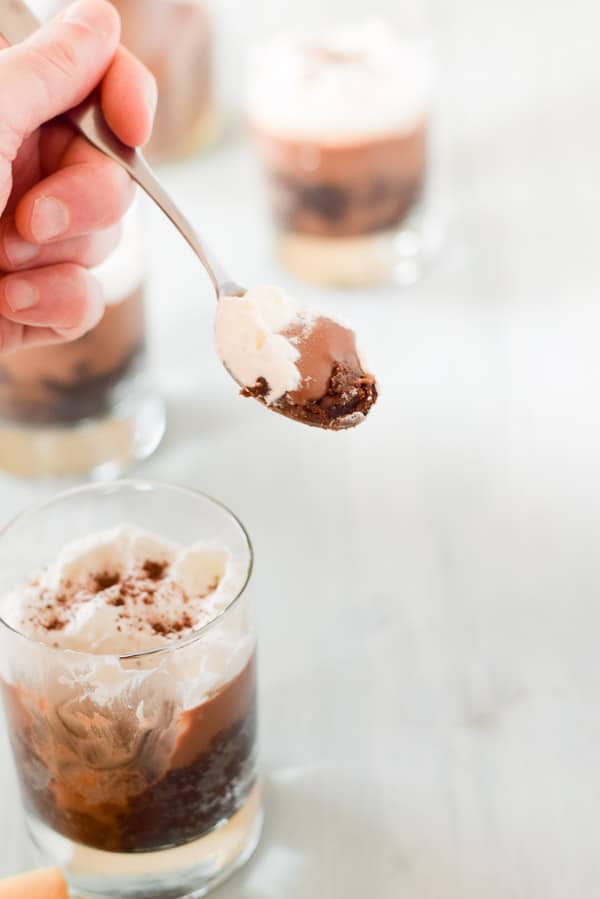 I love eating new things and I wasn't disappointed in the least bit with this dessert.  It looks cool and is very fun to eat it out of the glass!
I'm so glad I tried this dessert! Speaking of which, the recipe that inspired my creation can be found at Julia's Bavarian Epicure Blog.
I hope you enjoyed this recipe.  Feel free to comment and Pin any photo to Pinterest or Yum the recipe to Yummly.
And as always, may all your dishes be delish!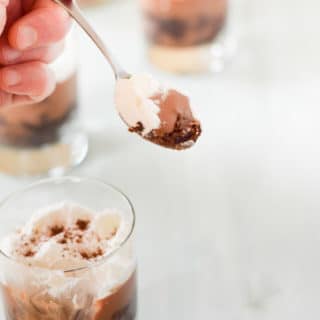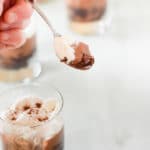 Inspired Layered Chocolate Brownie Dessert
This layered brownie dessert is delicious and fun to eat!
Keyword:
chocolate brownie parfait
Ingredients
Truffle Layer
1/2

cup

heavy whipping cream

1/2

cup

milk chocolate chips

1/4

cup

coconut oil
Whipped Cream
1/2

cup

heavy whipping cream

1

tablespoon

confectioner's sugar

or to taste
Instructions
In a small saucepan, heat heavy whipping cream

Add chocolate chips and coconut oil, stirring until dissolved

Set aside to cool for an hour

Make brownies (my recipe here)

After brownies are cooled, cut into 4 large squares and using a spoon, scoop some brownie into each glass, press down on the brownie slightly, but don't pack it down

Pour truffle mixture on top of the brownies, dividing it evenly

Put in refrigerator for 2 hours for the truffle mixture to set

In a tall bowl, add 1/2 cup of cream and confectioner's sugar and with a hand mixer

Whip until it becomes whipped cream

Spoon a few dollops on top of the truffle mixture and spread it to the edges with the back of the spoon

Sprinkle hot chocolate powder mix on top of the whipped cream

Serve immediately

Stick spoon into the layered dessert

Lift spoon to mouth

Eat

Smile

Enjoy
Recipe Notes
Adapted from Julia's recipe!
Nutrition Facts
Inspired Layered Chocolate Brownie Dessert
Amount Per Serving (1 serving)
Calories 594
Calories from Fat 486
% Daily Value*
Fat 54g83%
Cholesterol 113mg38%
Sodium 52mg2%
Potassium 59mg2%
Carbohydrates 25g8%
Protein 3g6%
Vitamin A 1235IU25%
Calcium 86mg9%
Iron 0.4mg2%
* Percent Daily Values are based on a 2000 calorie diet.