This is my healthy eggs nestled in avocado recipe!  It's super easy and delicious! They are a great alternative to the usual breakfast fare!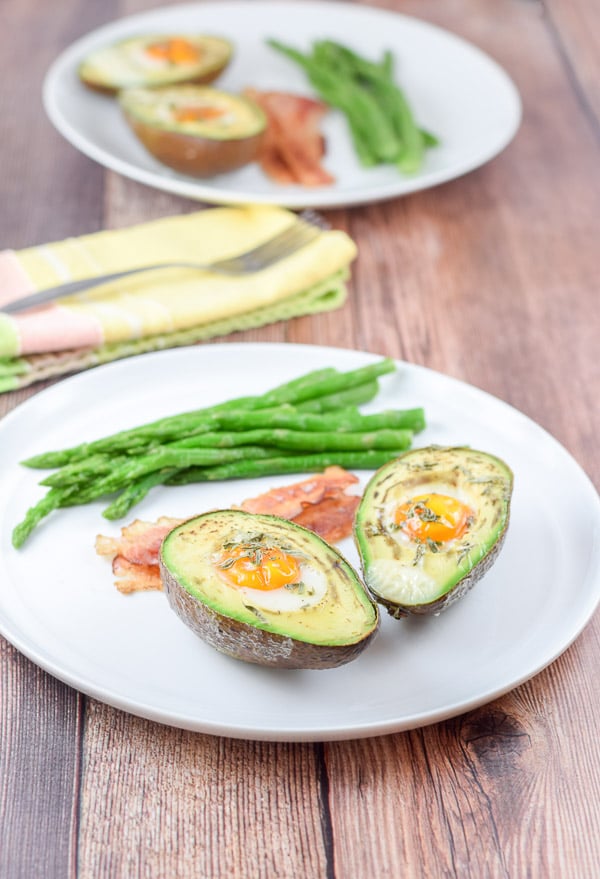 I've been disappointed in the supermarket avocados for months now.  Have you been having luck with this delicious fruit?  The ones I find are either too pithy or hard as a rock and they never really ripen.  Maybe it's because I'm in New England.  Not exactly avocado country. Know what I mean?
Thankfully, I managed to find some good ones for this recipe.
Funny Story inspired by, but not about, Avocados
When Christopher and I lived in California, I used to like going out to lunch.  I would go with other people or by myself.  I never minded going by myself.  As long as I had my book, I was fine.
Well, in this story, I went out to partake of some Japanese food.  I ended up trying sushi for the first time.  As we all know, with sushi comes a dollop of wasabi.
Now, since this was my first foray with Japanese food, I thought that the wasabi was guacamole.  In fact, I distinctly remember feeling aggrieved because the restaurant was so stingy with the guacamole.  I picked up my chop sticks, grabbed the "guac" in between the two wooden sticks and shoved it in my mouth.
ARRRRRRRRRRRRRRRGH.
Not guacamole.
I coughed and coughed for a few minutes.  The waiter was getting nervous but I kept shooing him a way and drinking my water.
Thank goodness the heat of wasabi doesn't stay with you long!
On to the Healthy Eggs Nestled in Avocados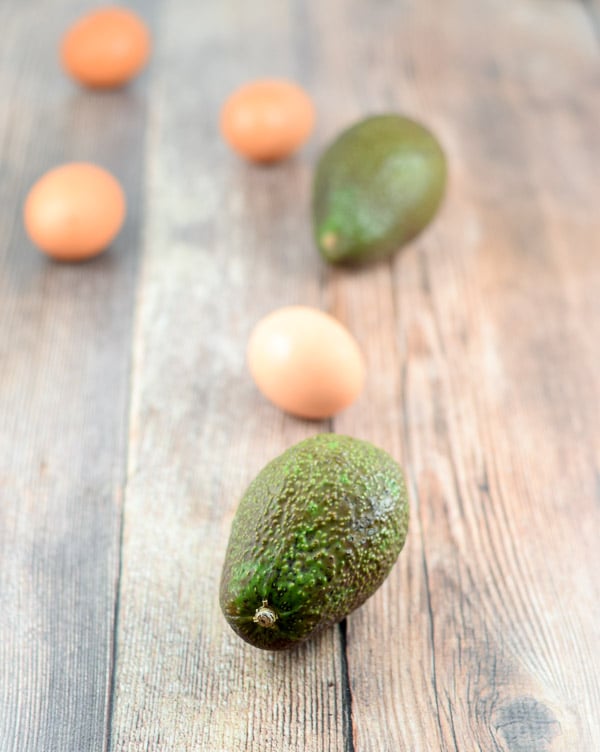 Preheat the oven to 400 degrees Fahrenheit.
I grab my avocados and 4 eggs.
I cut the avocados in half and take out the pits.  These avocados have small pits so I scoop some of the flesh out of the halves to make room for more egg.  (You'll want to experiment with the best balance between avocado and egg for your taste.)
You can see the extra avocado in the glass dish.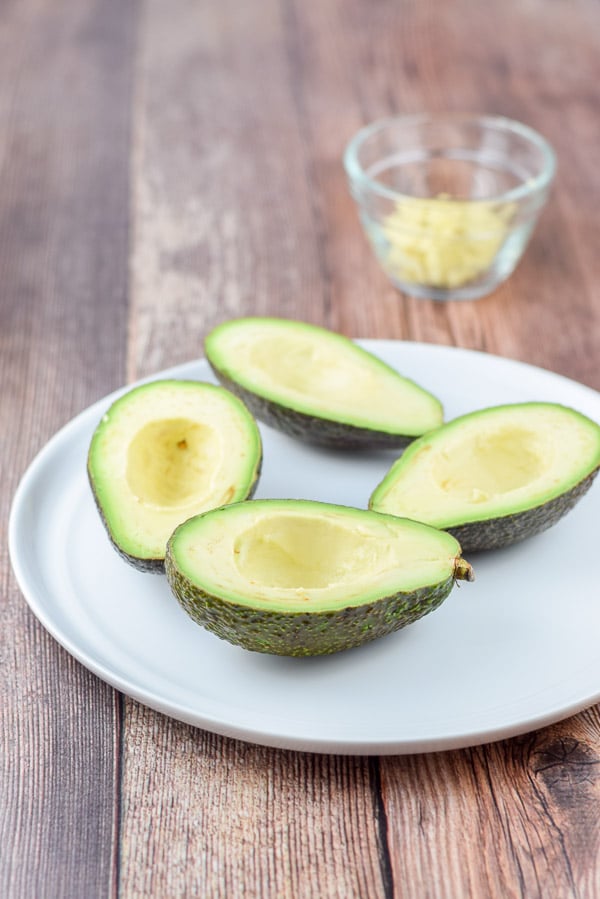 I crack the eggs and separate the yolks from the whites.  I put one yolk into each avocado half.
I pour some of the whites in with each yoke.  It's a rather messy procedure and the white will overflow so I like to line a jelly roll pan with foil before I start.
You will probably still have a lot of egg white left over.  I leave mine in my ovenproof glass bowl and bake it with the avocados.
Before I pop the pan into the oven, I sprinkle the avocado halves with salt and pepper, basil and tarragon.
Into the oven they go.
I find the eggs are done between 15 – 20 minutes.  These took 20 minutes because the avocados were not quite ripe.  But if I were you, I'd check at 15 minutes.
Breakfast Time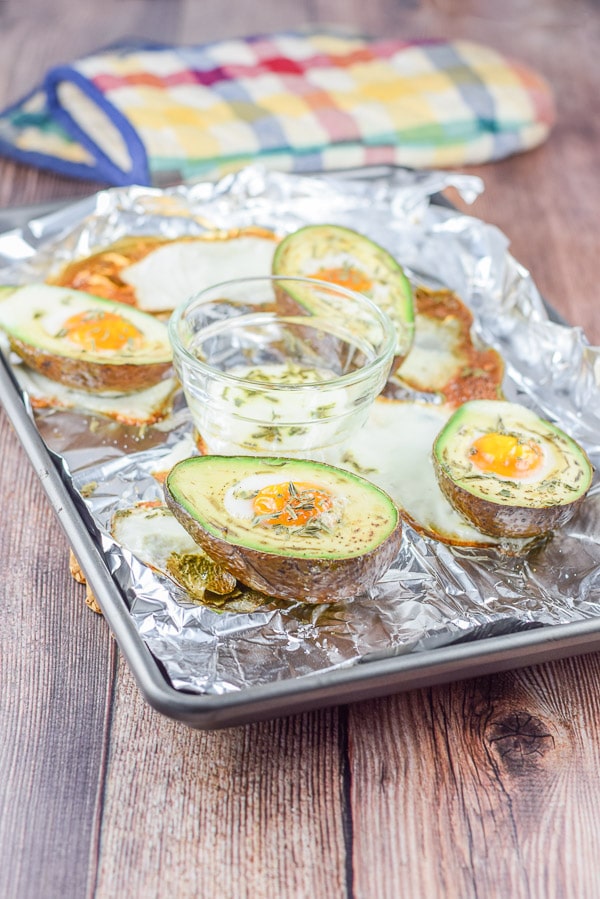 All that is left to do is to plate them with bacon and asparagus!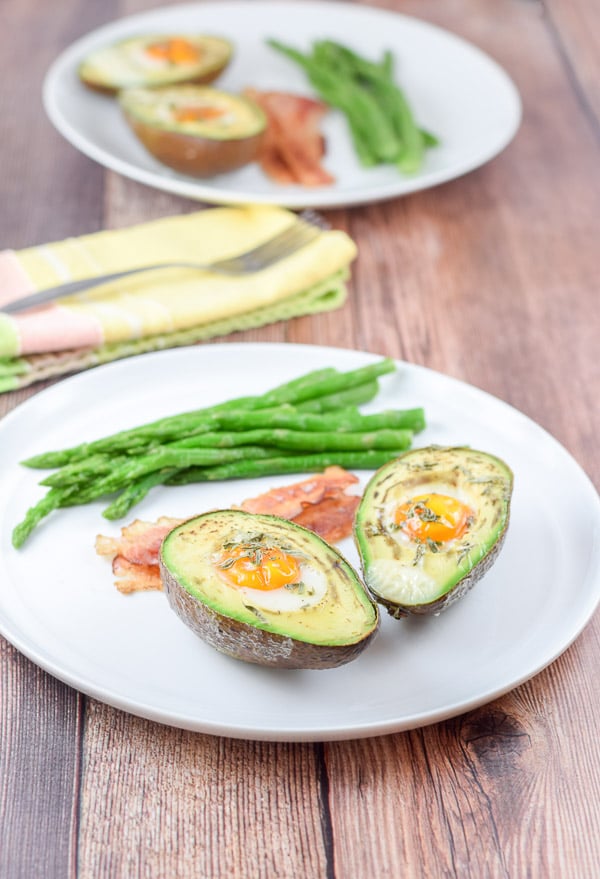 Breakfast time!!
Delish!
I hope you enjoyed this recipe!
Please feel free to comment, Pin any photo to Pinterest and Yum the recipe to Yummly.
And as always, may all your dishes be delish!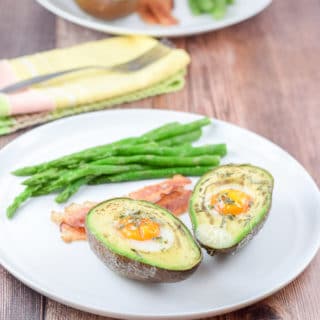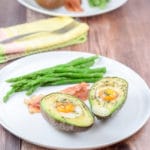 Healthy Eggs Nestled in Avocados
These healthy eggs are really delicious!
Keyword:
avocado eggs, eggs baked in avocado
Instructions
Preheat oven to 400 F

Place the avocado halves on the foil

Place a yolk into each hole, pour some of the white in with the yolk. You will have extra, place in glass bowl and place it on the jelly roll pan

Sprinkle the salt, pepper, basil and tarragon on the eggs

Bake for 15 - 20 minutes until the eggs are set

Plate with bacon and a veggie

Eat with a fork or spoon (I like using a spoon)

Smile

Sigh

Enjoy
Nutrition Facts
Healthy Eggs Nestled in Avocados
Amount Per Serving (2 halves)
Calories 224
Calories from Fat 162
% Daily Value*
Fat 18g28%
Cholesterol 163mg54%
Sodium 105mg5%
Potassium 548mg16%
Carbohydrates 8g3%
Protein 7g14%
Vitamin A 385IU8%
Vitamin C 10.1mg12%
Calcium 37mg4%
Iron 1.3mg7%
* Percent Daily Values are based on a 2000 calorie diet.