I could cry when I imagine the joy of eating these raspberry stuffed French toast!  Such a delicious taste of raspberry filled bread draped in maple syrup!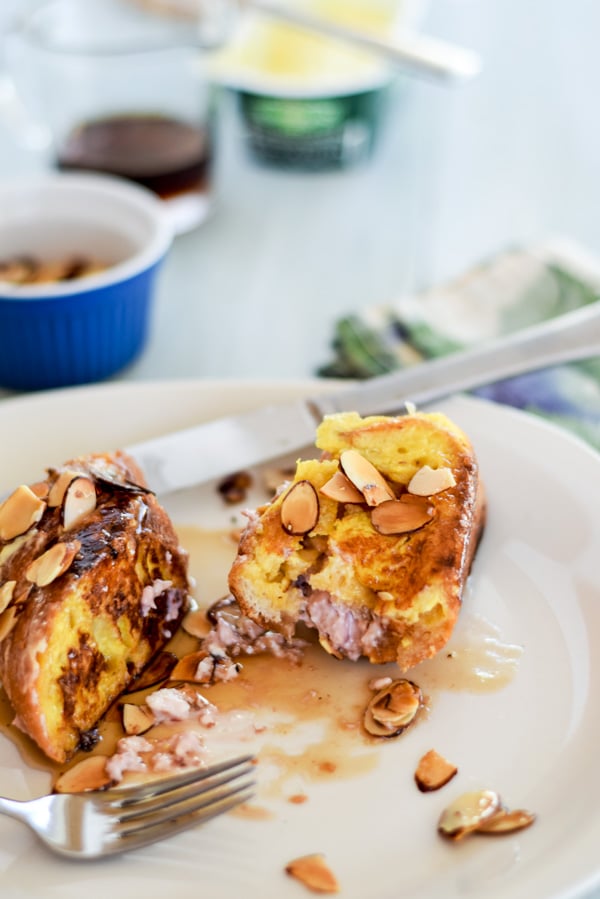 Mind you, I never would cry when eating fabulous raspberry stuffed French toast because the salty tears running down my cheeks and plopping onto the food would add salt. Lainey wants sweetness with her breakfast, not salt.  🙂
I've had many pieces of stuffed French toast in my day, but my eyes were opened wide when our brother-in-law, Rob, made it for breakfast one morning during a weekend visit.
"Uh, yum.  Sign me up!  Why do I only get two pieces?  Do I look like I'm on a diet?"
Of course, I didn't say these things.  I just smiled and ate my two pieces like a good guest.  I'm giving like that. 😉
Since then, I've been making them for myself and you know what the great thing about that is? I can have as many pieces as I want.  Take THAT, portion police!
What made Rob's stuffed French toast really good?  The bread.  I've had French toast with regular bread and some flavored cream cheese spread between two slices, but I've never had it on this type of bread.  Since I have now experienced it, I'll never go back to boring slices of bread.  Unless forced.
On to the Raspberry stuffed French toast recipe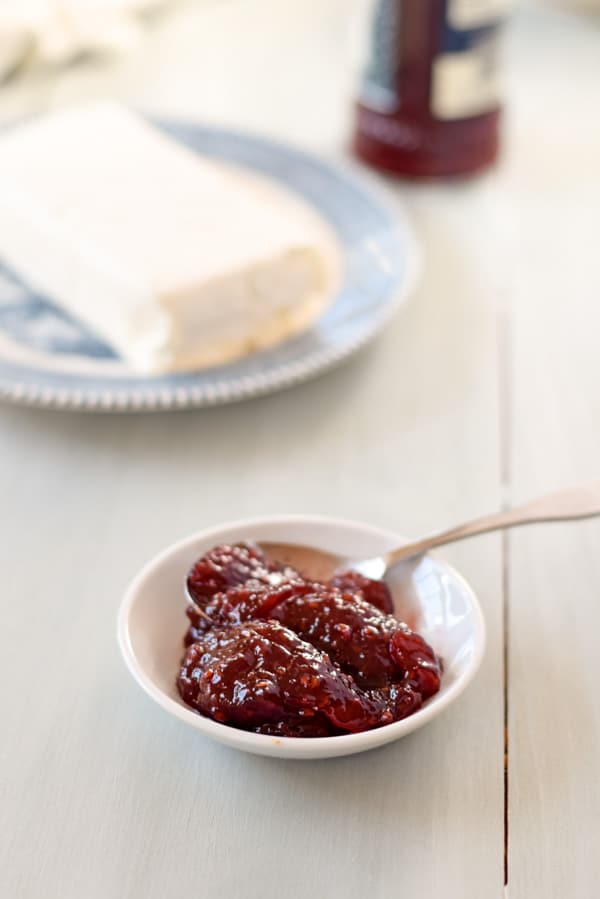 I start off with some luscious raspberry jam and some cream cheese.
I put the cream cheese in a bowl and plop that jam right on top and mix them together!
I get some slivered pecans and put them in with a teaspoon or so of olive oil in a heated sauté pan.  I want to toast these babies so I can sprinkle them on the French toast.  I find it takes around 5 minutes to toast them.  I stand and stir them as they cook.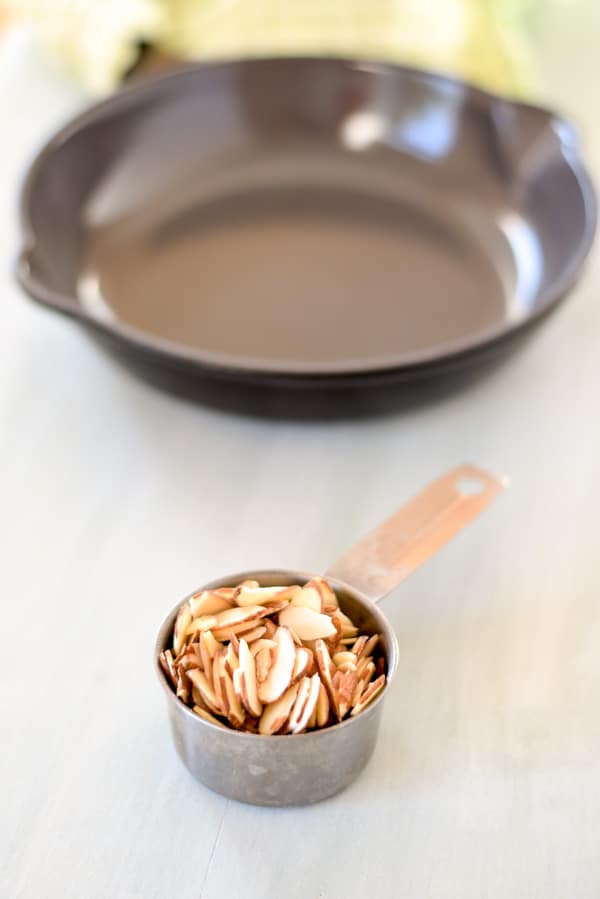 I then take my bread and cut it on the diagonal in thick slices.  I use a long artisan type bread.
Next, I cut a slit in the pieces, being careful not to cut all the way through.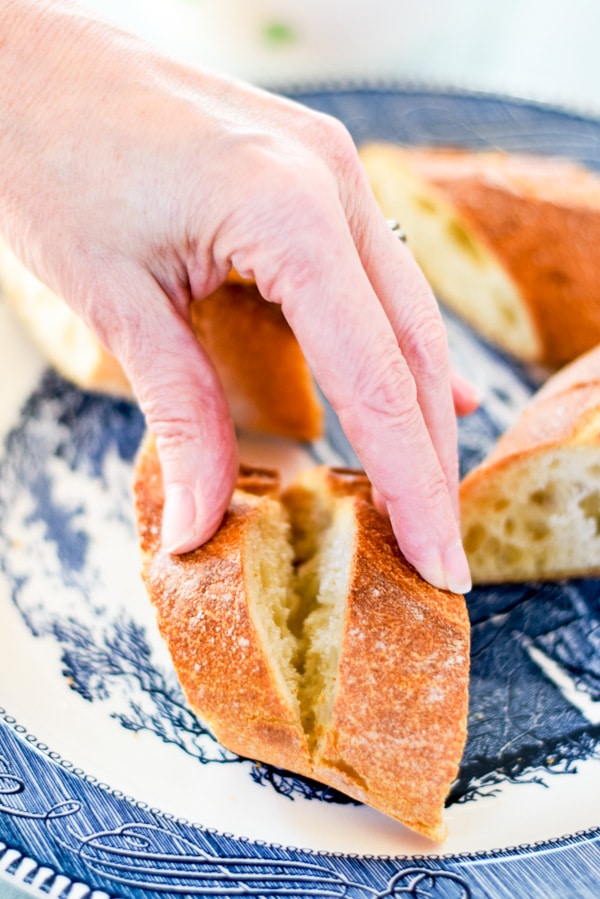 Time to stuff.  Yay.  I do it two different ways, depending on my mood.  I use either a knife or a spoon and this time around, I used a spoon.  I like to sort of scoop the front of the bowl part against the bread and get as much cream cheese in there as I can.
Yay!  They're all stuffed and ready to be battered.  I used a whole block of cream cheese, so I had lots of extra stuffing because one needs it for bagels and other such delicacies one can slather it on.
Doesn't one?
I take out my eggs, milk and vanilla and put them in a bowl.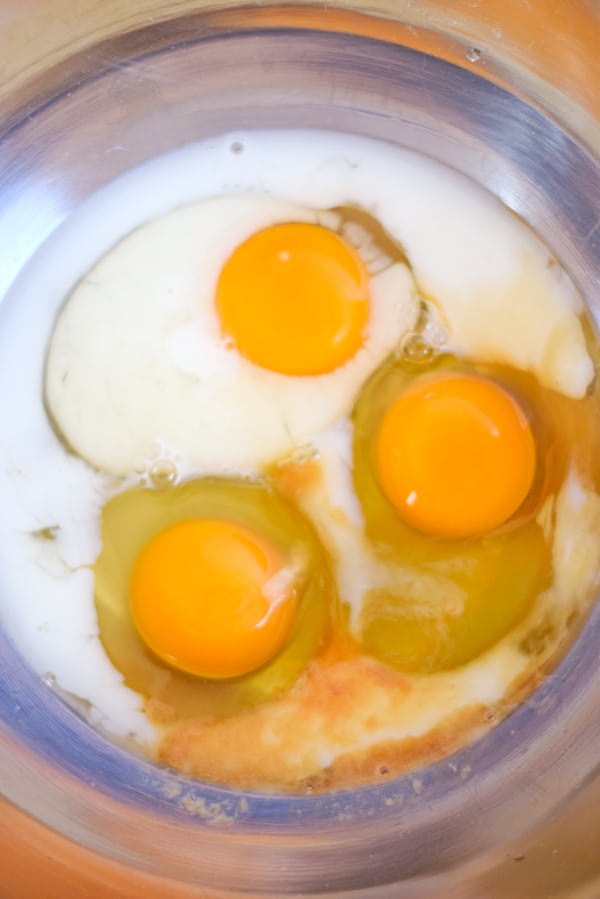 Now, I'm ready to whisk them all together.  On a side note, when I'm making French toast, I usually end up erring on the side of too many eggs.  I made 4 pieces of french toast and it was too much.  Two eggs would have been enough, but you know me, I don't want to run out! 🙂
I set the stuffed bread in the whisked egg mixture and make sure it's all coated.  Meanwhile, I heat my sauté pan and put in a couple of tablespoons of butter.
I place all the batter-stuffed bread in the pan and let it get nice and brown on all sides. Once they are done, I plate them, butter them, sprinkle on some toasted almonds and pour on the maple syrup.
That looks good enough to EAT!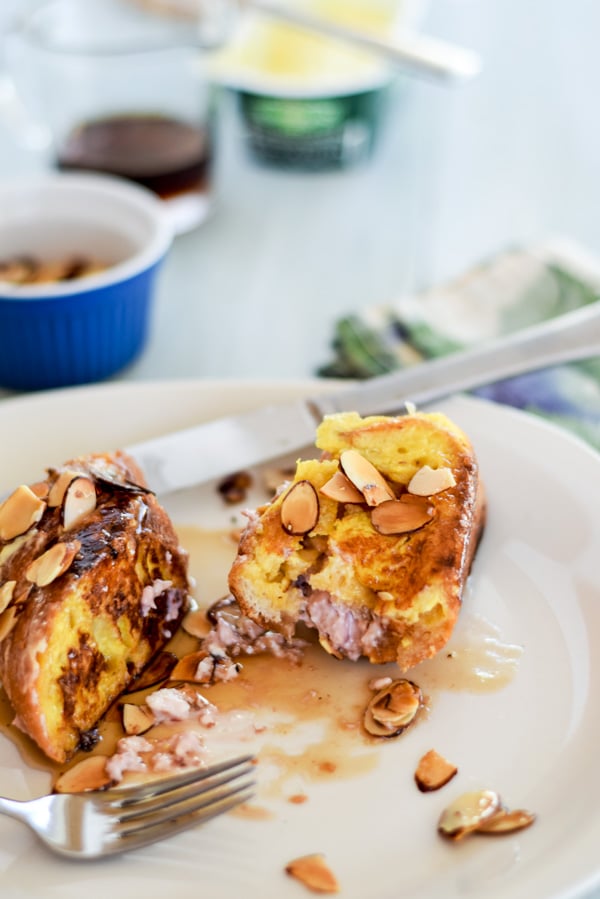 And so I did.  Hehehe!
I hope you enjoyed this raspberry stuffed French toast recipe.  And I hope you try making them.  Let me know if you do! Please leave me a comment to let me know what you think.  Feel free to Pin any photo to Pinterest and Yum the recipe to Yummly!
And as always, may all your dishes be delish!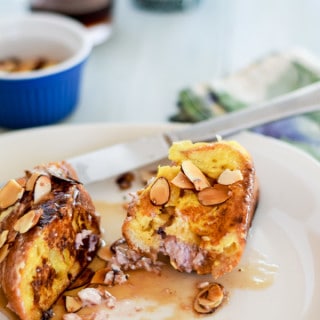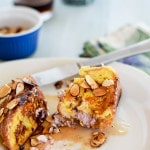 Raspberry Stuffed French Toast
This easy and delicious raspberry stuffed French toast is a winner for breakfast!
Ingredients
4

crusty bread

thick slices

1

package

cream cheese

3

tablespoons

raspberry jam

1/2

cup

slivered almonds

toasted

1/2

teaspoon

olive oil

2

eggs

1

tablespoons

milk

2

teaspoons

vanilla extract
Instructions
Place cream cheese and jam in a big bowl and mix to combine

In a small heated sauté pan, add the slivered almonds and toast on medium heat (5 min)

Slice desired amount of bread, thick and at a diagonal

Slit each piece of bread so you can stuff it

Stuff each piece with desired amount of cream cheese mixture

In a medium bowl, crack eggs, add milk and vanilla

Whisk

Place stuffed bread in bowl, let them soak for a few minutes, coating both sides

Heat a sauté pan

Add some butter

Place egg coated bread in pan

Let the bread brown on all sides.

Remove from pan and place on plates

Butter stuffed french toast

Sprinkle some toasted almonds on top

Dribble maple syrup on french toast

Dig in

Eat your first bite full

Swoon

Smile

Enjoy
Recipe Notes
Calories are for the whole raspberry cream cheese but you won't use it all in your stuffed French toast.
Nutrition Facts
Raspberry Stuffed French Toast
Amount Per Serving (2 pieces)
Calories 380
Calories from Fat 252
% Daily Value*
Fat 28g43%
Cholesterol 144mg48%
Sodium 224mg10%
Potassium 215mg6%
Carbohydrates 16g5%
Protein 9g18%
Vitamin A 880IU18%
Vitamin C 1.3mg2%
Calcium 111mg11%
Iron 1.2mg7%
* Percent Daily Values are based on a 2000 calorie diet.