Easy Chocolate Chip Scones
These easy chocolate chip scones are so delicious I could do a neat little tap dance in their honor. I even have the shoes!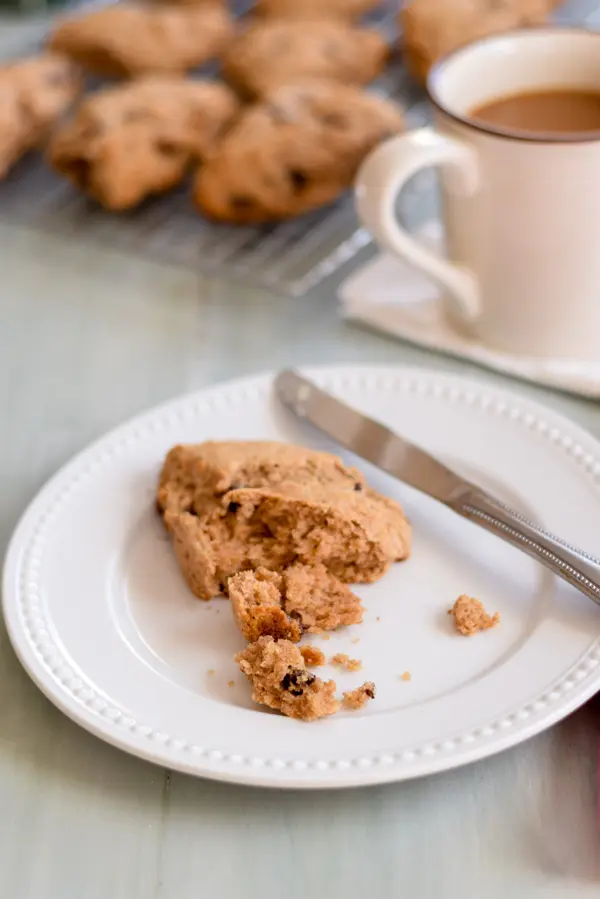 These scones make me happy. Well, to be fair most scones make me happy, but these make me extra happy because they have chocolate chips in them and we all know how I feel about chocolate. *Crowd cheers, ticker tape floats down on my head and into my coffee.*
When Christopher and I were in Ireland, I noticed how much sweeter the USA scones were than their Irish counterparts. The funny and surprising thing to me is that I like them both equally. *Christopher yells out, "Who are you and what did you do with my wife?"
Well, these scones are not as sweet as most, but they are very satisfying. Most satisfying, indeed.
This post may contain affiliate links, which means I get a small commission, at no additional cost to you, if you click the link and buy something. You can read my disclosure here.
On to the Chocolate Chip Scones recipe
Preheat the oven to 425 degrees Fahrenheit.
Spelt flour, beautiful sprouted spelt flour! I love this stuff and if you've been reading my blog, you will know how often I substitute this flour with any other flour. If you haven't tried it, you have to. You can use it in place of wheat flour as it is most like it to bake with. Then, once you get hooked, 🙂 you can try substituting it for all purpose flour. But, baby steps readers, baby steps.
I gather the sugar, baking powder and salt and add them to the spelt flour. The photo above shows all those ingredients mixed together.
Time to break out the butter and my dough cutter.
If you don't own a dough cutter, you can just use two knives to cut the butter. You want the butter to be broken down into little pea-sized bits.
Next, I gather the buttermilk and sour cream. This post explains how to make buttermilk.
I add the sour cream and pour the buttermilk in with the spelt flour mixture. I also add the chocolate chips at this time. Time to mix it all up. You can either use a kitchen implement like a rubber spatula or your hands. I opt for my hands since it is faster.
Be careful not to over mix the dough, you want it to be just combined. If you over mix it, the scones tend to become hard or tough.
I grab my marble pastry stone and sprinkle a little flour on it. I cut the dough in half and press it into two long rectangles.
Next, I cut each rectangle into triangles.
I get my jelly roll pan and line it with parchment paper. I line up the scones on the pan, trying to leave space between each triangle. I should have left more room between each scone because they expand a little when they bake. But the worst that happens is they end up touching and you need to separate them with a knife. No biggie, really, but do yourself a favor and give each scone its own space. Don't be forgetful like me. 🙂
Into the oven the chocolate chip scones go. Bake time varies between 13 – 15 minutes, depending on your oven.
DING!
Out of the oven they come.
They are done and they smell delish!!
I transfer the scones from the pan to a wire rack so they can cool.
Time to plate them and enjoy every crumbly morsel, one scone after the other. Oops, did I say that out loud?
These scones are delish plain or with some butter on them.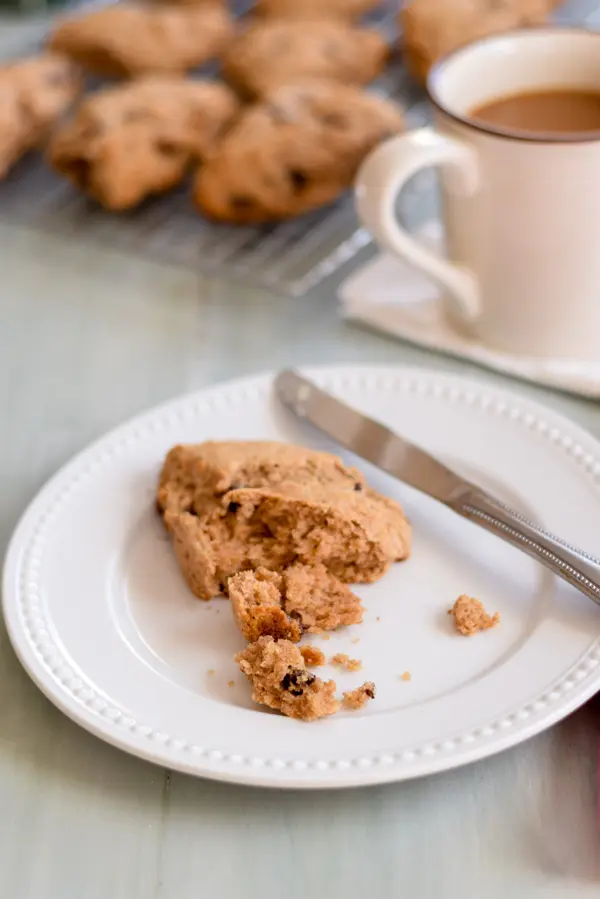 I actually chose to eat mine plain and, of course, Christopher used butter.
I hope you enjoyed this recipe. Please leave me a comment to tell me what you think. Feel free to pin any photo to Pinterest or Yum the recipe to Yummly (icon at the top of the post)!
And as always, may all your dishes be delish!
Chocolate Chip Scones
These scones are so delicious and satisfying. Naturally, because they have chocolate chips in them!
Print
Pin
Rate
Ingredients
2

cups

spelt flour

1/2

cup

sugar

2

teaspoons

baking powder

1/2

teaspoon

baking soda

1/2

teaspoon

salt

6

tablespoons

butter

1/2

cup

buttermilk

1/4

cup

sour cream

1

cup

chocolate chips
Instructions
Preheat oven to 425 degrees F

In a large bowl, combine flour, sugar, baking powder, baking soda and salt

Add butter and use a dough cutter until butter is in pea size pieces

Add buttermilk, sour cream and chocolate chips

Mix until just combined, careful not to over mix

Flour a surface like a pastry board

Cut the dough in half

Press the dough halves in long rectangles

Cut each rectangle into triangles

Line a jelly roll pan with parchment paper

Place triangles on jelly roll pan, leaving space between each scone

Pop pan into oven

Bake for 13 – 15 minutes

Remove from oven

Let cool for 5 minutes before removing scones from pan onto wire racks to cool

Or eat one hot either plain or with butter

Exclaim YUM

Smile

Enjoy
Nutrition
Serving:
1
scone
|
Calories:
253
kcal
|
Carbohydrates:
34
g
|
Protein:
3
g
|
Fat:
11
g
|
Saturated Fat:
6
g
|
Cholesterol:
20
mg
|
Sodium:
218
mg
|
Potassium:
87
mg
|
Fiber:
3
g
|
Sugar:
18
g
|
Vitamin A:
255
IU
|
Vitamin C:
0.1
mg
|
Calcium:
65
mg
|
Iron:
1.2
mg
Get new recipes in your inbox!
Click here! to sign up for our newsletter