This is such comfort food for me. I grew up eating chicken wrapped in foil, although my father made it on the grill!  It's fun to eat and very tasty!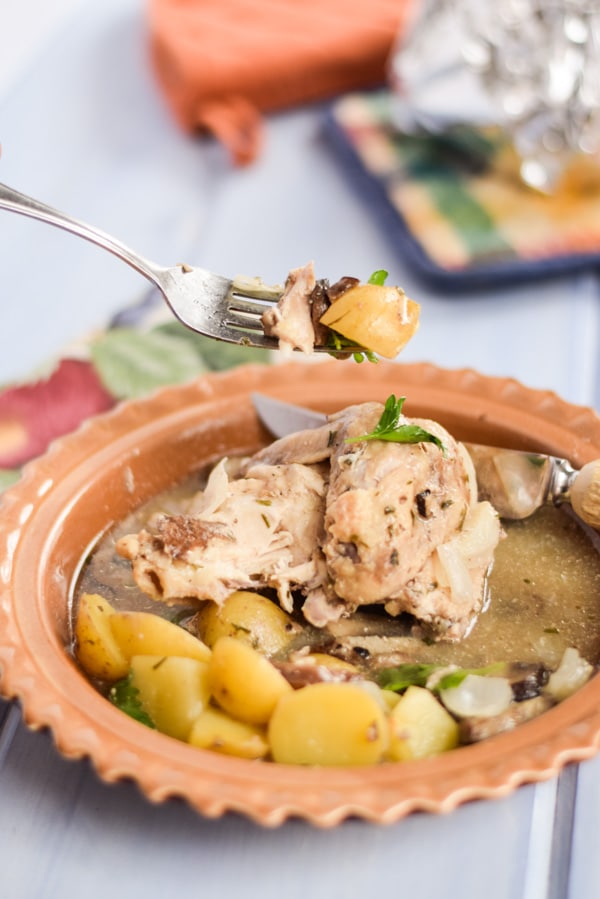 🙂
We used to actually call this chicken in a bundle.  But I want it to be searchable so, I've changed the name!
Let me explain the bundle part of this comforting chicken in a bundle recipe.
You take a bunch of ingredients, wrap them in foil to look like a big Hersey kiss and then bake it.
My dad used to make this.  But, instead of putting the bundles in the oven, he'd grill them. Such a treat!
You would get your foil bundle and after gingerly opening it, you would eat it right out of the foil. It was such a different way of eating.  I always felt like I was getting away with something. Who knows why!  It just felt special.
It became a game not to poke your fork or spoon through the foil.  Because even though the juices would still be caught (and you could pour them into your mouth) with the paper plate under the foil packet, it wasn't as desirable (or prestigious?) as eating it out of unbroken bundle.  Kids!
The juices are what make the bundled cooking method so special, in my opinion.  They are scrump-deli (short for deli-cious), as my brother in law says.
On to the chicken wrapped in foil recipe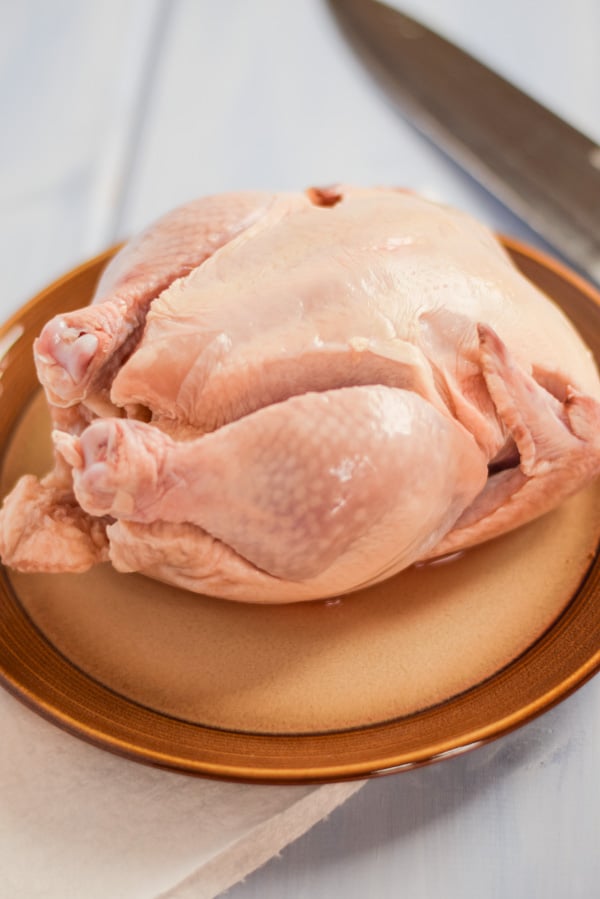 Here we go, more photos of raw flesh.
This is a big cornish hen that I used.  I asked Christopher to cut it up for me since he is so good at it, which I tell him constantly (so he'll keep doing it and spare me having to touch raw meat – but don't tell him that.  Oh wait, he edits the blog.  BUSTED!)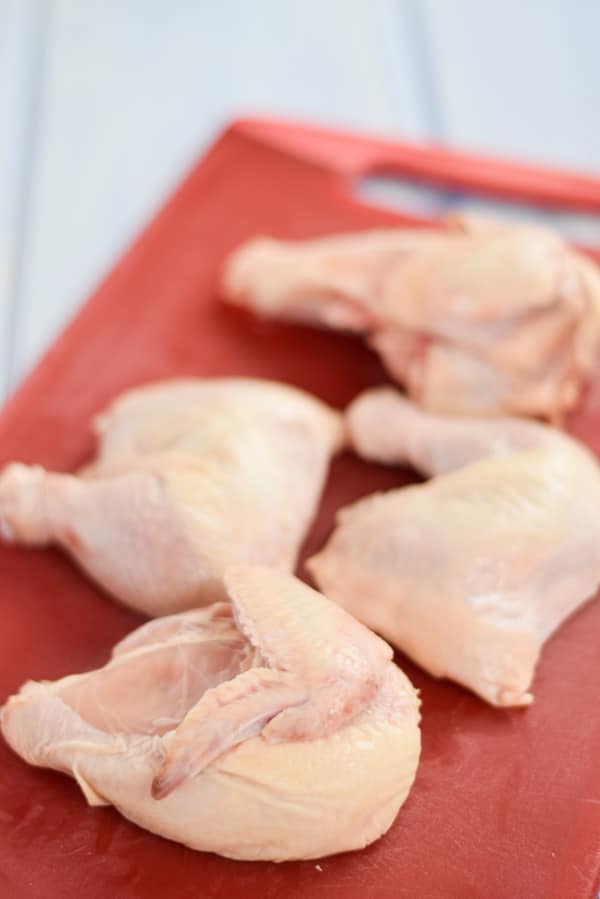 All cut up and ready to go.  See what a great job he did?
Preheat the oven to 350 degrees Fahrenheit.
Now I gather the ingredients.  They consist of potatoes, onion and mushrooms.  I also use cream of mushroom soup and some yummy spices.
You actually could put any vegetable in there.  When I was growing up, my mom put in canned vegetables, mainly little potatoes, peas, pearl onions and carrots.
I wanted a nice dose of mushrooms in my version – to enhance the cream of mushroom soup.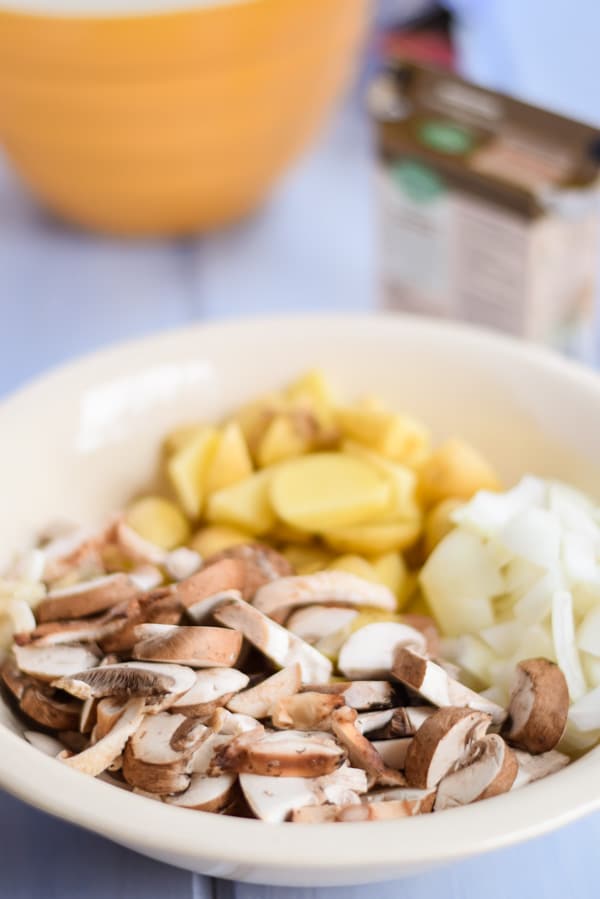 I cut baby Yukon potatoes into chunks and slices; I chop the onion in chunks and slice the baby portobella mushrooms.
I put the vegetables in a medium bowl and open the cream of mushroom soup package.  I didn't use a can but the package I used (it's that blur in the above photo) is equivalent to one can.
I pour it over the vegetables and add some dried basil, parsley, tarragon, dill; some salt and some pepper.
Then I mix it all up!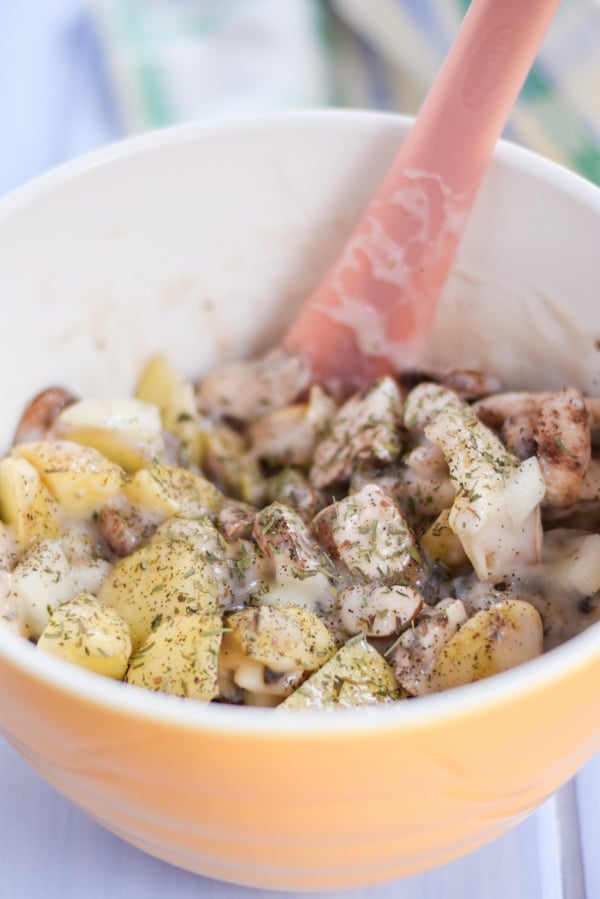 Using heavy duty foil, I cut 8 pieces.  I probably over do it with the foil but I didn't want any juices leaking out.  I put the foil on the work surface in crosses, so I could gather it up more easily.
Placing a piece of the cornish hen in the middle of the foil, I sprinkle some garlic powder on the hen before I glop on a few tablespoons of the soup/vegetable mixture.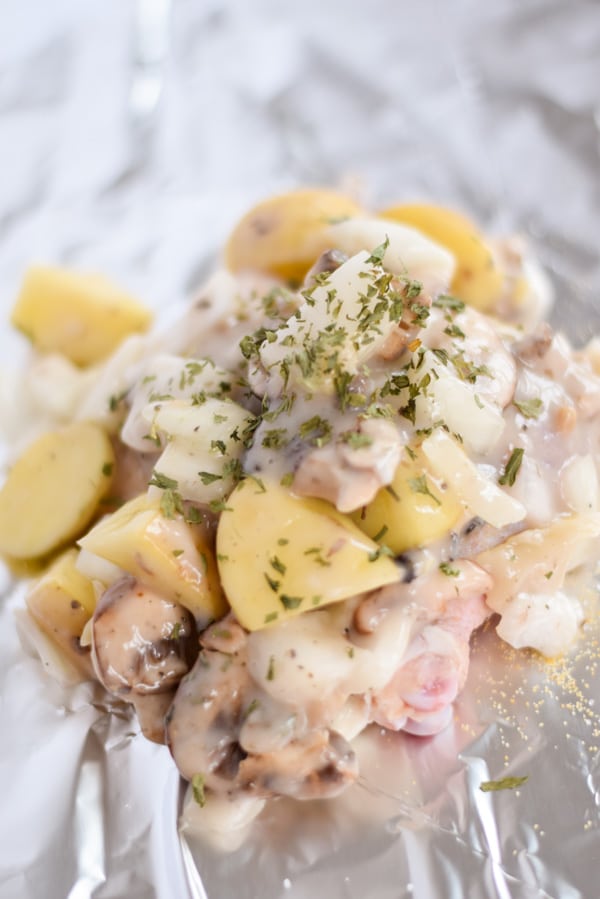 I also sprinkle a little more parsley on top just because and gather the foil together like so.  Hence the chicken wrapped in foil!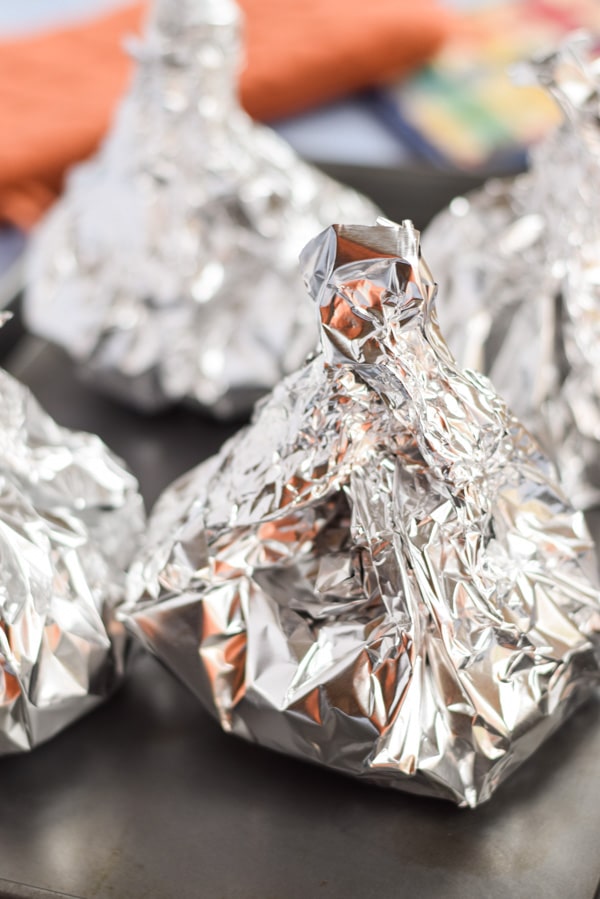 See? Big Hersey kisses.
I put the foil packets on a jelly roll pan.
Now, it's time to place the pan in the oven.  Cook for 45 – 50 minutes.  Having the hen in the foil allows it to steam and the juices flow into the soup mixture.
To check to make sure it is done, you need to be careful opening the chicken wrapped in foil bundles because of the steam.  I usually take my fork and puncture the meat to make sure the juice runs clear.  I also poke the potatoes to check they're done.  If not, put it back in the oven.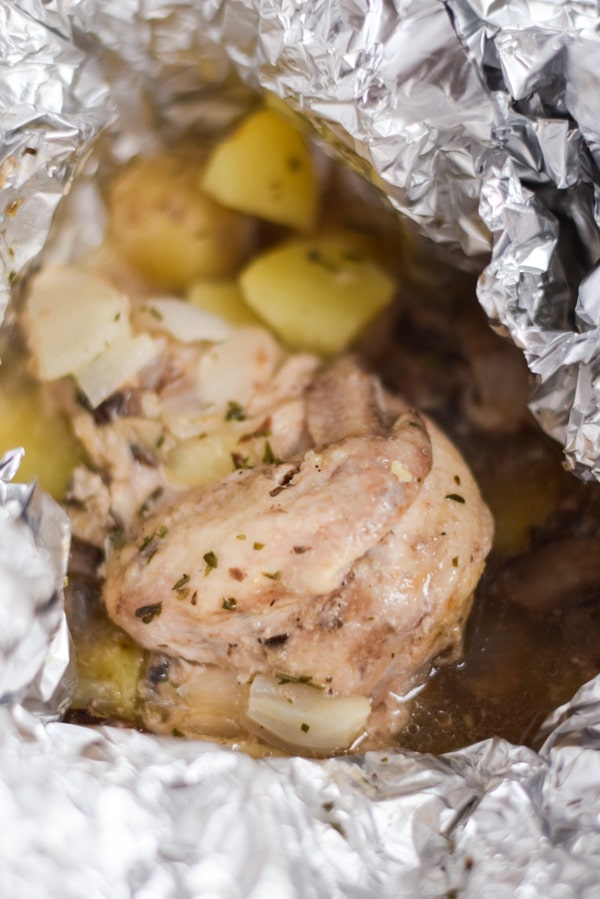 Peek a BOO!
Look at that yumminess!  See the juice?  Imagine that treasure running out of the foil onto a paper plate?  Horrors!!  NO!
As I said before, I used a big cornish hen for this post.  But I usually make this dish with leg quarters of a chicken.  If you choose to use leg quarters, I'd bake them for 1 hour as they are bigger than my hen.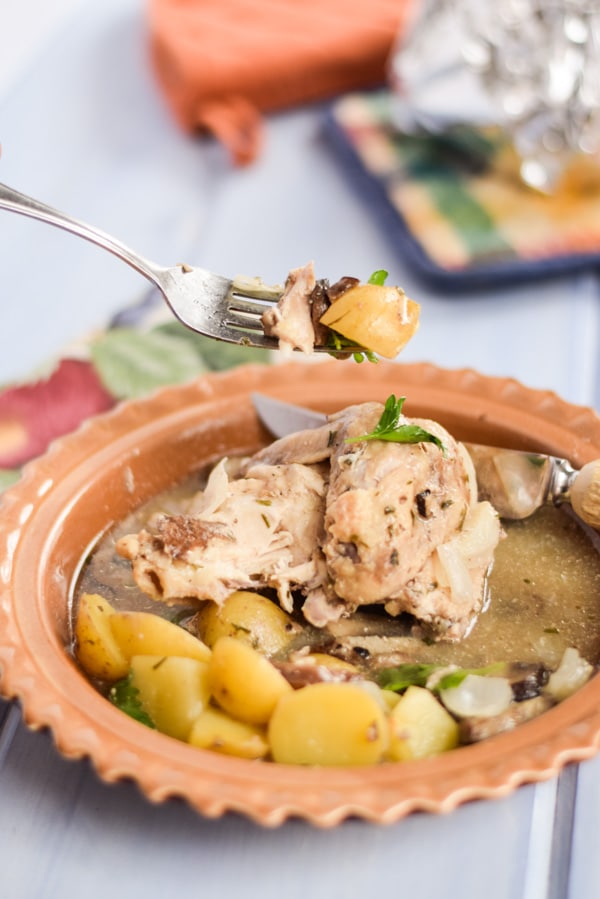 Here the chicken wrapped in foil is taken out of its bundle and plated, ready eat.  YAY!
I hope you enjoyed this recipe!  Leave a comment to tell me what you think!  You can also Pin any photo to Pinterest and Yum the recipe to Yummly!
And as always, may all your dishes be delish!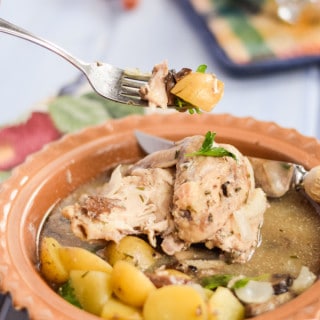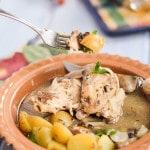 Comforting Chicken In A Bundle
This delish chicken meal is baked in foil and so fun to eat!
Ingredients
1

large

Cornish hen

or 4 chicken leg quarters

10

baby potatoes

cut in chunks

2

onions

small, chopped

10

ounces

portobello mushrooms

baby bellas, sliced

14

ounces

cream of mushroom soup

1/4

teaspoon

Salt

1/16

teaspoon

Pepper

1/2

teaspoon

dried basil

1/2

teaspoon

dried parsley

1/2

teaspoon

dried tarragon

1/2

teaspoon

dried dill

1

teaspoon

Garlic powder
Instructions
Preheat oven to 350 degrees F

Cut up the hen in 4 pieces

Cut 4 - 8 pieces of heavy duty foil

Chop up potatoes, onions and slice mushrooms

Open can of cream of mushroom soup

In a medium bowl, combine potatoes, onions and mushrooms

Add soup, salt, pepper and spices

Mix thoroughly

Place a piece meat on the middle of the each piece of foil

Sprinkle garlic powder on hen

Put a few tablespoons of soup mixture on hen

Sprinkle more dried parsley onto soup mixture

Draw the sides of the foil up into a bundle

Place on jelly roll pan

Place pan in oven

Bake for 50 minutes

Be careful opening foil packet to check if done

Eat in foil

Or plate it

Grab a fork and spoon (for the juices)

Eat

Enjoy
Nutrition Facts
Comforting Chicken In A Bundle
Amount Per Serving (1 serving)
Calories 320
Calories from Fat 18
% Daily Value*
Fat 2g3%
Cholesterol 4mg1%
Sodium 494mg21%
Potassium 1760mg50%
Carbohydrates 49g16%
Protein 7g14%
Vitamin C 41mg50%
Calcium 121mg12%
Iron 2.1mg12%
* Percent Daily Values are based on a 2000 calorie diet.